Rainbow Honey Lime Fruit Salad
Rainbow Honey Lime Fruit Salad Recipe …filled with fresh strawberries, oranges, bananas, grapes and blueberries. Topped with a honey lime glaze. This fruit salad is very easy and very tasty!
One of my favorite things to make during the spring and summer months is a fresh fruit salad. The fresh flavors cannot be beat on a hot summer day. I love adding a honey lime glaze to my fruit salad to not only add a little more sweetness, but to help it stay fresh longer. The flavor combination is outstanding. It is the perfect addition to any BBQ or get together and is a nice twist on your basic fruit salad. Sometimes I like to sprinkle a little coconut, pine nuts or poppy seeds on top.
This is such a pretty salad with all the rainbow colors! My kids loved helping me line them up in the right order. They were very particular about the order.

Once all your fresh fruit is washed and cut, you can layer it in a big bowl and then mix up your glaze which is basically lime juice and honey. You could also use fresh orange or lemon juice as well. You can definitely mix up the fruits as well. I tend to use whatever I have on hand.
Favorite fruits to add to this Rainbow Honey Lime Fruit Salad
Strawberries
Raspberries
Mandarin oranges
Mango
Bananas
Pineapple
Kiwi
Green or red grapes
Blueberries
Blackberries

I feel like the salad must have strawberries and grapes though (especially if there are kids around). Those tend to always be the favorite around my house. Although, I'm pretty sure my kids will eat any type of fruit. Veggies are a whole different story.

Honey Lime Fruit Salad
Yield: 10 to 12 servings
Total Time: 10 minutes
Ingredients:
2 cups strawberries
1 cup mandarin oranges (about 4 oranges or an 11 ounce can)
1 large banana, sliced
1 1/2 cups green grapes, sliced in half
1/2 cup blueberries or blackberries
2 Tablespoons honey
1 lime, juiced
lime zest, if desired
Directions:
Toss the fruit in a large bowl. Then whisk together the honey and lime in a small bowl. Add some zest from the lime, if desired. Drizzle over the top of the fruit and stir until evenly coated. Refrigerate until ready to serve. Best served within the first day or two.
You may also use a lemon or orange for the juice/zest.
Enjoy!
Looking for more fruit recipes? You'll loves these too:
Brown Butter Chocolate Chip Cookies
The BEST Brown Butter Chocolate Chip Cookies …soft, chewy and slightly crispy around the edges. These have the perfect flavor and tons of chocolate!
A couple days ago, I showed you how to make brown butter, and now I'm going to share with you the perfect way to use it. Chocolate chip cookies are my absolute favorite dessert in the world, so I am excited to share another one of my favorite recipes.
These Brown Butter Chocolate Chip Cookies are definitely a tie with the chocolate chip pudding cookies. They are more rich than your typical chocolate chip cookie and full of flavor! The brown butter has a rich caramely flavor. Everyone that tries these always tells me they are amazing and asks what is different about them. I tell them the brown butter!
I've been testing this recipe for several months now and have made these at least a dozen times, trying to get them just right. It was one big science experiment. I'd change one thing each time, such as the amount of salt or the way I melted the butter until they turned out just right. It was actually a lot of fun and yummy at the same time.
My favorite way to make these chocolate chip cookies is with half milk chocolate chips and half dark chocolate chunks. It adds the perfect flavor. You can never have too much chocolate, am I right?! ;)
Ah, seriously… look at the dough. I could just stop right here and be completely happy. The dough may be my favorite part. But shh.. don't tell my kids.
Brown Butter Chocolate Chip Cookies Printable Recipe
Brown Butter Chocolate Chip Cookies
Yield: 3 dozen
Prep Time: 20 minutes
Cook Time: 8 minutes, per batch
Total Time: 50 minutes
Ingredients:
1 cup (2 sticks), unsalted butter, at room temp
1 1/2 cup brown sugar
1/2 cup granulated sugar
2 large eggs
2 1/2 teaspoon pure vanilla extract
3 cups flour
1 teaspoon kosher salt
1 teaspoon baking soda
1 cup milk chocolate chips
1 cup dark chocolate chunks
Directions:
Preheat oven to 350°F. Line two baking with a baking mat or parchment paper and set aside.
Melt 1 stick of the butter in a pan over medium heat. Cook for about 3-5 minutes, swirling the pan every so often. Allow the butter to brown (when it turns an amber golden color and has a nutty aroma it's done). Remove from the heat and then pour into a bowl and chill for 5 minutes.
In a large bowl combine the remaining 1/2 cup softened butter, brown sugar and sugar. Mix for 1 minute, until smooth and creamy. The mix in the melted brown butter and mix until combined. Mix in the eggs and vanilla. Then add the flour, salt and baking soda. Mix until well combined. Stir in the chocolate chips.
Scoop cookie dough onto the prepared pan, about 2 inches a part. Bake for 7-9 minutes, or just until the edges are golden brown, while the center is still slighty doughy. Allow the cookies to cool for a few minutes on the pan and then move to a cooling rack.
Enjoy with a cold class of milk!
Detailed instructions on how to brown butter here: http://www.iheartnaptime.net/brown-butter/
If you'd like your cookie a little thicker, add an extra Tablespoon or 2 of flour and refrigerate the dough for 1 hour.
If you're really looking for a sweet treat this summer, sandwich 2 cookies between a scoop of ice cream to make the perfect ice cream sandwich. You're welcome. ;)
Ah, nothing I love more than a really good, soft and chewy (while slightly crisp around the edges), warm DOUBLE chocolate chip cookie!
How to Make Brown Butter
How to Make Brown Butter …aka liquid gold! The perfect way to take any recipe up a notch.
Brown Butter is one of those things (like yeast) that seems scary, but once you know what you're looking for is easy to make! It is made by cooking unsalted butter and turning the milk solids brown, while cooking out the water. The flavor is richer, has a nutty aroma and is more intense in flavor than regular butter.
You can use brown butter anytime a recipe calls for melted butter. My personal favorite way to use it is when baking. I've been perfecting the perfect chocolate chip cookie for the past year and think I finally nailed it! I'm going to be sharing the recipe later this week. :)
How to Make Brown Butter
Heat a large pan over medium heat (preferably a lighter colored pan, don't use black). Add cubed butter and allow to melt.
Once melted, you're going to cook it for around 2 more minutes. This is when the magic happens. To prevent the butter from sticking to your pan, make sure to swirl it around. You don't want to use a spoon. And don't even think about leaving the room, you need to keep a close eye on the butter.
Keep swirling… at this point the butter should start popping and that's just the moisture escaping.
The butter should start to foam around the 2 minute mark and you'll just keep swirling. Once the the pan starts to collect golden flecks (do not let them turn black) on the bottom, the butter turns a golden amber color and puts off a nutty aroma, you'll know it's done. Take the pan off the heat immediately, so that it does not burn and let sit just a minute.
Once your butter has turned the perfect golden/amber/brown pour into a bowl to stop the browning process and set aside until ready to use. It will keep in the refrigerator up to one week.
Browning the butter is all about the timing, swirling the pan, watching for the amber color and smelling the for the nutty aroma.
Recipes to make with Brown Butter
Looking for some recipe to make with brown butter? Here is my absolute favorite brown butter chocolate chip cookies. Until then, check out these delicious recipes:
25 Handmade Gift Ideas for Teacher Appreciation
25 Handmade Gift Ideas for Teacher Appreciation …the perfect way to let those special teachers know how important they are in the lives of your children!
Everyone looks forward to the end of the school year, but I'm sure nobody more than teachers!  Teachers are often unsung heroes and have such a critical role in the development of our kids.  Now is the perfect time to let them know that their efforts and hard work have not gone unnoticed.
These handmade gifts will be such a boost to their morale as well as a perfect send-off into their summer vacations – which they truly need and definitely deserve!  The gifts here respect not just various budgets but also different crafty abilities!  Many are ideal for bringing in the kiddos to play a personal part in showing their gratitude for their teachers as well – a great teachable moment thrown in!
25 Handmade Gifts Ideas for Teacher Appreciation
Teachers are Treasures from I Heart Naptime

Easy Teacher Gift with Free Printable from I Heart Naptime
"One Smart Cookie" Teacher Appreciation Gift from I Heart Naptime
Mini Art Easels from I Heart Naptime
Thanks for Helping Me Grow Plant and Printable from Three Kids and a Fish
Apple pencil jar holder from Tillys Nest
Bless Your Sweet Hands: Lemon Sugar Hand Scrub and Printable from Caramel Potatoes
Thanks a Latte Printable from Just Add Confetti
Teacher Appreciation Mason Jar Chalkboard Vases from Blue i Style
Thank You Herb Gifts from A Night Owl
EOS Lip Balm Teacher Appreciation Printable from Wine and Glue
Cute Bee DIY Teacher Gift Bag from I Heart Crafty Things
Teacher Appreciation Book Mark and Gift Card Holder from Yellow Bliss Road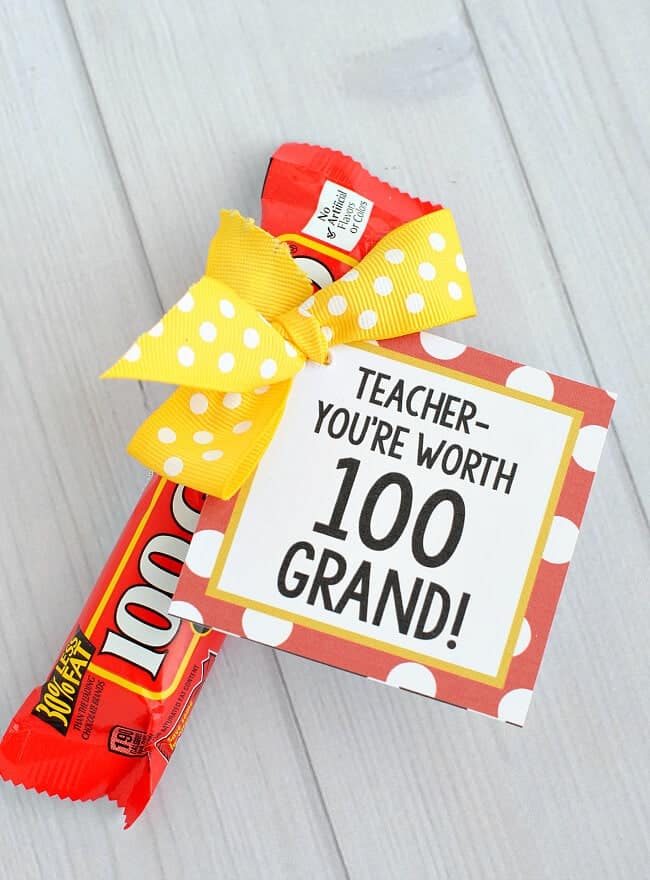 Teacher candy bar tags from Crazy Little Project
End of the year teacher gift card holders from Skip to my Lou
Easy Thank You Gift Idea: Bananas and Nutella from Landeelu
Orange You Glad It's Almost Summer Teacher Appreciation Gift from Shaken Together
Thanks a Bunch! Printable Gift Tags for Flowers from Simply Kierste Design Co.
Teacher Appreciation Hershey Kiss Gift Jar from The Girl Creative
Teacher Tote from Balancing Home
Thank You For Coloring Our Lives and Making Us Sharpies from design. wash. rinse. repeat…
Sweet Year Teacher Appreciation Gift Idea from Positively Splendid
Nail File and Polish Gift from She's Kinda Crafty
More Gift Ideas for Teacher Appreciation
Paper Blooms to Top Washi Covered Pencils from Skip to My Lou
Lantern Teacher Gift Idea Free Printable from Crafting Chicks
Hands Down Teacher Appreciation Gifts from Eighteen25
A Note to Say Thanks Teacher Appreciation Gift Free Printable from Sweet Metel Moments
Has thinking about the end of the school year got you thinking about summer?  It's not too early to start planning! Here's a Free Summer Bucket List Printable to make sure you don't miss any of those memory-making moments!
Chicken Caesar Wraps
Chicken Caesar Wraps …a quick, delicious lunch or appetizer that is light on calories! These Chicken Caesar Wraps feature crispy bacon, juicy tomatoes, avocado, lettuce and Caesar dressing.
One of my favorite thing to make for lunch is salad wraps. I find I'm either doing a salad, leftovers or wraps for lunch and love mixing it up. I don't want to spend too much time in the kitchen during that precious hour of naptime, so quick and hearty meals are my go to! These Chicken Caesar Wraps are very filling and completely satisfying. The crispy bacon adds the perfect crunch!
This recipe is a fun and 'skinny' way to make the most of your leftovers! I had made a pasta using chicken, bacon and Parmesan the night before, and knew I needed to use them up before they went bad. I wanted something lighter, so I grabbed my favorite Flatout Flatbread, some tomatoes and avocado to create the perfect Chicken Caesar wraps.
Also, some fun news… Flatout Flatbread is the official flatbread of Weight Watchers! Flatout Flatbreads are all 2 to 4 SmartPoints® each. Eat what you #FlatoutLove.
Flatout Flatbreads are in the deli/bakery section of most major grocery stores, if you can't find them, just ask or visit FlatoutFinder.com to find a store near you.
Chicken Caesar Wraps
Yield: 4 wraps
Total Time: 10 minutes
Ingredients:
4 whole wheat Flatout Flatbread
4 cups chopped romain lettuce
2 cups shredded cooked chicken, I used rotisserie
1 cup grape tomatoes, sliced in half
1/2 cups cooked bacon crumbs
1 avocado, diced
1/4 cup Caesar dressing
Shaved or shredded parmesan cheese, optional
Directions:
Layer about 1 cup lettuce, 1/2 cup chicken, 1/4 cup tomatoes, bacon and avocado on top of the Flatbread. Then drizzle with about 1 Tablespoon of Caesar dressing. Add Parmesan cheese if desired.
Starting at one edge, roll the wrap up. Enjoy!
Another fun way to serve these wraps is to cut them into pinwheels! These would make a great appetizer, or a fun way to serve them at a shower. I would add toothpicks, to help them stay together if you're bringing them somewhere.
Yum! I know what I'm having for lunch today.
Enjoy!
This post was brought to you by Flatout. Check out their website for more delicious recipes.