Crazy Christmas Crafter: Sisters Stuff!
We are Whitney and & Alish from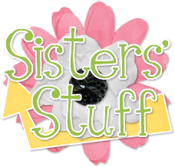 We enjoy sharing all the "stuff" we love!
weekly menu plans with links to the recipes
crafts and tutorials
holiday and celebration ideas
and so much more
come on over and and check it out!
We think this is such a fun gift idea for the holidays.
We LOVE how it turned out!
Supplies:
Cookie Mix
Frosting
Sprinkles
Card stock and patterned paper
Ribbons
Glue
Mini Glue Dots
Velcro Dot
How to Make It:
1. I cut 2 pieces of red card stock 6 1/2 " x 12″
2. Then I scored it 2″ on each piece to help make a clean fold. If you don't have something to score it with, you could just fold it in 2″
I glued the 2″ pieces together.
Then I hot glued on the ribbon for the handles.
Do this on each side.
I made this tab and rounded the corners. I then glued one side on to the back and used a Velcro dot to attach it onto the front.
I glued on pattern paper to the frosting and sprinkles and added ribbons. I attached the sprinkle to the top of the frosting with mini-glue dots.
I glued the cookie mix to the bottom of the bag. And added a few for embellishments to the front.
Join in! Leave a comment!
Comments