1st coat done!
Okay guys the first coat is on and it already looks TEN times better!!
I just want to thank you for all your comments and suggestions on the post earlier. You guys had some AMAZING ideas! I think it even made my decision harder. lol!
BUT I had to make a decision.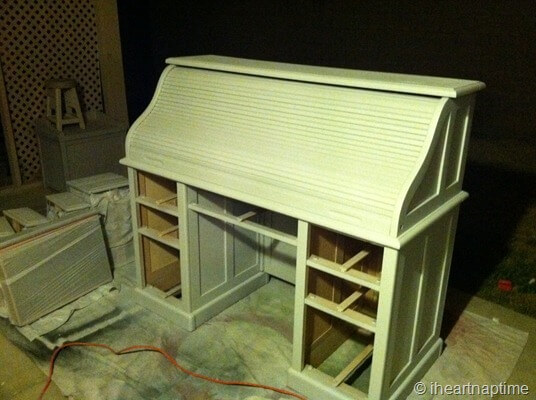 SO I decided to go with GRAY!! It's still neutral but it will be something fun and different. One of my readers suggested stenciling the roll top and I LOVE that idea. So I think I'm going to do some kind of stenciling on the roll top (yikes.. might be tricky lol) in white. Then after it's all painted grey I'm probably going to paint the inside of the paneling white. We'll see.
Then I'm thinking of doing red inside the drawers and back wall(when you open it up). And I still haven't decided on the hardware. Red, black, or white… most likely red!! I'm SO excited! I wish it wasn't so dang hot so I could get this done faster! I'm getting anxious. I don't know what it is about painting… but it's like therapy! The good and the bad kind. lol!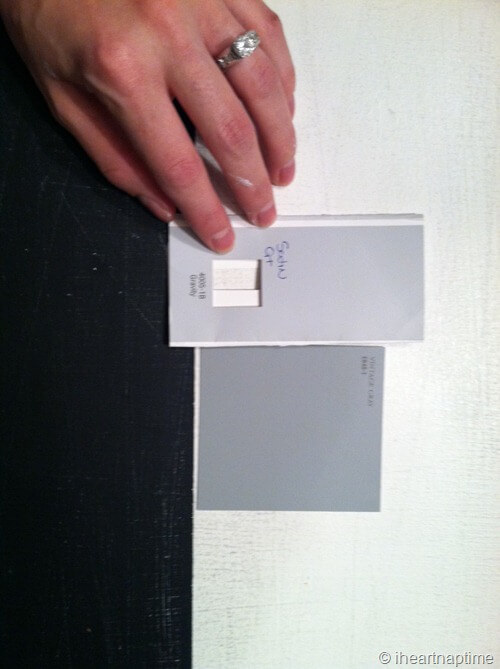 So these were the two grays I was deciding between. I already bought the paint, but now I'm second guessing. Greys are HARD! There's so many different under tones.
Which is your fave…the lighter or darker grey?