20 Gift Ideas Under $5 Digital E-book!
I have SUPER exciting news for you today!! Kristyn, of Lil Luna and I have been working on a secret project for the last few months.
Together we crafted and wrote 20 tutorials and then put it all together in a snazzy digital E-Book. We are thrilled with how it came together and know you will love it too! As a bonus we created 15 printable designs that you can download to compliment your gifts, making your job THAT much easier!
You know the saying "all things are better handmade?" Well it's true! With the holidays coming up… now is the best time to start making gifts. You know you'll never get to them once December comes. Lucky for you we have done all the hard work for you! Just follow the step by step tutorials in this E-Book, print your tags and wa-lah! A simple and CUTE gift you HANDMADE for less than five bucks! It doesn't get better than that!
Here is what you'll see in the book: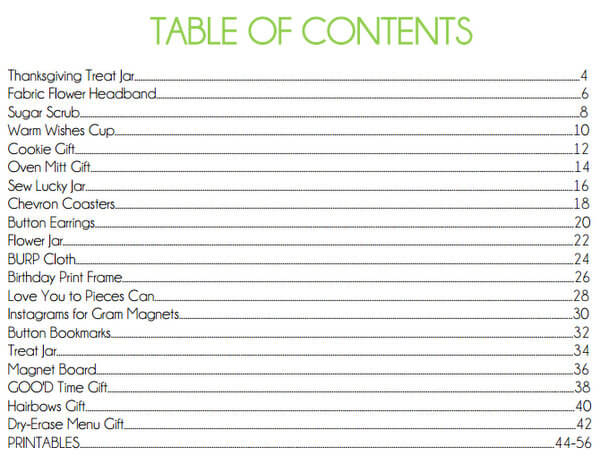 This book would also make a fabulous Christmas gift!
Here's what some of our friends are saying about the book:
"20 Gift Ideas for Under 5 Dollars has an easy and fabulous gift idea for anyone on your list, for any occasion. This E-book will save you so much time and every single project looks so fun to make. I can't wait to try these ideas!" -Jen, Tatertots and Jello
"This ebook is amazing and such a great idea.  Not only are the projects easy and cute, but it provides step-by-step instructions with pictures to go along with it.  It really doesn't get any easier than this.  With the printables being included, this book is definitely a must-have."  Kirsten, The Crafting Chicks
"This book is amazing! I now know what to get a few people that I can't spend much $ on, but still want to get them something nice. These are all super cute and fast! Love it!" Britney, Jesse's Girl
20 Gift Ideas for Under $5 is usually $9.97… but for this week ONLY you can get it for $4.97!!
Grab your copy TODAY!
Purchase below:


**Please note: This is a digital E-Book.  After you have completed your purchase, you will receive a download link and then will be able to download the file straight to your computer. **