2013 creative team -accepting submissions!
I can't believe this year is almost over…where did the time go?
With a new year coming up the search is on for a new creative team! Are you interested? If so, keep reading! If not…feel free to pass this on to someone you know that might be interested in this fun opportunity.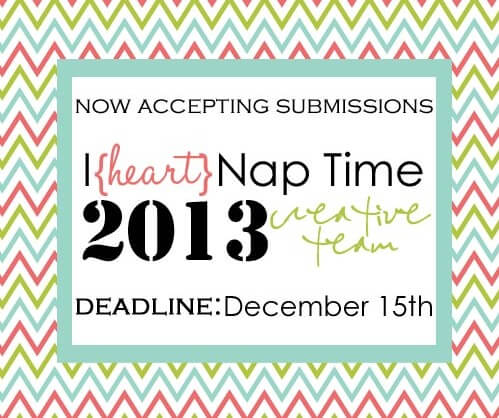 What am I looking for?
Original ideas and great pictures
Recipes, crafts, DIY projects, tips and printables
Please note, you do not have to be a blogger to apply for the creative team. Anyone can apply! :)
What will be expected:
1. One original post (a new idea that hasn't been posted before) each month.
2. You will need to share your post via your social media outlets.
What will you get out of it?
1. You'll be apart of our awesome team and your pretty logo will be  found on my bio page with direct links to you. SEO juice -YEA!
2. You'll be able to showcase your work to all my fabulous readers here on I Heart Nap Time and gain some new friends while you're here.
3. I will pin your post to my most popular board (3.5 million followers!)  as well as pin a post from your blog/shop the day your posts goes up. I will do everything I can  to help you grow!
Please note. The first three months will be a trial period. If we both feel it is a good fit then I will hire you and each post will be paid.
Is this something YOU are interested in? If so, I'd love for you to be considered. Apply below.
How to submit:
Please e-mail your submissions to jamielyn@iheartnaptime (dot) net and include the following:
Subject: Creative Team Submission
Within e-mail:
– Your name, location and a little bit about you (2-5 sentences)
– Links to all your pages (blog, shop, facebook, pinterest, etc)
– Attach images of your BEST work (3-5 images)
-Links to some of your most popular posts
-Anything else you think I should know :)
The deadline is December 15th….can't wait to see your submission!
Contributors will be notified by December 20th and announced on I Heart Nap Time the beginning of January.
Have a happy day!