40% off Silhouette products BLACK FRIDAY
The lucky winner is …. Jeanine Bevacqua! Please respond within 48 hours or another winner will be chosen.
Happy Black Friday!! Are you ready to get some of the best discounts of the year??? Silhouette is offering some crazy good deals. Act fast!!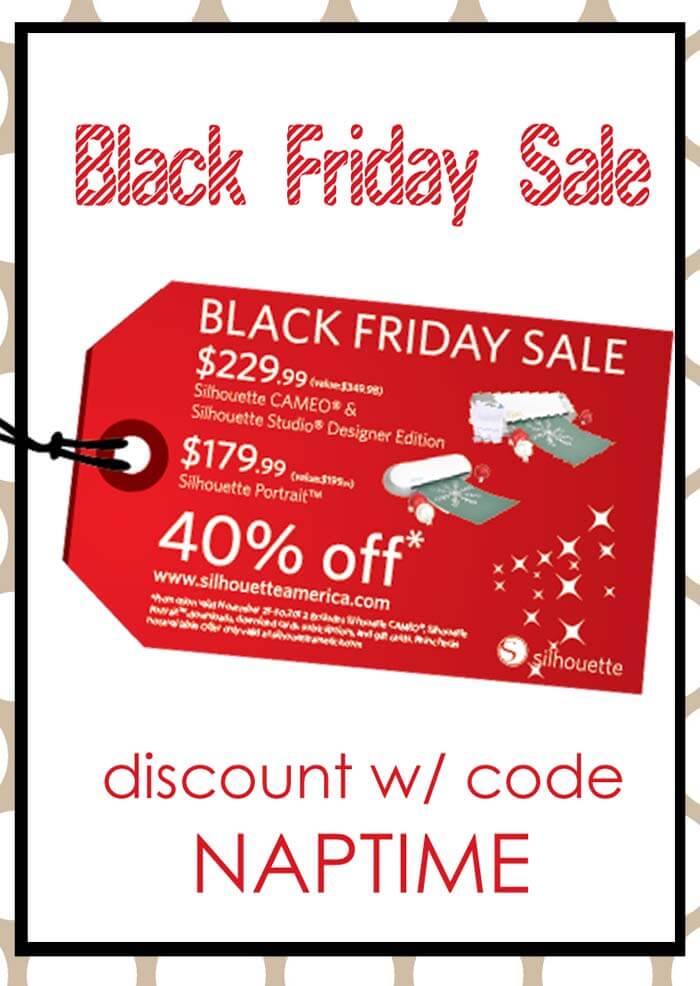 What is Silhouette? The CAMEO and Portrait are an electronic cutting tool…which is pretty much the best crafting tool ever! Put it on your Christmas list! Here's how it works. It connects to your computer just like a printer, but instead of printing designs it cuts them with a small blade. You'll get access to all of the fonts on your PC plus the thousands of designs found in the Online Store. Find inspiration on their Pinterest board.
Here are the details for the Silhouette Black Friday discounts:
·         Shop the Silhouette shop HERE (with promo code NAPTIME) and you will be able to get…
·         1 Silhouette CAMEO® plus 1 copy of Silhouette Studio® Designer Edition (MSRP $349.98) for $229.99
·         1 Silhouette Portrait™ for $179.99
·         40% off all products in the Silhouette shop
Expires November 30, 2012. Rain checks not available. 40% discount excludes Silhouette CAMEO®, Silhouette Portrait™, downloads, download cards, subscriptions, and gift cards).
Come back in a couple hours for the Black Friday Holiday Boutique! We have some amazing discounts for you guys. You'll be able to do all your shopping at home in your pj's. ;)
Click HERE to shop Black Friday deals. Remember to enter code ' NAPTIME ' at check out to get the deals. Act fast… things will sell out fast!