This apple pie spice combining cinnamon, allspice and nutmeg comes together in minutes. Make a batch to keep in your pantry for up to a year to add to all your baked desserts this fall.
Want more apple recipes? Try baked apples, apple chips or apple nachos.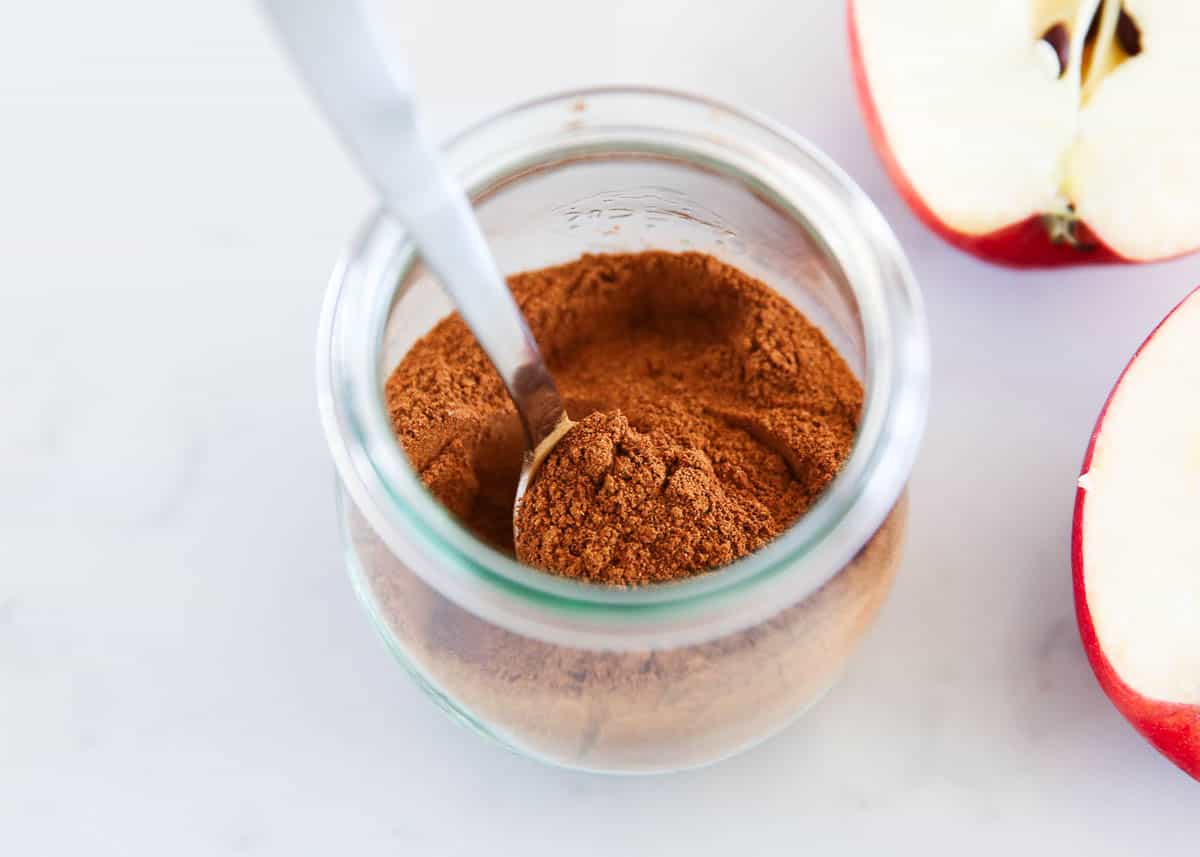 An Aromatic Blend for Fall
Apple pie spice is a warm and aromatic blend of ground spices commonly used to balance the sweet and tart notes of apples in baked goods and delicious apple desserts. With its comforting mix of cinnamon, nutmeg, and allspice it's perfect for fall-inspired treats plus it's easy to whip up a homemade batch in a flash.
You probably have most of these spices at home in your pantry already and you can make as small or large of a batch as you want. In under 5 minutes it's ready to be used or stored for a long season of baking!
You might be thinking, 'But I already have pumpkin pie spice at home, isn't it the same thing?' I know that pumpkin pie spice is also so popular during the fall months and I love it too. It has a slightly different blend (often including ginger or cardamom) so I like to keep both mixes in the pantry so I can mix and match my recipes depending on my mood.
What is in Apple Pie Spice?
This is a blend of warm spices like cinnamon, nutmeg, and allspice that give your cookies, cakes, and pies the comforting flavors and aroma of fall!
I will often swap out regular cinnamon with this recipe when I want to add a deeper flavor to my autumn bakes. The base of this blend is cinnamon, so they interchange nicely!
Why You'll Love Making it Yourself
Only 3 ingredients. Make the basic mix with just 3 easy to find spices or add more to create your own version.
It's budget-friendly. Making your own is less expensive than buying premade packets or jars, especially when you're buying bulk spices.
It's convenient. This is a mix of three readily available ingredients that are easier to get your hands on than a premade jar can be.
Versatile. With so many uses for this fragrant spice blend, including pies, crumbles and so much more, you'll find plenty of ways to use it during the autumn season and beyond!
Ingredient Notes
Make this mix once and use it for the entire season! Here's what you'll need: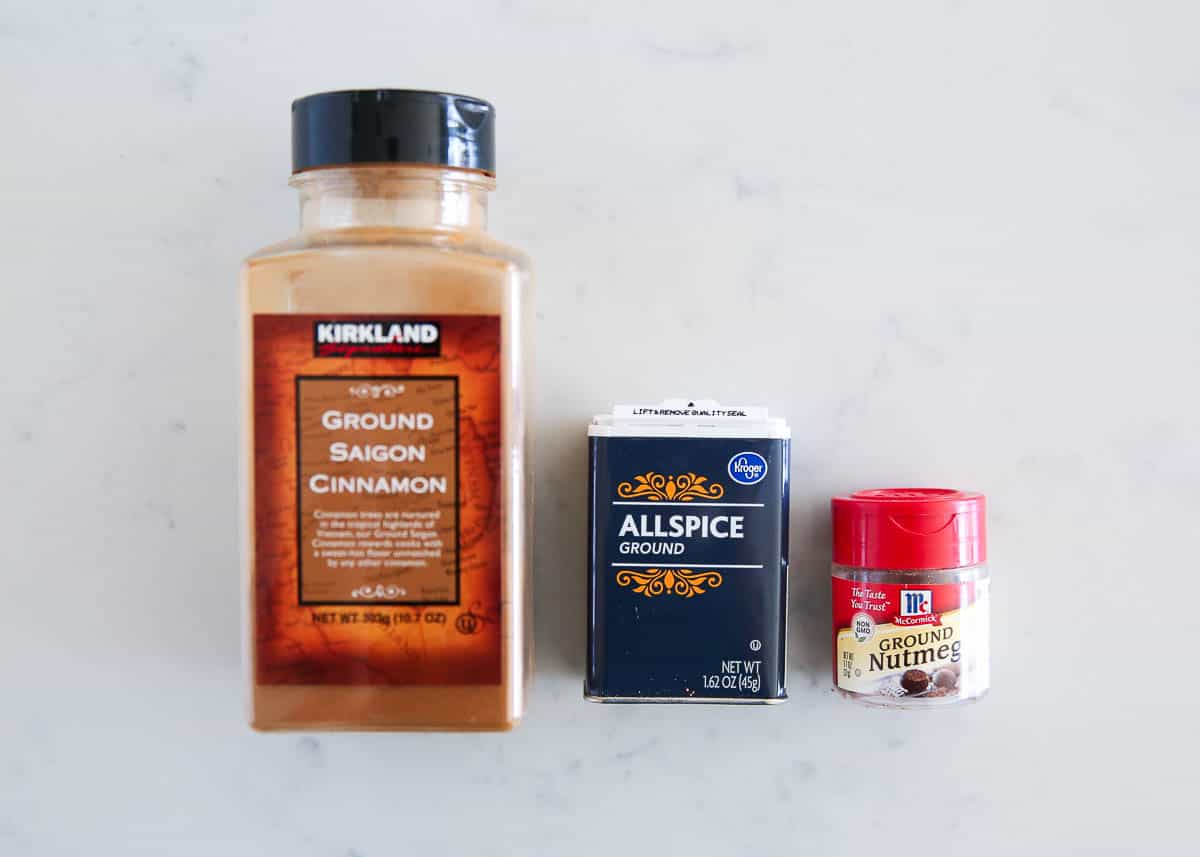 Find the full printable recipe below.
Cinnamon: Apples and cinnamon go so well together which makes it the perfect base for this blend.
Nutmeg: Gives the blend a warm and nutty flavor.
Allspice: Unlike the name suggests, this is a single spice that has a warm and peppery flavor.
Cardamom or ginger (optional): Depending on your tastes, you can add a pinch of cardamom or ginger to add a deeper flavor to your blend.
How to Make Apple Pie Spice
If you have a couple of minutes, that's all you need to whip up the perfect balance.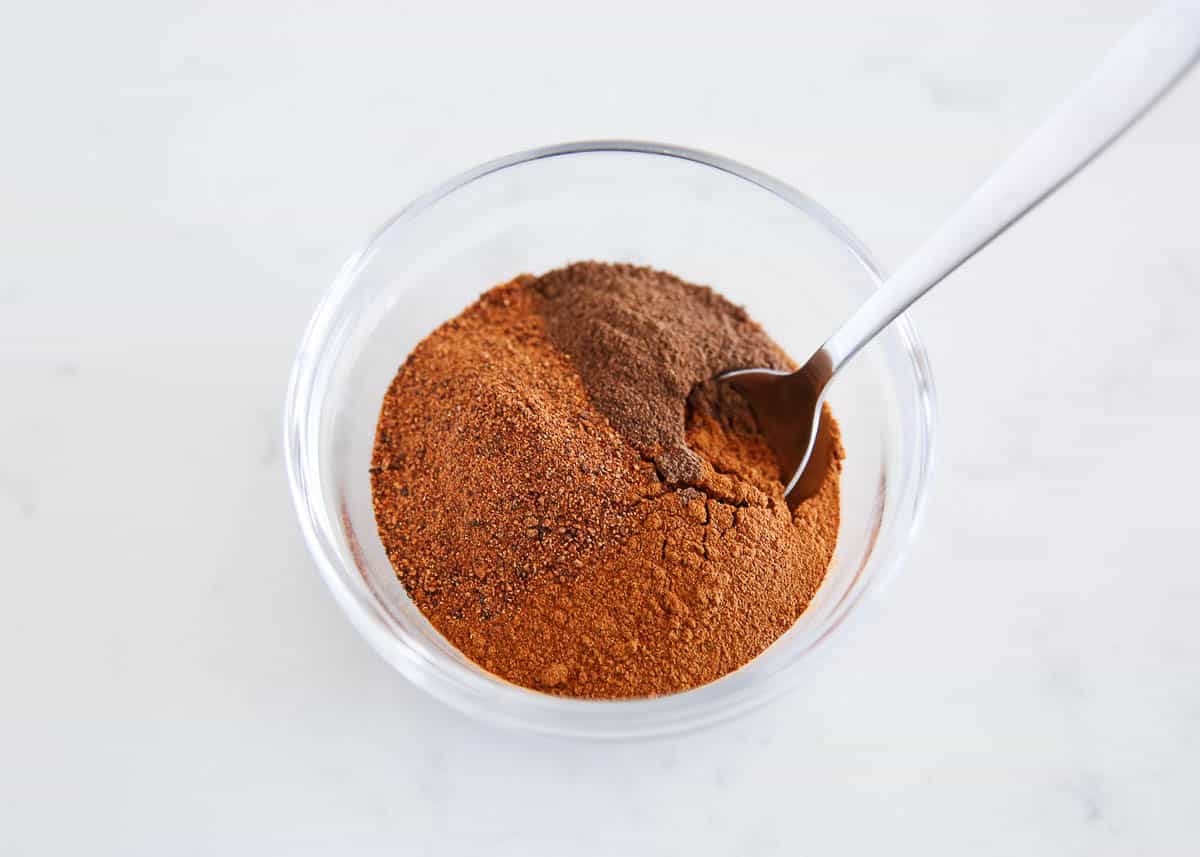 Pour all the ingredients into a small bowl and whisk until everything is fully combined.
Then pour the spices into a jar with an airtight lid and store. That's it!
Ways To Use It
Cozy up to autumn by sprinkling some of this warm and comforting apple spice into your fall bakes. Also, it's not just for baking! There are so many ways to use it. Here are a few ideas to get you started:
A Thoughtful Gift
You don't have to keep a good thing to yourself! Making up batches of this apple pie spice recipe and pouring it into cute spice jars would be a great gift idea for your friends and family who love to bake.
Tie a ribbon around the jar and include a printout of your favorite apple pie recipe and you've got yourself a sweet gift!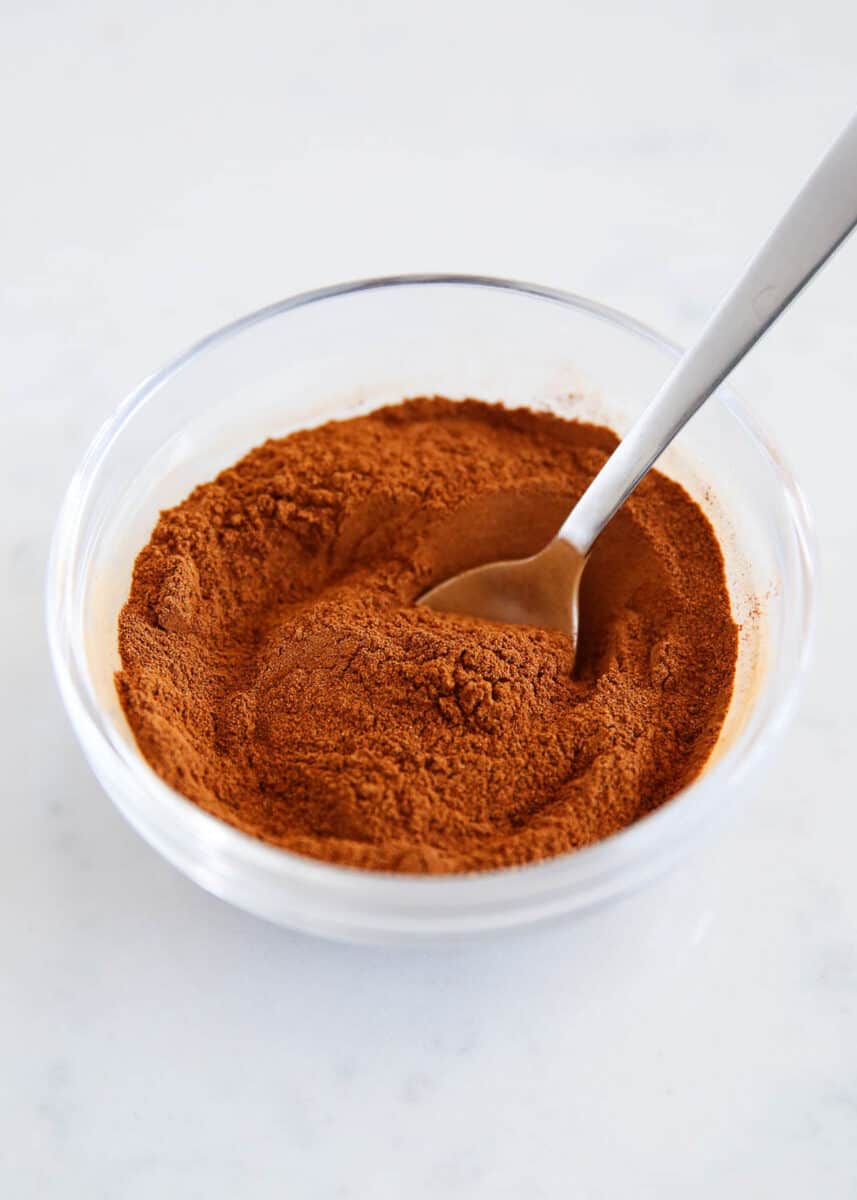 Expert Tips
It's so easy to make your own apple pie spice recipe at home and with these tips, your blend will be the very best!
Start with fresh spices. We all have old spice packets hanging around in our spice cupboards that might not technically be expired but don't really have the bold flavors you want when making up your own spice blend. Buy your spices fresh for the best flavor.
Grind your own spices. For even more of a fresh flavor punch, buy whole spices and grind them up in a spice grinder.
Scale up or down. This recipe is very easy to cut in half or double depending on how much you need.
Recipe FAQs
What is the difference between apple pie and pumpkin pie spice?
Pumpkin pie spice is probably the most common mix you'll come across during autumn and it does share some of the same spices. They both contain cinnamon, nutmeg, and allspice.

Where you'll notice a difference is that pumpkin spice will also usually include ginger and/or cloves. Sometimes I'll throw in some cardamom or ginger to my apple spice mix, but not always.
How long will this blend stay fresh?
As a general guide, your spice mix will last for 3 – 4 years if stored in an airtight container in your pantry. The spices do lose their potency over time, so I always try to use up my homemade blends within a year.
What is the best container for storing spice blends?
The main thing is to use a container with a tight-fitting lid. You don't want any moisture getting into the spices. You can find jars specifically for spices online or use any small-sized jar with a lid you have on hand.
How to store it?
To keep it fresh, store it in a clean and dry airtight container out of direct sunlight.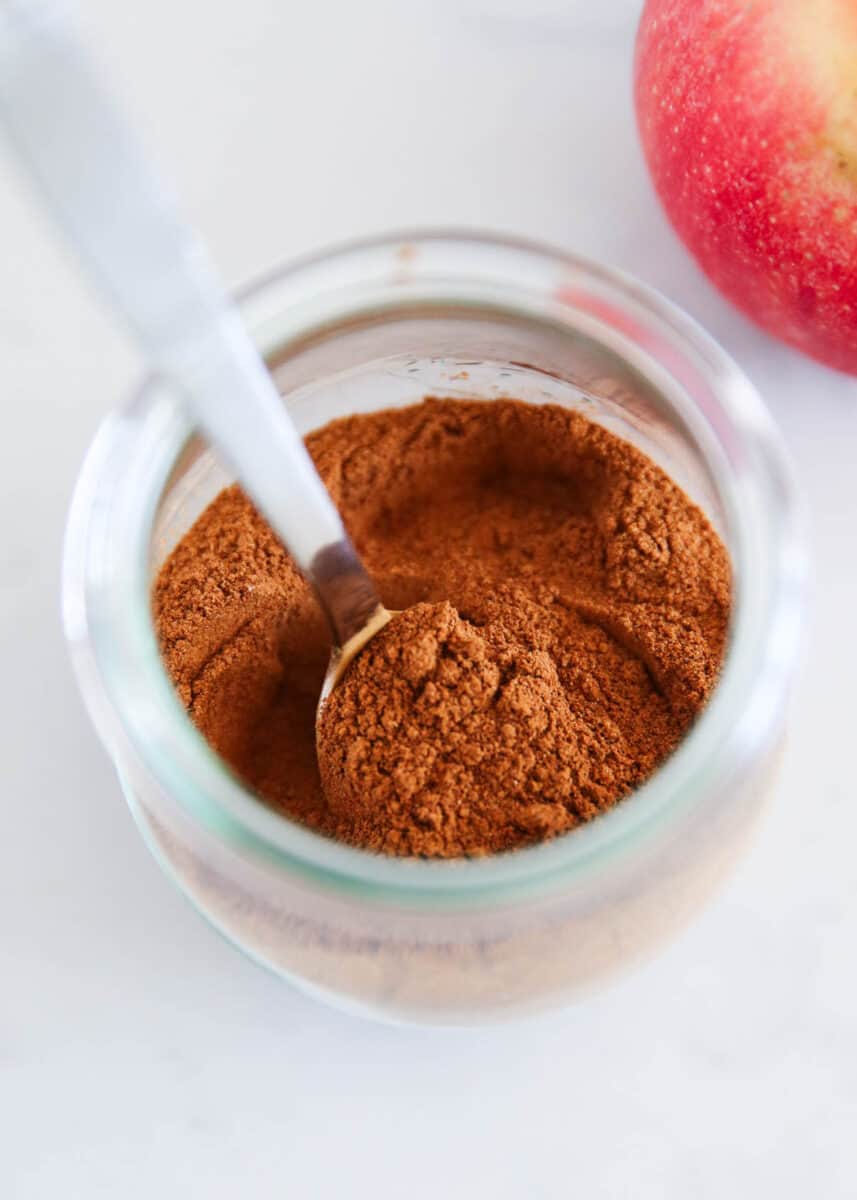 More Recipes to Use In
HUNGRY FOR MORE? Subscribe to my newsletter and follow on Facebook, Pinterest and Instagram for all the newest recipes!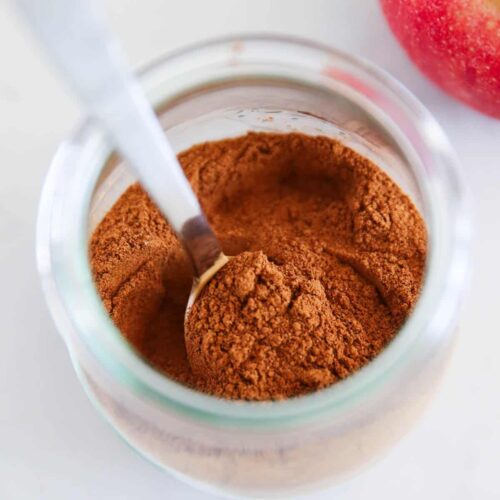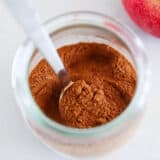 Apple Pie Spice Recipe
Learn how to make this easy apple pie spice recipe at home! With just 3 budget-friendly ingredients, this spice mix will keep in your pantry for up to one year.
Ingredients
4 Tablespoons ground cinnamon
2 teaspoons ground nutmeg
1 teaspoon ground all-spice
Instructions
Combine the cinnamon, nutmeg and all spice in a small jar.

Whisk until well combined and there are no more streaks.

Place a seal tight lid on the jar and store up to 1 year.
---
Notes
Doubling: This recipe is very easy to cut in half or double depending on how much apple spice you need. Flavors: If you prefer a more depth flavor profile add in a teaspoon of ginger and 1/2 teaspoon cardamom.
Nutrition
Calories: 19kcal | Carbohydrates: 5g | Protein: 1g | Fat: 1g | Saturated Fat: 1g | Sodium: 2mg | Potassium: 17mg | Fiber: 3g | Sugar: 1g | Calcium: 43mg | Iron: 1mg
Nutrition provided is an estimate. It will vary based on specific ingredients used.
Did you make this recipe? Don't forget to give it a star rating below!