Jump to Recipe⌄
Back to School Treat
Apple shaped rice crispy treats …the perfect back to school treat! These would be fun to make for the kids on their first day of school and to pass out to their teachers. These would also be fun for a fall get together.
Can you believe summer is almost over?! I feel like this summer is flying by way too fast. We only have about a month left, but we're headed to Arizona this weekend for a wedding, and by the time we get back it will be time to start school shopping and getting prepared for the first day of school.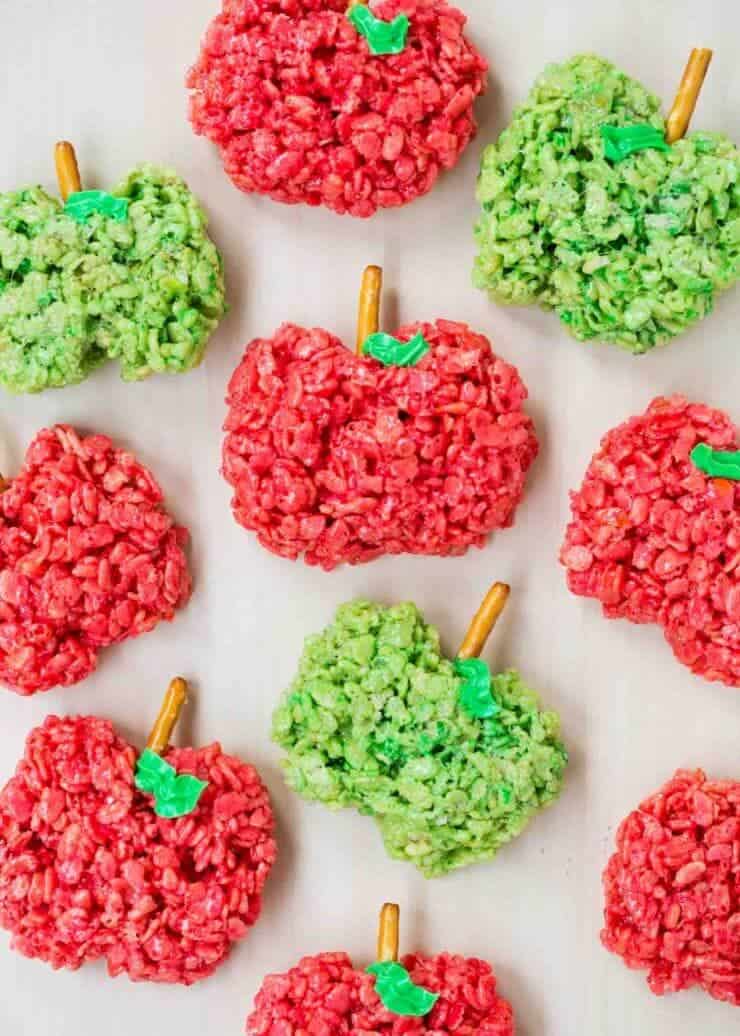 I thought it would be fun to make the apple shaped rice crispy treats for a little back to school treat.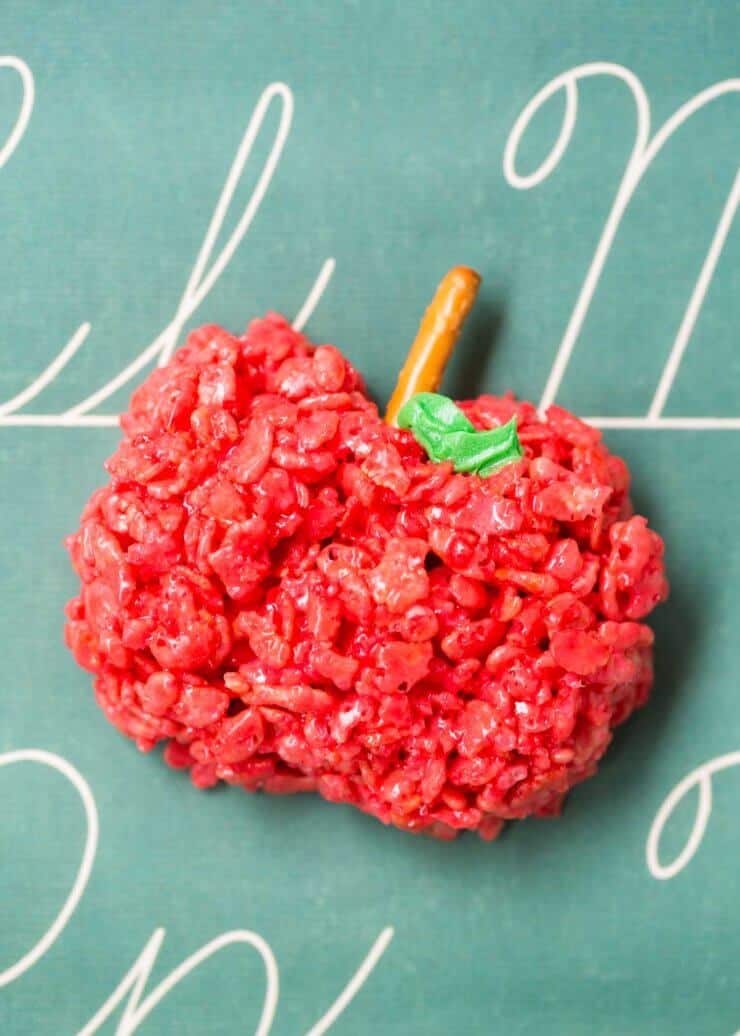 These back to school treats are so easy to make – and the kids love to help!
My kids helped me pick out the ingredients to make these back to school treats at our local Kroger. My kids always love going shopping with me there. It is by far our favorite place to shop. Their favorite part is getting the mini shopping carts and a free banana in the produce section. I love that they have that section for kids, because the second we step foot in a store they think they need a snack. ;)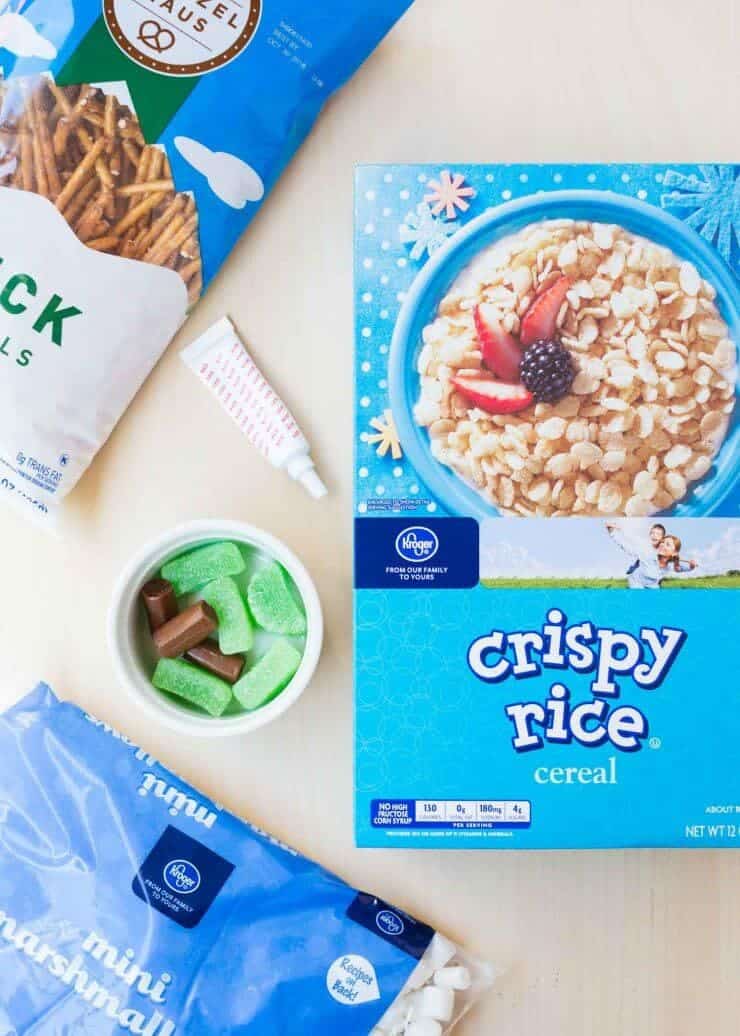 My kids loved helping me in the kitchen and may have snuck a few of the pretzels and marshmallows in between. This is your basic rice crispy treat recipe, just dressed up a little. All you need to do is melt the butter and marshmallows.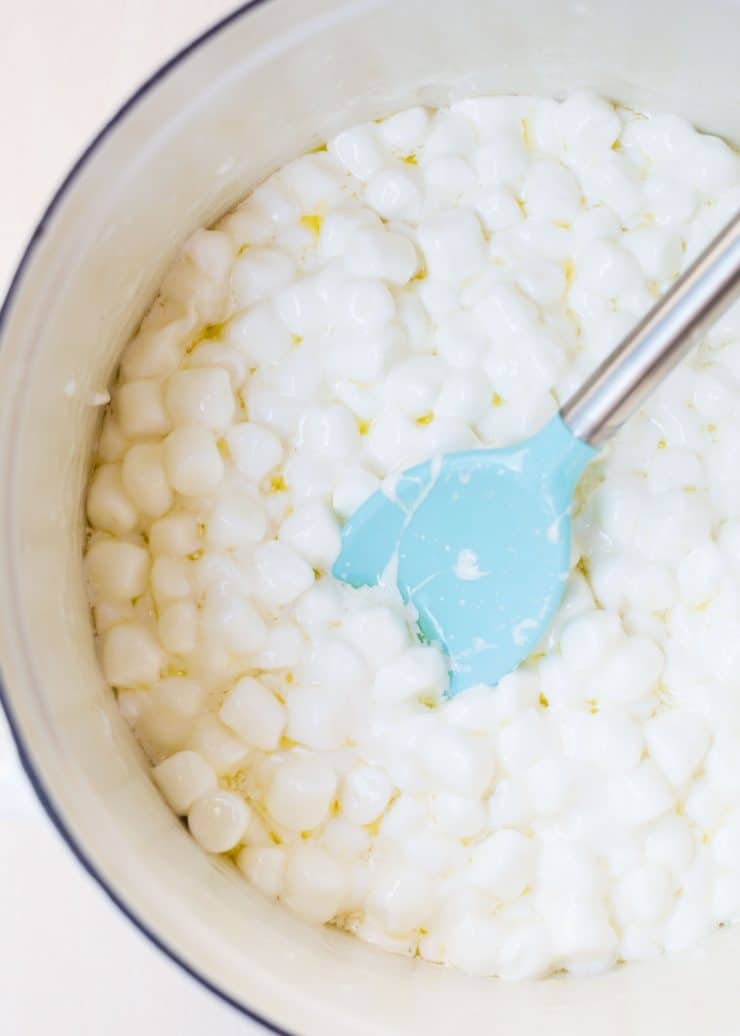 Then you'll stir in a little vanilla and food coloring. Next up is the rice cereal.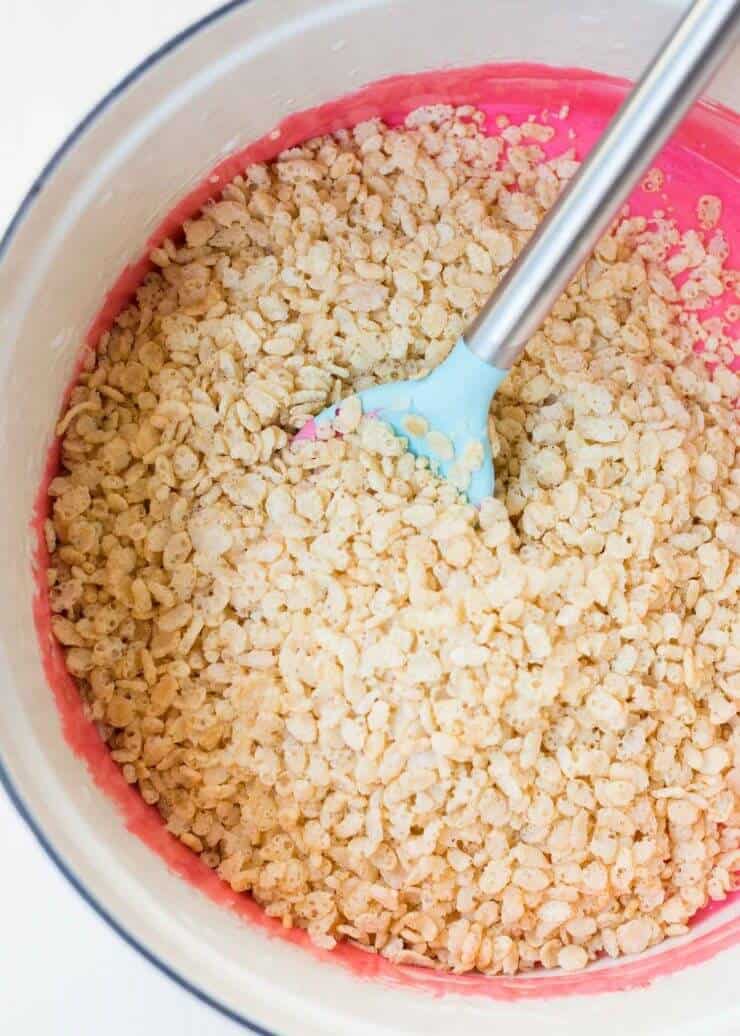 Then once it has cooled slightly, you can begin shaping it into apples. I ended up making two batches (one green, one red), but you could always split the batch in half if you wanted to make red and green apples.

Then all you're going to do is place the stem in and add a dab of frosting for the leaf. I just bought the canned stuff, to make it easier. My kids always have fun decorating their own and that makes it easier.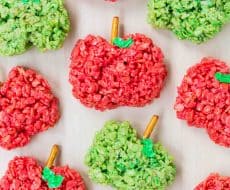 Rice Krispie Treats
Ingredients:
6 Tablespoons salted butter
1 (10-ounce) bag mini marshmallows
1 teaspoon vanilla
red and/or green food coloring
6 to 7 cups crispy rice cereal
mini pretzels and/or tootsie rolls (cut in half)
Green decorating frosting
Directions:
Lay out a large piece of wax paper and set aside. Place the decorating supplies near by.
Combine the butter and marshmallows in a large non-stick pot over low heat. Leave on the heat until melted, stirring occasionally. Once the marshmallows have melted, remove from the heat and stir in the vanilla and food coloring. Then stir in the rice cereal and stir until combined. Allow to cool slightly.
Once the cereal has cooled, butter your hands and then shape into an apple. Place onto the wax paper and add a mini pretzel or tootsie roll to the top. Then add a little green frosting to make the leaves.
All images and text ©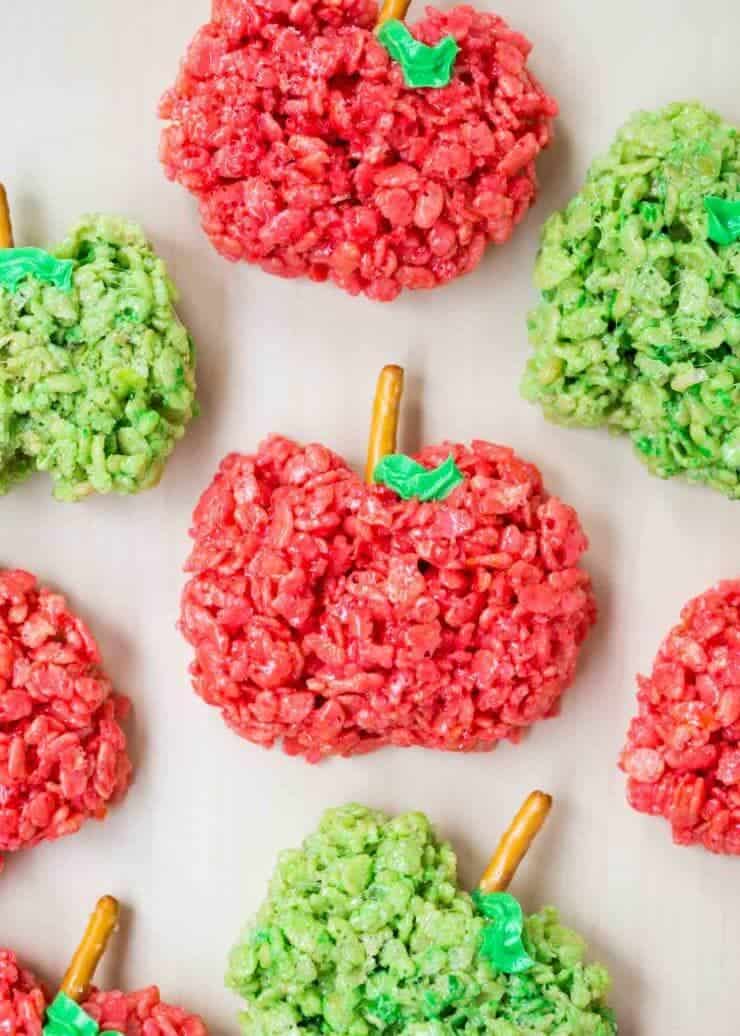 That's it! Super easy and the cutest back to school treats around.
These would make the perfect teacher treats, too. I placed them in a little clear bag and added a tag on top with twine.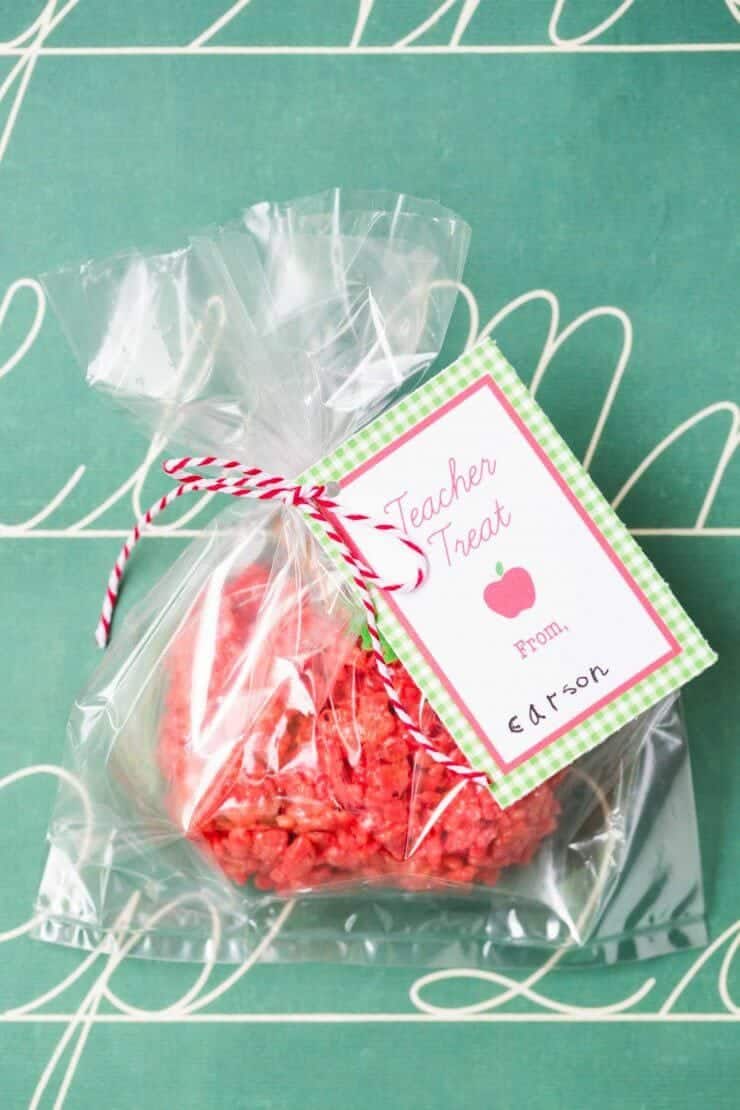 You can download the back to school printables for free HERE.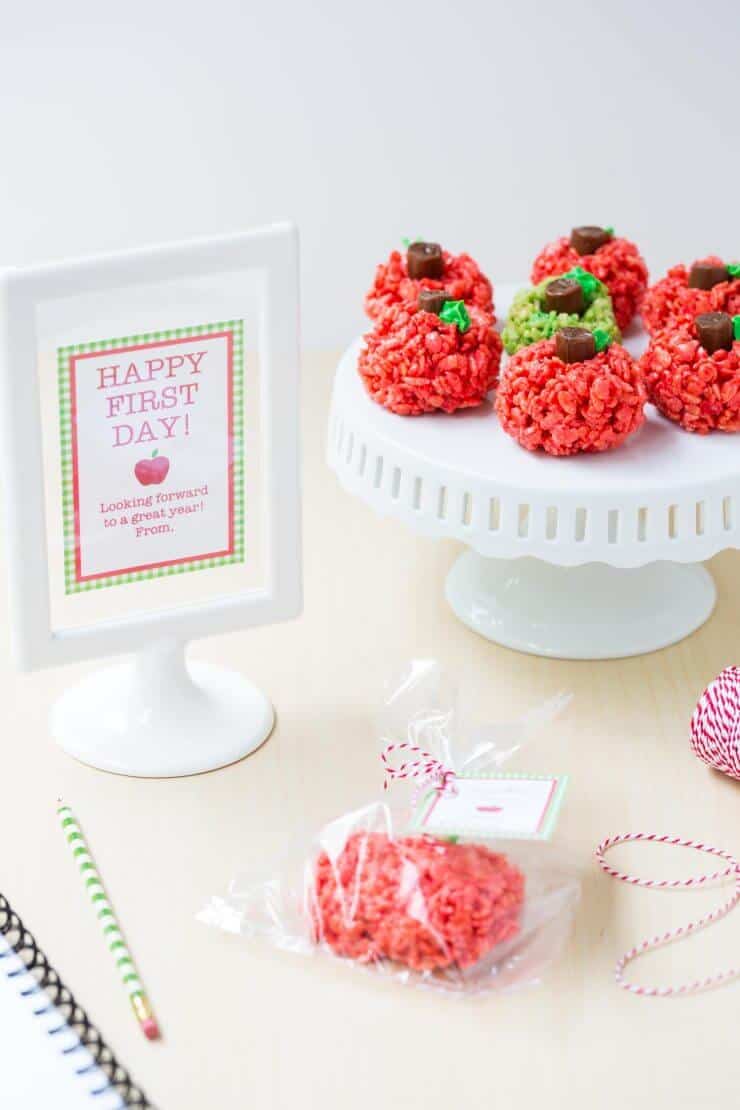 So when do your kids go back to school? I've heard some going back as early as July. We are soaking up every last day of summer!

Hope you enjoyed these back to school treats. Happy baking :)
This post is brought you by Kroger. Check out their site for my recipe inspiration.