Baked Pumpkin Cinnamon Sugar Doughnuts -a healthy version that tastes just as delicious!
Have you jumped on the baked doughnut wagon? I resisted for awhile, thinking I didn't really want to buy any new kitchen equipment (doughnut pans) and also, I doubted that a baked doughnut could really live up to its sinful counterpart, the traditional deep-fried doughnut. But then suddenly this fall I felt the NEED to make some homemade doughnuts, and these baked pumpkin cinnamon sugar doughnuts are JUST as delicious as any fried doughnut that has ever crossed my lips!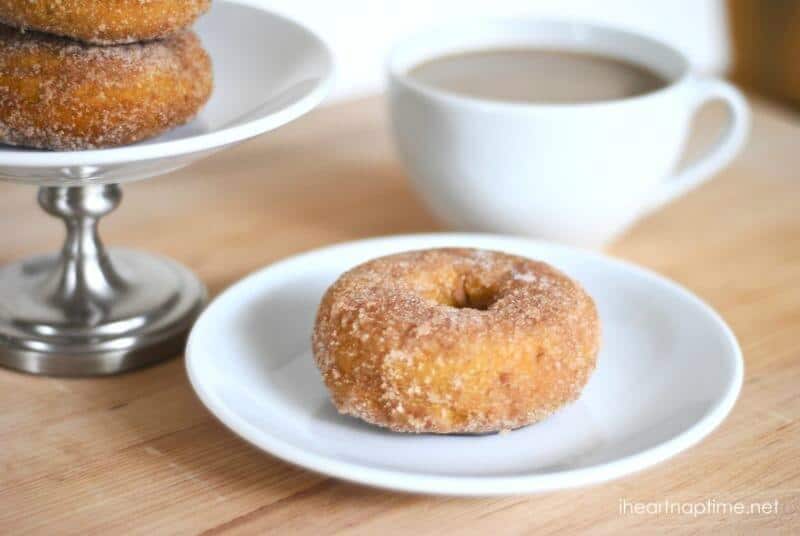 I made a chocolate variety at the same time I made these pumpkin doughnuts and they were no where near as good. Not chocolately enough, not dense enough, just all around not doughnutty enough.
Total disclosure – there is a difference between these baked pumpkin doughnuts and a traditional doughnut. But in my opinion, it's a very small one. They are dense, moist, soft on the inside, and ever so slightly crisp on the outside just like a good doughnut should be. And the spiced pumpkin flavor is so perfect this time of year.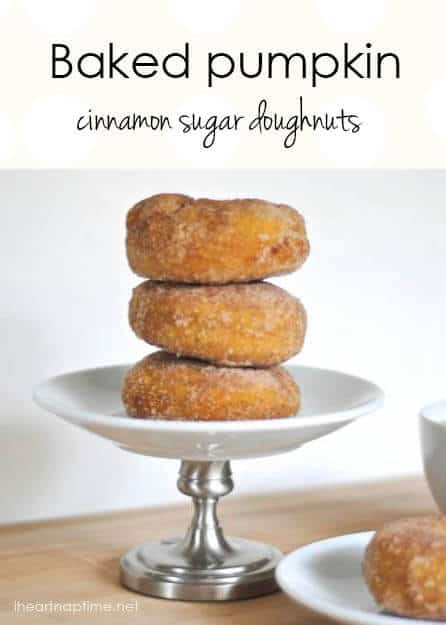 If you are at all like me, your biggest challenge will be eating only one at a time. But I do have a little tip/trick that will keep your doughnuts at their freshest and also help you from eating three doughnuts before you realize what has happened! These little nuggets don't taste nearly as great on day 2 as they do fresh from the oven, so what I have learned is that if you let them cool to room temperature, and them immediately freeze what you don't plan to eat soon, in sealed zip-top bags, you can have fresh-tasting doughnuts at your fingertips on very short notice. Just let the frozen ones defrost on the counter for about 30 minutes and they'll be almost as good as straight from the oven. Almost.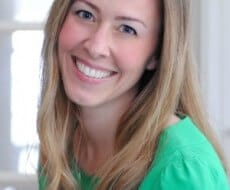 I'm Jennifer from The Chronicles of Home, where I share DIY and home decorating projects as well as lots of yummy food. My truest loves are my husband and two young daughters, but I've also fallen for salvaging, refinishing, & reupholstering old furniture and building furniture from the frame up. I have a sweet tooth to be reckoned with and love testing new desserts, though most of the time I eat and feed my family delicious, interesting, healthy food. I'm drawn to beautiful fabric, great books, anything kelly green, pasta made from scratch, dark chocolate, and brown butter. I'm so thrilled to be a member of the I Heart Naptime creative team!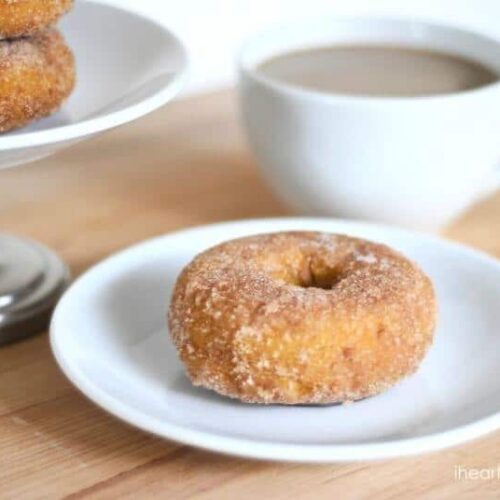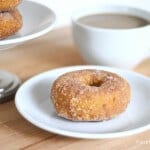 Baked Pumpkin Cinnamon Sugar Doughnuts
Baked Pumpkin Cinnamon Sugar Doughnuts -a healthy version that tastes just as delicious!
Ingredients
cooking spray with flour

6

tablespoons

canola or grapeseed oil

4

tablespoons

unsalted butter

melted

3

cups

flour

2 1/2

teaspoons

baking powder

1/4

teaspoon

baking soda

1

teaspoons

coarse salt

1

teaspoons

pumpkin pie spice

1/3

cup

buttermilk

15

ounces

can pumpkin puree

3/4

cup

dark brown sugar

2

eggs

1/2

cup

salted butter

melted

2

teaspoons

ground cinnamon

1/2

cup

sugar
Instructions
Preheat oven to 350º. Spray a doughnut pan with flour spray.

In a medium bowl, whisk flour, baking powder, baking soda, salt, and pumpkin pie spice. In a large bowl, whisk oil, 4 tbsp. melted butter, buttermilk, pumpkin puree and brown sugar until well combined. Beat in eggs. Add flour mixture and fold with a rubber spatula until the flour is incorporated.

Spoon the batter into a gallon-sized zip-top bag and use scissors to cut one of the corners open in a large hole. Squeeze the batter into the doughnut pans, filling about 3/4 full. Bake 30 minutes – a toothpick inserted into the center should come out clean.

Let cool in pans about 5 minutes, then tap out onto a cooling rack. Let cool another 10 minutes.

Meanwhile, melt 1/2 c. salted butter in a shallow bowl. Combine the sugar and cinnamon in another shallow bowl. Dip both sides of a doughnut in the butter first and then the cinnamon-sugar to coat the exterior well with the sugar. Return to the cooling rack and repeat with the rest of the doughnuts.

Any doughnuts that won't be eaten that day will keep best in the freezer in a sealed bag or container. Let defrost on the counter about 30 minutes before eating.
Nutrition
Calories:
195
kcal
|
Carbohydrates:
24
g
|
Protein:
2
g
|
Fat:
9
g
|
Saturated Fat:
4
g
|
Cholesterol:
29
mg
|
Sodium:
154
mg
|
Potassium:
114
mg
|
Fiber:
1
g
|
Sugar:
11
g
|
Vitamin A:
2960
IU
|
Vitamin C:
0.7
mg
|
Calcium:
41
mg
|
Iron:
1.2
mg
PIN THIS RECIPE