Banana Blueberry Butterscotch Pancakes + Hungry Jack
Banana Blueberry Butterscotch Pancakes by Cooking with Crystal for I Heart Naptime
Today I will be sharing this WONDERFUL recipe for Banana Blueberry Butterscotch Pancakes. We're partnering with Hungry Jack this year, so I wanted to share my recent trip to Ann Arbor and the NASCAR Race at Michigan International Speedway!
It was so awesome to be up close and personal with the race crew. Seeing all the work that goes into the preparation really blew me away. I have never before seen a NASCAR race, so I really had no idea what to expect.

MY OTHER RECIPES
Being able to spend the day with the race crew learning about all the various components that all have to work together to make the car run at optimum quality was astounding.
I have a new found respect and appreciation for the sport!
The first day of the trip we were all in Ann Arbor and…
when in Ann Arbor, Michigan and you are hungry…
then you MUST go to Zingerman's Delicatessan!
It is downtown and has the LARGEST menu… luckily they give it to you while you wait in line so that you have ample time to go through it.
I ended up deciding on the #97 Lisa C's Boisterous Brisket and oh man, it was outstanding. The whole crew raved over the deliciousness of the food and their awesome soda machine with endless amount of locally made pop.
I was able to meet some fantastic bloggers from all around the country and we really hit it off! We browsed lots of various shops in downtown Ann Arbor and enjoyed being in a food coma from Zingerman's!
On the day of the race, I was so excited to meet the driver, AJ Allmendinger and the whole crew over at JTG Daugherty Racing  and for our Hungry Jack pancake breakfast! The pancakes were so light and fluffy and filled me up to be able to stay at the track all day.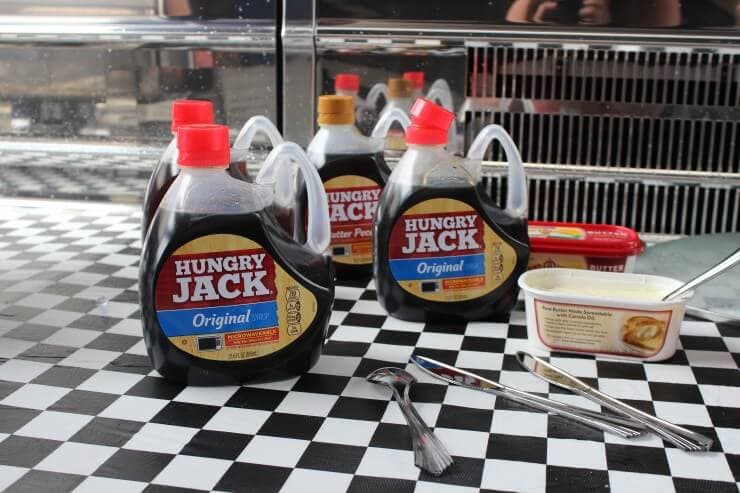 We were able to talk with AJ about his excitement for the race that day and to hear all about the experience of driving a race car!
The crew from Hungry Jack were simply so sweet!
I've never been to a Nascar race or even watched one, but there is something SO amazing and powerful being there and actually seeing and hearing the roar of the engines as they whizz past going 220 mph. It really was surreal.
I think I just may be converting to a Nascar fan!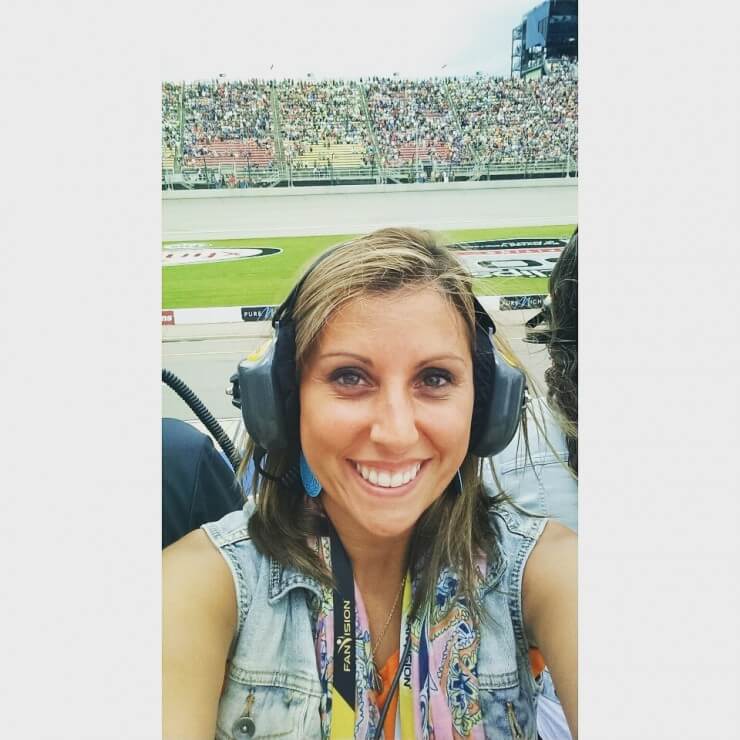 Unfortunately, there was a rain storm that we battled all day and the race ended up getting stopped 3 different times. On the last and final time, they just called it and chose a winner.  Even though the rain lasted pretty much all day, it did not deter the fans or newbies like me. It was a wonderful experience and I learned so much that day from the amazing crew at JTG Daugherty about racing. One of my favorite parts was watching the pit crew completely change 4 tires and re-fuel the car in 11 seconds!
ELEVEN SECONDS.
It was totally crazy!
While the rain came, all the racers would hop out of their cars, so that was pretty neat to actually SEE all the drivers. In the meantime, these trucks go around the track in tandem drying it completely.
As the rain came, we got to see all the racers…starting with AJ.
Clint Bowyer…
The Nascar race really was out of this world fun and another really fun part was that the tunnel leading out was flooded by the time we were leaving, so we got to drive right on the actual track!
How cool is that?!
The last night we ventured out to Zingerman's Roadhouse, which is hands down my favorite restaurant in the whole city.
To begin we ordered as a group the poutine, which for me, I have only ever had one other time, which was up in Canada. I was very impressed with it too. For those of you who don't know, it is basically french fries covered in gravy with cheese curds all around it.
A truly delicious indulgent snack!
I also had the chili cheese fries and sweet potato fries. They were both insanely good.
I am obsessed with their fried chicken mac and cheese. It is the most delicious entree.
I also tried their ribs and I was again completely fallen in love. They were so tender and fell right off the bone, the sauce had just enough kick, and the mashed potatoes were the perfect accompaniment.

So, in honor of Hungry Jack and the fantastic weekend, I decided to whip up a pancake recipe and it will totally make you swoon.
It is for BANANA BLUEBERRY BUTTERSCOTCH PANCAKES!
Melt the butter in a saucepan to make the butterscotch sauce.
Add the sugar and cream and stir.
Enjoy this deliciously easy butterscotch sauce!
I LOVE Hungry Jack pancake mix, it's my all time favorite and I made this vinyl decal in my oxo pop up container just for my pancake mix.
I attached the recipe to the back so I never lose it and that way I have everything I need in this container, plus it stays fresh longer!
After making up the mix, tossing in one smashed banana, then cook on griddle and drop blueberries into them while they cook.
When they are done cooking, slice up bananas for the top and drizzle with butterscotch sauce.
Enjoy!
Banana Blueberry Butterscotch Pancakes
Ingredients:
Hungry Jack Pancake Mix, follow instructions on box
2 bananas
1/2 cup blueberries
Butterscotch Sauce:
¼ cup salted butter
½ cup packed dark brown sugar
½ cup heavy cream
1 ½ tsp vanilla extract
1/4 tsp sea salt
Directions:
To make the butterscotch sauce:
Melt butter in a medium saucepan over medium heat.
Add sugar, cream, and salt and whisk until blended.
Bring to a low boil and cook 5 minutes, whisking occasionally.
Remove from heat and add one tsp vanilla extract.
The sauce will thicken as it cools.
To make pancakes:
Follow instructions on Hungry Jack pancake mix box.
Then mash up one banana and add it to the batter.
Pour batter onto griddle into pancake size discs and drop fresh blueberries into batter.
Cook on each side about 3 minutes, until cooked thoroughly.
Top with sliced bananas and drizzle with butterscotch sauce.
Butterscotch sauce will store in refrigerator for 2 weeks in an airtight container.
Disclosure: As a participant of the Hungry Jack Ambassador Program, I've received compensation for my time and product samples for review purposes. Opinions are my 100% own.
Thanks, Crystal!
If you think this pancake recipe looks great, check out these too:
Pumpkin Cinnamon Roll Pancakes
Join in! Leave a comment!
Comments