20 Minute Blender Muffin Recipe
Flourless blender muffin recipe made in less than 20 minutes and are under 100 calories! This recipe is so easy and the muffins taste amazing! You can also make them completely customizable with your favorite toppings.
I promise, these will be the easiest muffins you will ever make. My kids love helping me with this recipe. It's as simple as dumping the ingredients in a blender and hitting the on button.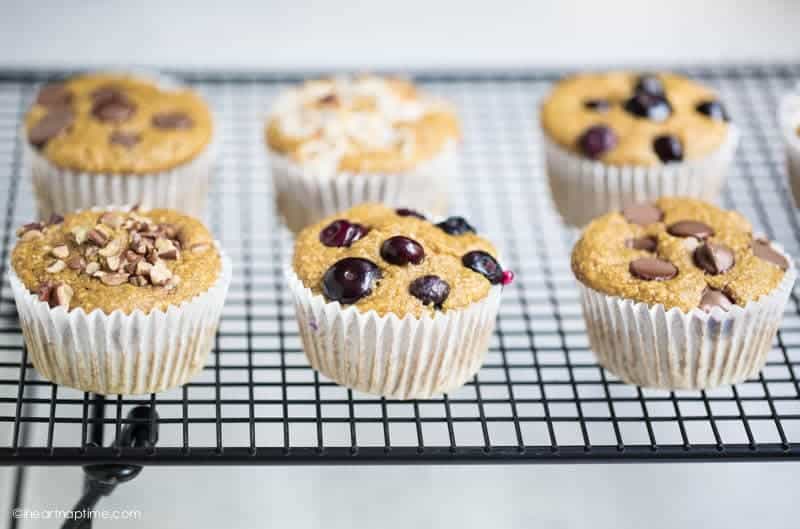 These muffins are actually pretty healthy too, which is always an added bonus. Our favorite toppings are coconut, nuts, chocolate chip (sometimes all 3 at the same time) and blueberries. They are also made with oats instead of flour, making them just a little bit healthier and full of fiber. You would never know, they are super tasty!
If you don't love bananas – don't worry it's not a strong flavor in these muffins. If you're looking for a good banana bread though, you can find my favorite recipe here.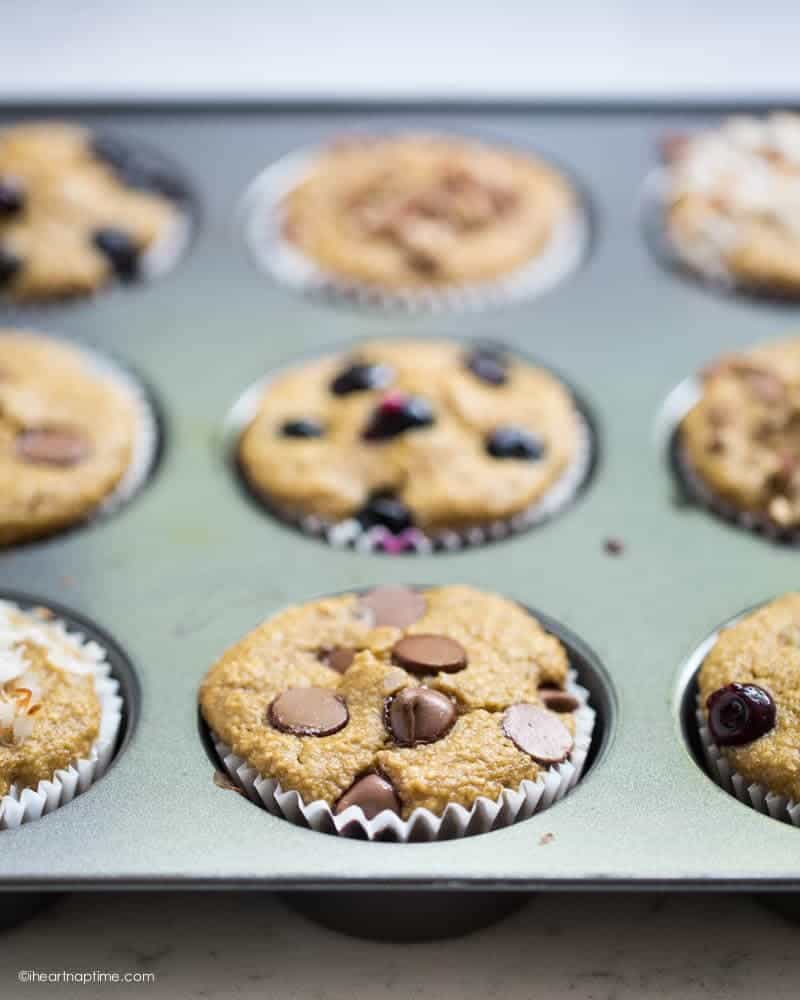 I also used my new Blendtec (and have one to giveaway to one of YOU)! Isn't she purdy?! This is the new seafoam color. I love it! It matches my kitchen aid perfectly! This thing whips up smoothies, muffins, ice cream and pretty much anything you can dream up. I am in LOVE!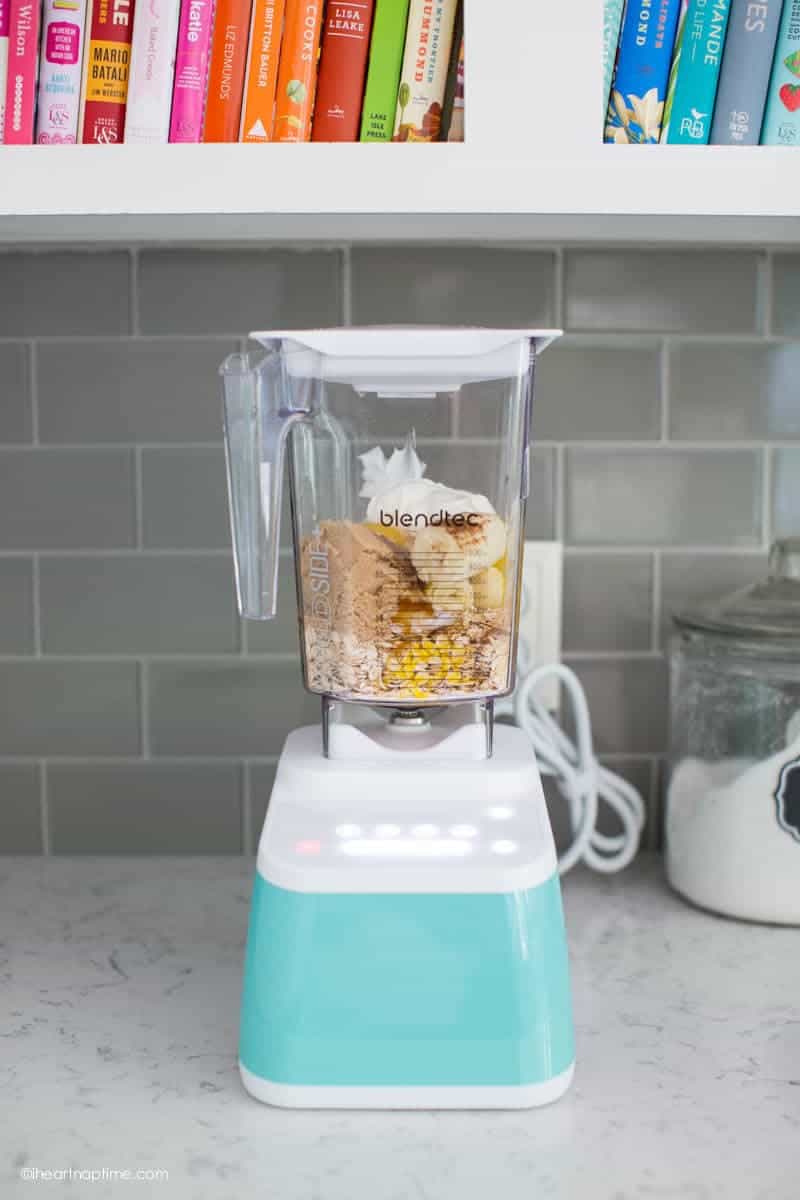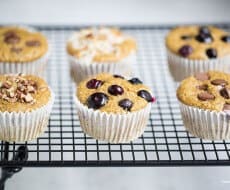 20 minute blender muffins
Ingredients:
2 cups old fashioned oats
2 ripe bananas
1/2 cup cinnamon applesauce
1/4 cup Greek yogurt
1/4 cup brown sugar
1 large egg
2 Tablespoons honey
1 1/2 teaspoons vanilla
1 teaspoon baking powder
1 teaspoon baking soda
1/2 teaspoon salt
Toppings: shredded coconut, chopped pecans or walnuts, chocolate chips or blueberries (optional)
Directions:
Pre-heat oven to 400ºF. Line a muffin tin with cupcake liners and set aside.
Combine the oats, bananas, applesauce, yogurt, brown sugar, egg, honey, vanilla, baking powder, baking soda and salt into a blender. Pulse 10-15 times, or until the batter is smooth. It doesn't need to be completely smooth, just well combined.
Using a large cookie scoop or 1/4 cup, add the batter to the liners. You want them to be about 3/4 the way full. Add toppings if desired to the top of the batter.
Bake for 14 to 15 minutes, or until a toothpick comes clean.
If you would like to use regular applesauce, you can add in 1/2 teaspoon ground cinnamon.
For mini muffins, heat the oven to 375ºF and bake for only 10 minutes. Makes 48 mini muffins.
All images and text ©
I love using this large cookie scoop for scooping in the batter. It makes it super fast!

My kids favorite are the chocolate chip ones (of course!), so I like to keep a batch of these out on the counter when they get home from school. I only put 3 or 4 chocolate chips in theirs and they don't even notice the difference.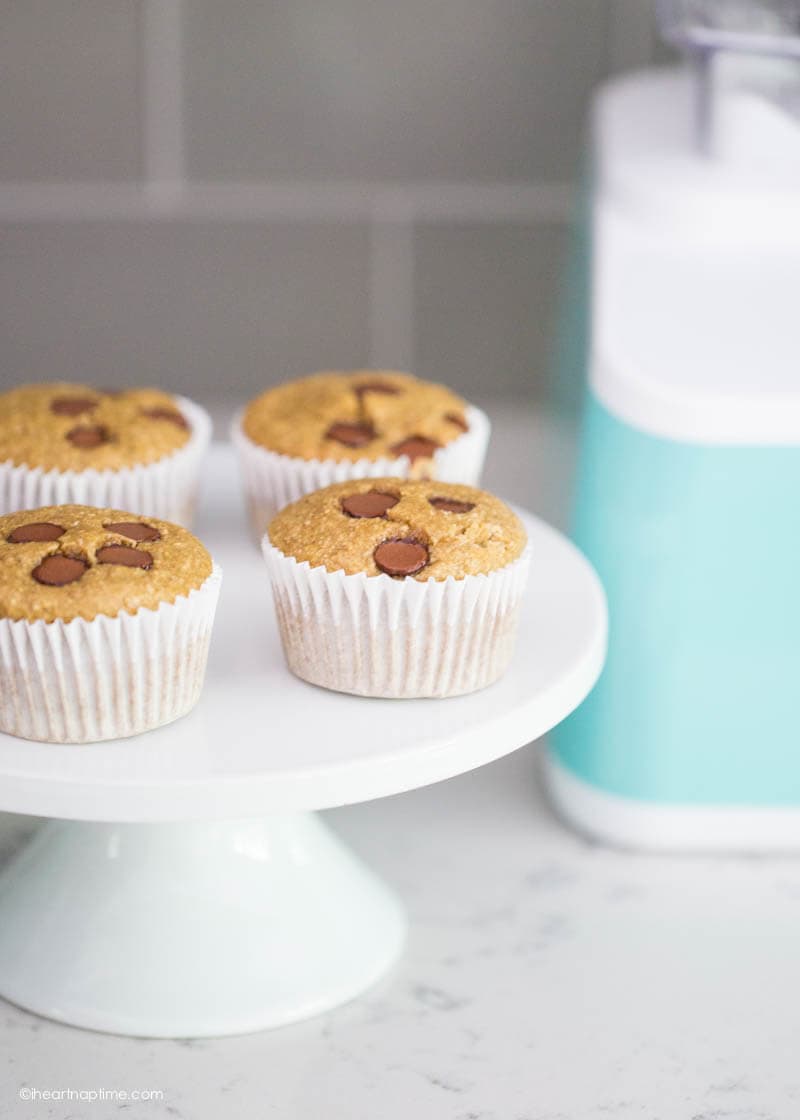 This giveaway is now CLOSED! Congrats to our winner #396 Michelle
Looking for more muffin recipes? You'll love these too!