Eeek I'm so excited to show you guys the finished wall! I feel like you guys have been with me all along the way. Thank you for all you suggestions on facebook…when I begged you for advice. hehe. You guys rock… and are seriously creative! So here is the Blue Stencil Wall…. what do you think?! I really love how it turned out! It adds great personality to the room!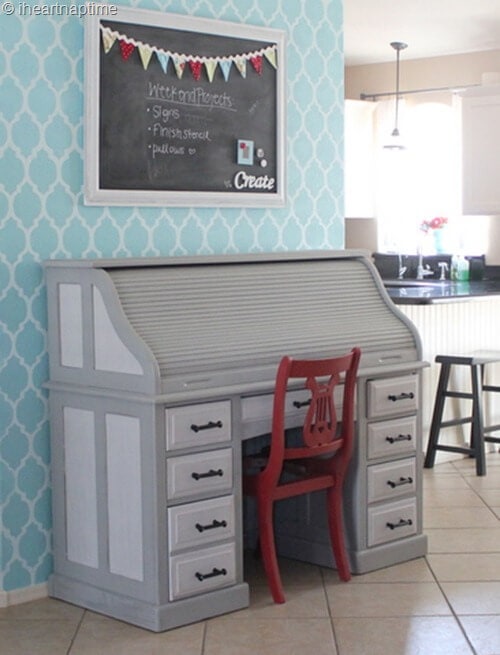 This was our Labor Day weekend project… along with the my daughters wainscoting. Can't wait to show you that as well!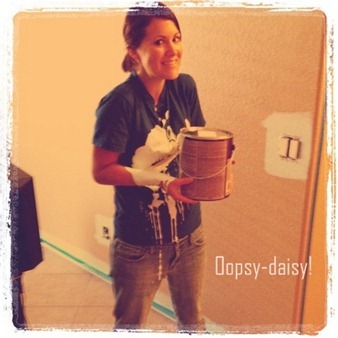 We had quite a good time painting together. We may have ate 1/2 gallon of ice cream while painting… and I may have spilled 1/2 a gallon of paint. Whoops! For this wall I color matched a robins egg blue with Gliddens Briliance Paint from Walmart.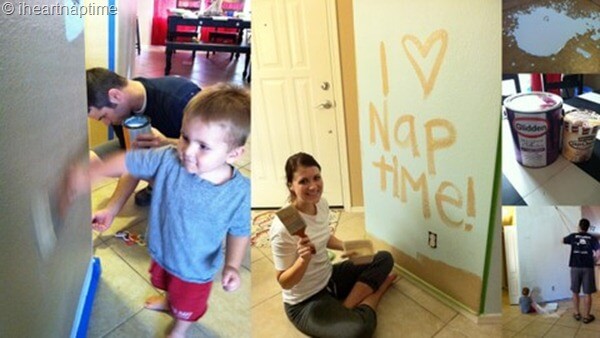 My two year old got a cup of water to paint with…worked like a charm! He had lots of fun "help paint!" And you may notice in the collage a picture of me painting late at night. Yes, that's what happens when one of your best friends comes over and tells you she hates the blue wall. HAHA! I really like the blue… but it was just a little too much. So I painted the corner back tan, and it looks much better. And then I even added MORE blue with the stencil. lol!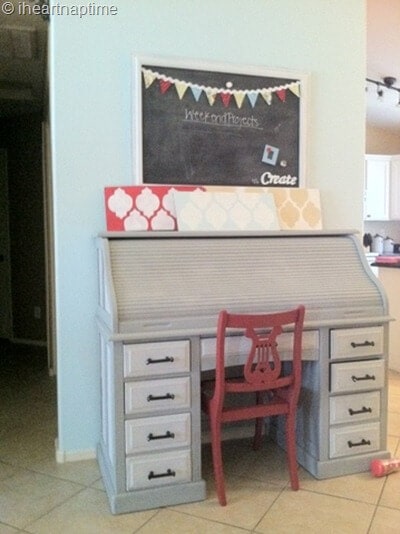 I had such a hard time deciding what color stencil to do. I really didn't like the blue against the grey desk and at one point I was considering re-painting the whole wall. Then one of my facebook fans suggested painting a darker blue. BRILIANT! P.S. It's always a good idea to do paint swatches on scrap wood before doing the whole wall. That would not be fun to get done stenciling and not like it.
I used the casablanca stencil by Cutting Edge Stencils. They have a great video tutorial here. Basically all you do is tape up the stencil (I've heard spray adhesive works well too) then load up your roller, dab off the excess on a paper towel and roll away. Then you overlap the stencil as you move along.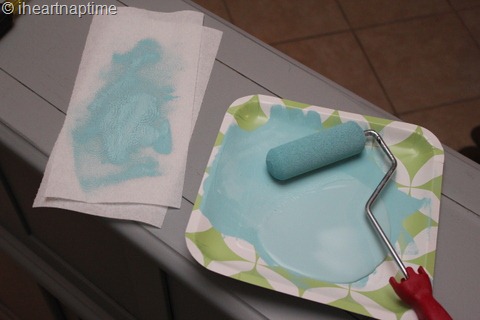 I'm not going to lie… it was a lot of work, but so worth it!! Here's the before and after of my little "office space." It's perfect having my desk right by the kitchen… and I really love the roll-about, because my kids can't get into my stuff.
So what do you think of the blue wall?!
In case you missed:
P.S. If you're painting this weekend , grab a coupon for Glidden's Briliance Paint on my sidebar. It's awesome paint, I love it!
Disclosure: This post has been compensated as part of a social shopper insights study