Box of sunshine with free printables -the perfect gift to send someone to brighten their day!
I think we all know someone in our lives who is going through a tough time. Someone who may have lost a loved one, someone who lost their job, someone who is going through a divorce, someone who is struggling with a child, someone with infertility …or maybe someone who is just dealing with the day to day trials life can sometimes bring. If you're looking for a way to show you care but live far away, or are just not quite sure what to do … send a box full of sunshine! It will make their day!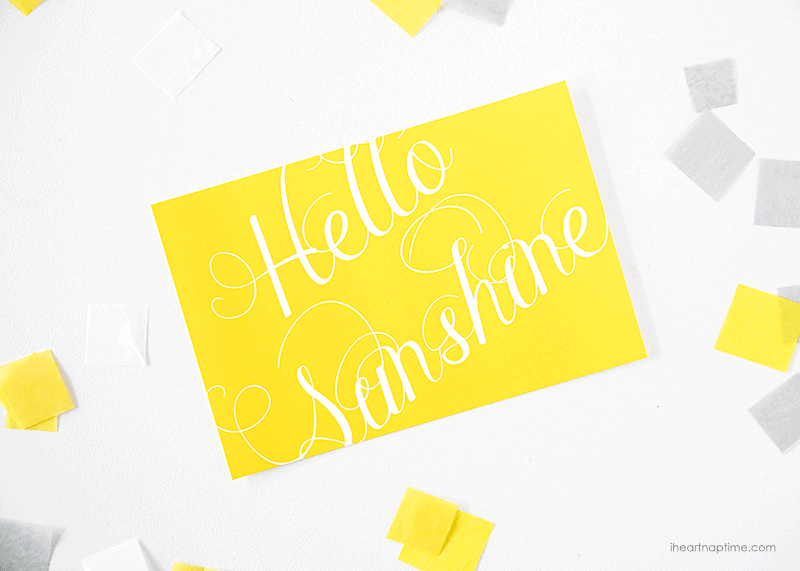 I remember first seeing this idea when my Uncle passed away a couple of years ago. Someone had made my Grandma a pot of sunshine and painted it yellow. They filled it with all kinds of happy and yellow things. I thought this was such a sweet idea. Then after going through my loss last summer I received a box full of sunshine from my dear friend Tiffany. It totally brightened my day and was honestly just what I needed.
Since I loved this idea so much, I thought I'd share it with all of you and include some free printables, so you can send your own boxes of sunshine!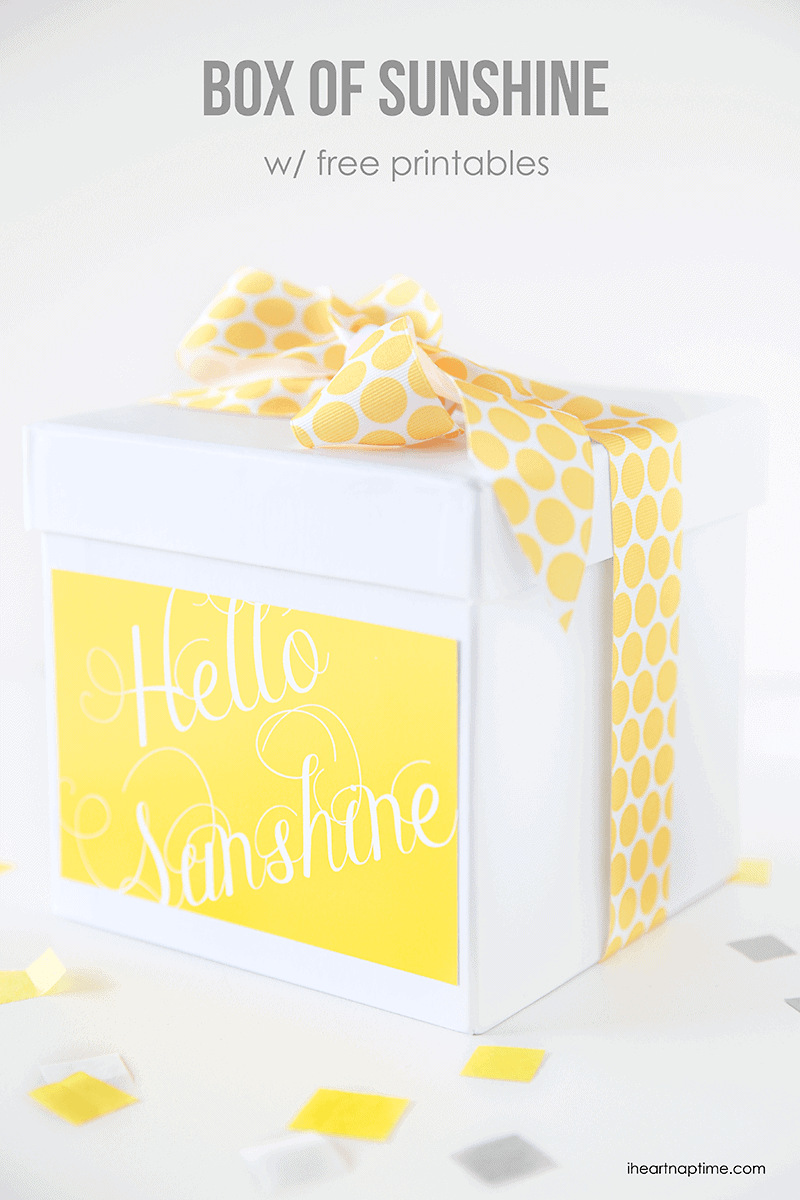 Here are some fun and yellow things you could put in your box. You could even make it simple by placing the printable tag on a candy bar.
yellow confetti
chapstick
nail polish
candle
lotion or soap
starburst
lemon heads
gum
peanut m&m's
mr. goodbar
snickers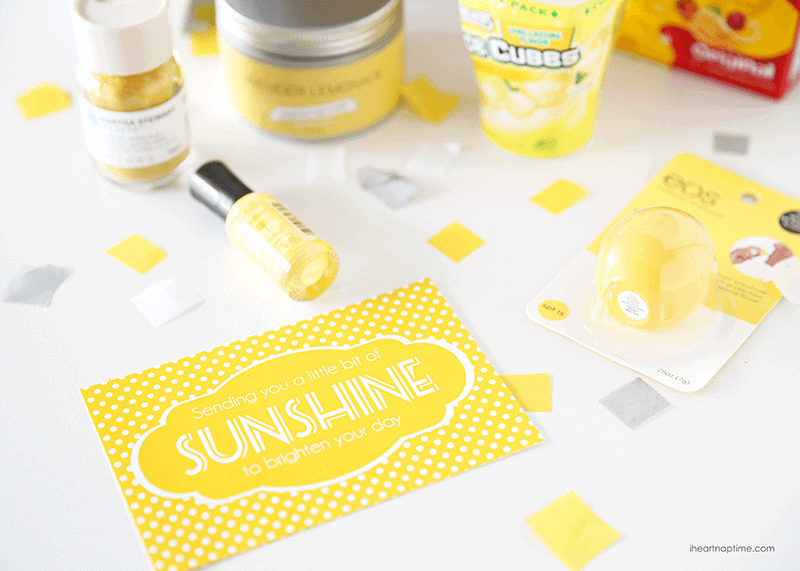 Box of sunshine free printables
Please note I Heart Naptime's free printables are for personal, non-commercial use only. If you are pinning or sharing this post, please share from this page only and not the direct download. Thank you!
Right click on the image to save to your computer. Then all you need to do it print and cut! We recommend printing our printables on a colored printer with cardstock paper. You can also email the file to your local copy store or take it in on a USB drive.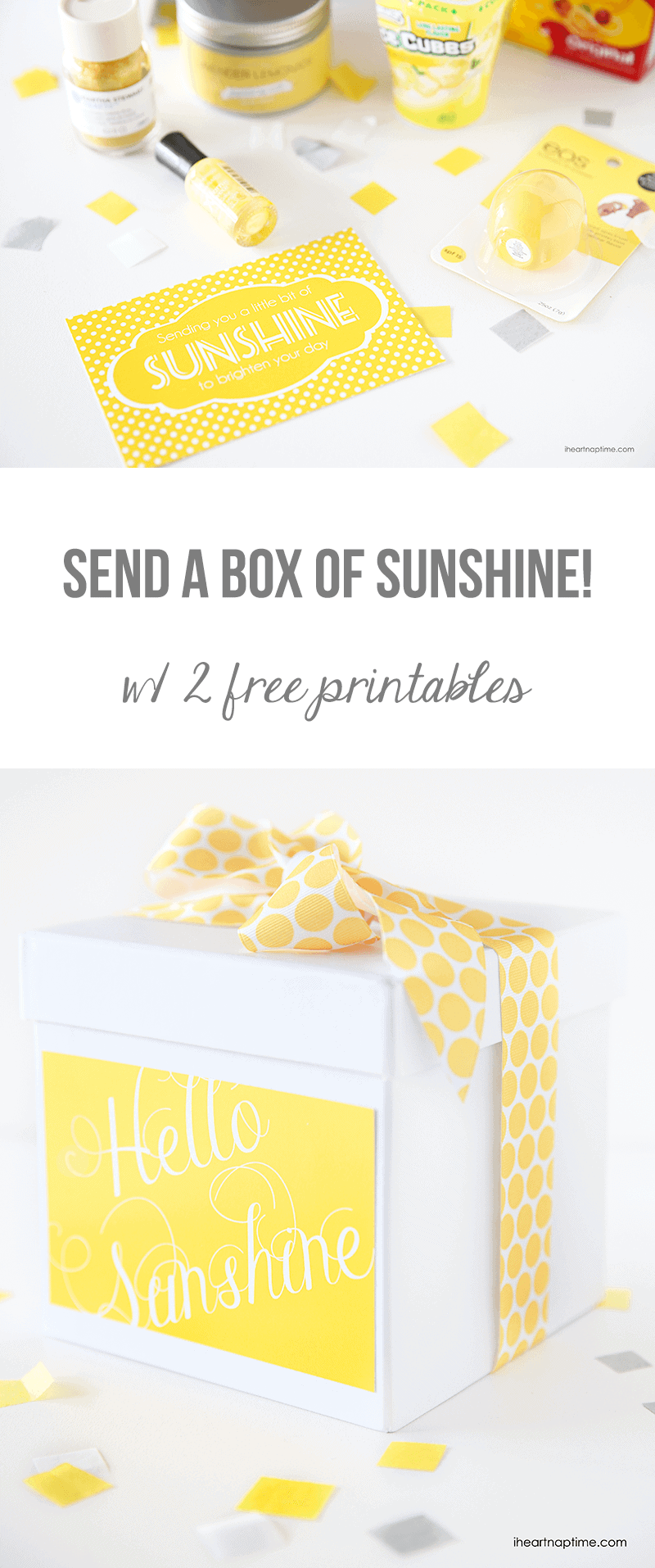 Hope you all have a great day! Thanks for stopping by!
Looking for more gift ideas? You'll love these too: