Jump to Recipe⌄
Breakfast Fruit Tarts
Delicious and easy to make Breakfast Fruit Tarts that are perfect for summer mornings… healthy and so incredibly refreshing.
During the summer months, I often struggle to find something delicious to eat for breakfast. Oatmeal is too hot and even eggs on toast doesn't have that fresh summery feeling. So these Breakfast Fruit Tarts are ideal for me in the summer.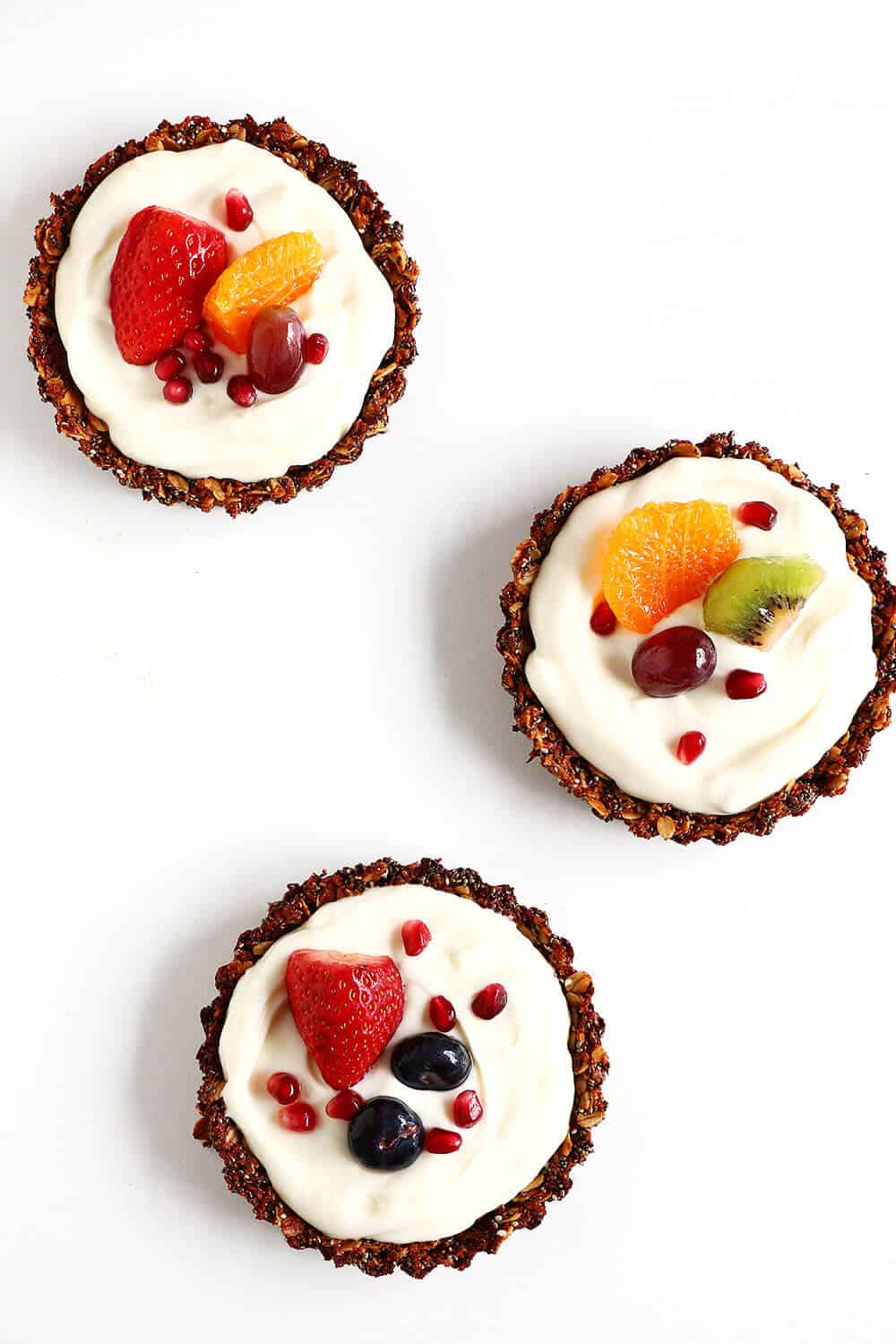 I make a few of the granola tart shells ahead of time and then in the mornings I simply add in the yogurt and some fresh fruit. I love having these with a delicious mango smoothie. It is the perfect summer combo.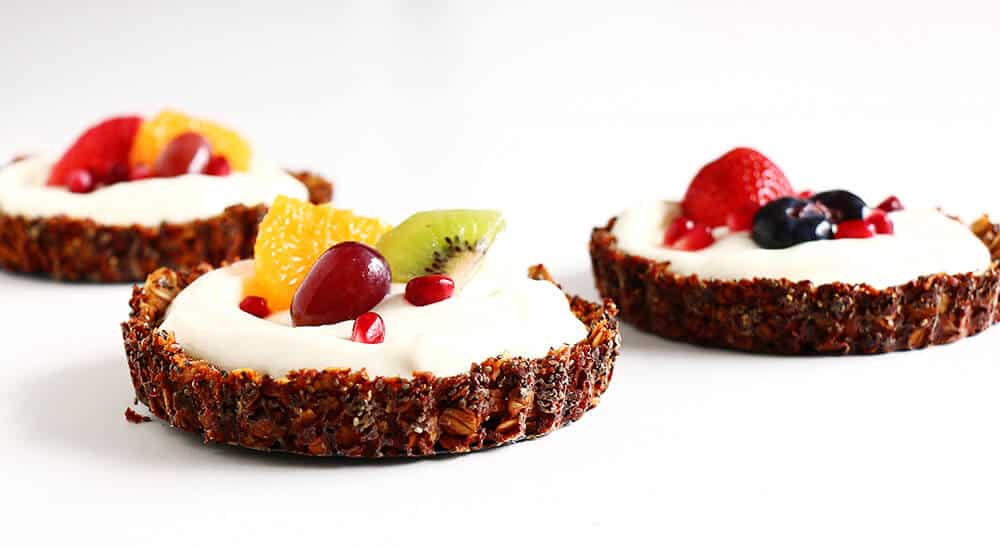 These Breakfast Fruit Tarts are so incredibly light and refreshing. And the addition of chia seeds adds a little protein and also keeps you feeling fuller for longer.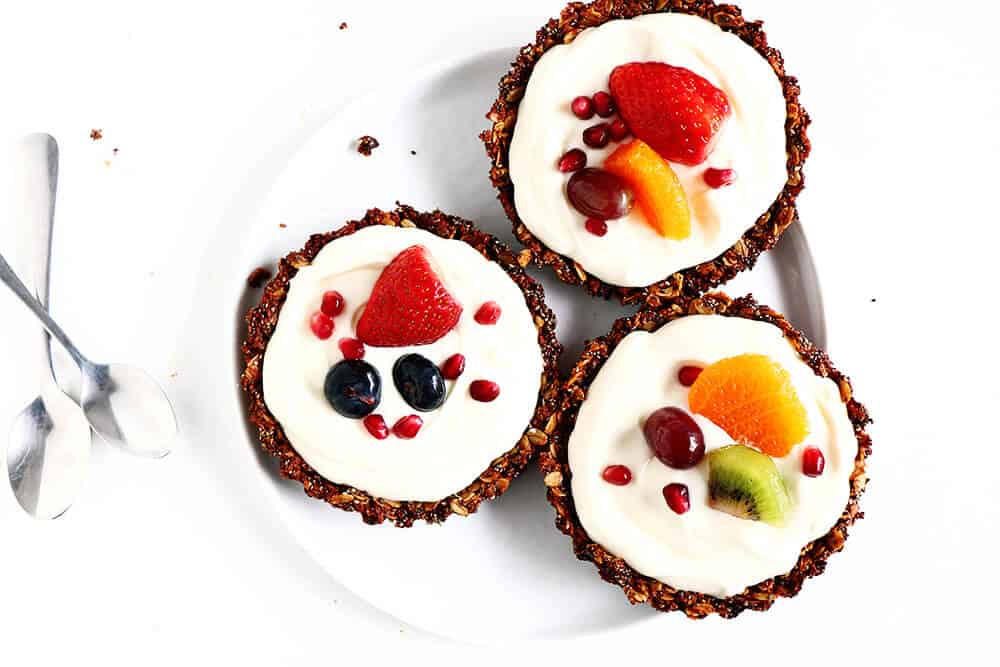 Breakfast Fruit Tarts are incredibly easy to make!
To make the tarts all you have to do is combine the rolled oats, chia seeds, shredded coconut and a little vanilla and set that aside.
Then in a separate bowl melt together the honey and the coconut oil. You can do this either in the microwave or in a double boiler. I prefer using the microwave because it literally takes 45 seconds. When that is melted together, add it to the dry ingredients and give it all a good mix.
Press the mixture into the tart pans and bake them for about 15-20 minutes.
Here is the important part: as soon as they come out of the oven use the back of a spoon to press the tart shell flat. Otherwise you will have no space for your delicious yogurt and fruit.
Let the start shells cool off. Then add in your yogurt (I love using Greek yogurt), top with some delicious fresh fruit and drizzle a little honey over the top. YUM!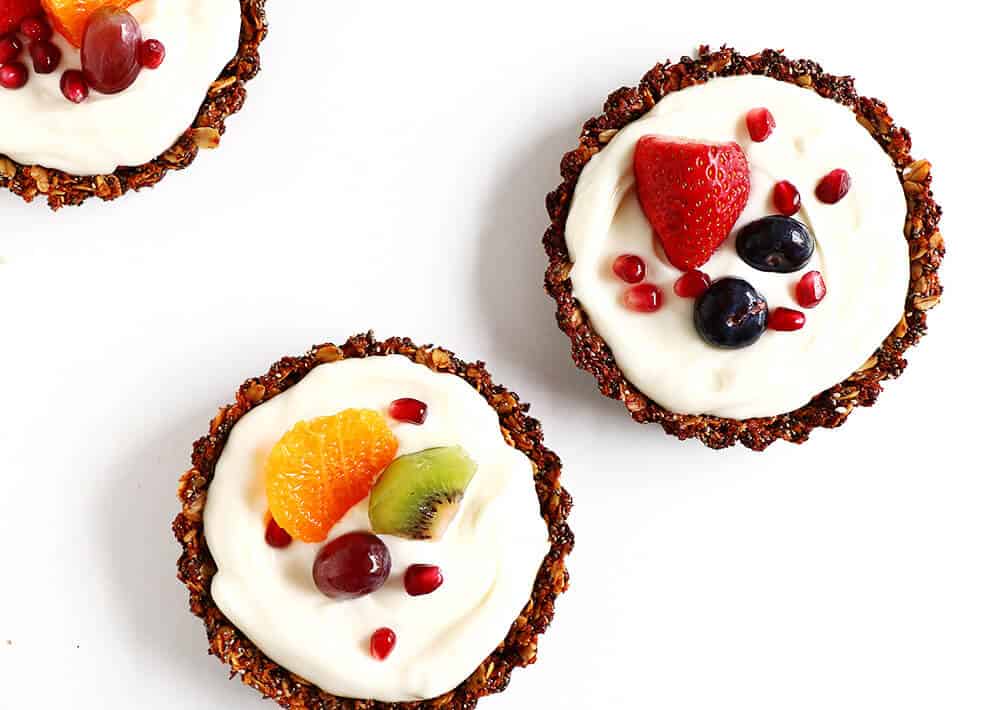 Breakfast Fruit Tarts are refreshing and easy to tailor to your favorite flavors!
You can play around a little with the tart shell if you want. You could add some pumpkin seeds or even a couple of dried cranberries. And the topping is really all up to you.
I use whatever fruit I have that day in my home or sometimes I simply use some frozen berries. Either way, it will be delicious!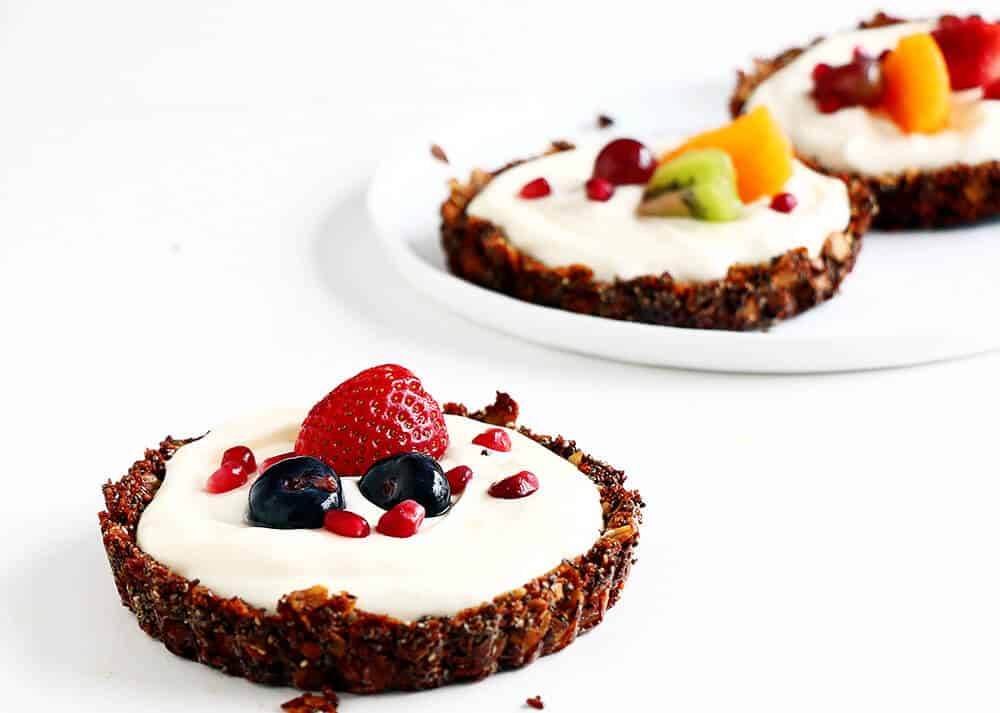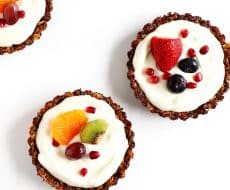 Breakfast Fruit Tarts
Ingredients:
1 1/2 Cups Rolled Oats
1 tsp Vanilla
1 1/2 Tbsp Chia Seeds
1/4 Cup Shredded Coconut
1/4 Cup Coconut Oil
2 Tbsp Honey
1 1/2 Cups Greek Yogurt
Fresh Fruit to top
Honey to drizzle on top (optional)
Directions:
Preheat the oven to 180ºC/350ºF and spray 4 tart pans with non stick spray.
Combine the oats, vanilla, chia seeds and shredded coconut in a bowl and set aside.
Meanwhile, place the coconut oil and 2 Tbsp of honey in a microwaveable bowl.
Place the mixture in the microwave for 30-45 seconds and stir well.
Stir the oil mixture into the oat mixture until well combined.
Press the mixture into the tart pans and use a spoon to press the mixture flat.
Bake the tart shells for 15-20 minutes.
Remove the tart shells and immediately press them flat with the back of a spoon. Allow to cool.
Once cooled, fill them with Greek yogurt and top the with fresh fruit and a little honey.
All images and text ©

Thanks, Jane!
If you love this delicious and health breakfast recipe, you'll enjoy these too!