Cadbury Cupcakes with Caramel Frosting
Cadbury Cupcakes Recipe with Caramel Frosting – a rich chocolate cake filled with Cadbury eggs and topped with a creamy and delicious caramel frosting. These are amazing!
If you're looking for something decadent to make this Easter, boy do I have the perfect dessert for you. My kids said these are their favorite cupcake yet. But how can you possibly go wrong with chocolate and caramel Cadbury eggs? You just can't.
I had to give these away, or else I literally would have ate the whole pan. I have the recipe for these cupcakes and even made a little video for you (scroll down the to bottom).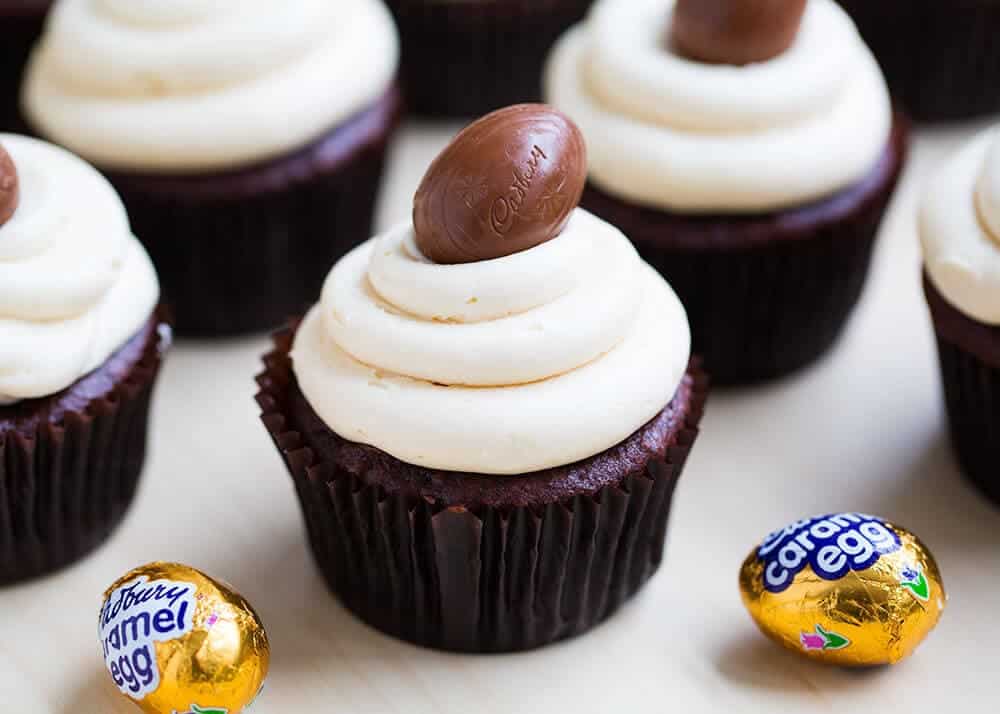 Warning: these are for chocolate lovers only. Seriously so much goodness packed into these cupcakes.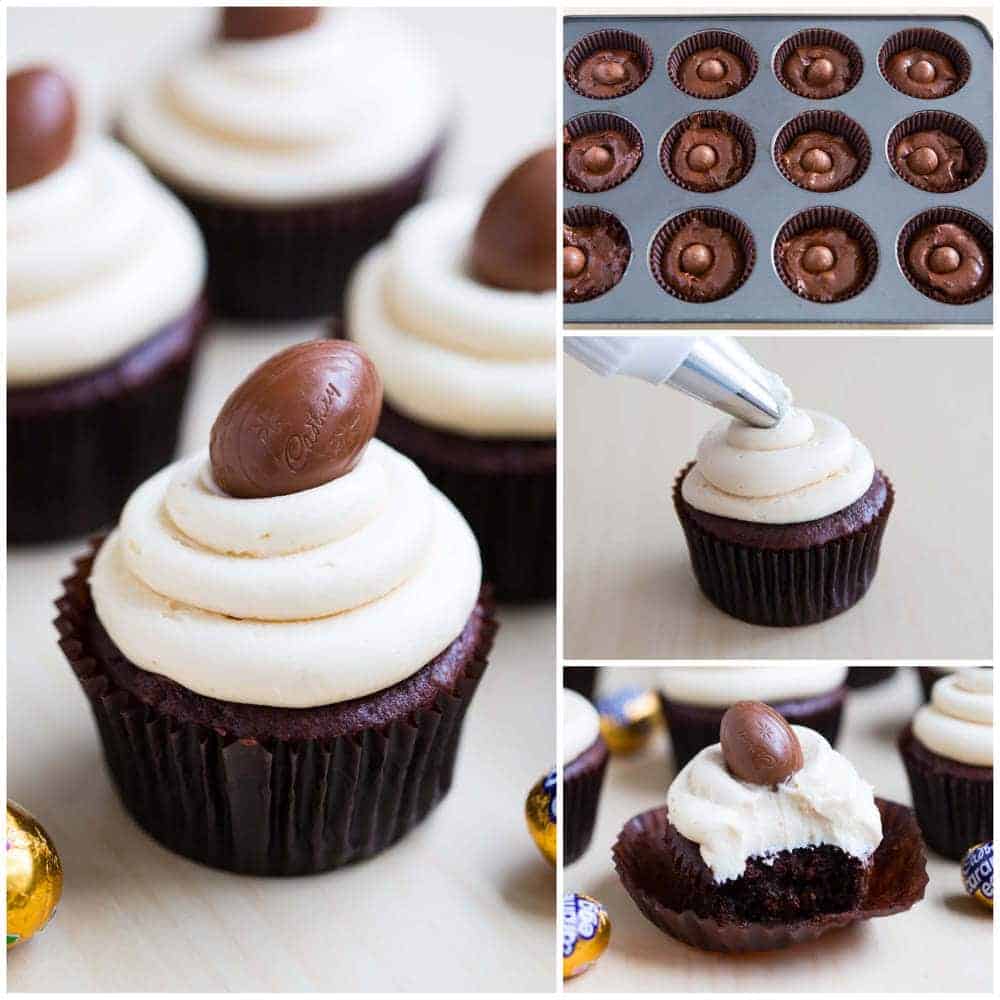 The caramel buttercream frosting is everything. Seriously, so good.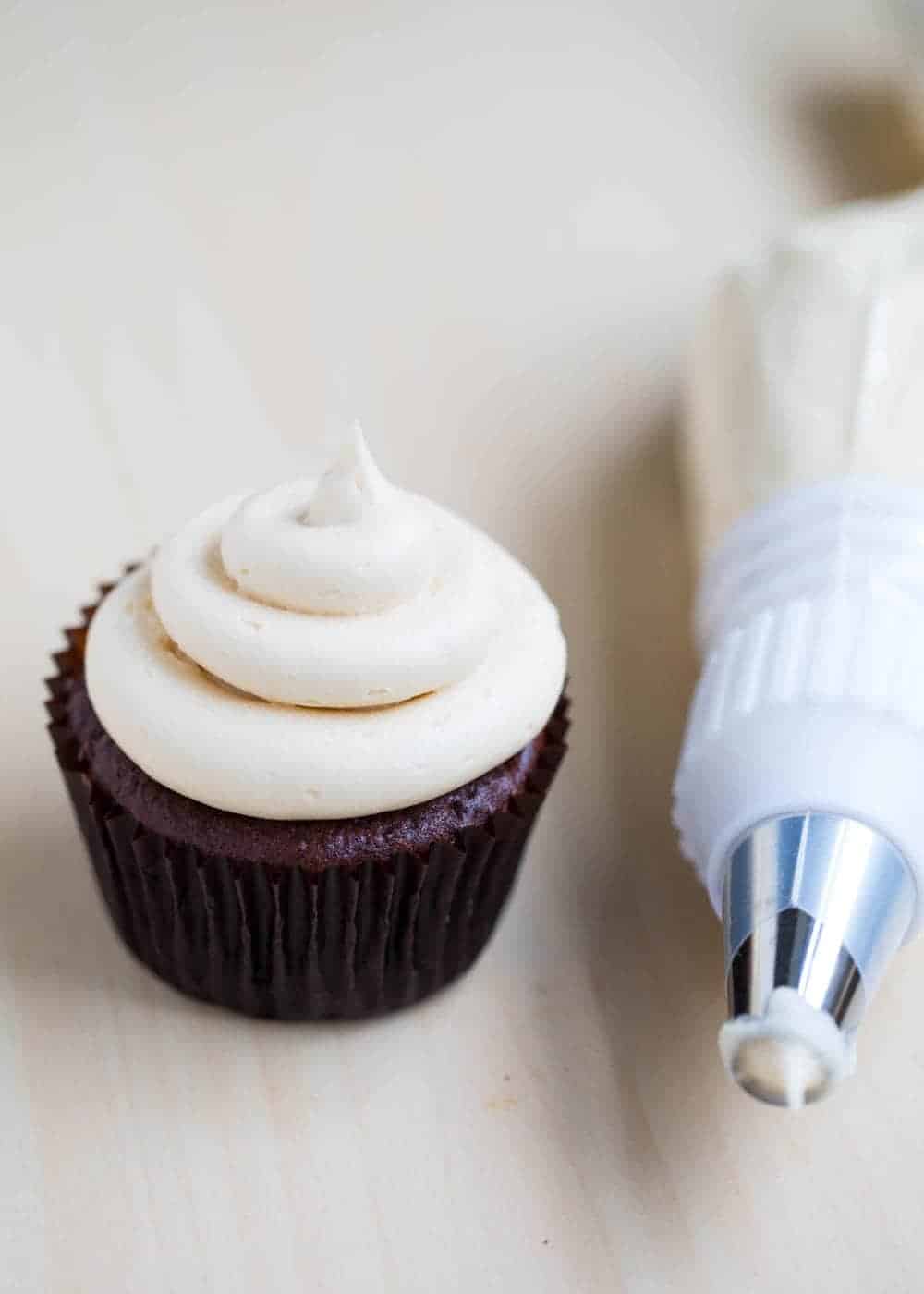 Here's the video tutorial and I have the printable recipe below. Enjoy!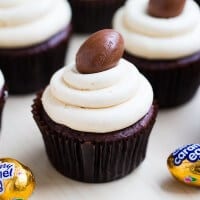 Cadbury Cupcakes
Yield: 24 cupcakes
Prep Time: 30 minutes
Cook Time: 20 minutes
Total Time: 50 minutes
Ingredients:
Chocolate cupcakes:
1 box (15 -ounce) devils food cake mix
1 (3.4 -ounce) box chocolate pudding (dry)
1/2 cups chocolate chips
4 eggs
3/4 cup canola oil
3/4 cup hot water
1 cup sour cream
24 mini Cadbury caramel eggs
4 large Cadbury caramel eggs
Instructions:
Preheat the oven to 325°F.
In a large bowl combine the cake mix, chocolate pudding and chocolate chips. Stir until combined. Next mix in the eggs, canola oil and water. Finally mix in the sour cream. Then scoop the caramel out of the large Cadbury eggs and set aside. Chop up the chocolate from the eggs and stir into the batter.
Pour cake mix into the cupcake liners (about 3/4 the way full). Then place a mini Cadbury egg in the center of the cupcake.
Bake for 20-23 minutes or until they Spring back when touched. Do not over cook. You can also test with a tooth pick to make sure the centers are cooked all the way through.
Remove from oven and allow cupcakes to cool on a cooling rack.
Caramel frosting: 
2 sticks salted butter, softened
4 cups powdered sugar
2 teaspoons vanilla extract
2 to 5 teaspoons of cream or milk
3 Tablespoons of caramel
Instructions:
In a large mixing bowl whip the butter. Slowly add in 2 cups of powdered sugar. Mix until combined. Add the vanilla and 1 more cup of powdered sugar and continue mixing. At this point you may need to add a teaspoon or two of milk to thin the frosting down. Add in your last cup of powdered sugar and mix until combined. Stir in the caramel (from the Cadbury eggs). Add more or less milk depending on the consistency. You want the frosting to be thick, creamy and to be able to hold a point. I used a 2A frosting tip to frost these cupcakes. Top with a mini Cadbury egg if desired.
Directions:

Mmm.. so good! Don't you just want a bite?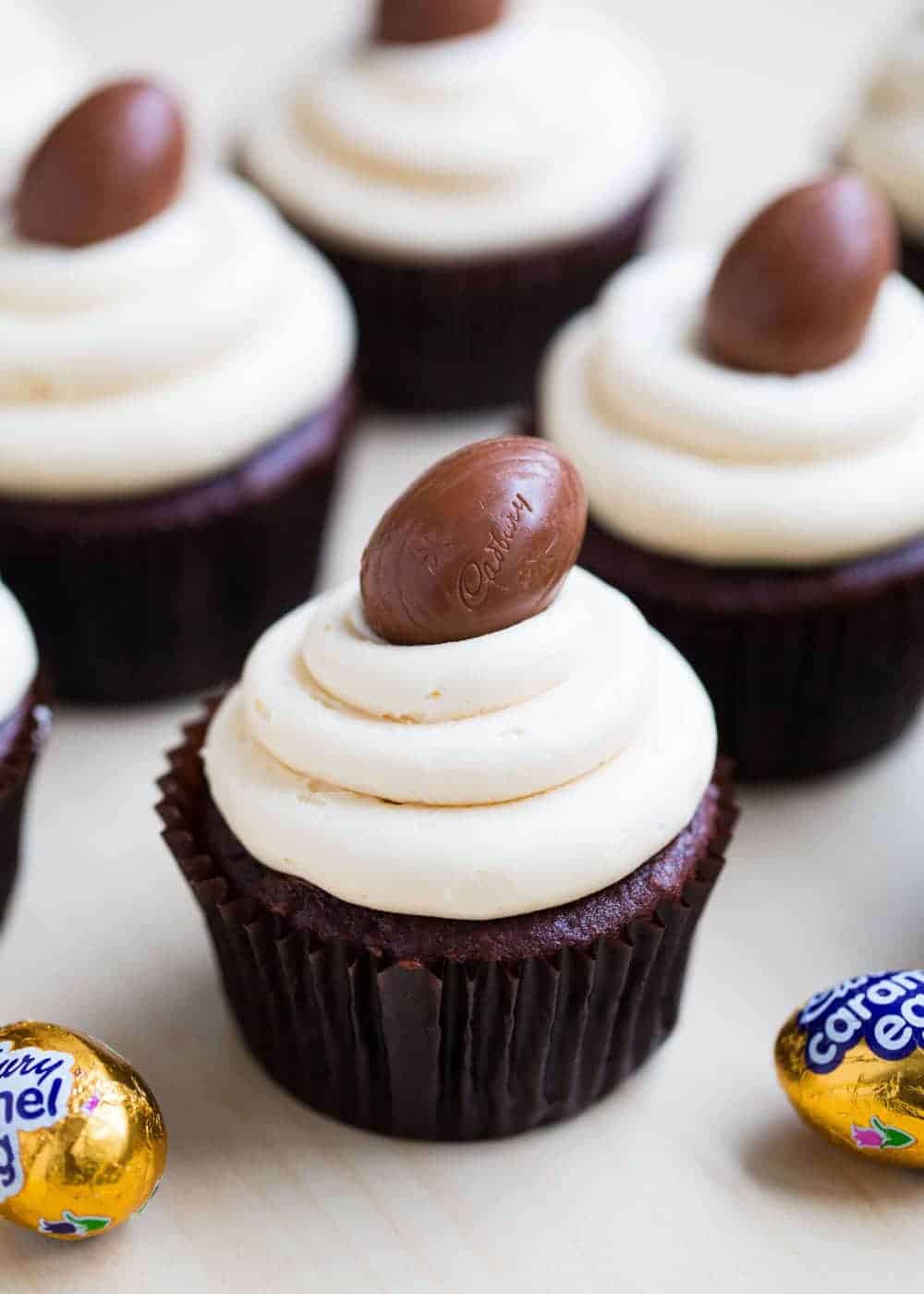 This post was brought to you buy Cadbury
Join in! Leave a comment!
Comments