Cake Mix Cookies
Cake Mix Cookies …such an easy and delicious recipe made with only 3 ingredients! Customize with your favorite mix-in's!
We've shared a few different cake mix cookies, such as the strawberry cookies, chocolate mint cookies, grinch cookies and red velvet gooey cookies, but I thought it was about time I shared the original cake mix cookie recipe. Now I'm not sure who the original creator of this recipe is, but I first saw it in a church cookbook I received many years ago and have made many different variations ever since. This cookie is great for when you need to make something quick and don't have a lot of ingredients. I don't know about you, but I pretty much always have a box of cake mix, oil and eggs on hand.
How to Make Cake Mix Cookies
Basically all you need to make these cake mix cookies is a box of cake mix, oil and eggs. Then all you're going to do is mix the ingredients together until the dough is smooth. Then add any mix-in's if you'd like. I also like to refrigerate the dough, so it's easier to work with. It tends to be a little stickier than your typical cookie dough because of the oil. You can find the printable recipe below.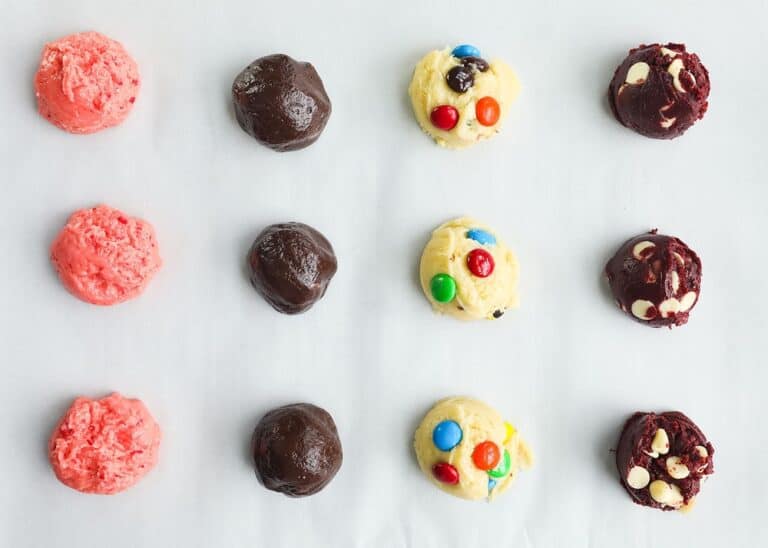 Cake Mix Cookies Variations
You can use pretty much any flavor of cake mix with these cookies. Then also feel free to add in your favorite mix-in. They also taste great dipped in chocolate.
Red Velvet and White Chocolate Chip
White (or Yellow) Cake Mix and M&M's

Devil's Food Cake with Rolos Inside

These Chocolate Dipped Strawberry Cookies I shared last month
Cake Mix Cookies Video
Cake Mix Cookies Printable Recipe
Cake Mix Cookies
Ingredients:
1 (15.25 ounce) box cake mix
1/2 cup vegetable oil
2 large eggs
Mix-in's: Chocolate chips, M&M's, Rolos, etc. (optional)
Directions:
Preheat oven to 350°F. Line a baking sheet with a silicone mat or parchment paper and set aside.
Combine the cake mix, oil and eggs in a large bowl. Stir together until combined. If you have the time, refrigerate the dough for 15-20 minutes (it will make it a little easier to work with, since it is sticky).
Using a medium scoop or spoon, scoop the dough onto the prepared baking mat. Bake for 9-11 minutes, or until the cookies are set. You don't want them to brown. Allow to cool on the pan for a couple minutes and then transfer to a cooling rack.
Once cooled, melt the chocolate and then dip half the cookie into the chocolate. Lay cookies onto a wax paper and add sprinkles if desired.
All images and text ©