Camper Christmas Ornament… a cute, easy, and adorable DIY ornament perfect for your Christmas tree of as a present topper!
Hello I Heart Naptime readers – my name is Bev and I blog over at Flamingo Toes. I'm so happy to be here for the Crazy Christmas series!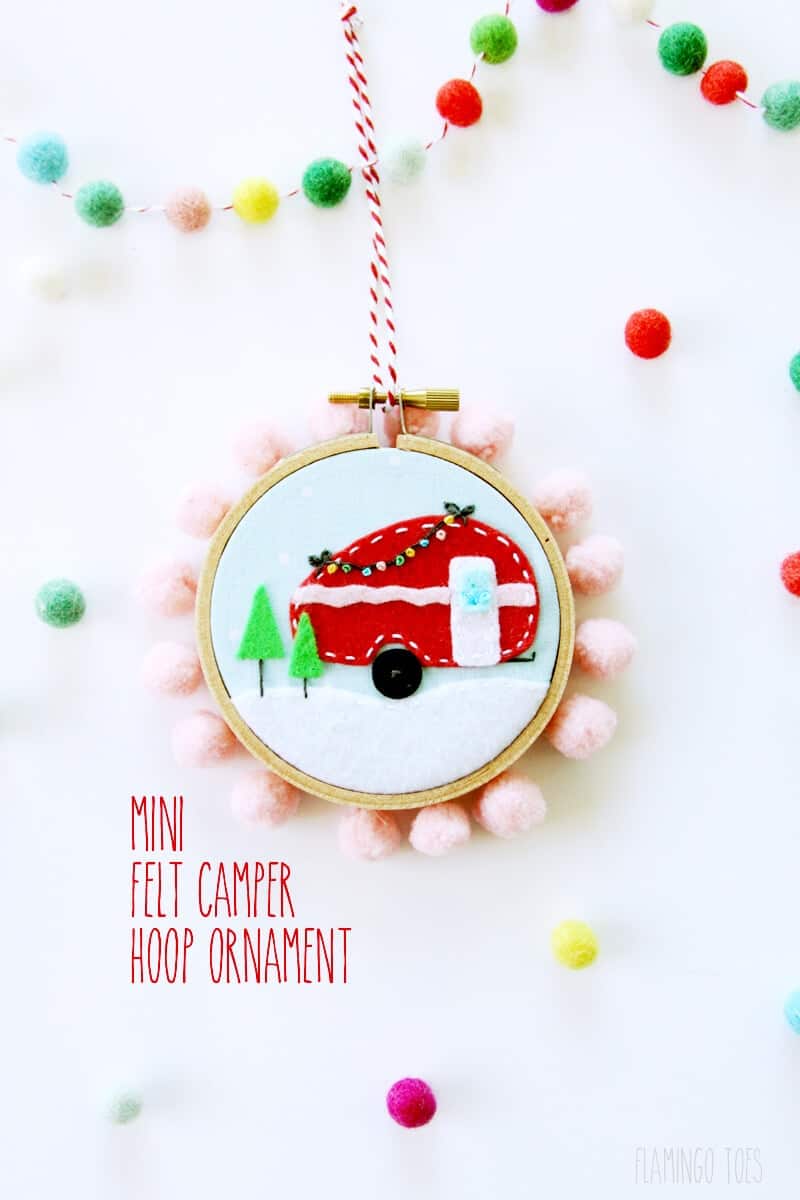 Over at Flamingo Toes I love sharing embroidery and sewing projects, along with home decor, diy and lots more! One of my favorite things to create is embroidery hoop art – and that's what I'm sharing today, in a little mini version! This mini felt camper hoop ornament is so simple to make but so cute! It would be a great gift topper too!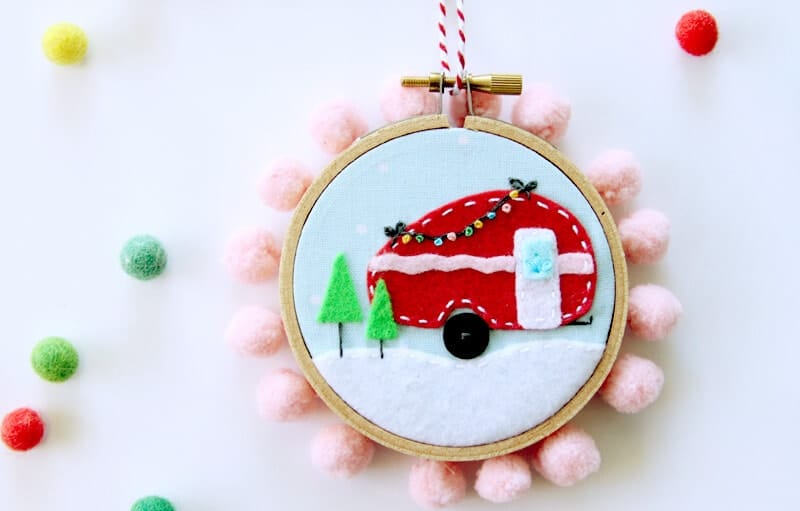 It's hard to tell in the photos but this is just a little 3″ embroidery hoop – so it's perfect for hanging on a tree! And it may be small, but it has lots of cute little details!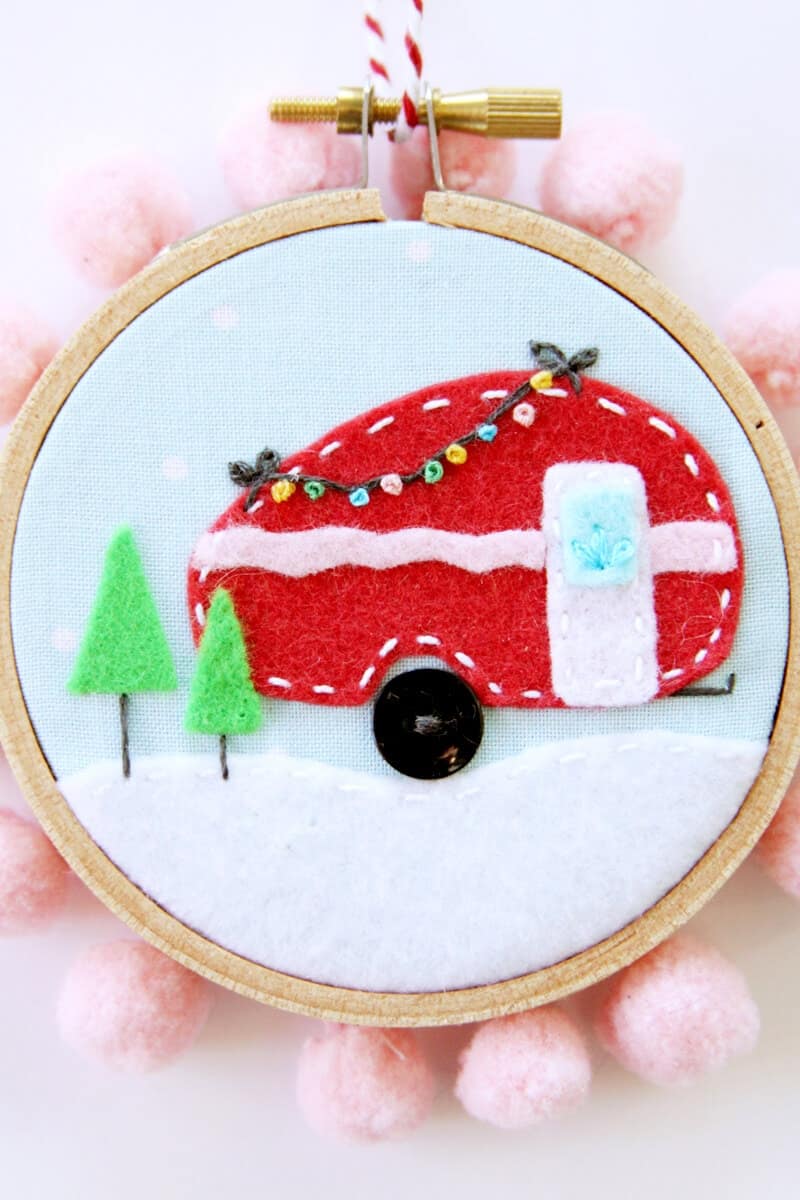 Here's what you'll need to make your own Camper Christmas Ornament
3″ wood embroidery hoop
5″ square of fabric
small pieces of felt (wool felt works best but you could totally make it with regular felt or fabric) – white, red, pink, turquoise and green
3″ circle of felt
Small black button
DMC embroidery floss – white, gray, turquoise, yellow, pink, green
Pom pom trim – 12″
fusible webbing
hot glue
To  make the Camper Christmas Ornament
To begin with, iron the fusible webbing to the back side of the felt pieces. Use a pressing cloth or scrap fabric to protect the felt. Cut out all the felt pieces using the pattern.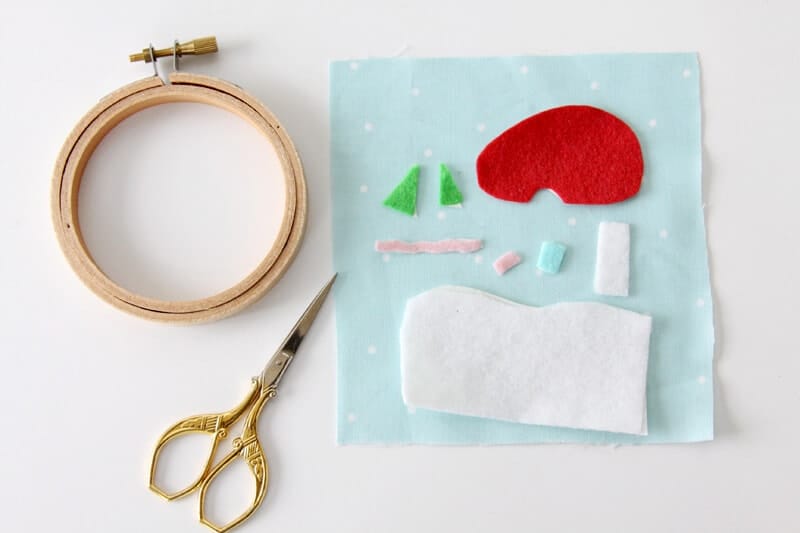 Remove the paper backing on the fusible webbing. Put the camper pieces in place, according to the pattern. Make sure everything fits in the hoop. Press the pieces in place, using the pressing cloth again.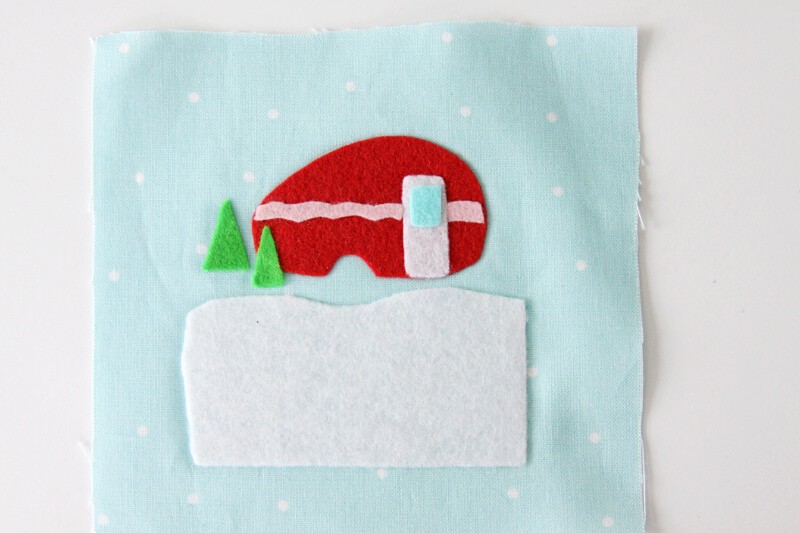 Put the fabric in the hoop. Stitch around the camper and snow with 3 strands of white DMC floss using a running stitch.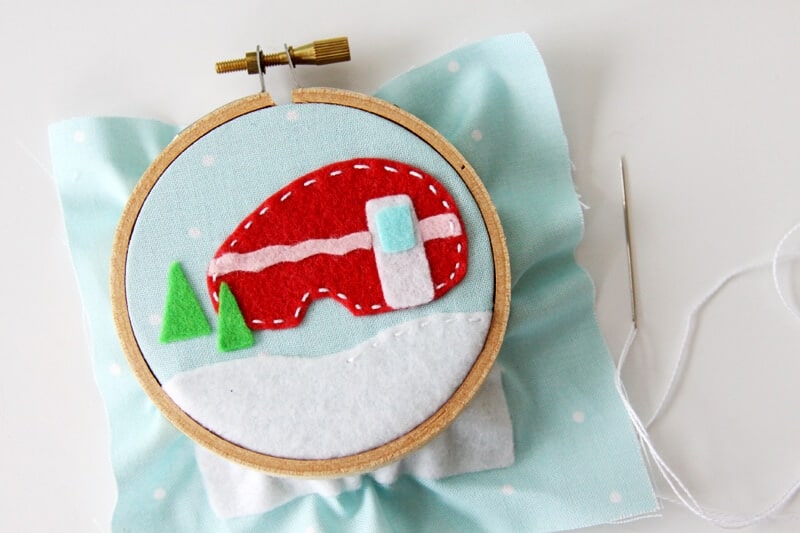 Add more stitching details – gray trunks for the trees, a gray swag for the strand of lights and little French Knots in different colors for the Christmas lights. If you need help with the stitching, check out my Embroidery Tips page.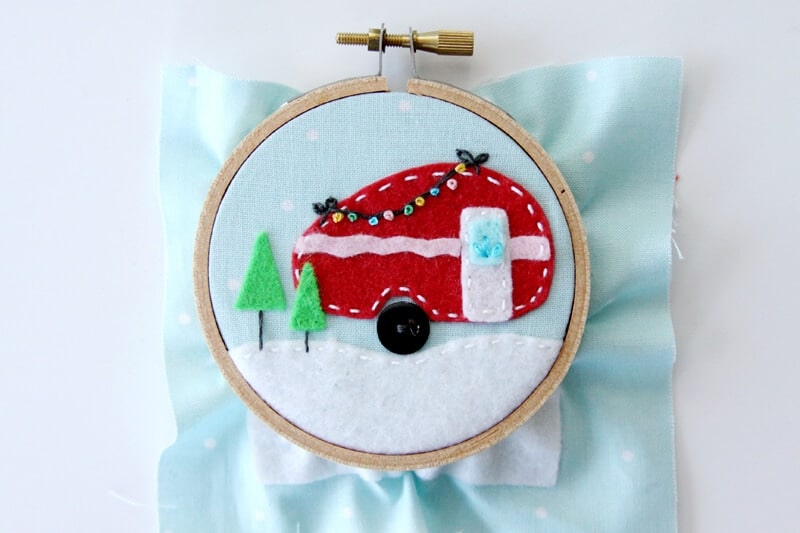 Finish the hoop and add pom pom trim along the edge. To cover the back, glue a 3″ circle of felt to the back. That way your stitching won't show when it hangs on the tree!
That's it – you've finished your cute little mini hoop ornament!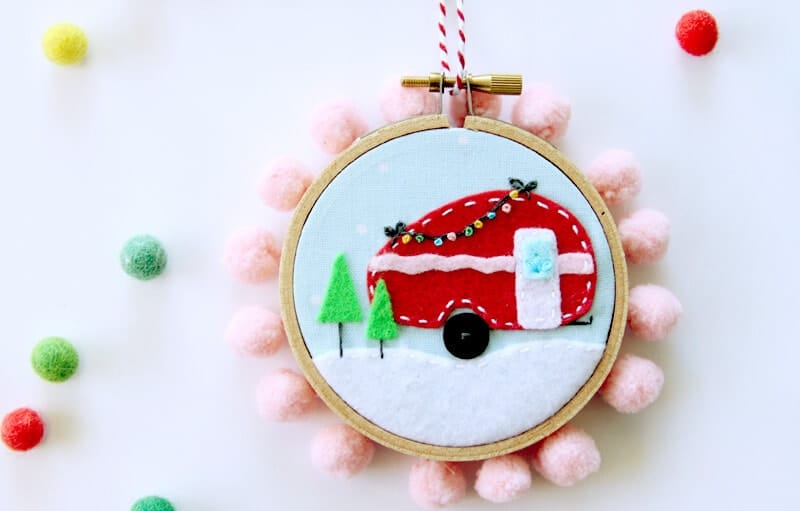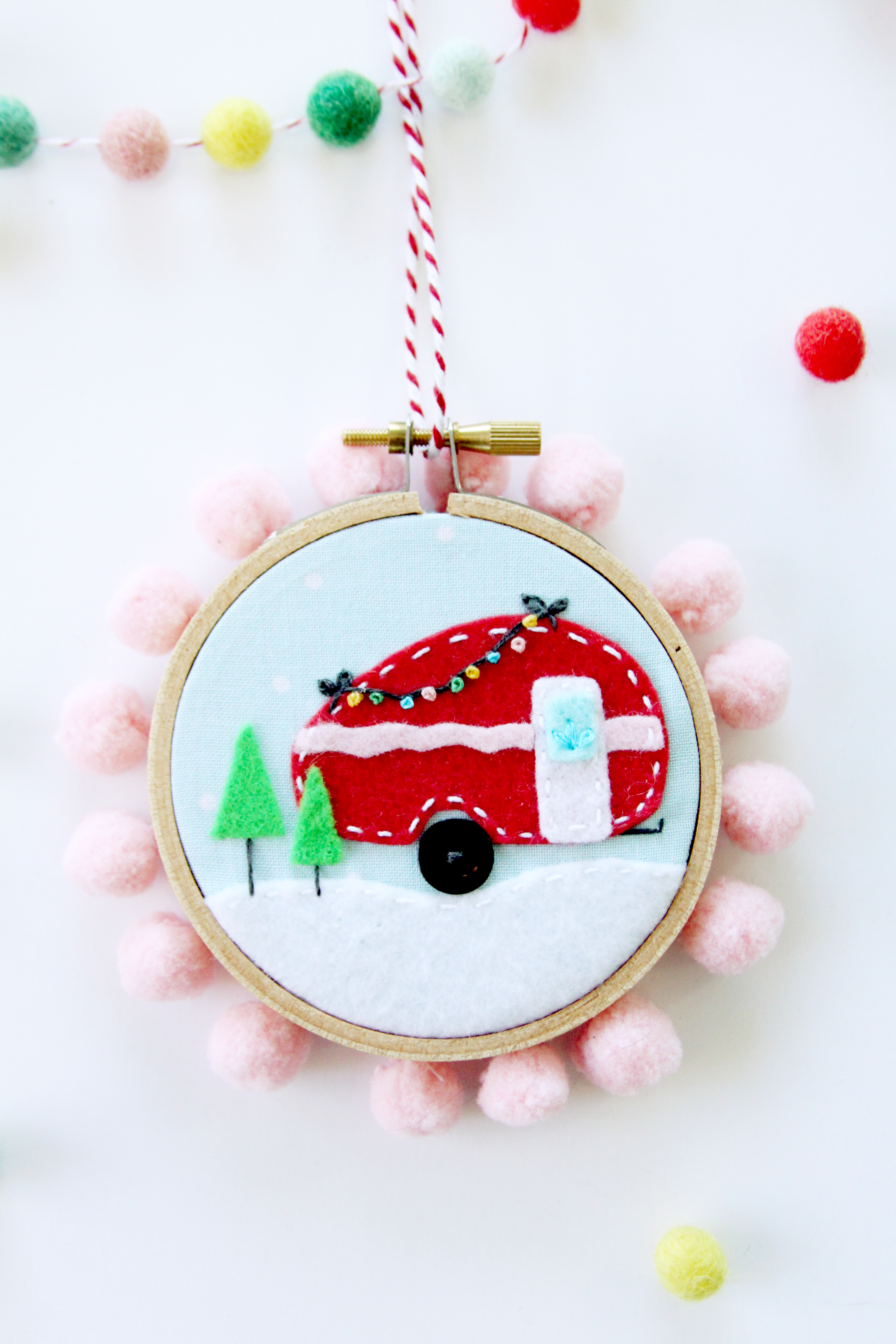 I'd love for you to come on over and check out my other tutorials! I have lots more embroidery patterns and cute Christmas hoops!
Thanks, Bev!
If you love this adorable Christmas DIY, you'll enjoy these too!