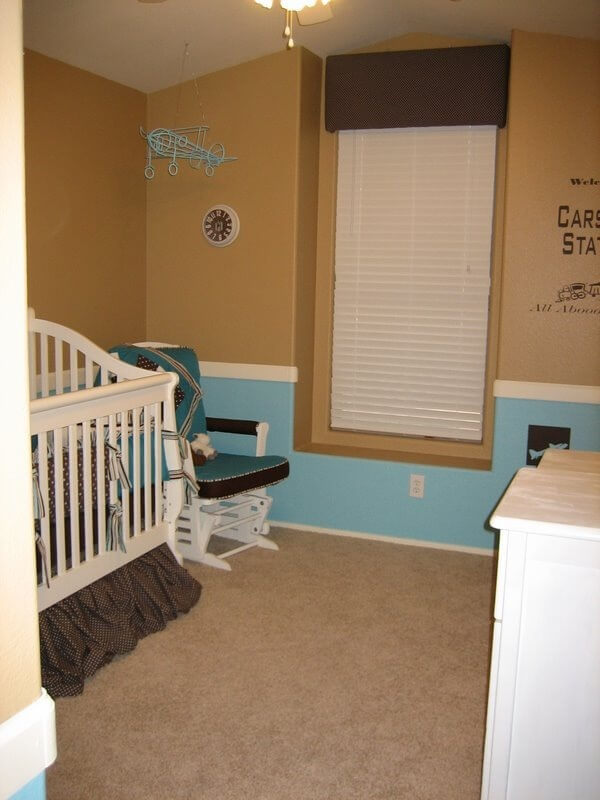 Soo… this post is about two years over due! haha-whoops! I am getting ready to transfer Carson into a "big boy" bed and realized I never even posted up his nursery. I loved his nursery and I'm sad he's growing up so fast!
The rocker is now replaced with a train table and the bumpers are now in storage… so I don't have the greatest pictures. But these will do!
The first thing we did was paint the bottom of his walls blue and added then added in the chair rail. The blue came out a little brighter than planned, but it was fine. Sorry I didn't take pictures step by step (most of it was done before I started the blog).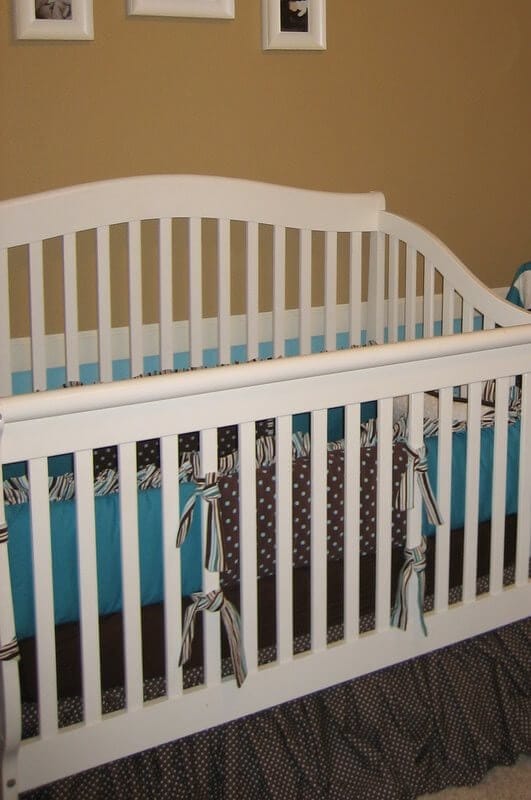 I helped my MIL make Carson's bedding and I have to say it was definitely my FAVORITE part of his room! I was so sad when I had to take his bumpers down. Once he figured out how to use them as "stepping stones" they were out of there! They were a TON of work, but SO worth it!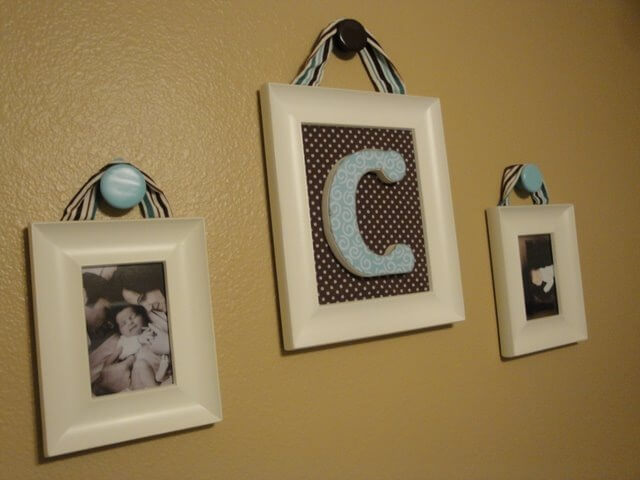 These were pretty simple frames I refinished. I backed the C on polka dot fabric (found for $1 a yard-score!!). Then I sewed together some strips of fabric and hung them from some old knobs I had laying around.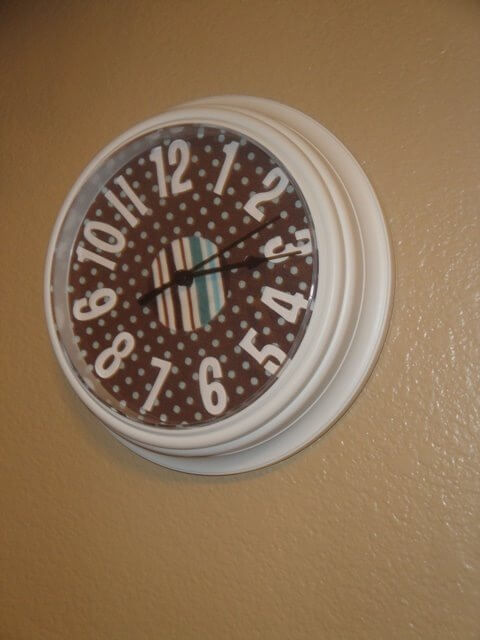 I also made his window valance which I don't have a great picture of. Then I found this cheap clock at Wallmart and backed it with the polka dot fabric again (a little much?!?). Then I glued some chip board numbers in place of the numbers.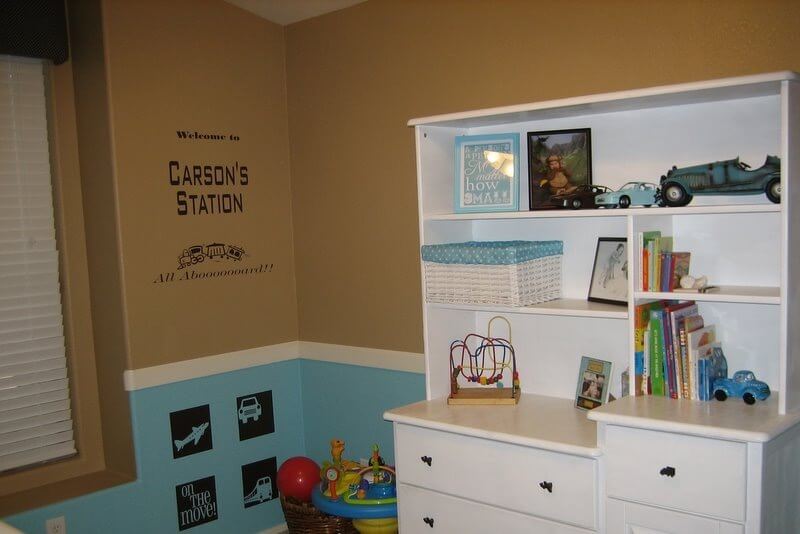 This hutch was my first makeover EVER and I have to say it looks like crap. It's already pealing and I have learned since then to NEVER skip sanding. I wish I took a close up of the hardware, they are so cute! I found different cars, airplanes and trucks at Hobby Lobby and spray painted them brown.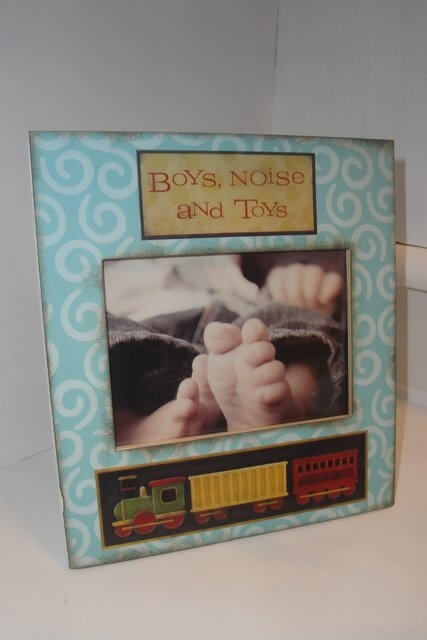 I loved this picture of his little feet. They are so tiny!
How to make Frame:  Buy a unfinished frame from your local craft store and a piece of scrapbook paper. Trace the frame onto the scrapbook paper and cut out with scissors. Mod Podge onto the frame and allow to dry. Add stickers with the childs name or theme of their nursery.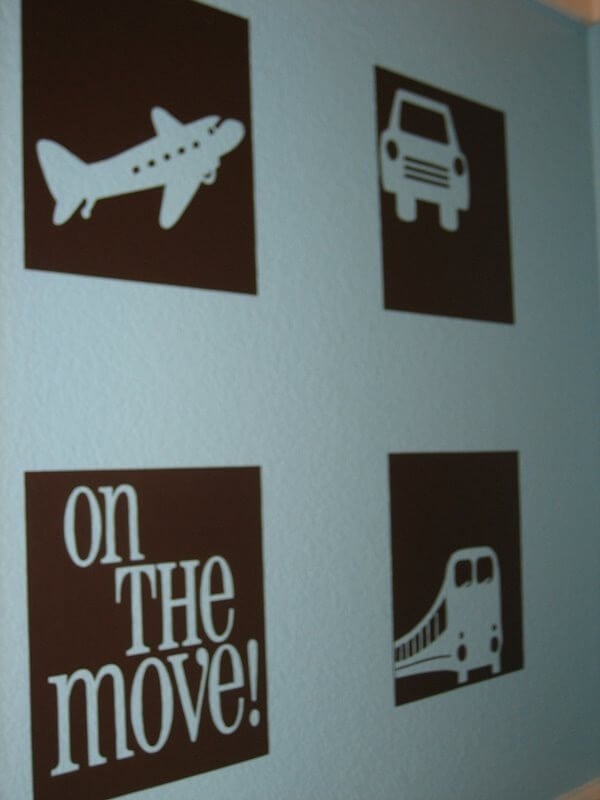 So there's his nursery.. which is no longer a nursery! haha!
I'm thinking navy blue and red for his "big boy" room. The cars will be staying though.. he is a little obsessed with CARS and TRUCKS! Total Boy! Send me a link if you see any good inspiration for little boys rooms, would ya?! :)