Jump to Recipe⌄
Balsamic chicken caprese pasta
Balsamic chicken caprese pasta topped with fresh mozzarella and basil -the perfect dish for summer!
One of my all time favorite combos is balsamic + fresh mozerrella + tomatoes + basil. I almost alllllllways have a caprese salad if it's on the menu when we're dining out. I can't resist. Add some chicken and pasta and you have a winner! You just can't go wrong with those key ingredients in my opinion.
The fresh basil is what really completes this dish. My kids picked some basil from our garden and were so excited to put it in the pasta. When I let my kids help me cook in the kitchen, they are more likely to eat it. Although let's be honest… it gets quite messy at times!
Chicken caprese pasta
Ingredients:
1 pound Boneless Skinless Chicken Breast, cut into 1 inch pieces
1/2 lb. farfalle pasta
1/2 cup olive oil
1/4 cup balsamic vinegar
1 (10.5 oz pkg.) cherry tomatoes (cut in half)
3 oz mozerella cheese (cut into cubes)
Fresh basil (about 10 leaves), chopped
2 Tablespoons balsamic vinegar
Directions:
Pre-heat oven to 425°. Place chicken, olive oil, balsamic vinegar and tomatoes in a zip top bag. Mix together and let marinade for 5 minutes. Pour chicken mixture onto the pan and cook for 10 minutes. Cook pasta according to package directions, then drain. Once chicken mixture is done pour over the top of the pasta. Stir in the fresh basil, cheese and 2 Tablespoons of balsamic vinegar. Serve immediately.
All images and text ©
MMM…. now I am craving pasta! My whole family loved this recipe.  I can't wait to make it again!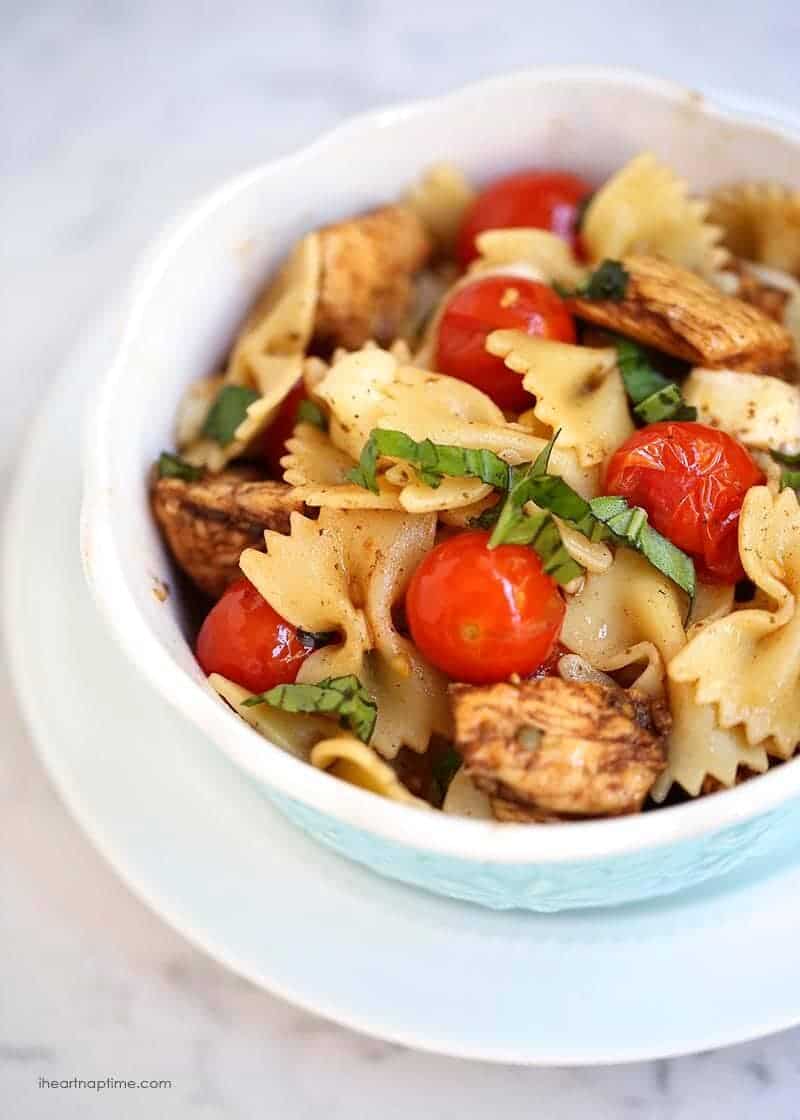 Enjoy! Happy Summer! :)