Jump to Recipe⌄
Chocolate Cookie Cups with Pumpkin Pie Frosting
Soft and chewy Chocolate Cookie Cups filled with a smooth and creamy Pumpkin Pie Cream Cheese Frosting, the perfect mini dessert for Fall, or all year long!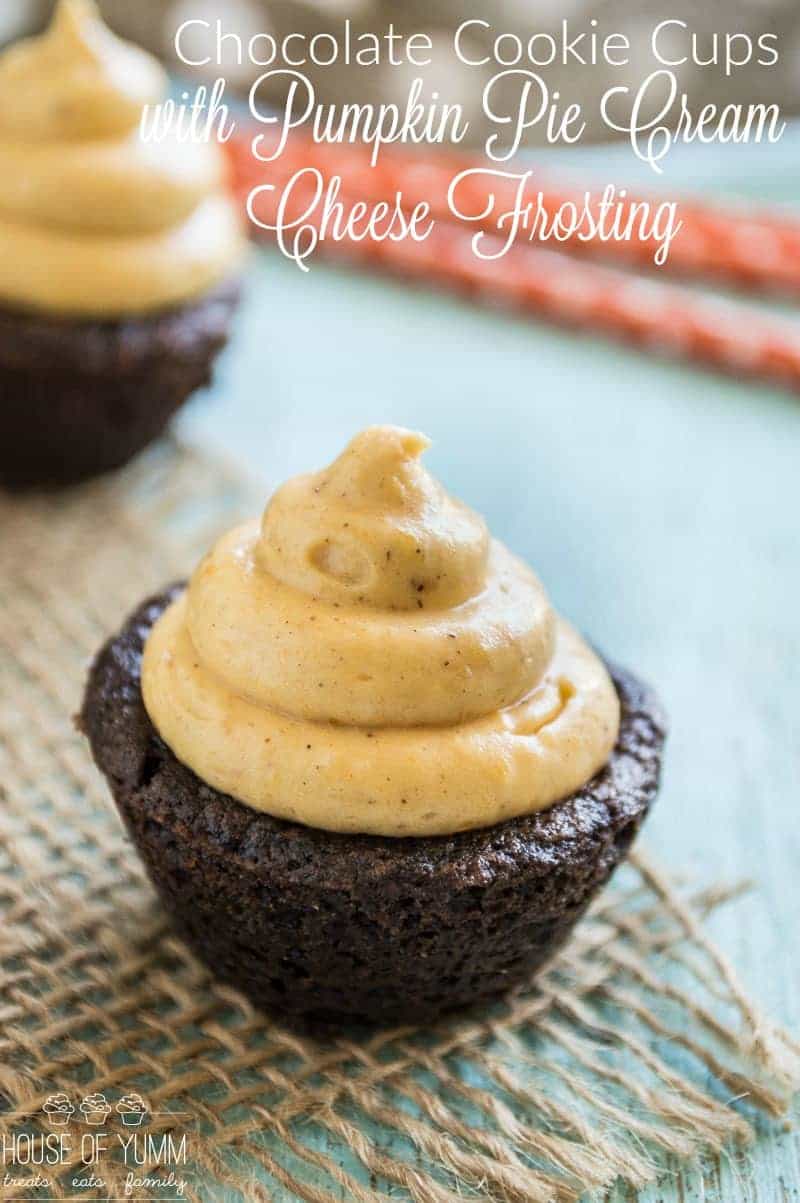 Hey there I Heart Naptime readers! Serene from House of Yumm here with you again! It's Fall! Although Texas thinks it's still summer. I'm hoping that it'll cool down soon so I can enjoy some soups, sweaters, and boots. Because of course, that's what Fall is all about right? In the meantime, while I wait, I can definitely enjoy some pumpkin!
These mini cookie cup treats were so easy to make, plus the frosting tastes just like my favorite pumpkin pie. Pumpkin pie with the addition of a moist, chewy chocolate cookie cup underneath. Pumpkin and chocolate. Perfection.
The frosting is thick, creamy and spiced with cinnamon, ginger and cloves. Just look at how smooth that frosting is. There's nothing better than piles of frosting on top of a dessert. I'm slightly obsessed with the muted orange color and spice specks in the frosting too. So pretty!

MY OTHER RECIPES
The frosting is made by mixing together cream cheese, a small amount of butter and pumpkin puree. The cream cheese and the butter both need to be at room temperature. If these are cold when the frosting is mixed up there will be small chunks of cream cheese and butter left, making the frosting lumpy. No one wants lumpy frosting. Easiest way to prevent the lumps is to bring both of those ingredients to room temperature. Set them out on the counter abut 20-30 minutes before you'll be using them.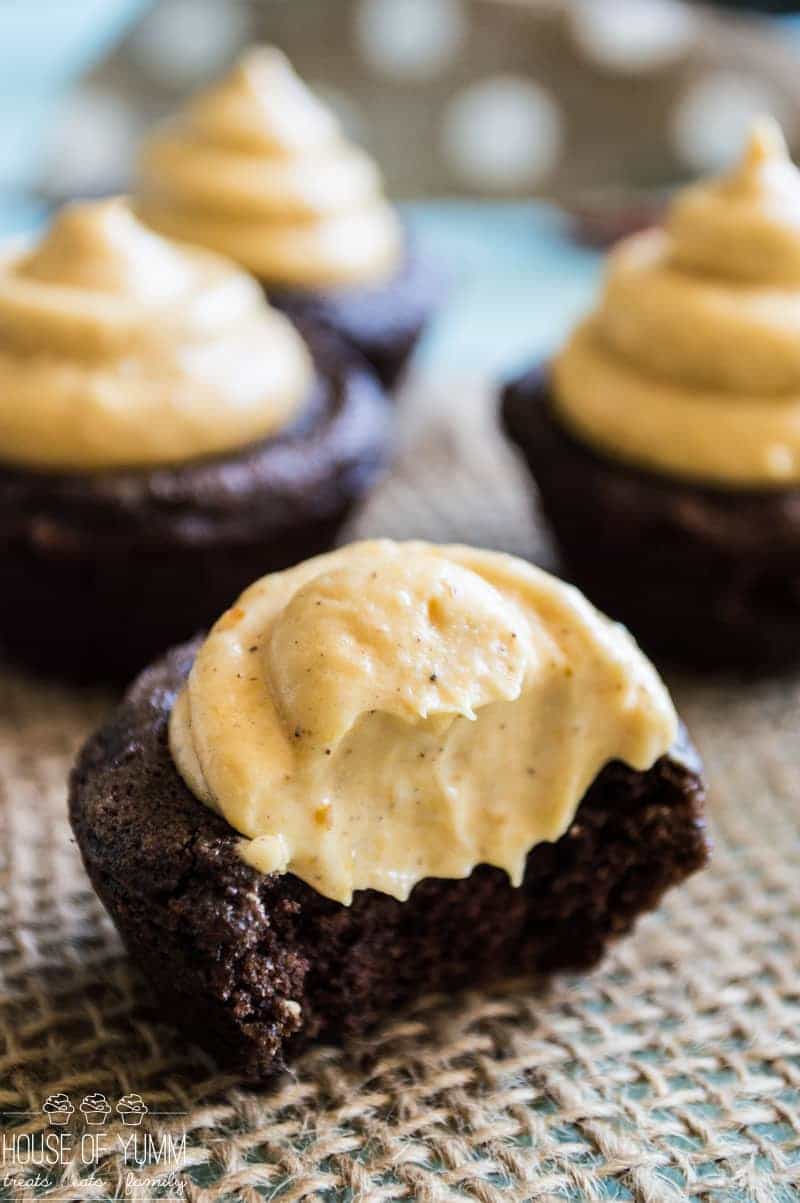 The cookie recipe makes a light, soft base that pairs well with the smoothness of the frosting. A mini muffin tin is used to make the cookie cups. Once the cookies have baked in the tin they'll be puffy and look slightly like muffins with flat tops. Use a small round spoon (I use my tablespoon) to press the center down. The cookies will still be super soft straight from the oven and will form a crater in the center easily. As they cool they will hold the shape! Perfect little cups to fill with Pumpkin Pie Cream Cheese Frosting!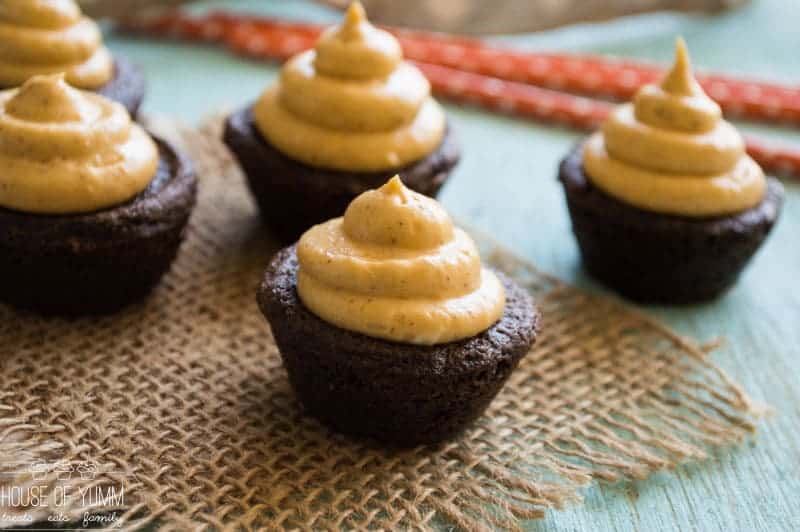 Serene is the blogger behind House of Yumm. She is a stay at home mom of four who loves creating fun and easy recipes to please her family. She is a lover of cupcakes, the color blue, and sprinkles. Follow her cooking adventures on Facebook, Pinterest, Instagram & Snapchat (username: houseofyumm)
Love these easy cookie cups? You'll like these delicious pumpkin treats, too:
Chocolate Cookie Cups with Pumpkin Pie Frosting
Soft and chewy Chocolate Cookie Cups filled with a smooth and creamy Pumpkin Pie Cream Cheese Frosting, the perfect mini dessert for Fall, or all year long!
Print
Ingredients
Cookie Cups:
1/4 cup unsalted butter room temperature
1 cup granulated sugar
2 large eggs
1 teaspoon vanilla extract
1 cup all purpose flour
1/2 teaspoon baking soda
1/2 teaspoon salt
1/3 cup unsweetened cocoa powder
Pumpkin Pie Cream Cheese Frosting:
4 ounces cream cheese room temperature
2 tablespoons unsalted butter room temperature
1/4 cup pumpkin puree
2 cups powdered sugar
1 teaspoon ground cinnamon
1/8 teaspoon ground cloves
1/8 teaspoon ginger
Instructions
Preheat oven to 350 degrees.

Add the butter to the mixer bowl and beat over low speed for a few seconds.

Add the sugar and mix until butter and sugar are fluffy. Add in the eggs and vanilla, beat over medium speed until completely combined together.

In a medium size bowl mix together the flour, baking soda, and salt. Stir together until mixed. Add dry ingredients slowly into the mixing bowl and mix with low speed until fully combined. Add in the cocoa powder and mix over low speed until fully combined, scrape sides of bowl with rubber spatula as needed.

Using a spoon scoop a 1 inch ball of dough and place onto a greased mini muffin tin.

Bake cookie cups for approximately 10-12 minutes, cookies will still be soft when removed from the oven but will be able to have centers pressed down with a spoon to create a crater and not be doughy in the middle. Allow the cookie cups to cool in the pan for an additional 5 minutes. To remove from muffin tin lightly hold onto the edges of the cookie cup and twist, this will loosen the cookie cup from the pan and will allow it to be removed easily! Set cookie cups onto a wire rack to continue cooling.

To prepare the frosting place the room temperature cream cheese and butter into mixing bowl. Beat with medium speed until fully mixed and smooth. Add in the pumpkin puree and spices. Mix until combined. Slowly add the powdered sugar and mix with a low speed, scrape down the sides as needed. Frosting will be thick and creamy.

Add to piping bag, I used a Wilton 2A tip. Once cookie cups are cooled top with frosting. Serve immediately. Store at room temperature in a sealed container.

*If preparing ahead of time leave the cookie cups un-frosted. Frost just before serving or the day of serving so that the cookie cups don't become soggy from soaking up the frosting.
Nutrition Facts
Chocolate Cookie Cups with Pumpkin Pie Frosting
Amount Per Serving
Calories 188 Calories from Fat 54
% Daily Value*
Total Fat 6g 9%
Saturated Fat 3g 15%
Cholesterol 35mg 12%
Sodium 145mg 6%
Potassium 54mg 2%
Total Carbohydrates 31g 10%
Sugars 24g
Protein 2g 4%
Vitamin A 15.2%
Vitamin C 0.2%
Calcium 1.5%
Iron 3.9%
* Percent Daily Values are based on a 2000 calorie diet.