These chocolate crinkle cookies are fudgy on the inside with a crisp powdered sugar outside edge! These rich and decadent sweet treats are perfect for holiday parties and Christmas cookie trays.
A few other favorites that deserve a place on your holiday cookie tray include Christmas sugar cookies, brownie mix cookies and red velvet cake mix cookies!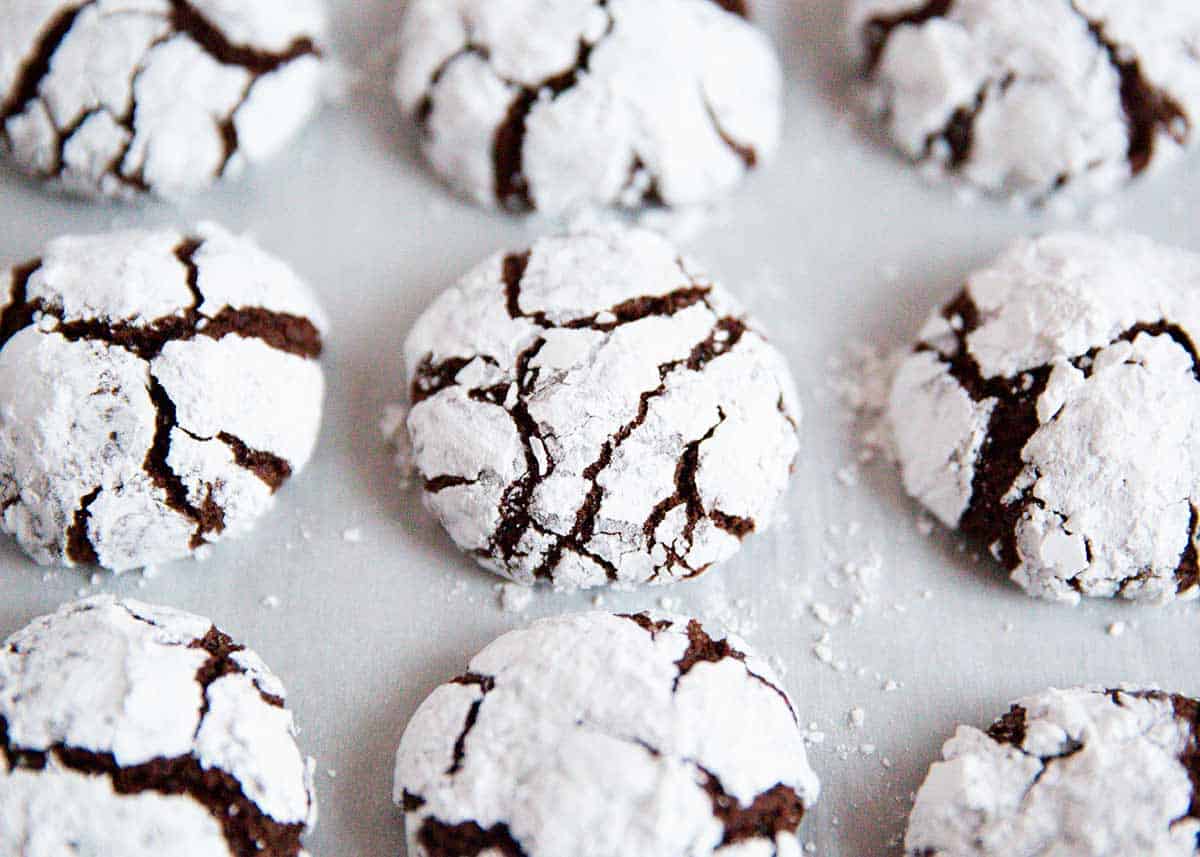 Easy Chocolate Crinkle Cookie Recipe
These chocolate crinkle cookies are a classic Christmas cookie that add the perfect dimension to any Christmas dessert board . The crinkly powdered sugar coating makes them festive and contrasts beautifully with the dark brown chocolate color.
I've been making this chocolate crinkle cookie recipe for several years now after getting it from a friend at a cookie exchange. We add it to holiday cookie plates along with snickerdoodle cookies, ginger molasses cookies, and cookies with Andes mints.
Ingredients Needed
The best chocolate crinkle cookie is fudgy and moist on the inside with crisp, chewy edges on the outside; it's a rich and decadent treat adored by chocolate lovers!
Find the printable recipe with specific measurements below.
Oil: Vegetable oil adds that smooth, creamy texture. Similar to butter.
Sugar: Use granulated sugar for sweetness and texture.
Eggs: This binds the cookie dough together.
Vanilla extract: It sounds crazy, but a small amount of vanilla will infuse the cookies immensely.
Flour: Combines the dough and gives the cookie dough substance.
Unsweetened cocoa: Kind of the main ingredient! Use this for the chocolatey taste and color of the chocolate crinkle cookies.
Baking powder: These cookies are thicker and fluffier than most. This baking powder and salt combination helps lift and rise the crinkle cookie dough while baking.
Salt: This is similar to the vanilla and will enhance the flavors of the ingredients.
Confectioners sugar: Roll the chocolate cookie dough in the powdered sugar to show the crinkles once the cookies are baked.
How to Make Chocolate Crinkle Cookies
Bake these crinkle cookies to perfection with these four simple steps! The sweet powdered sugar crackle coating paired with the gooey chocolate batter is a match made in heaven.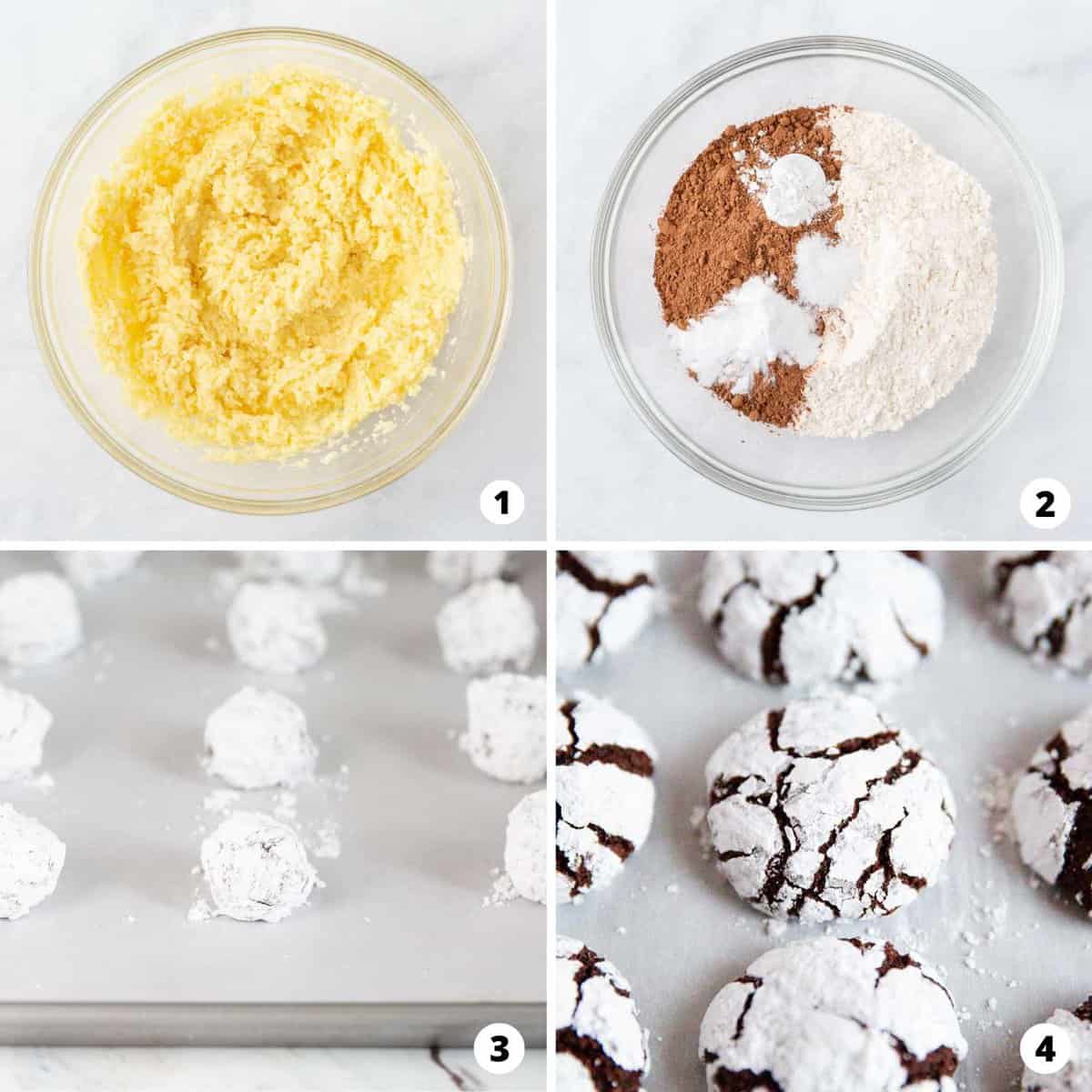 Wet ingredients. In a large bowl, whisk together oil and sugar. Then add eggs and vanilla and whisk until combined.
Dry ingredients. Add dry ingredients (except confectioners' sugar) into a separate bowl and whisk. Slowly pour dry mixture into the bowl with the wet ingredients and stir. Chill dough in fridge for 15-30 minutes.
Shape and roll. Shape dough into balls (about 1 1/2 inches each). Add confectioners' sugar into a small bowl and roll each cookie in the sugar. Then place cookies on a parchment lined baking sheet
Bake in oven. Bake at 350°F for 8-10 minutes, until cookies are slightly crisp around the edges and soft in the middle. Cool on the pan for 2 minutes, then move to a cooling wire rack.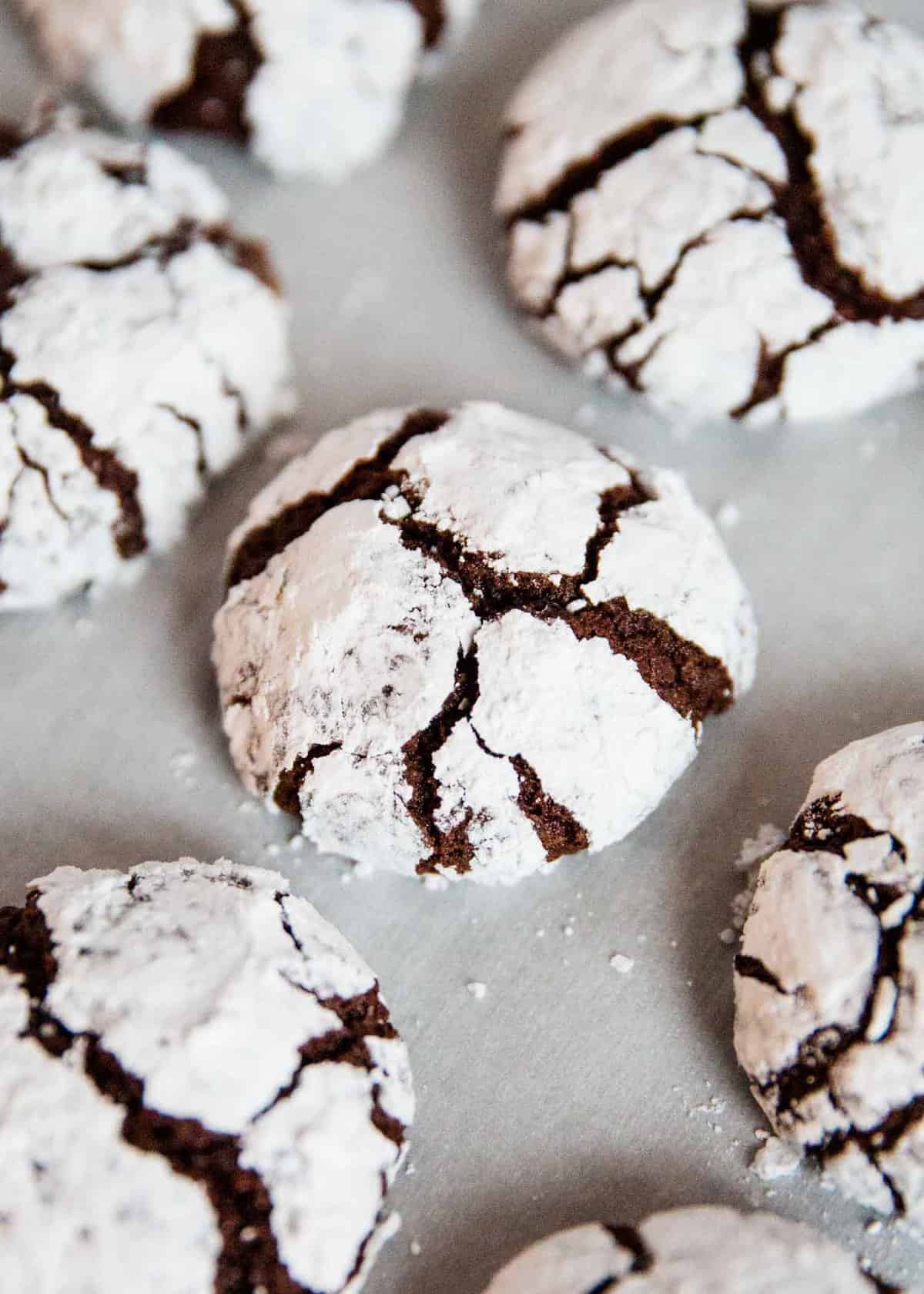 Tips for the Best Crinkle Cookies
This chocolate crinkle cookies is always the first to go on the cookie plate and make a great contrast when you include this candy cane cookies recipe, too!
Coat completely. When forming dough into balls, it's key to completely cover them in powdered sugar. You shouldn't be able to see any of the dough (if you want your cookies to get a good crackle).
Chill the dough. Don't forget to chill the dough for at least 15 to 30 minutes so that it's not too sticky to roll in the sugar. This also helps thicken the texture.
Consistency. I like my crinkle cookies a bit fudgy inside with a crisp edge, so I cook them closer to 8 minutes. If you'd like the centers more cake-like, cook them closer to 10 minutes and let sit longer on baking sheet.
Flavor. Add in crushed candy canes for a minty flavor, or make spiced crinkle cookies with 1/2 teaspoon of cinnamon and a dash of cayenne.
Easy variation: Use a box of cake mix instead of making the dough from scratch. Just follow my simple cake mix cookie recipe and then roll the cookie dough balls in powdered sugar before baking.
Storing + Freezing
Freeze or keep at room temperature for the best crinkle cookies! These chocolate crinkle cookies are perfect for storing, making ahead, or even sending in the mail to a loved one. Always a favorite cookie that everyone loves and loves to share!
To store: They will last for about 5 days if stored at room temperature in an airtight container. To extend the shelf life for a few more days, place in the fridge.
Freezing baked cookies: Let cool completely and then add to an airtight container or freezer bag. They will keep in the freezer for a couple of months.
Freezing the dough: Wait to add the powdered sugar. Wrap dough with plastic wrap and then place in an airtight container. Thaw cookie dough in fridge, roll into balls and coat with powdered sugar before baking.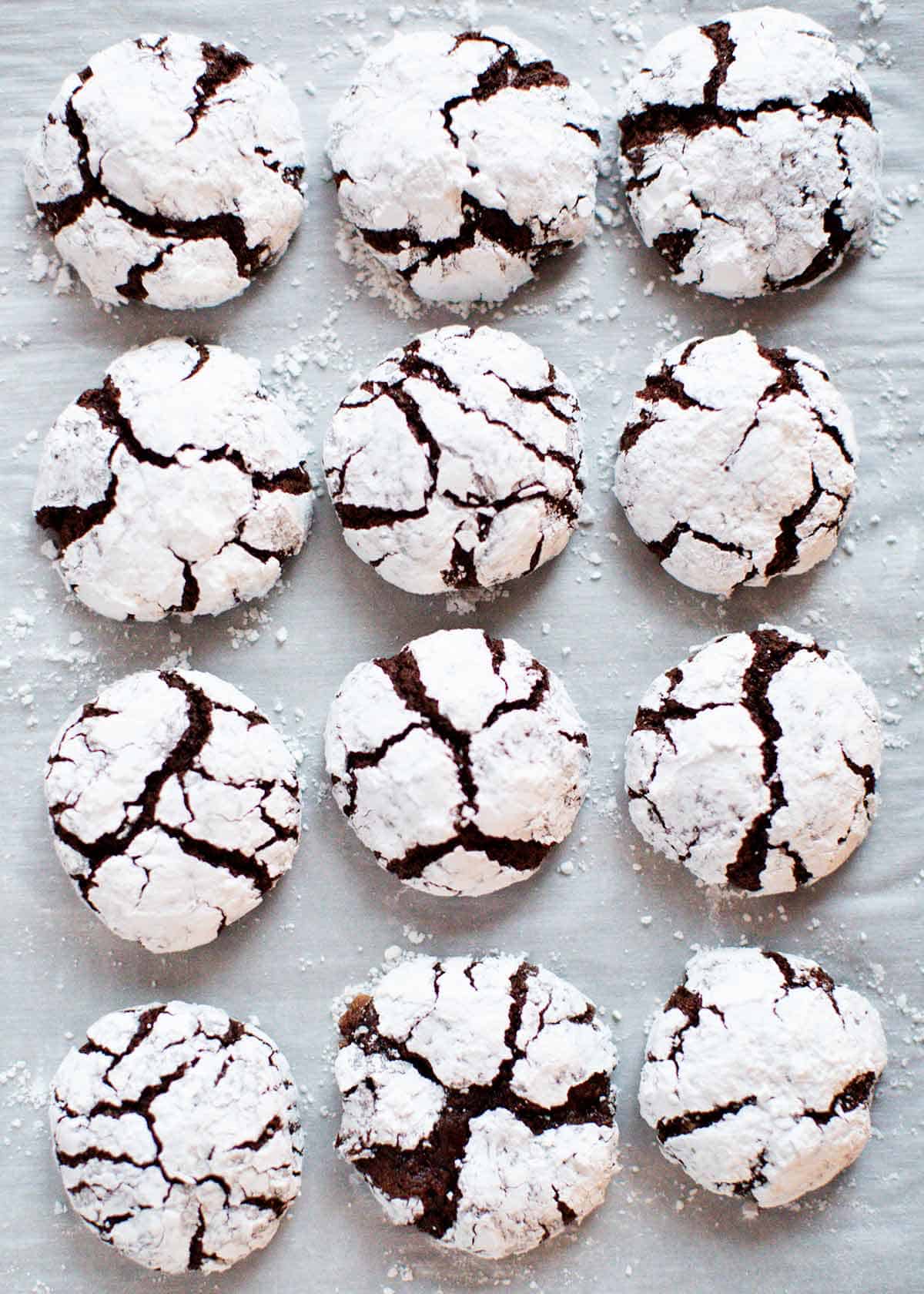 Recipe FAQs
Is it better to use oil or butter for crinkles?
I prefer the soft and moist texture that vegetable oil gives these cookies, however you could swap the oil for butter if preferred. The texture may slightly change, but they will still be super delicious!
Why is the dough so sticky?
The consistency of this dough is definitely thicker and stickier than your standard cookie dough. But that's what makes them so fudgy and delicious.

Before rolling, it helps to refrigerate the dough for at least 15 to 30 minutes so that it's easier to work with. If it's still really sticky, try chilling it a bit longer before shaping.
Why aren't my crinkle cookies cracking?
You probably didn't coat the cookie dough balls in enough powdered sugar. They should be completely covered after rolling (you shouldn't be able to see the dough at all). That way when they bake, they will get a good crackle as they spread.

Another tip for a nice crackle top is to bang the pan on the stove immediately after you remove them from the oven.
How do you know when crinkle cookies are done baking?
When ready to remove from the oven, the edges will be just slightly crisp however the centers will still look soft. You don't want these cookies to brown or else they won't be as soft and fudgy.

For fudgier centers, bake for about 8 minutes. For cakey centers, they'll need about 10 minutes. Keep in mind that they will also set on the baking sheet for a few minutes afterwards and will continue to bake as they set.

5 star review
Such a great chocolate cookie…like a brownie but even better! Easy to make and look pretty too! Will definitely make again.

– Ronda
More Cookie Recipes You'll Love
HUNGRY FOR MORE? Subscribe to my newsletter and follow on Facebook, Pinterest and Instagram for all the newest recipes!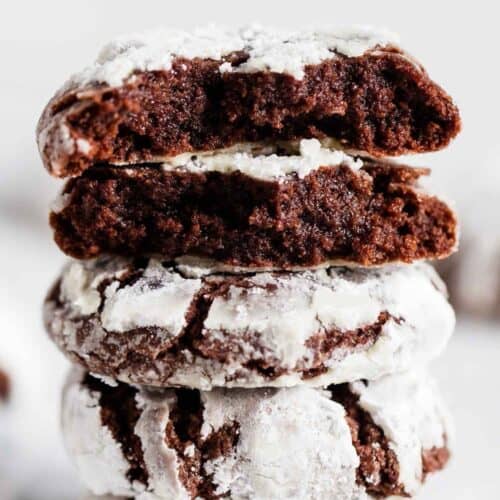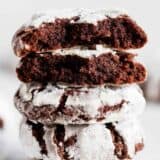 Chocolate Crinkle Cookies
These chocolate crinkle cookies are fudgy on the inside with a crisp outside edge! So rich and decadent and adored by any and all chocolate lovers.
Ingredients
½ cup vegetable oil
2 cups granulated sugar
4 large eggs
2 teaspoons vanilla extract
2 cups all-purpose flour
1 cup unsweetened cocoa
2 teaspoons baking powder
½ teaspoon Kosher salt
¼ cup confectioners sugar (more if needed)
Instructions
Whisk together the oil and sugar in a large bowl (or use a stand mixer). Add in eggs and vanilla and whisk until well combined.

Whisk together flour, cocoa powder, baking powder and salt in a separate bowl. Slowly pour the flour mixture into the sugar mixture and stir until well combined. Chill the dough in the refrigerator for 15 to 30 minutes.

Preheat the oven to 350°F. Shape dough into 1 1/2 inch balls (I liked to use a medium cookie scoop). Place confectioners' sugar in a small bowl and roll each cookie in the sugar.

Place cookies onto a baking sheet lined with parchment paper. Bake 8 to 10 minutes, or until the cookies are slightly crisp around the edges and soft in the middle. Allow to cool on the pan for 2 minutes, and then transfer to a cooling rack. Tip: If your cookies aren't cracking as much as you'd like, bang the pan on the stove right after they come out of the oven to crack the cookies.
---
Notes
To make spiced crinkle cookies, add a 1/2 teaspoon of cinnamon and a dash of cayenne.
Nutrition
Calories: 134kcal | Carbohydrates: 22g | Protein: 2g | Fat: 4g | Saturated Fat: 3g | Cholesterol: 24mg | Sodium: 49mg | Potassium: 88mg | Fiber: 1g | Sugar: 14g | Vitamin A: 35IU | Calcium: 20mg | Iron: 0.9mg
Nutrition provided is an estimate. It will vary based on specific ingredients used.
Did you make this recipe? Don't forget to give it a star rating below!
Grab a big glass of cold milk and dig in! Enjoy :)