Welcome to the Crazy Christmas Event! If you're new here, join us on Facebook and Pinterest. Now let's give Landee from Landeelu.com a big welcome! We're so happy to have you guest posting!
Merry Crazy Christmas Event! I'm Landee from Landeelu.com and I'm giddy to be here on Jamielyn's awesome blog for this fun series! I'm excited to share with you an easy way to dress up your dining chairs for Christmas this year.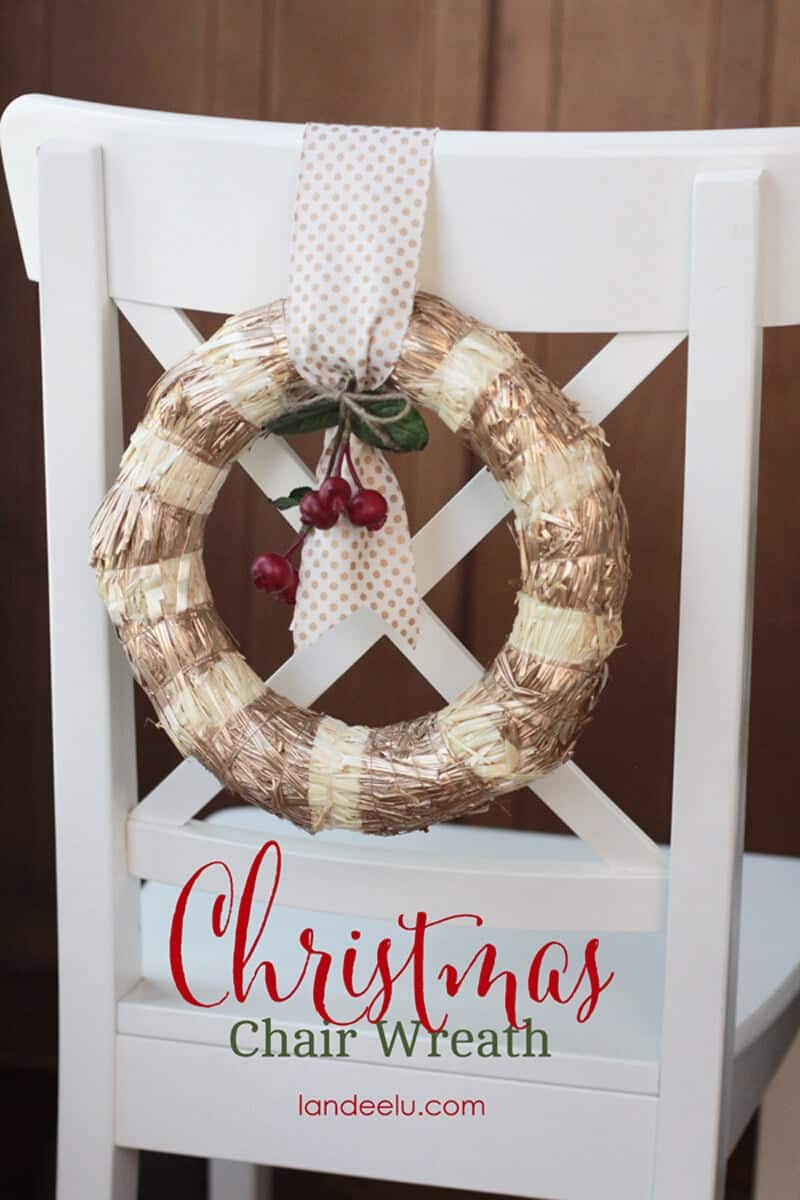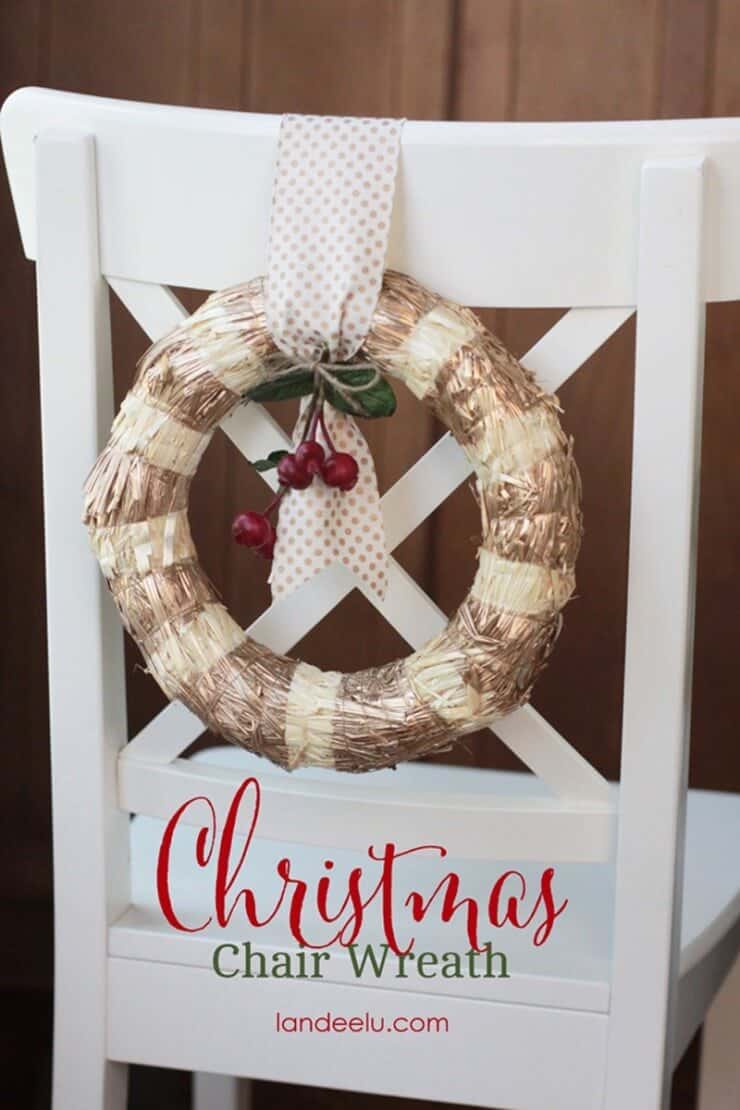 I recently got these new white X back chairs from Ikea for my kitchen and am loving the idea of decorating them a bit for Christmas. I am also loving all of the touches of GOLD that are popping up everywhere in home decor! Yay for gold! So I decided to create these super easy but classy (and inexpensive!) Christmas Chair Wreaths to bring some holiday joy into the kitchen. I love how they turned out!
If you'd like to make some yourself this is what you'll need: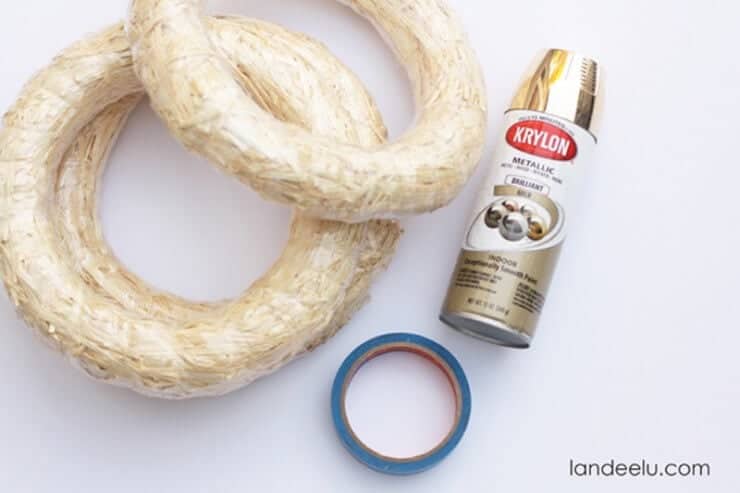 Supplies
small straw wreaths (found at craft store, a few dollars each)
painter's tape
gold spray paint
ribbon, twine & embellishments of your choosing.
STEP ONE: Remove plastic from straw wreath. Tape "stripes" around wreath as shown below.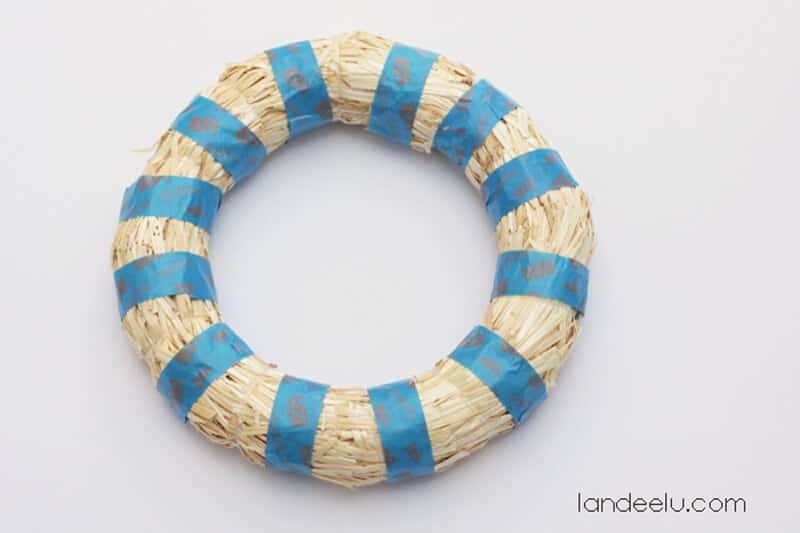 STEP TWO: Spray paint the entire wreath gold! Every project is better if it involves spray paint! It will dry super fast on the straw, by the way. Make sure you do the front and back (and inside and outside) since it will be seen from all angles as it hangs from the back of your chair. Allow to dry completely and remove tape.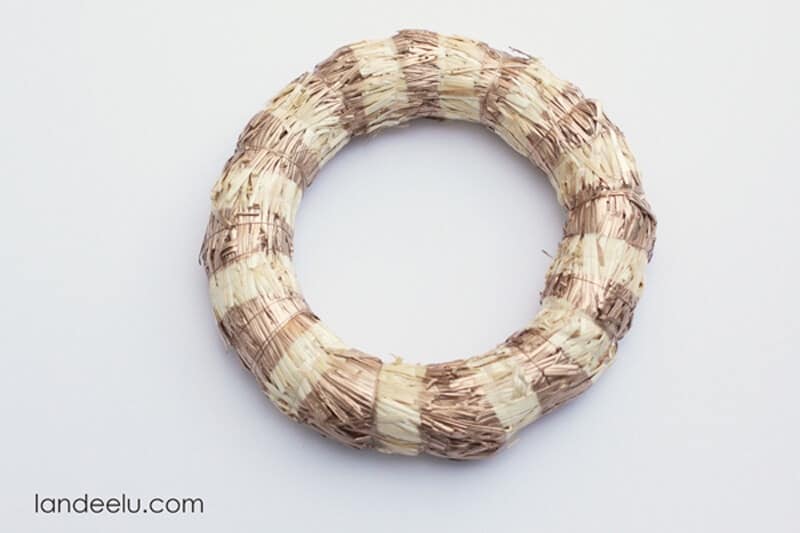 STEP THREE: Cut ribbon of your choosing (I found this fun canvas gold polka dot ribbon at Hobby Lobby) into about 2 foot lengths. Loop over back of chair and around wreath. Put it to the desired hanging height and then tie twine around both ends of ribbon to secure. Cut ends of ribbon into points. Try not to squeal too loudly with delight and wake up your napping baby.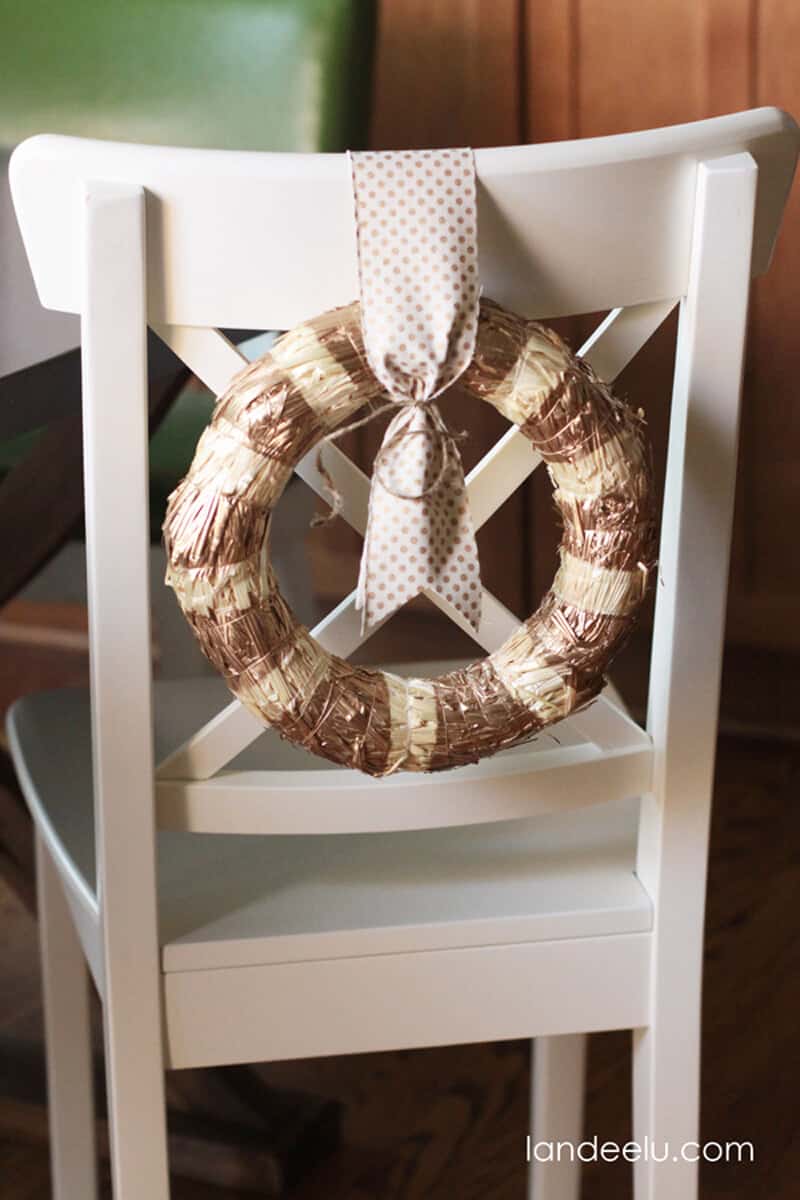 STEP FOUR: Embellish! I had a little branch of faux cranberries that I cut apart with wire cutters and tied on with the twine. That's all mine needed but feel free to add whatever you'd like!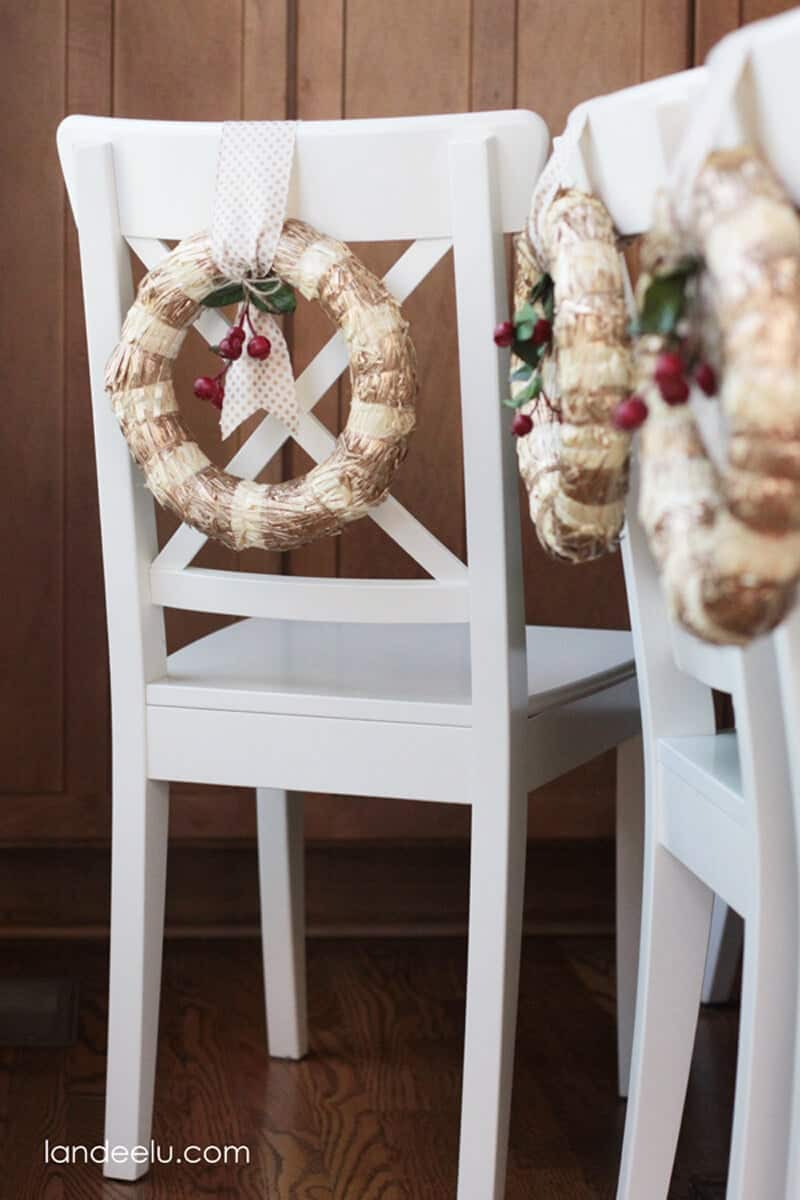 Can you stand how easy and perfect these are? Me either. I hope these inspired you a little to dress up your kitchen chairs and add some gold touches!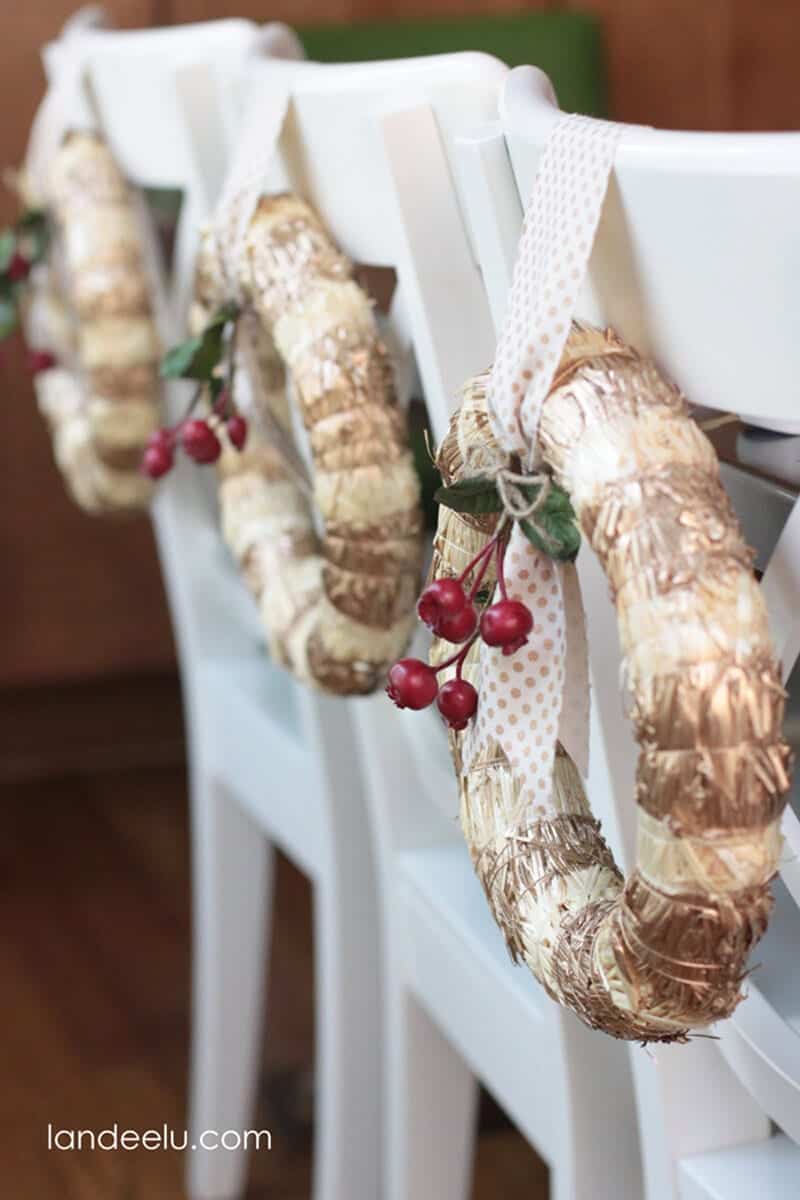 Thanks for reading! Be sure to check out my blog and stay connected with me on my social media sites as well (links below)!

BLOG | FACEBOOK | PINTEREST | INSTAGRAM | GOOGLE+ | TWITTER
See some of my other Christmas projects I think you'll like too!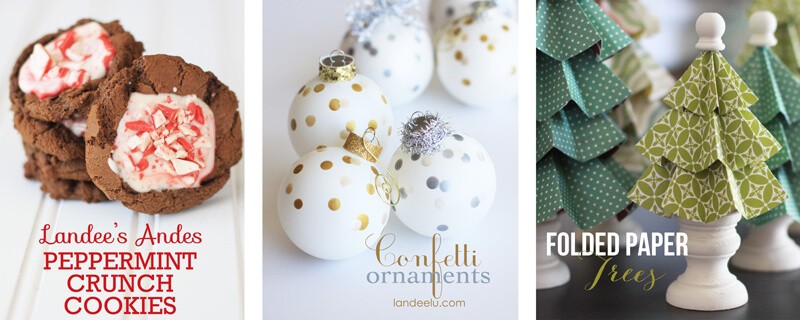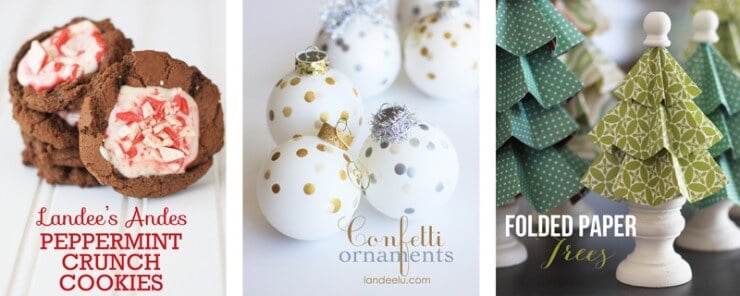 Peppermint Crunch Cookies | Confetti Painted Ornaments | Folded Paper Trees
 Click HERE to see more from our Crazy Christmas Event