Welcome to the Crazy Christmas event! If you're new here, join us on Facebook and Pinterest. Now let's give Kiki from Kiki and Company a big welcome! We're so happy to have you guest posting!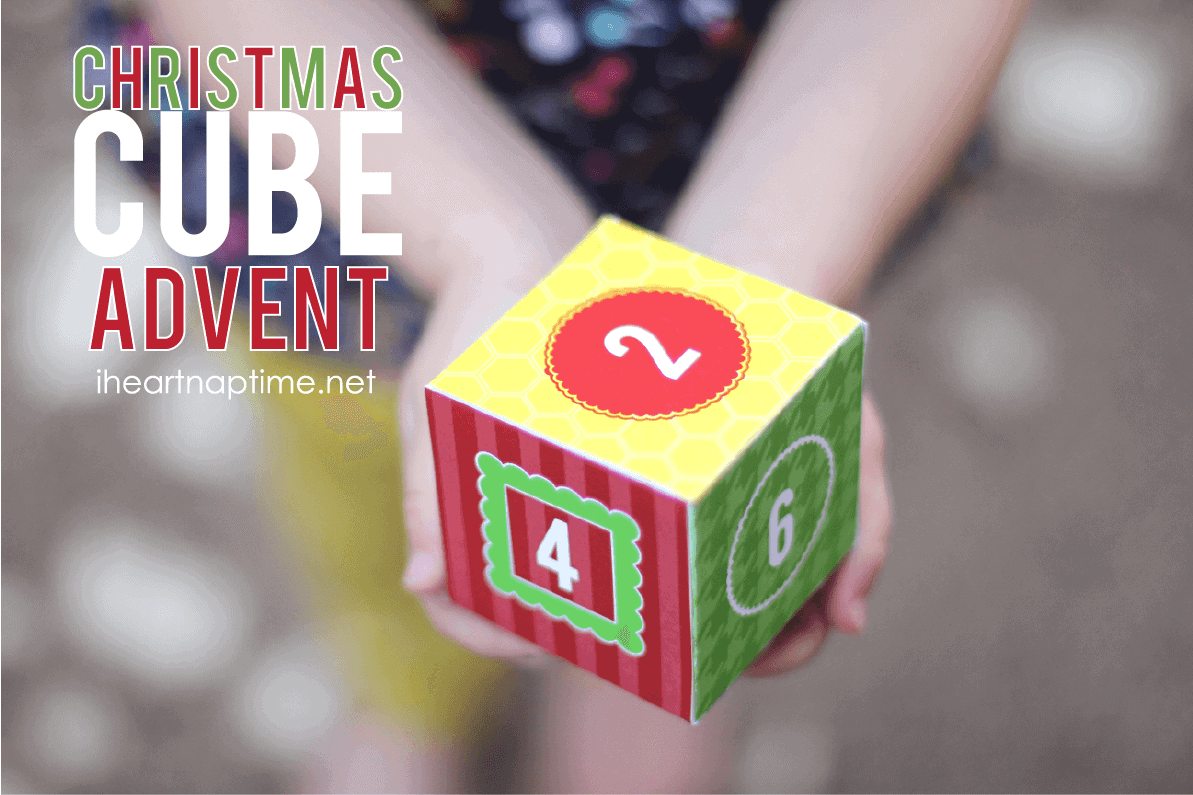 Hi everyone, it's Kiki from Kiki and Company, and I am so excited to be back this month with another really fun printable for the Christmas season. Each year I find it hard to think of just the right gift to give my neighbors, but this year I have a fun gift that is easy to put together!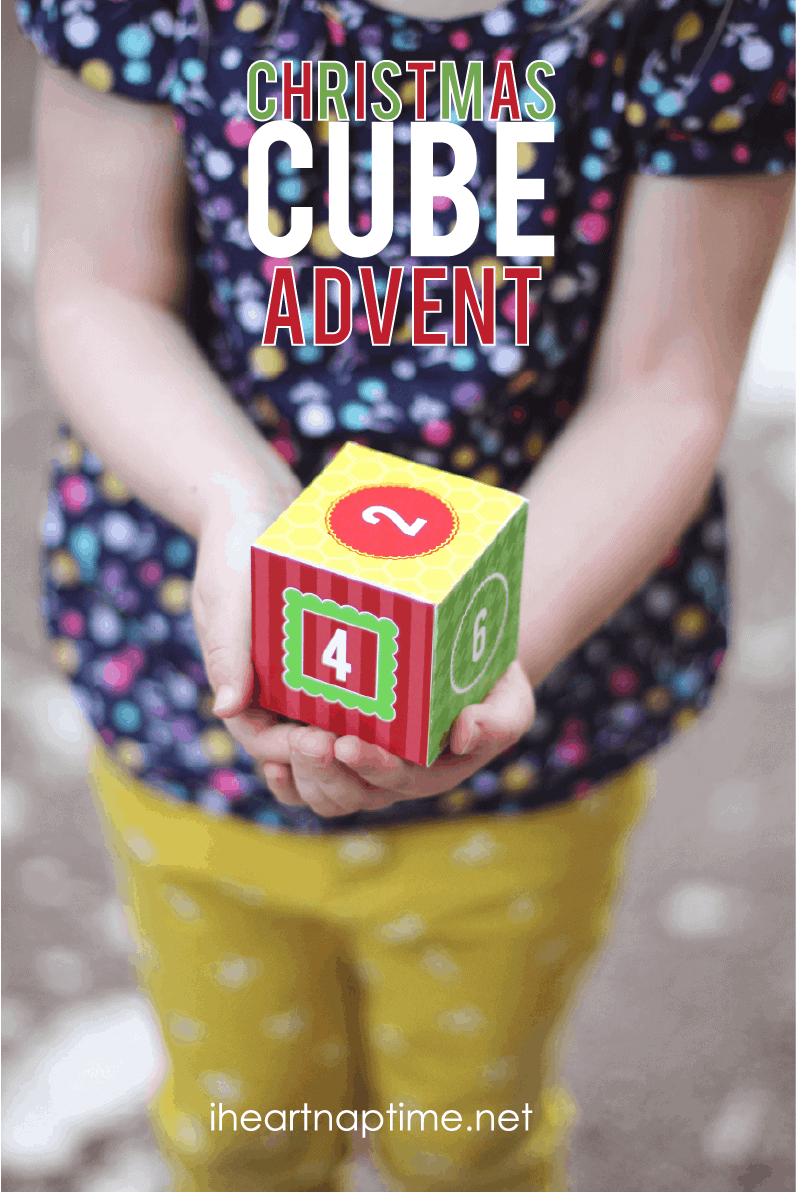 The Christmas Cube Advent is actually my husband's idea (I told him I would give him the credit!). The idea is that you are giving the gift of an advent calendar without the pressure of having to do it each day, but it has the potential of making some really great memories! The cube has 6 sides with a number on each side. After your giftee has put it together (or you can give it already put together), they will simply pick 18 days in December to roll it. Whichever number it lands on, they can look at the activities list that is with it and pick one of the 3 activities that go along with it. Once they are done with one whole number, if the number is rolled again, they will simply roll until they have a number that hasn't been done.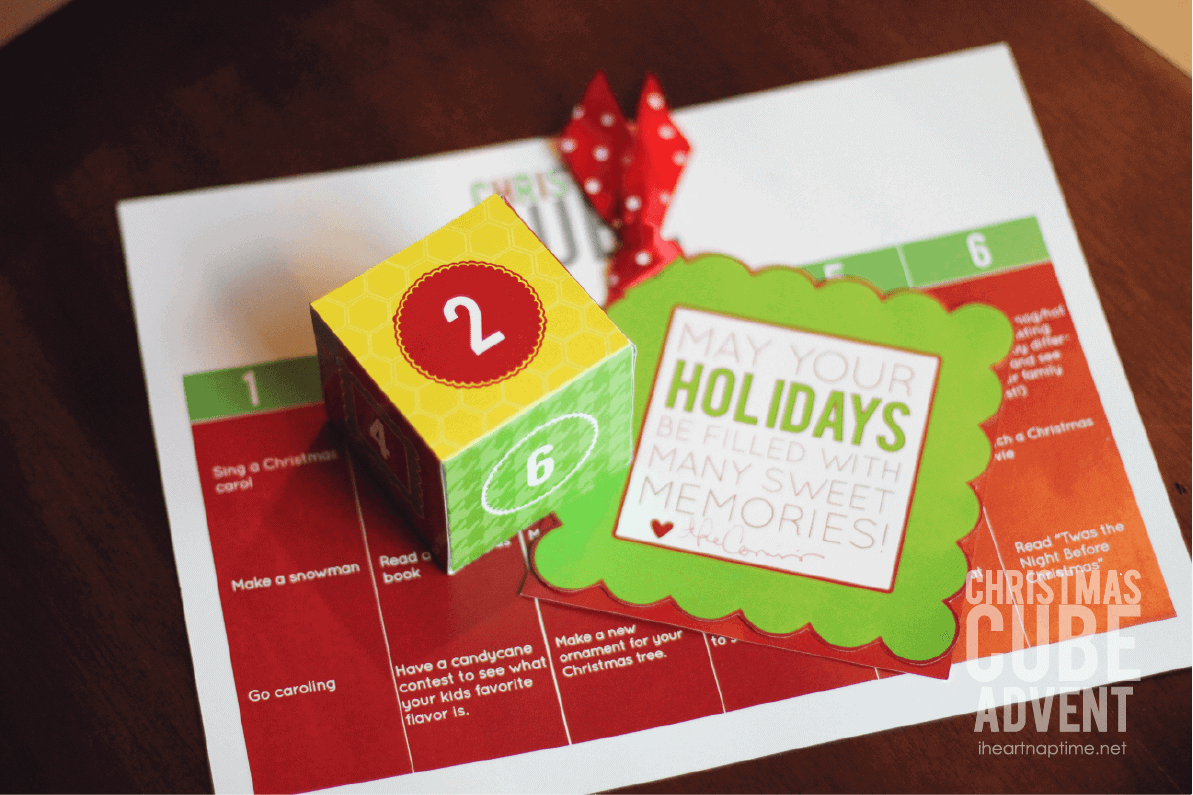 To put the cube together simply:
*Download the free Christmas Cube files HERE.
*Print and cut out the cube.
*Fold on each of the lines and hot glue it together.
*If you are giving as a gift, print and cut out the card page. Add your name and a ribbon and you are ready to give!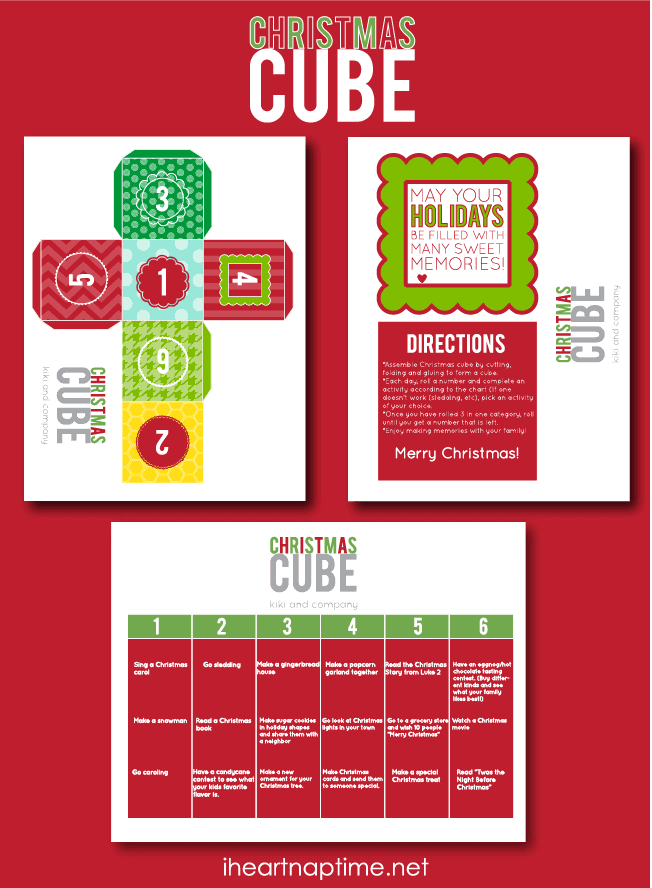 I hope this creates some great memories for your family..and makes gift giving to your neighbors a lot easier.
Happy Holidays!
To see what I am up to this holiday season, come visit me at Kiki and Company where you will find: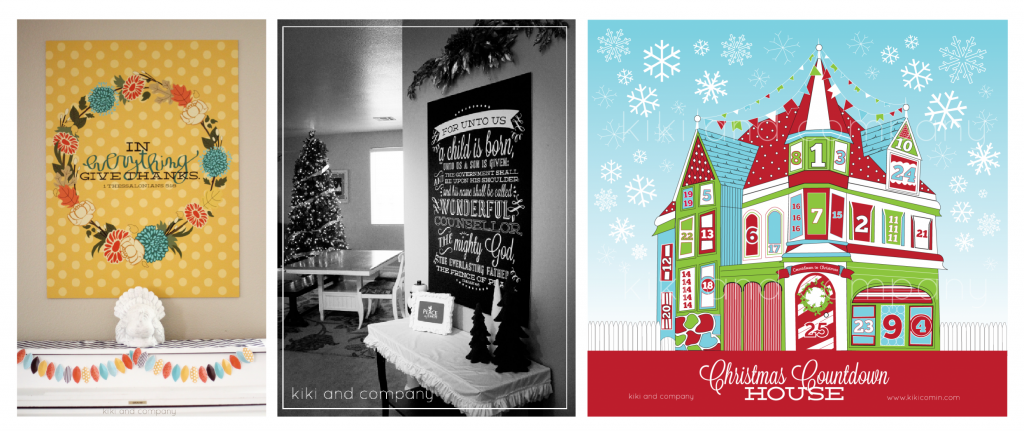 In Everything Give Thanks print / For Unto Us Print / Christmas Countdown House
…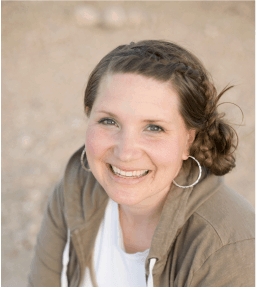 Hi! I'm Kiki Comin, the creator and editor of Kiki and Company, where you will find free printables, fun projects and lots of DIY inspiration. I am a wife, a mother to 5 amazing kids, and I love to create in my "down time".Creating keeps me sane, keeps me inspired and helps me see the world in a whole new way. I love to sew, bake and decorate, but my favorite thing to do is create meaningful printables. At Kiki and Company you will find printable art for walls to activities for kids and everything in between. I recently opened a digital design shop where you can find many of my new designs. Mostly I love blogging because life is really SO good, and I love sharing part of mine with you! You can also find me at Pinterest, Facebook, and my shop!
Thanks so much for sharing! We loved having you guest post today! XO

Make sure to follow the Crazy Christmas Event HERE all through the holidays. We have some fabulous bloggers that will be sharing crafts, recipes, decorating ideas and handmade gifts!