Christmas front door -the easy way!
I'm excited to say I am finally done Christmas decorating! Yay! It has only taken a whole month. ;) Remember I decorated my gold Christmas tree right after Halloween? Yeah I'm nuts!
Whenever I move into a new house it's hard to figure out where to put all my decorations. Do you have that issue? Since this will be our first Christmas in our new home I figured it would take me a little longer. Now I can sit and just enjoy it all month long. And I am officially regretting not bringing the white shelves I built. I may have to build some more, because those were perfect for decorating! I'll show you more of my decor later this week.
Anyways… back to my Christmas front door. Lowes challenged their creators this month to decorate a wreath and of course I had to add a little bit of decor as well. I wanted to keep my wreath super simple this year and I love how it all came together. I ended up getting a fresh wreath from Lowes, some fresh garland to hang around the door and two little Christmas trees. It looks so pretty all lit up at night! I seriously love this time of year. I'm going to be sad when I have to take my lights down. But I'm enjoying them for as long as possible! ;)

MY OTHER RECIPES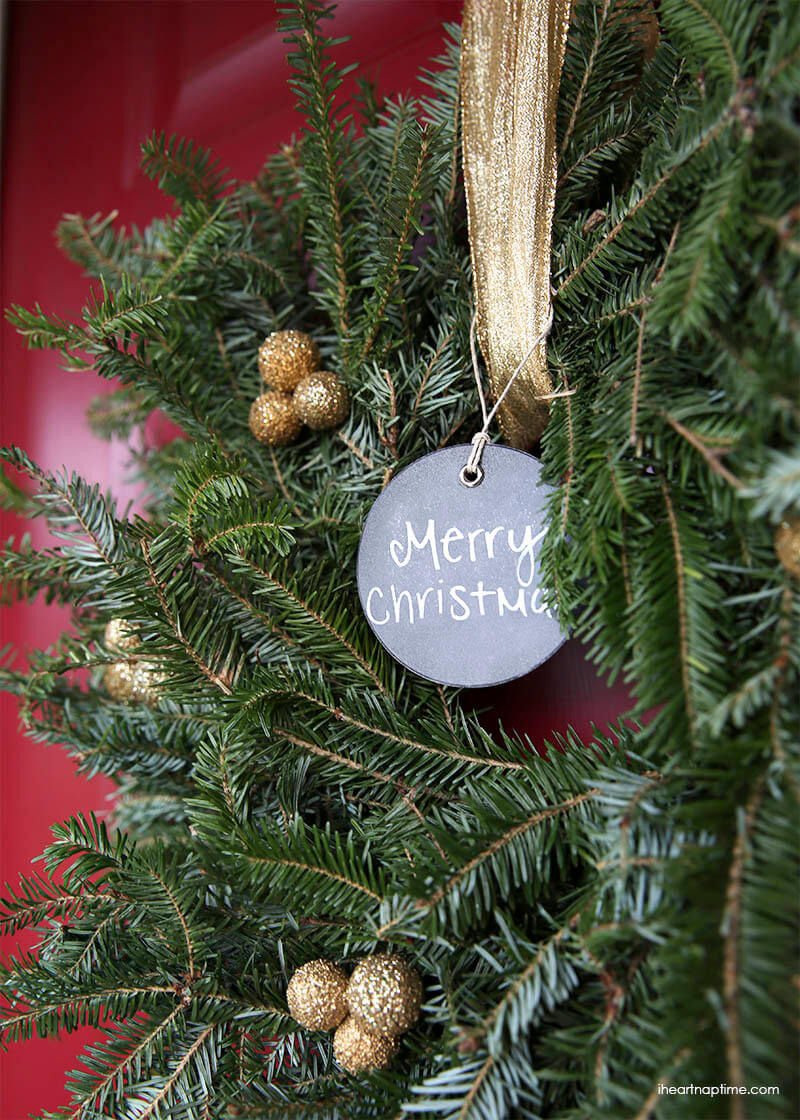 All I did for my wreath was hot glue some gold balls on and tied a gold ribbon on top. Then I added a cute little chalkboard tag to write a little message. I didn't want to spend too much decorating this wreath since it will only last one season, and fresh wreaths in my opinion don't need much…they are pretty as is. Plus, they smell amazing!!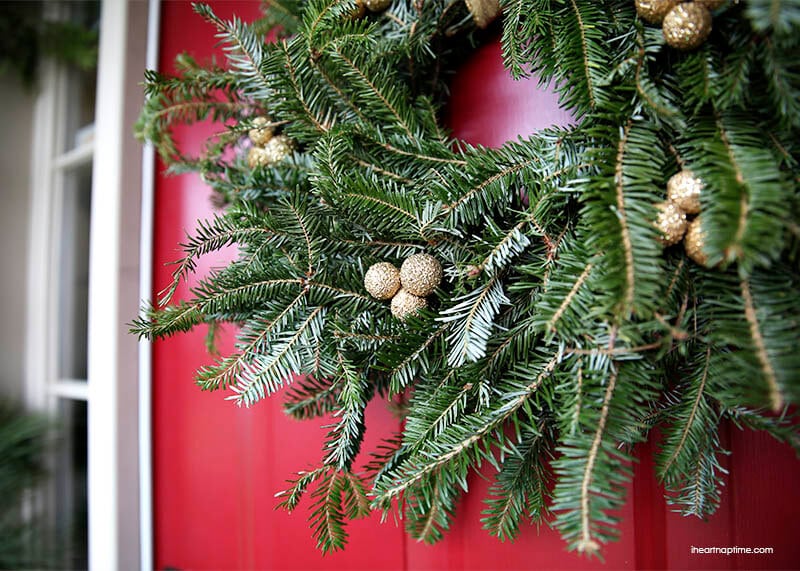 These trees came in a pack of 2 at Lowes and were on sale for $50. They were a little plain on their own, but I added some red balls (cut off from a garland found at Hobby Lobby) and a red bow on top. Everything just looks better with ribbon, doesn't it?!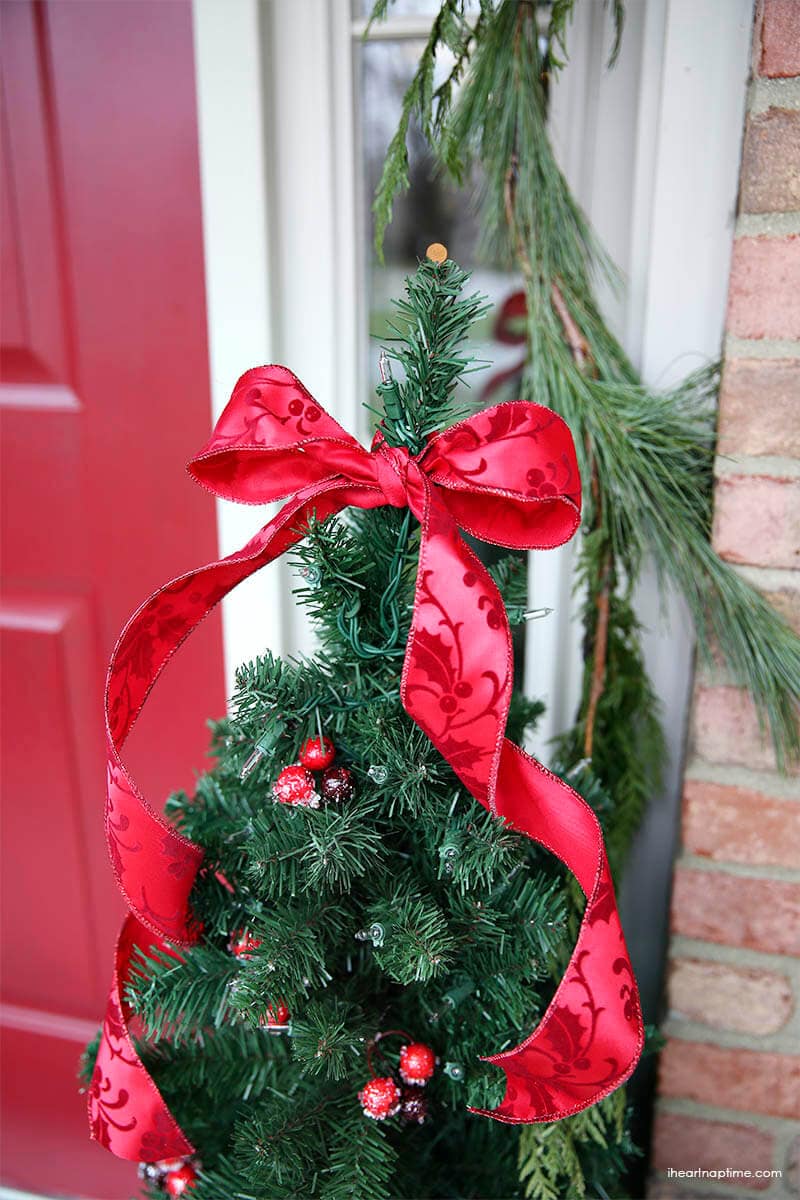 This was seriously so easy to put together. To recap… we hung two nails on each side of the door and placed the fresh garland over the top which took maybe 5 minutes. Then I added balls and ribbon to the trees which took another 10 minutes. Then the wreath took about 10 minutes to hot glue the balls on and hang up. So this was done in about 30 minutes! You don't have to spend a lot of time decorating. Now I could have gone crazy and added some cute ornaments and ribbons to the garland, but we were freezing! ;) My kids played in the yard while I decorated and then we headed back inside for some hot chocolate.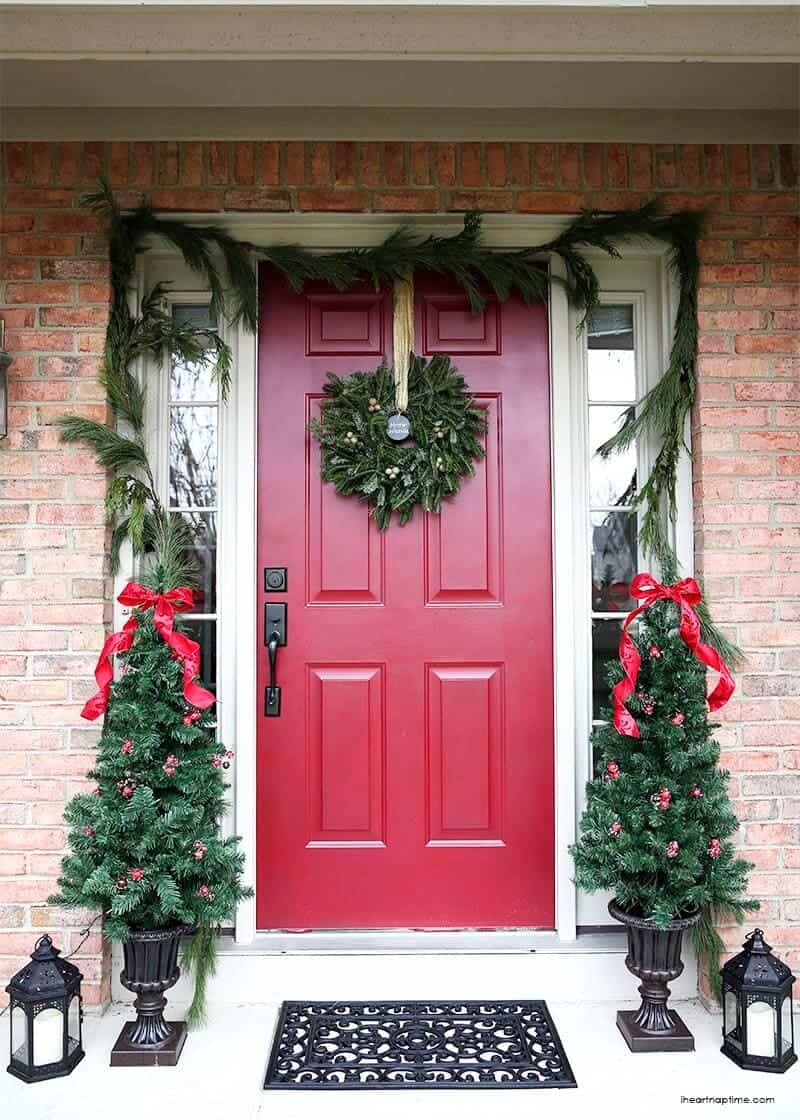 Big thanks to Lowe's for collaborating with me on this post and allowing me to be a Lowe's Creator!  If you want even more inspiration, check out the projects by other Lowe's Creators or download the Lowe's Creative Ideas app on the iphone and ipad.
So have you started decorating? I'd love to see pictures!
Join in! Leave a comment!
Comments