Christmas Pillowcase… start a new holiday tradition with a special Christmas Eve pillowcase, and attach this lovely poem available as a free printable!
Hi!
My name is Melissa Mortenson and I'm the founder and editor of the Polka Dot Chair, a site specializing in DIY craft, sewing and home projects. In addition to my work as the lead content creator for the site, I also work as a Fabric Designer and writer.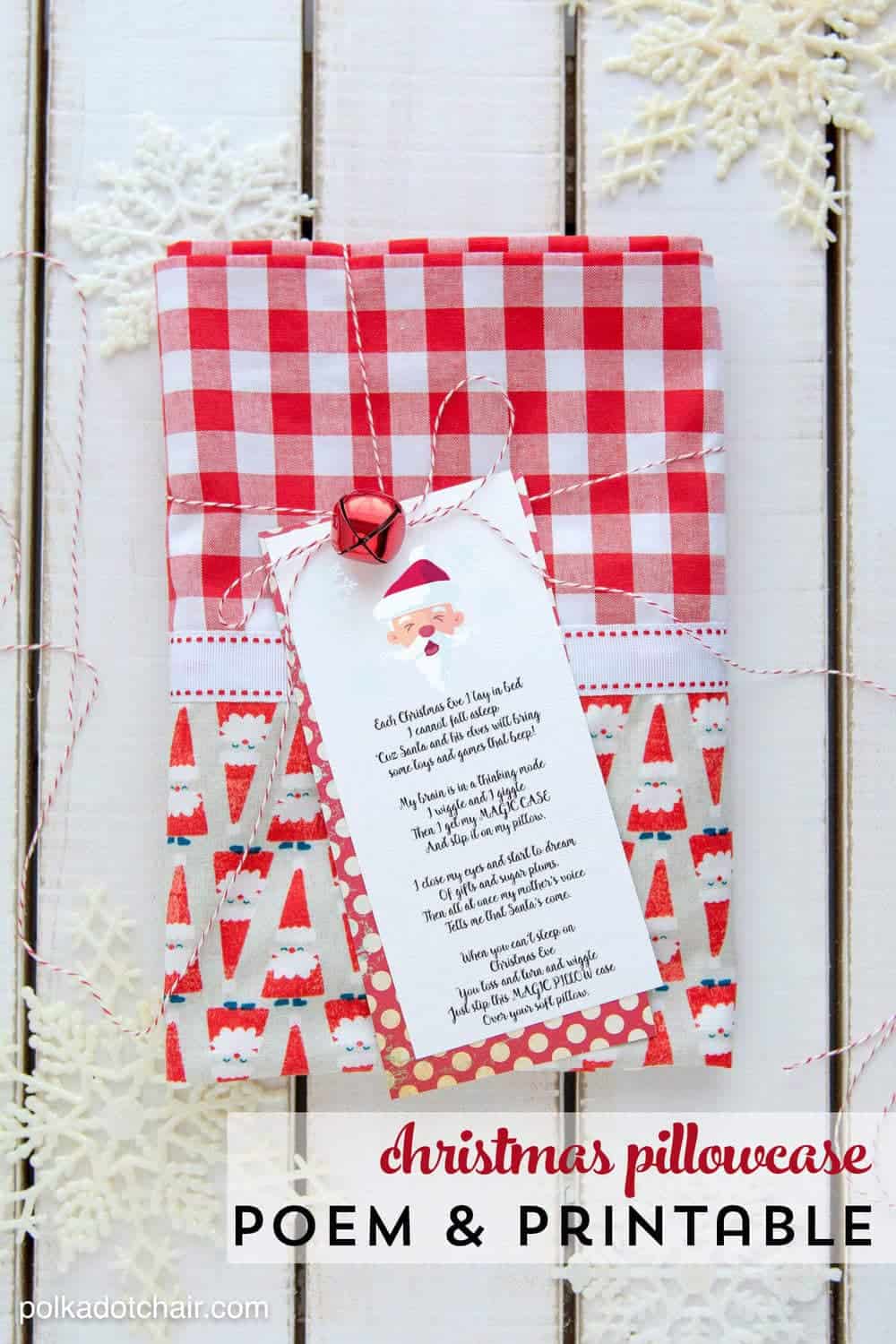 My oldest daughter turned 21 this year. Let me tell you when people say that childhood goes by fast they are NOT kidding. It seems like only a few years ago that she was pestering us to wake up at 4 am on Christmas morning to see "what Santa brought". I miss so much those early years with the kids at Christmas (although I do not miss 4 am wake up calls!).
With 3 older kids (the youngest are 15 yr old twins) our Christmas traditions have evolved over the years, but many things have remained the same. Each year I'm always surprised how important some of our simple traditions are for our kids. One year I suggested skipping making gingerbread cookies and almost had a coup on my hands!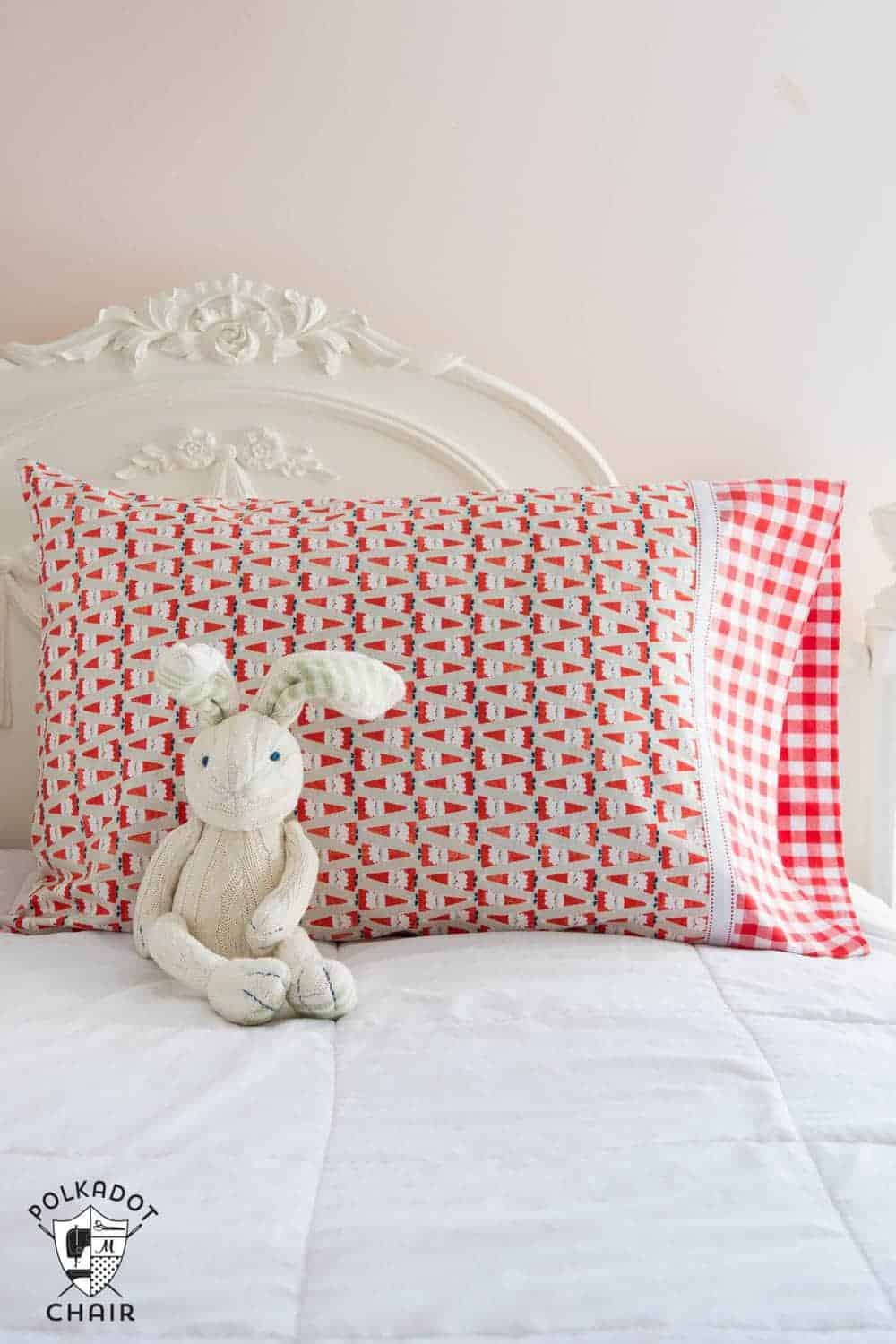 A friend of mine introduced me to a fun new Christmas tradition several years ago. Her kids have special pillow cases that they use only on Christmas Eve! I thought it was such a clever idea and decided to incorporate the idea into our family Christmas eve traditions. At the time my kids were a bit too old for Santa but my nephews were not. They were 3 and 5 at the time, the perfect age for the "magic" of Christmas and Santa Claus.
I attached a tag to the pillowcases (also given to me by my friend) to explain the idea and tradition behind the pillowcases a bit more.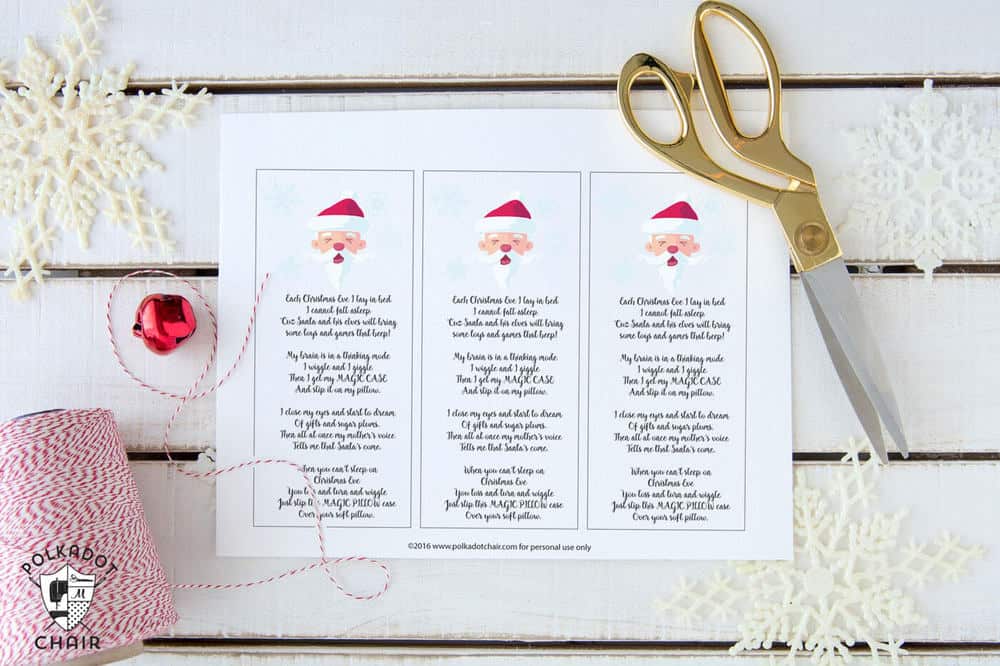 Today I am going to share with you a free printable with the Christmas pillowcase poem on it. It reads:
"Each Christmas Eve I lay in bed I cannot fall asleep 'Cuz Santa and his elves will bring some toys and games that beep!
My brain is in a thinking mode I wiggle and I giggle Then I get my MAGIC CASE And slip it on my pillow.
I close my eyes and start to dream Of gifts and sugar plums. Then all at once my mother's voice Tells me that Santa's come.
When you can't sleep on Christmas Eve You toss and turn and wiggle Just slip this MAGIC PILLOW case over your soft pillow"
If you have been looking for a simple gift for a niece, nephew or grandchild this may fit the bill. It's simple and who couldn't use another pillowcase?
I stitched the pillowcase myself. If you'd like to do that you can follow this tutorial on my site to learn how to sew a custom pillowcase. If you don't sew, no worries!! You can also use a purchased pillowcase.
All you need to do is tie the pillowcase up with a bit of bakers twine or ribbon and attach the tag. I layered my tag with a bit of Christmas themed scrapbook paper just to give it a bit more detail.
Download this lovely Christmas Pillowcase Poem
To get the tag just hop on over to my site and find out how to download it for free.
Thanks, Melissa!
If you love this great holiday gift idea, you'll like these too!