Color Trends for Summer
It's Dani from Dm Designssharing more color inspirations for summer.
I am excited to share another set of color trends for summer. This board offers a bit of frill, sparkle and warmth while showcasing some amazing finds!  The day after creating this, without even realizing, I walked out the door in navy shorts, a pink top, and gold jewelry…. I had a good laugh a few hours later when it dawned on me.  Enjoy!  Hopefully this will inspire youas well!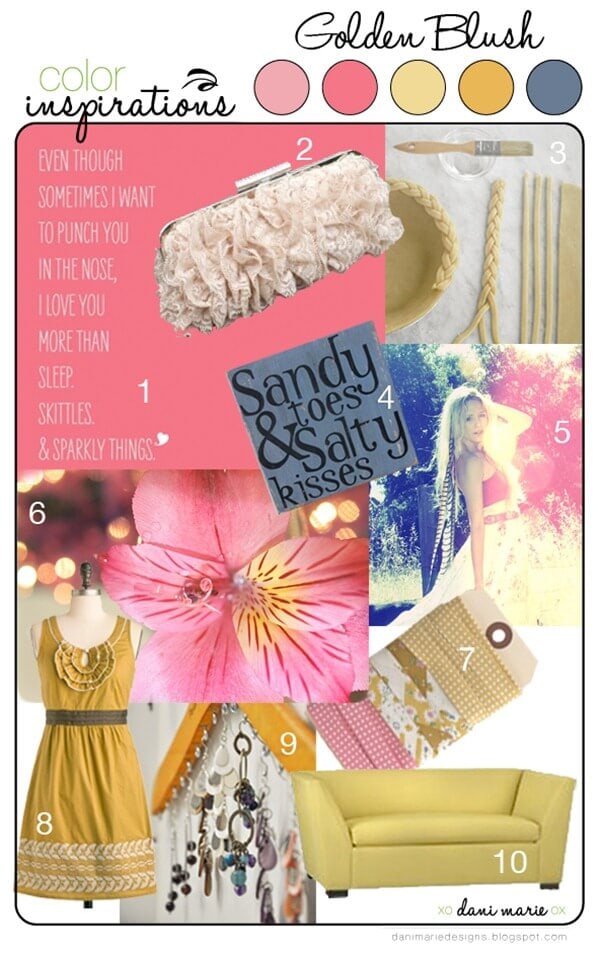 1. Sweet & Clever Print  +  2.  Frill Clutch for $34 on Spool No. 72  +   3. Decorative Pie Crust Ideas  +  4. Beachy Sign for $35 on Etsy  +   5. Aztec Gold Extra Long Feather Hair Extensions for $85 on Etsy  +  6. "Unexpected Beauty" Photograph   +  7. Sugar & Spice Tape Sampler $9 on Etsy   +  8. Autumn Wheat Dress  +   9. Jewelry Hanging Idea: Wooden Hangers + Small Eyelet Screws  +  10.  Julius Grass Twin Sleeper

MY OTHER RECIPES
Join in! Leave a comment!
Comments