So I am posting a post from my family blog since this week has just been crazier then crazy(painting our kitchen cabinets, which I cannot wait to reveal) and I think everyone needs to try this recipe! So here it goes…here's the big confession…
My name is Jamie….and I'm addicted to cookies. Chocolate Chip Cookies.
I love to bake them.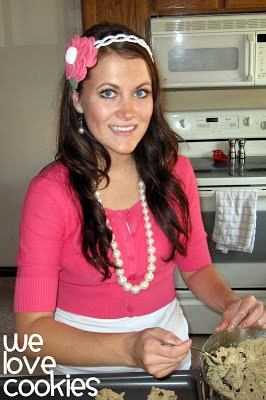 I love to eat the cookie dough.
I especially love eating cookies about five minutes after they've come out of the oven with a big glass of milk while they are still gooey and chewy.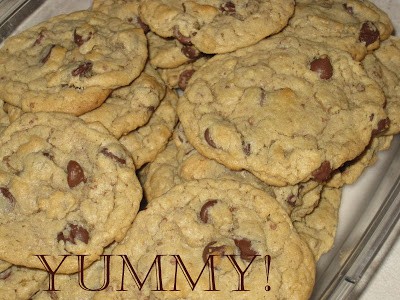 So here's my big confession: I can't STOP with one cookie. One cookie leads to another, and that cookie leads to the next…and so on. But who's counting right?
Anyways I think I found the PERFECT chocolate chip cookie recipe. I've changed the recipe up just a little bit…but only for the better! I'm definitely not one of those people who won't share their favorite recipe(doesn't that totally bug?!)…anyways here it is:
Oatmeal chocolate chip cookies
Oatmeal chocolate chip cookies - The PERFECT chocolate chip cookie recipe that tastes so delicious!
Ingredients
2

cups

butter

( I use 1 cup margarine and 1 cup butter or butter flavored Crisco)

2

cups

sugar

2

cups

brown sugar

4

eggs

2

tsp

vanilla

4

cups

flour

1

tsp

salt

2

tsp

baking powder

2

tsp

baking soda

4

cups

old fashioned oats

(grind these in a blender till almost a powder, but still a little chunky)

24

oz

Hershey's milk chocolate chips

(2 bags)

2

cups

nuts

(optional, I never add nuts!)

6.8

oz

symphony bar

(My secret ingredient: 1 Symphony Bar [The Big One] w/ Almond and Toffee Chips [Frozen] - After you grind oats in blender set aside and put frozen chocolate bar in blender and GRIND. If you don't have symphony bar, you could just grind up chocolate chips)
Instructions
Cream butter and sugars in a large bowl. Add eggs one at a time. Add vanilla and mix well. Mix flour, salt, soda, powder, and ground outs in a separate bowl. Gradually add flour mixture while mixing. Gently stir in chocolate flakes (from bar) and chocolate chips.

Scoop onto a lined cookie sheet and bake at 350 for 8 min. They may come out looking a little doughy but they will harden up fast, so DON'T over bake them. Enjoy!
Nutrition
Calories:
333
kcal
|
Carbohydrates:
43
g
|
Protein:
4
g
|
Fat:
16
g
|
Saturated Fat:
8
g
|
Cholesterol:
37
mg
|
Sodium:
201
mg
|
Potassium:
114
mg
|
Fiber:
1
g
|
Sugar:
28
g
|
Vitamin A:
290
IU
|
Vitamin C:
0.1
mg
|
Calcium:
48
mg
|
Iron:
1.4
mg
I'm telling you these cookies are amazing…you have to try them. We bake cookies every Sunday, and these are usually the ones we end up making. This recipe does make a lot of cookies, so I usually 1/2 it if I'm not planning on giving them away. Sometimes I freeze 1/2 the batch for emergencies as well. :)
Enjoy! :)