Easy Cookie Decorating
Easy Cookie Decorating… tips and tricks for helpers of all ages to make delicious and beautiful cookies!
Every single year, it seems like summer just flies by. It feels like just yesterday we were planning our first trip to the pool. Now it's almost time to head back to school!
Each new school year, my kids and I love to surprise their new teachers with a gift. And we love to thank them for the important job they do. This year we decided to decorate some bright and simple crayon cookies.

MY OTHER RECIPES
The fun thing about these cookies is that we made them with cookie decorating products designed by me! It is super fun to see them in action!
The boxed kit above is my "Shape Shifter" Set, a kit that includes 20 cutters that transform into 40 different designs. In addition, the kit includes templates that allow you to transfer the design onto a blank cookie before decorating. Neat, right?
Also included are recipe cards with my cookie and icing recipe, step-by-step decorating instructions for each design, and a summary of all the best tips from my blog.
For this project, I used the pencil cutter from my Shape Shifter set, the bonus crayon template from my Back to School cutter set, and food color markers that I picked up at my local craft store.
If you've ever tried to decorate cookies with kids, you probably know that it can be time consuming and messy. As a result, I usually do a little prep work ahead of time. That way,they can get straight to the fun.
Depending on the ages of your children, you can decide how far ahead to prep.
Cookie Decorating is easy for kids of all ages!
In this case, I baked and iced the cookies so that they had time to dry and my kids could get straight to work. After outlining with a #2 tip, I flooded the cookies and let them dry overnight.
The next day, my daughter wanted to decorate the minute she woke up. It was as simple as positioning the template over the dry base and tracing the design with a food color marker.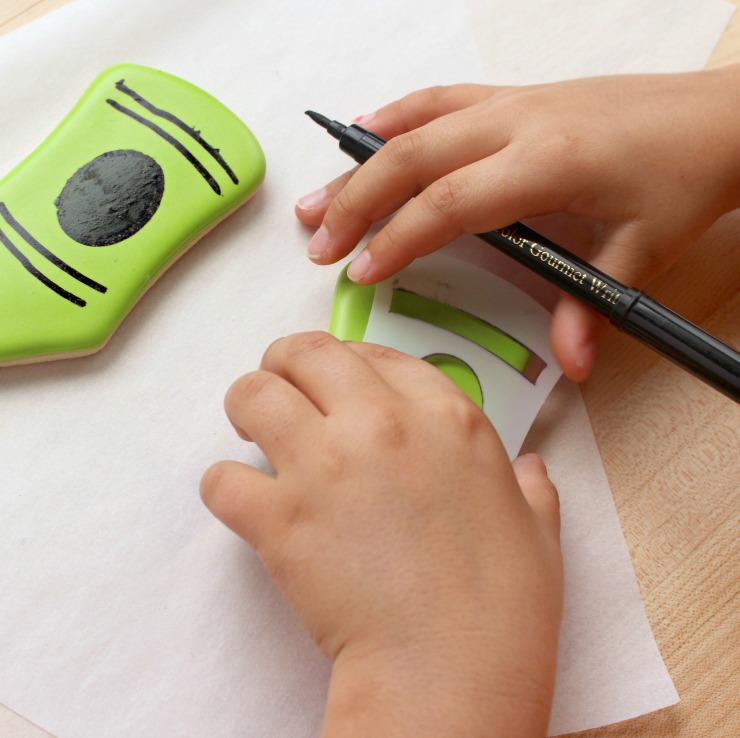 I loved watching her focus and concentrate. She really loved figuring things out for herself.
I like this project for several reasons. It's short and simple enough that kids don't get frustrated or lose interest. Most of all, they experience the joy of creating a handmade gift.
She made something she was proud of, and had fun in the process. I can definitely tell that she inherited my crafty gene.
This project can easily be adjusted depending on the ages and personality of your children. They can help with the baking process, and piping and flooding. You could also skip royal icing altogether and use colored dough or even fondant. Most of all, the possibilities are endless and it's easy to personalize.
Decorated Cookies make an easy, fun gift!
I always give cookies "platter style" in deli-type containers with lids. You can also package them in clear cellophane bags tied with twine, or in individual cookie boxes. And kids love to help with this too!
I hope that my new cookie decorating kit will simplify the process and make cookie decorating a fun, enjoyable project that you can share with your family.
For more information on where Sweet Sugarbelle products can be purchased, along with cookie decorating tutorials, tips, and techniques, be sure to check out my blog, The Sweet Adventures of Sugarbelle. I can't wait to see you there!
Looking for more great cookie ideas? You'll love these!