Jump to Recipe⌄
Crazy Christmas Crafter: The Girl Who Ate Everything!
Hi everyone! I'm Christy and I'm a foodaholic.
I write the blog
The Girl Who Ate Everything
 which is a name I have definitely earned. As the youngest of ten kids you had eat as fast as you could while the food was there or next thing you knew it was GONE!
 Food has always been a huge part of my life. All of the major moments in my life can be anchored by memories with food. I love the sweets but love to cook crowd pleasing comfort foods too.
 Thanks Jamielyn for inviting me to be a part of this Crazy Christmas Crafters event.
Today we are going to make Homemade Peppermint Oreos. Sure, fancy schmancy desserts have their place, but I tell you people don't always love to commit to a huge slice of cake or dessert. These Homemade Peppermint Oreos are portable and easy to grab and eat. Trust me, they are always one of the first things gone when I take them to a party. You can't go wrong with these – Oreos, peppermint, sprinkles…are you in love yet?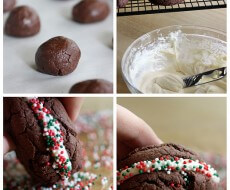 Homemade Peppermint Oreos
Ingredients:
2 boxes Devil's food cake mix
4 eggs
2/3 cup vegetable oil
Frosting:
1 (8oz) package cream cheese, softened
1/2 cup (1 stick) butter, softened
4 cups powdered sugar
1 teaspoon peppermint extract
sprinkles or crushed candy cane for decorating
green or red food coloring
Directions:
1. Preheat oven to 350 degrees. Line cookie sheets with parchment paper.
2. In a large bowl combine the cake mix, eggs, and oil with a mixer. The batter will be very stiff. Pinch of pieces of batter and roll into 1 inch balls. Place 1 inch apart on prepared cookie sheets and flatten slightly with fingertips. Bake for 8 to 10 minutes. Remove immediately from the cookie sheets with a spatula and cool on a wire rack.
3. In a small glass bowl, combine the cream cheese and butter until completely blended. Gradually add in the powdered sugar and peppermint extract and mix until the icing is smooth. Color frosting green or red if desired. Spread half of the cookies with icing and top with remaining cookies.
4. Roll in sprinkles, crushed candy canes, or just leave them plain.
(Store in the refrigerator in an airtight container or resealable plastic bags.)
All images and text ©
Thanks Christy for sharing this yummy recipe! I LOVE homemade oreos, and I'm excited to try this holiday twist on them, they look delish!