Jump to Recipe⌄
Crazy Christmas Crafter: Hoosier Homemade!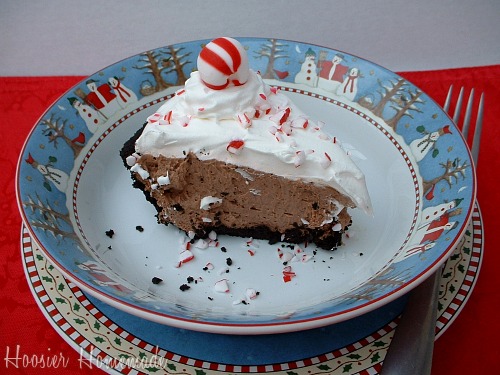 The best baking season EVER is quickly approaching…The Holidays! I'm so excited to start baking and creating some yummy treats for our friends and family!
I love making pies, but typically the tradition pie tastes quite awhile to make…first the crust, then the filling, then another crust, then baking.
Sometimes, I just need a quick and easy pie, that is of course delicious too! This Holiday Candy Cane Pie is perfect! It's a very simple recipe, but can be changed with different ingredients for a totally different flavor!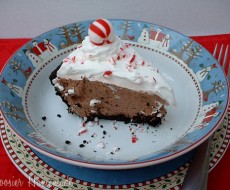 Holiday Candy Cane Pie
Ingredients:
1 graham cracker pie crust (I used chocolate Oreo crust)
2 cups cold milk
2 boxes (4 oz) instant pudding (I used 1 chocolate and 1 vanilla)
1 tub (8 oz) Cool Whip whipped topping, thawed
crushed candy canes, mini candy canes, peppermint balls
Directions:
1. Pour 2 cups of milk into a bowl or measuring cup. Whisk in pudding about 2 minutes, mixture will be thick. Gently fold in 1/2 tub of Cool Whip (about 1 cup), mix completely. Spoon into crust. (Note: you can add crushed candy canes to the pudding mixture before adding it to the crust, or even crushed candy bars are great too. I kept mine plain because not all my boys like peppermint.)
2. Place in fridge to set for about 5 minutes. Top with remaining Cool Whip. Place back in fridge for 4 hours. Garnish with candy canes or peppermint balls.
All images and text ©
You can easily make this pie a day or two ahead. But DON'T add the candy canes until a few hours or right before serving, as they weep a little.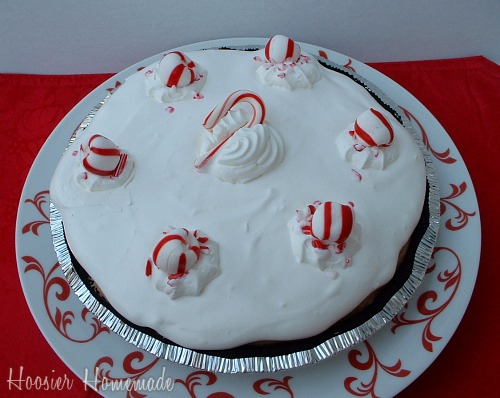 Thanks so much Jamielyn for having me! I'm really enjoying all the great holiday ideas!