Crazy Christmas Crafter: Infarrantly Creative
I am Beckie from Infarrantly Creative and I am excited to show you a handmade gift today.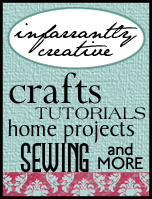 Custom gifts are so fun to give. There is just something lovely about seeing your name on something, wouldn't you say? Here's your chance to try your hand at metal stamping and create some one-of-a-kind serving pieces. It is really easy to do and fairly inexpensive to get started. These beaded silverware make nice hostess gifts, wedding or shower presents, and even a baby shower gift using a little spoon. If you want to get larger serving pieces you could do that as well.
Spoons – $.29 each (Goodwill)
1/8" Metal Stamps – $8.99 (Harbor Freight)
Assorted Glass Beads $2.99 (Joann's, Michaels, Hobby Lobby)
20 gauge wire (Joann's Michaels, Hobby Lobby) $2
Heavy hammer
Soft cloth (like flannel)
Needlenose Pliers
Wire snips
Recommended but not Necessary:
Bench Block – $10 (Ebay, Amazon)
Sharpie Marker
Metal Polish (I use Maas and found it at Walgreens)
Round Nose Pliers
Optional:
Metal Charms $1.99 for a 3 pack (Joann's, Michaels, Hobby Lobby)
1. You can find all different types of spoons, forks, and knives at Goodwill for about $.29 each. I just try and look for a flatter surface to stamp on. This particular spoon was perfect and there was a little oval that was meant for stamping!
2. Next up you will need metal stamps. If you have a Harbor Freight nearby go pick up some metal stamps for $8.99. You can purchase them online as well but it is $6.99 for shipping. I would get the 1/8" set which is a nice size to get started.
3. Then find some sort of bench block or hard metal surface. Mine is just a metal 2" x 2" steel square. If you don't want to make the investment you could just use your garage floor, it will work also.
4. If you want to practice stamping before you do your silverware buy a $.50 piece of sheet metal or roof flashing from Home Depot. Practice will help you learn spacing.
5. When stamping silverware you have to hold the metal stamp firmly in place and whack it about 5 times HARD. Make sure you use a heavy hammer. Click here to view a free video tutorial on metal stamping keeping in mind that you have to hit it harder with the silverware pieces.
6. After you get your name, saying, initials or whatever on them color over the letter with a Sharpie marker to darken the letters if you wish.
7. Using metal polish and a soft cloth buff the letters and the silverware. If you do not have metal polish just buff it really quickly after you color it with Sharpie (before it dries).
8. Next gather your beading supplies. I would just purchase a small glass bead mix from your local craft store. I also used a 20 gauge wire, but you could go thinner if you want.
9. Cut a piece of wire about 20 inches long. Using round nose pliers or needle nose pliers (whatever you have on hand) make a spiral. Click here for another free tutorial on spiral making. Then wrap the spiral onto the neck of the spoon, fork or knife going around the neck twice to lock it in place.
10. Add one or two beads (or more if you have a thicker neck) to the wire and wrap around the back and around to the front tautly adding beads as you go.
11. At the end leave a 3" tail and make another spiral or add a charm on it and shove the tail up into the beads and cut the end.
I made a monogrammed spoon for a friend for her birthday. Then I stamped a sugar spoon that says "Gimme some sugar." Lastly I did a pickle fork that says "In a Pickle."
If you did not have any of the supplies it would probably cost you about $20 to get started with the bare minimum supply list. That is not bad when you consider you can make probably 5+ gifts for that investment.
If you don't want to stamp them and just wanted to "bead em up" you could probably do it for about $1 a piece.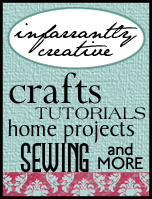 Thanks so much Beckie for sharing! These are the perfect gift, and the beading adds the perfect touch! I love how these turned out!