Jump to Recipe⌄
Creamy Chicken Noodle Soup!
Thanks for stopping by! To get the newest recipes

 subscribe

 or join us on facebook. Also check out our 

recipe box

 for more yummy recipes.
I never used to make homemade chicken noodle soup until a friend told me how to make this version of the traditional chicken noodle soup….Creamy Chicken Noodle Soup!  I tried it once and was instantly hooked!  I now make it all the time.  I don't know what I love more….the creaminess, the noodles, the yummy carrots?  Ok, ok, it is all DELICIOUS!!!  Enjoy!!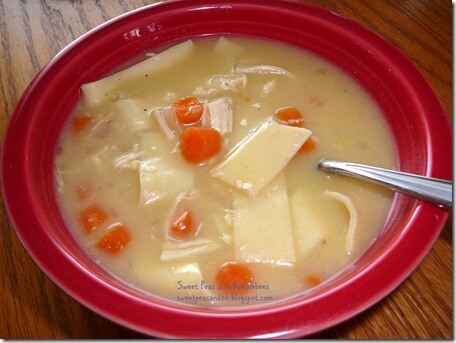 Creamy Chicken Noodle Soup
Ingredients:
3 chicken breasts, boiled & cubed
6 cups water
6 tsp. chicken bouillon granules
1 medium onion, finely chopped
1/4 tsp. black pepper
1 bay leaf
1/2 package wide egg noodles, cooked al dente.
2 cups chopped carrots
1 cup chopped celery
2 cans cream of chicken soup
Directions:
In a large pot, add water, chicken bouillon, onion, black pepper, bay leaf, carrots & celery. Bring to a boil. Turn to low and simmer until vegetables are tender. Add cream of chicken soup and stir until blended in. Add chicken and noodles. Heat until hot. Serve & enjoy!
All images and text ©
These are possibly the best noodles I have ever used.  If you can, try and use these or something similar.
Post by: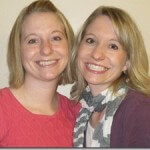 My twin sister and I (I'm the one on the left!) both share our craft tutorials, ideas and recipes on 
our blog
.  I hope you'll stop by sometime to find some inspiration and check out all that we have created!