Christmas Burlap Wreath by Courtney of Crafts by Courtney for I Heart Naptime.

Happy Holidays everyone!
I'm starting to get some projects ready for Christmas, and my very first one this year… The super easy Burlap Rag Wreath! This was seriously such an easy wreath to work on. I'm all about making simple wreaths. But I feel like when you look at this wreath is doesn't feel simple, and that's what I LOVE about it.
I've been wanting to make a wreath like this for awhile now, and I'm so glad I finally did. I always thought they might be difficult to make, boy was I wrong.
Supplies
For this festive Christmas wreath, you're going to need:
Foam Wreath
Burlap
Burlap Ribbon
Pencil
Starfish
Hot Glue
Christmas Balls
Step 1 – Get Your Foam Wreath
I went through my wreath stash and picked out the perfect size. Using a foam wreath for this project make's is so much easier!!
Let's get crafting!!

Step 2 – Cut and Add Your Burlap
I found at great deal for burlap at Wal-Mart and I knew exactly what I wanted to do with it. Make a wreath for Christmas. I just cut my burlap into strips then used and pencil to push the middle of the burlap into the foam.
See how easy that was!! I started working my way around the whole wreath. Making sure to keep the pieces of burlap close together. You don't want any bare spots!!

Step 3 – Add Your Ribbon
I left a spot open in the middle so I could add my ribbon to hang it. I used a couple push pins to keep in place, then filled in the space around it with more burlap strips.

Finishing Touches
Finally I added some extra touches to the wreath. Since I'm going for a more coastal Christmas I added a couple starfish using hot glue. But I felt it needed another Christmas touch, so I filled in some spots with red Christmas balls. perfect addition!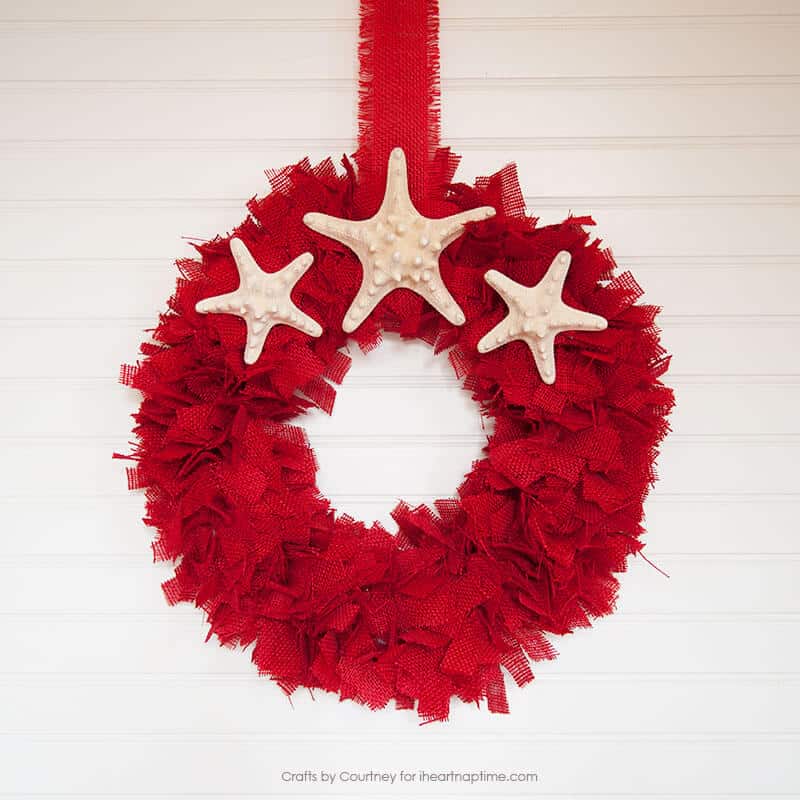 Here's another look without the Christmas balls.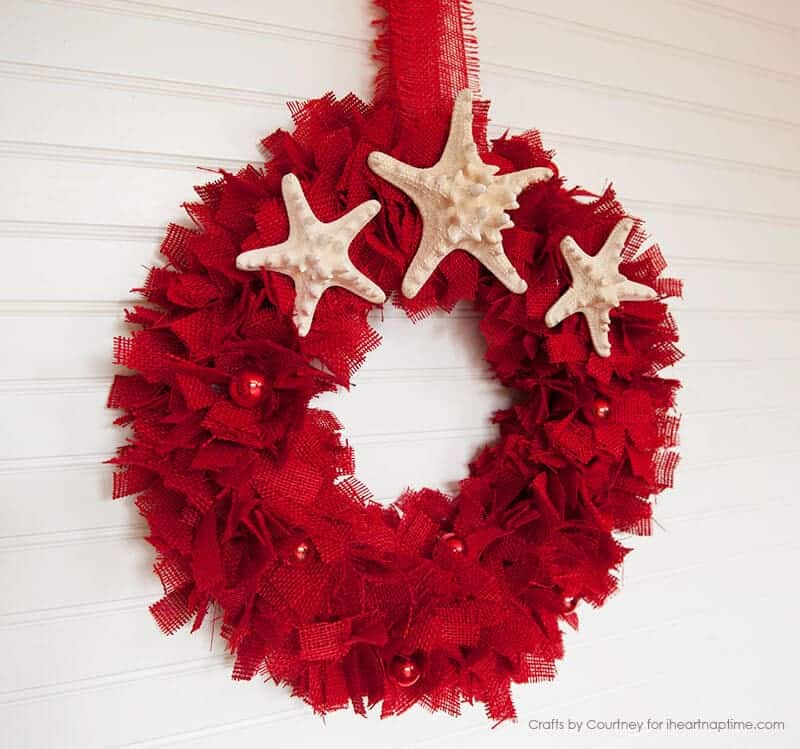 See how simple that was! Since I sent my three boys outside to play, I got this wreath done in about a half hour. Perfect afternoon craft for anyone.
I'm truly happy with how this turned out, I've only made cupcake liner wreaths. So this was a nice change for me. I would LOVE to find some turquoise burlap and make one for the Summer.
I have many more Christmas project coming up so stay tuned… See ya next month!
Love this easy holiday project? You'll like these, too!