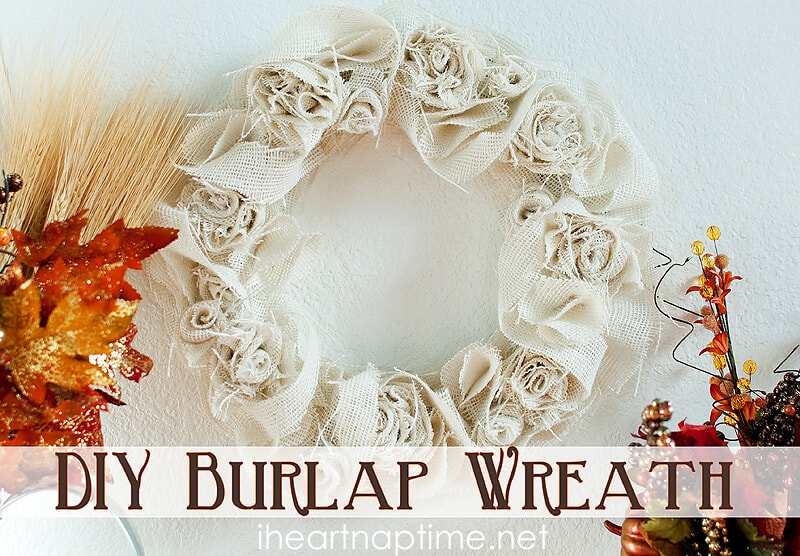 It's Marie from Blooming Homestead sharing this easy DIY Burlap Wreath Tutorial. This is a perfect wreath for fall! Let's get started.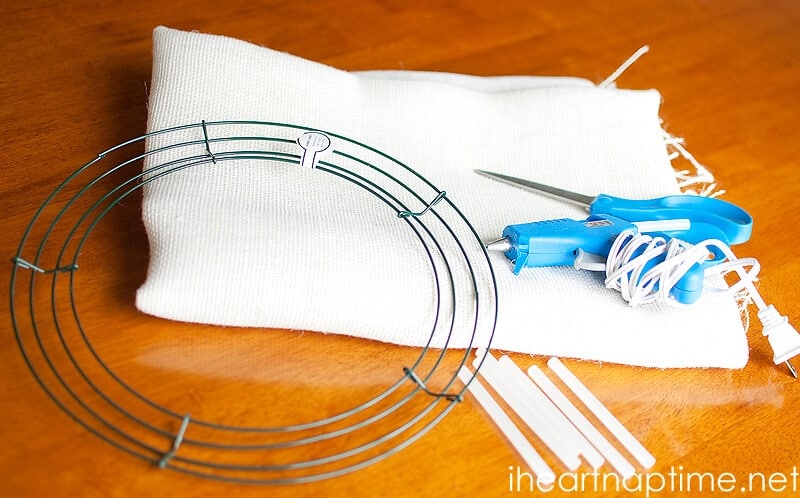 Supplies:
Wire wreath form (any size you want)
burlap
glue gun & glue sticks
scissors
wire to add as hanger on back (optional)
To start, you are going to cover your entire wreath form front and back. You will do this by cutting long strips of burlap with width enough to cover the wire completely.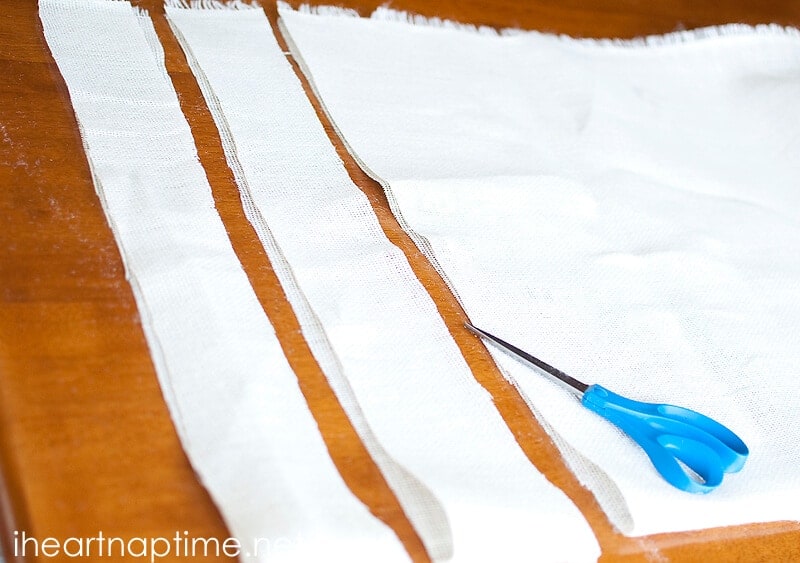 I start with the back strip and start to glue it onto the form while creating folds so that it follows the circular shape of the wreath form.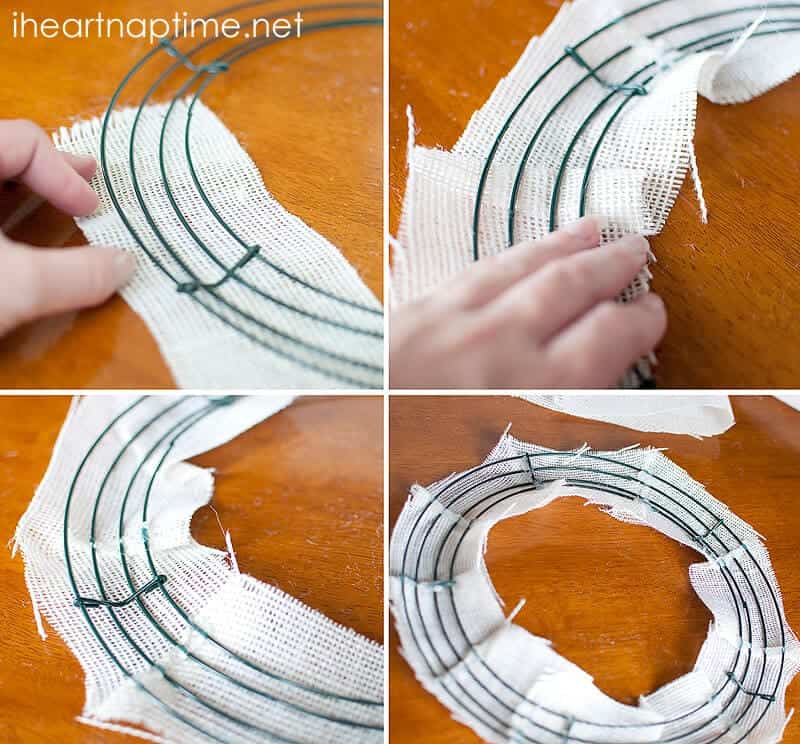 Repeat this process for the front, completely covering the wire form. I like to create a "Ruffle effect" for the front which will help when you add in the flowers.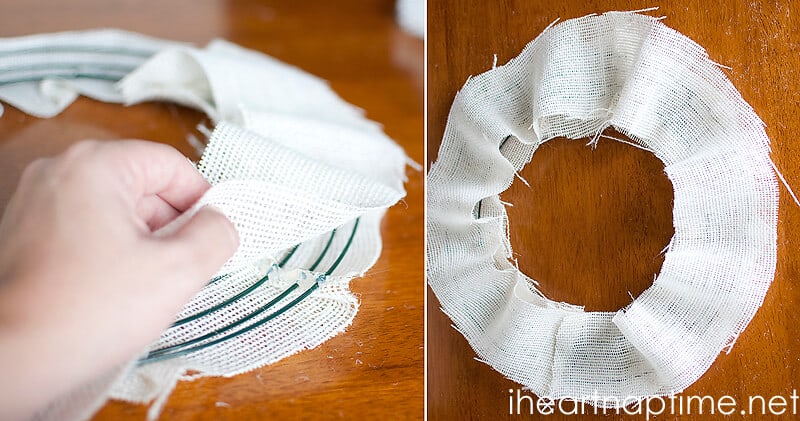 After you have your form covered, you need to get your "toppings" ready. I made about 8 big burlap flowers, 8 small burlap rosettes, about 9 little circle flowers, and also cut 3/4″-1″ strips to use as a ribbon to fill in as the final touch of the wreath. This is where you can get creative and make it your own. You can make this wreath as full as you like.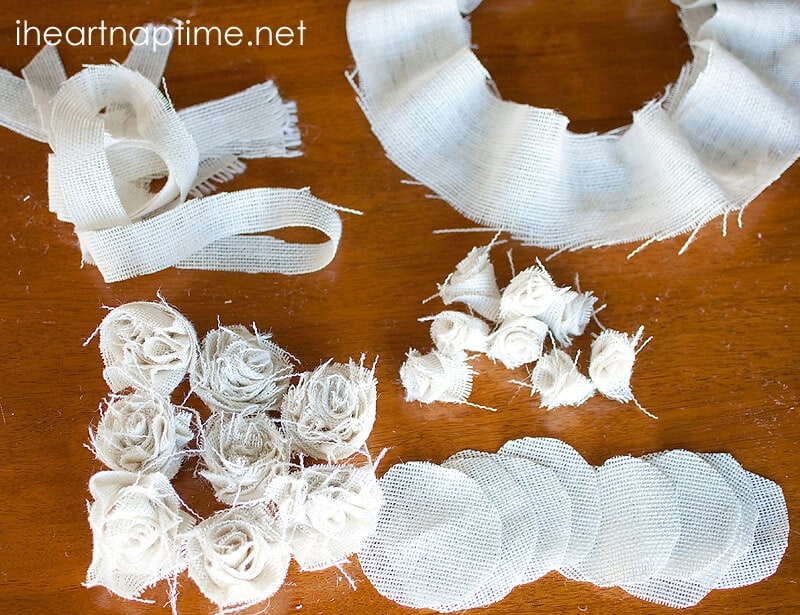 You can use any type of burlap flower you like however I like this hybrid shabby rosette. You can find a video tutorial I made here to show you how to make this flower. (Its a little tricky to show in pictures. :)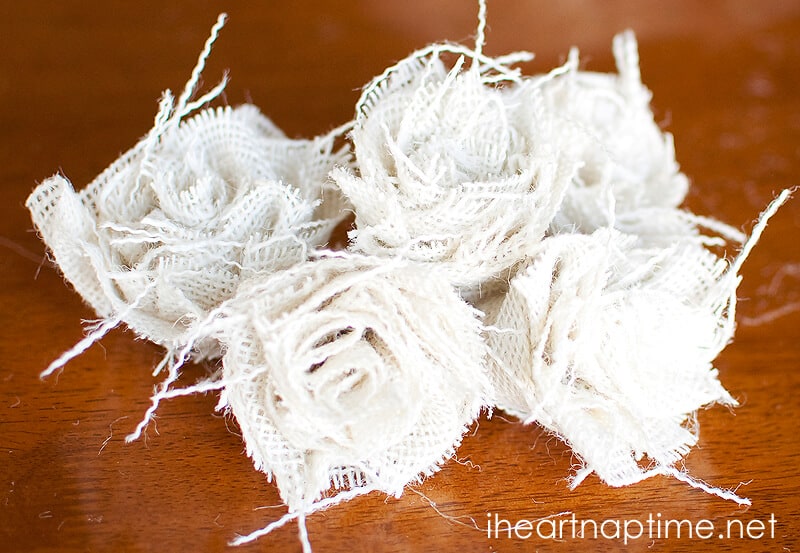 Small rosette buds- Just wrap burlap around itself and glue a few times.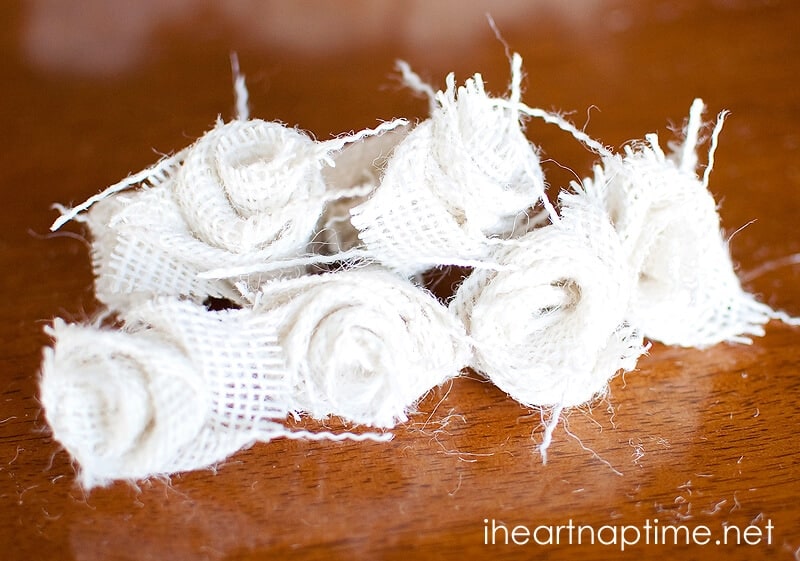 Cut out the circles and then just fold these circles in half, then in half again. Glue at the bottom to secure.

Now its time to start gluing all your flowers on. Start with the biggest flowers.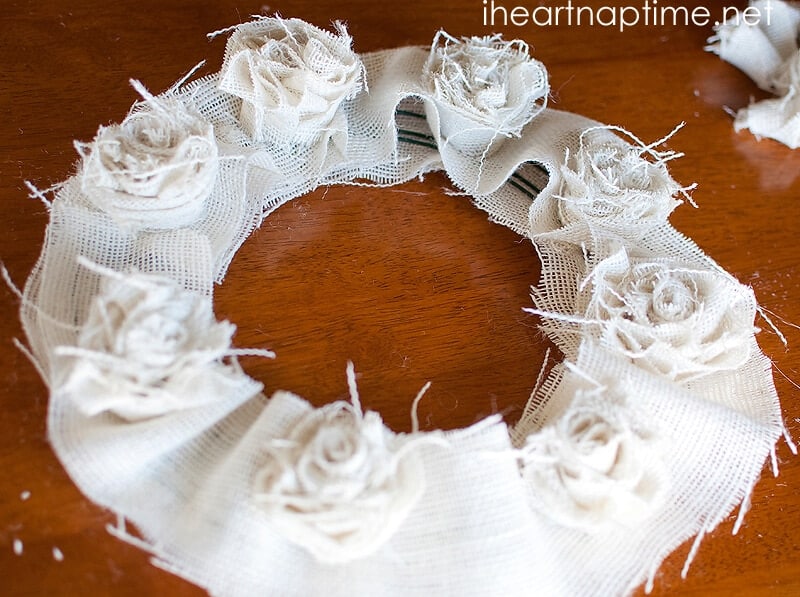 Then fill in with the smaller rosette buds and circular flowers.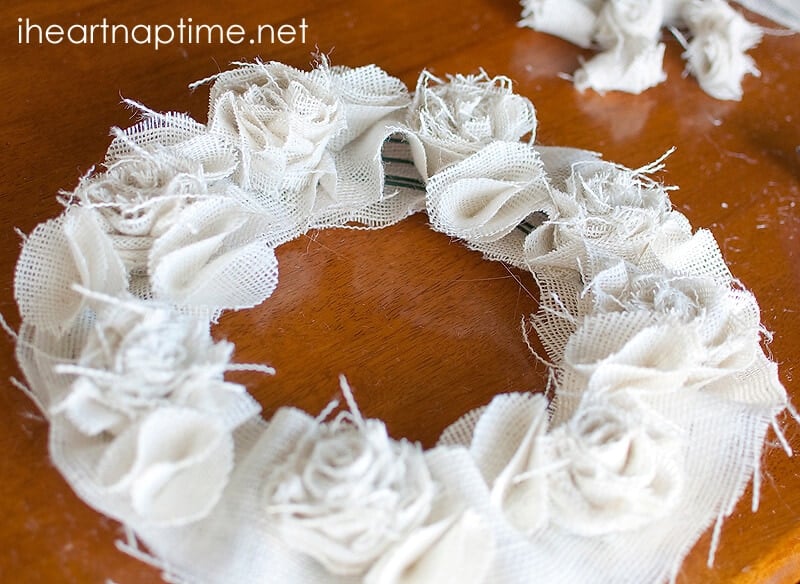 Next, take your little burlap strips and start to weave in and out of the flowers, securing with hot glue as you go. I like to twist it around and loop it out to create a lot of dimension. This creates a beautiful ruffle effect.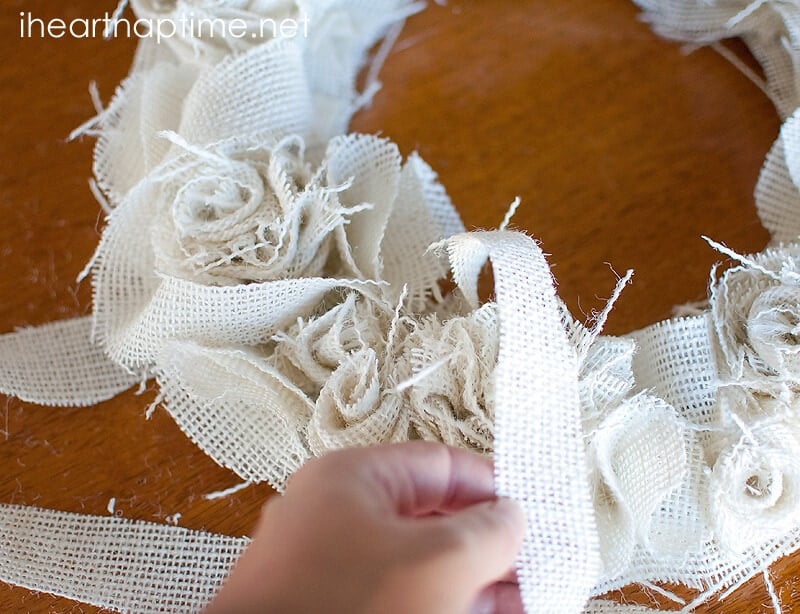 And there you have it! If you need to, you can add a little wire hanger to the back but I was able to hang mine through the burlap. I love the shabby look of the burlap and I use my wreath all year long. With all the variations and colors of burlap out there you can truly customize this wreath for any look.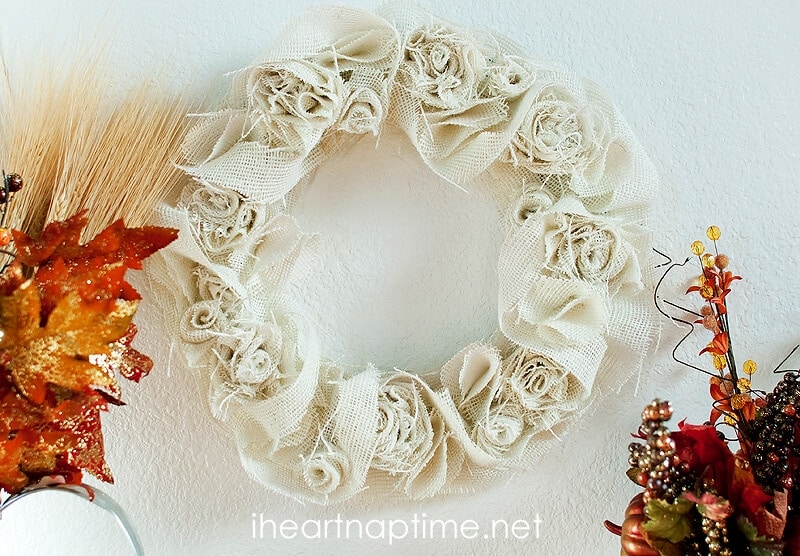 Come join me over at Blooming Homestead for some fun fall Decor, Crafts, Printables, & Recipes.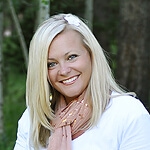 Hi! I'm Marie and I blog over at Blooming Homestead. I love to share my latest projects, printables, recipes, and more! Crafting is a passion of mine and I love to share my projects with others. Other than crafting and creating, I absolutely love being a mother and wife. I have a 7 year old son, and a baby girl on the way so our lives are about to get even more interesting! You can also find me on facebook, twitter, pinterest, google +, and instagram.