DIY Nautical Christmas Sign
DIY Nautical Christmas Sign – a glittery and beach-y DIY perfect for any home decor!
By Courtney of Crafts by Courtney for I Heart Naptime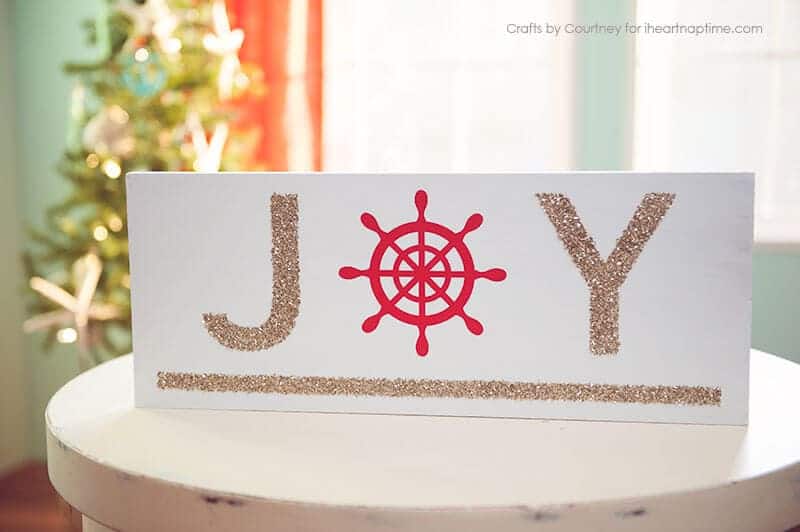 Today I'm sharing another Christmas craft, but with my own nautical touch.  I've been trying to switch my Christmas decorations to a more Coastal/Nautical feel.
So my first thought was a new Christmas sign for the house! My parents just redid their closet and had some extra pieces of wood left over.  I of course had to grab them up! I knew I could make something with them.  You can't waste a good piece of wood, right?!

MY OTHER RECIPES
I've seen several nautical JOY signs out there using starfish or sand dollars but I thought using the wheel of the boat looked like a perfect "O" for my JOY, don't you agree?!?
I did just make some DIY Christmas Sign Nautical Style and I really wanted to make my sign match, using the glitter again.
Supplies
For this festive Christmas sign, you're going to need:
Piece of Wood
Paint
Mod Podge
Glass Glitter
Silhouette Cutting Machine
Vinyl
Transfer Paper
Weeding Tool
Getting Started
Since I already had my piece of wood, I just needed to round up the rest of my materials.  I was really excited to use this glass glitter again.  I want to cover everything with it!
Let's get crafting!
Step 1 – Paint Board
I gave the board a fresh coat of paint first.
Step 2 – Cut Text
Next I cut my vinyl. I searched around my fonts until I found the perfect one. I decided on a thicker front just so the glitter shows up, but I think it just depends on your taste.  I also looked through my Silhouette library to find a boat wheel.
Weed your sign, but make sure not to make the same mistake I did and weed the wrong part!  I ended up having to cut the wheel again and using some of the parts.
Step 3 – Transfer Text
Then I covered my text with transfer paper so that I can easily add it to my piece of wood.  I made sure to smooth it down good on the wood, then remove the transfer paper.
Step 4 – Add Paint
Now I'm ready to add my paint for the wheel. I did a total of three coats and let each one dry 15 minutes.
Step 5 – Add Glitter
Now the fun part, adding the GLITTER!!
I used a little Mod Podge and painted it on the middle of my letter.  Then I sprinkled my glitter on top.
Step 6 – Remove Vinyl
Next, while the Mod Podge was still wet I removed the vinyl.  I didn't want to wait until it dried, I was a little nervous it might have removed some of the glitter from the letter if I did.
I of course used my "handy dandy" weeding tool again to remove the extra vinyl from the wheel.
It's looking so cool!
Step 7 – Add Strip
When I came up with the idea for the sign I knew I wanted to add a strip of glitter to the bottom. BUT I wanted to start the letters first.
I pulled out my "trusty" washi tape to help create my line.  I did the same process with this as I did with the J&Y.  Then I removed the washi tape right away.
Finishing Touches
Voila, all done!!  I think it turned out perfect, I'm so happy with it!  This totally matches the look I'm going for this Christmas.
Coastal Glam!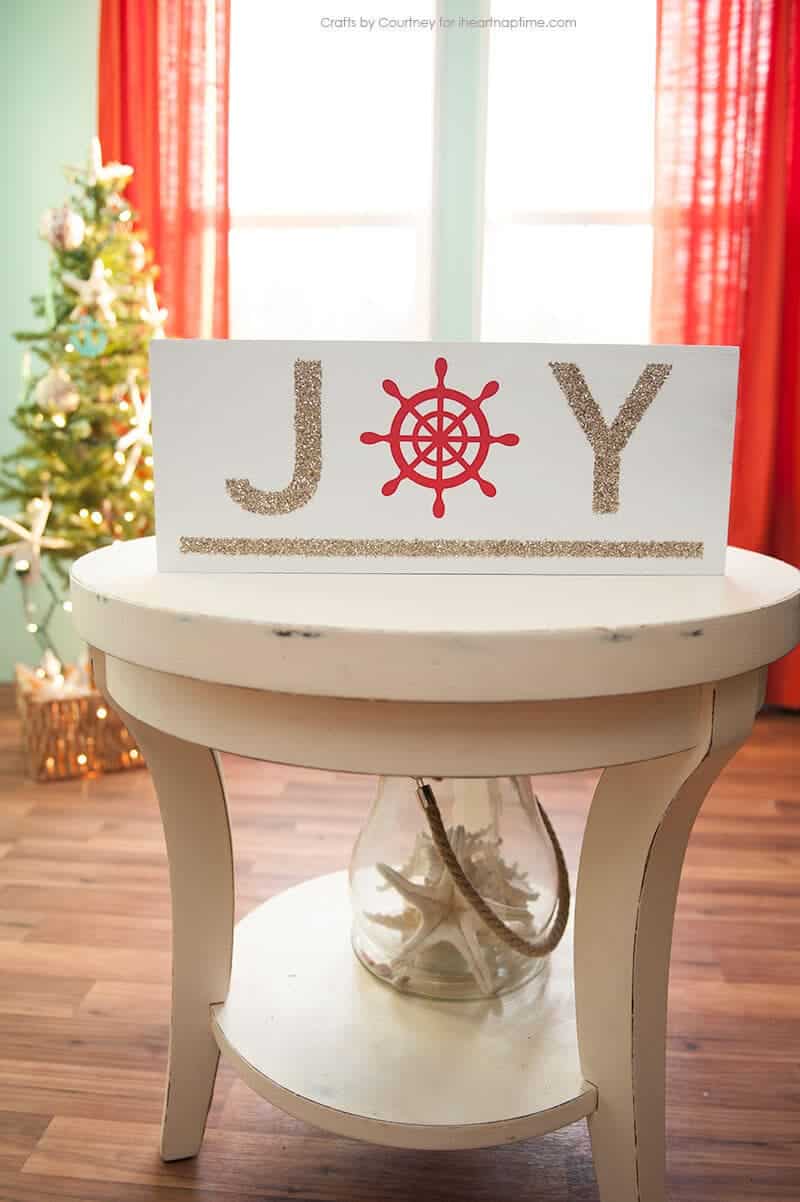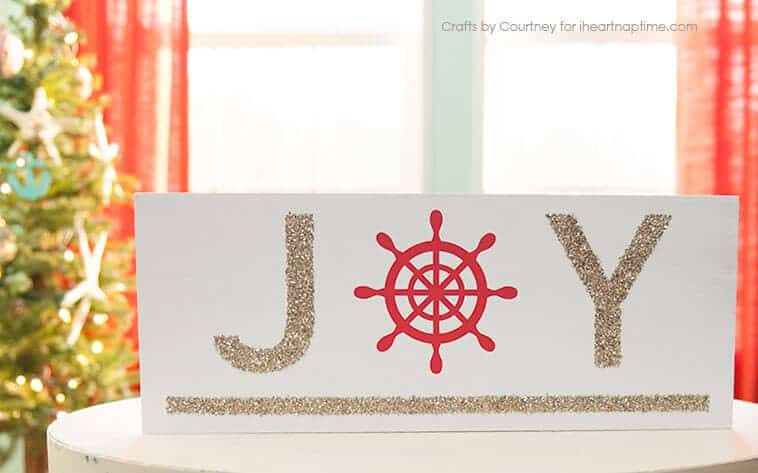 Now, once I take down my Fall decorations, I can add this to my mantel.  I just need to get started on a couple more projects to complete my coastal glam look. I did some DIY Christmas Sign Nautical Style last year that turned out great.
Once again, I hope you enjoyed the post. Please let me know if you have any questions when making this sign, I'd LOVE to help out any way I can.
Have a wonderful holiday season!
Thank you, Courtney! If you love this Christmas decor, you'll enjoy these Christmas DIYs, too!