DIY Cupcake Stands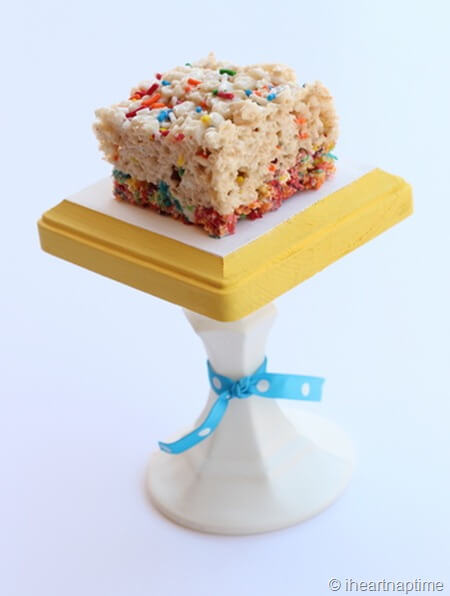 Cupcakes are one of the hottest trends right now… and I think they are for good reason. They taste way better than a slice of cake (in my opinion)… and just look so dang cute! And if it's a sprinkles cupcake… don't even get me started!
I've seen so many different variations on little cupcake stands that are so cute. These stands are super easy to make and you don't have to use them for JUST cupcakes. I made these AWESOME rice krispy squares for my hubs b-day, so I used those for the pic. :)  These stands are great for all kinds of parties, gifts, or even just to showcase your latest and greatest.
Supplies:
1 candlestick ($1 found at the dollar tree)

1 circle or square wooden base (.50 from Jo-Ann's)

Paint and brush

e-6000 glue

Yummy treat
Directions:
1. First I spray painted my candlestick white. This is the time to get creative since there are tons of fun colors out there.
2. Next I painted the edge of my square with a bright yellow.
3. Then I painted the inside of the square white.  Again, you could use any color. The sky is the limit!
After the paint is dry, you'll want to glue the wood square to the rim of the candlestick.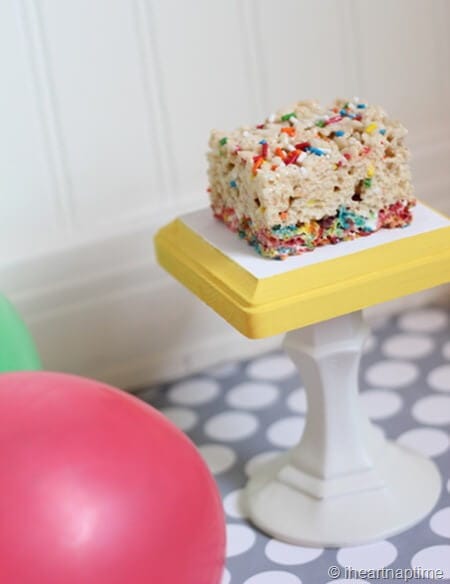 Now top with your favorite treat and you have a cute little  stand for less that 2 bucks!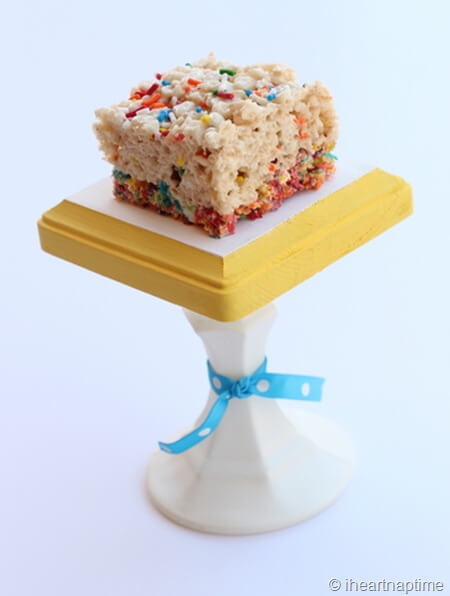 You can also tie a ribbon around the candle stick to add a little extra flair. I love these dollar store candlesticks! Another great way to use them is to glue a cute plate on top and turn it into a cake stand. So fun, affordable and super cute!
*This post was originally posted on Mom It Forward.*
Come back later for the yummy recipe!!