DIY Mod Podge Pots by Crafts by Courtney on I Heart Naptime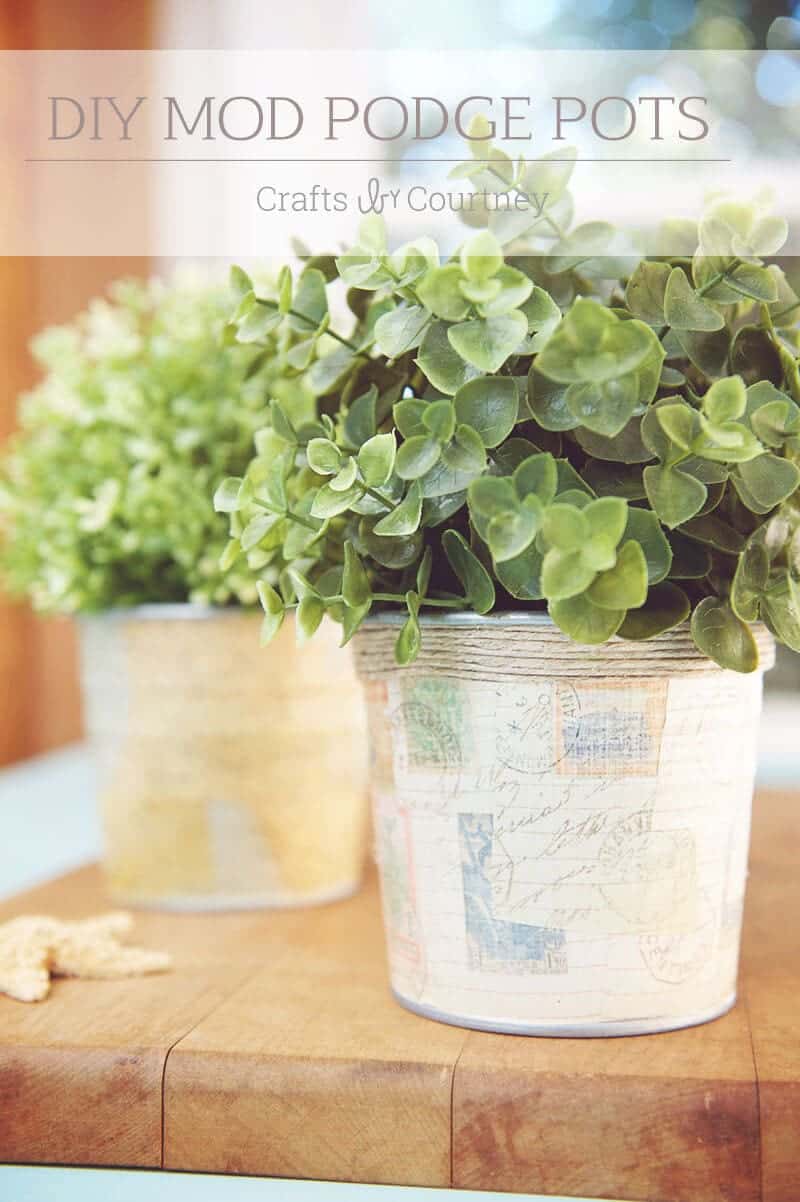 Hello everyone, I'm Courtney! You can find me over at Crafts by Courtney where I blog about kids crafts and home decor projects! I'm very excited to be guest posting over here at I Heart Naptime for the talented Jamielyn!
I've just put away all my Christmas decorations. Finally a small break from the holidays and I wanted to make something new for the house (not holiday related). Like I said this is a super EASY project that anyone can do (which I love)!
Plus, I'm kinda' obsessed with Mod Podge and scrapbook paper right now. That stuff is so easy to use and dries super fast. Now onto what you'll need…
Supplies
Gather up the following supplies to make these adorable Mod Podge pots:
Tin pot
Scrapbook paper
Mod Podge
Scissors
Sponge brush
Decorative rope*
Hot glue w/gun*
*These materials are optional – I found decorative rope to give that perfect touch.
Getting Started
For this project, I picked out a couple neutral pieces of scrapbook paper. I love the idea I using handwritten-letters and postage patterned scrapbook paper. Once I rounded up all my materials I was ready to begin!!!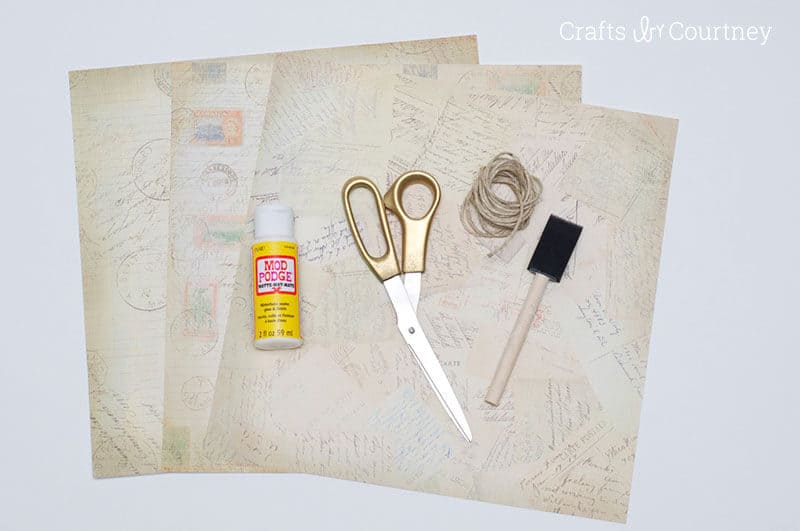 Step 1 – Pick Your Pot
I found these great tin pots at Ikea for .75 cents each! Can't get any cheaper then that right?!? But any kind of pot would work great for this project.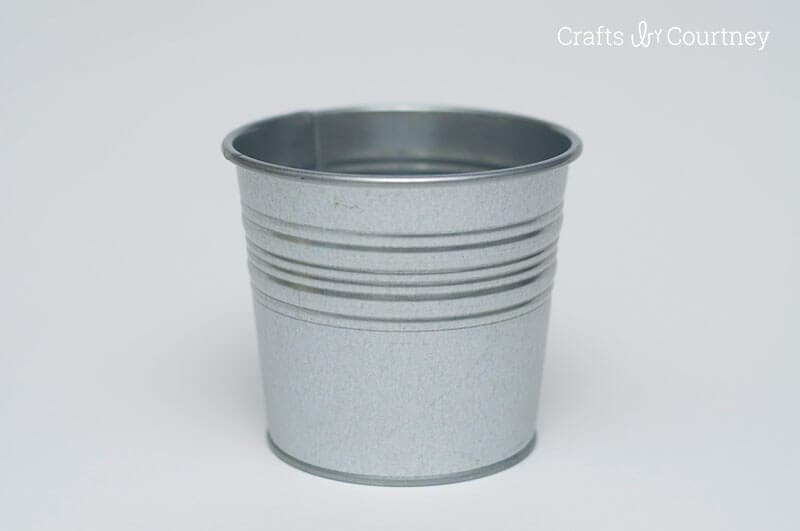 Step 2 – Cut Your Scrapbook Paper
Next, you need to cut your scrapbook paper into squares. I have done many Mod Podge crafts and have found this has worked best for projects like this.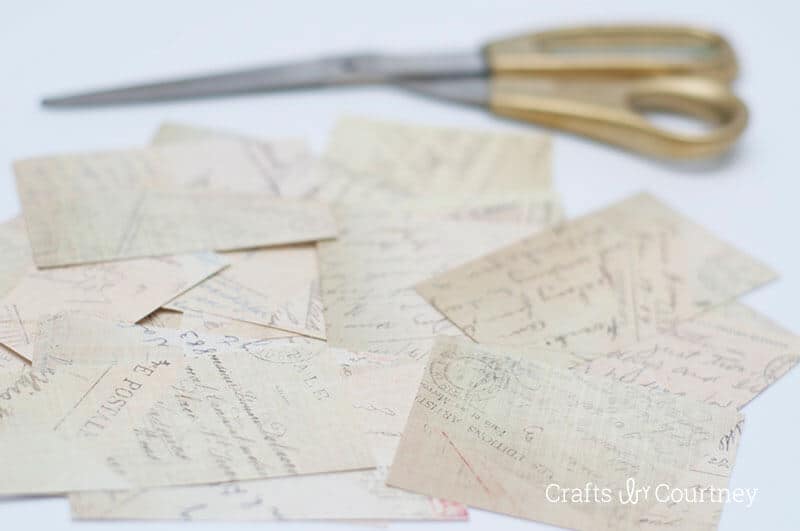 Step 3 – Add Your Scrapbook Paper and Mod Podge
Now it's time to apply Mod Podge!!
I painted a layer on the pot first, then added my scrapbook paper. Next, I painted some more Mod Podge over top of that. Finally, I went around the entire pot, starting at the bottom and working my way up.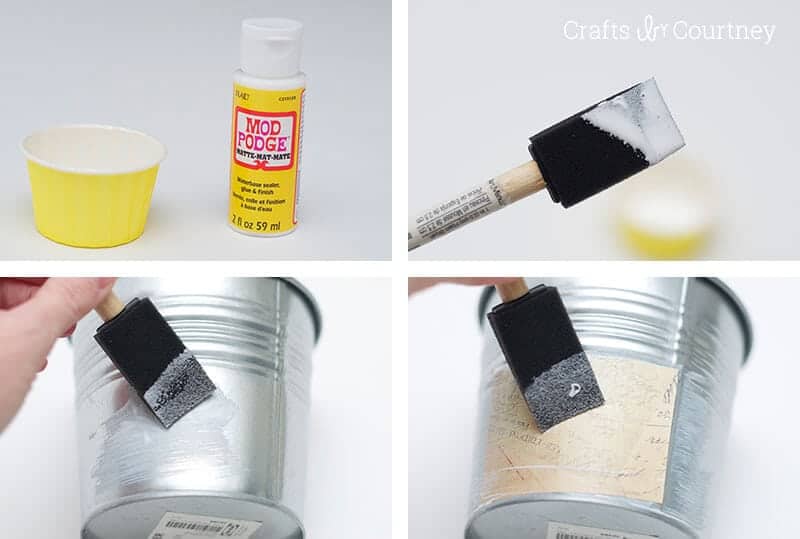 Step 4 – Smooth Scrapbook Paper
Make sure (as you're adding scrapbook paper and Mod Podge) that you're smoothing your paper down. This helps remove any bubbles.
Easy so far right? Told ya', that's why I love it!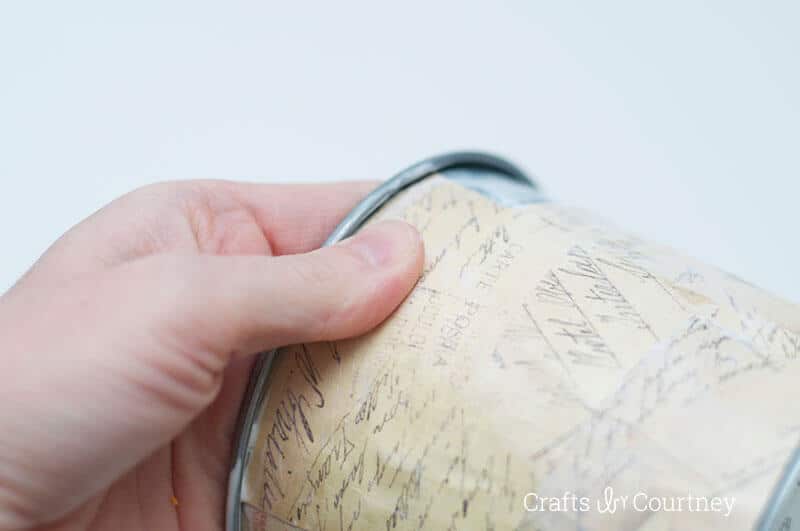 Step 5 – Finishing Touches
To finish off your pots, you can add a little decorative rope to the edge with some hot glue. I also found all these cute little decorative plants at Ikea for around $4.00 each.
Now you're ready to display!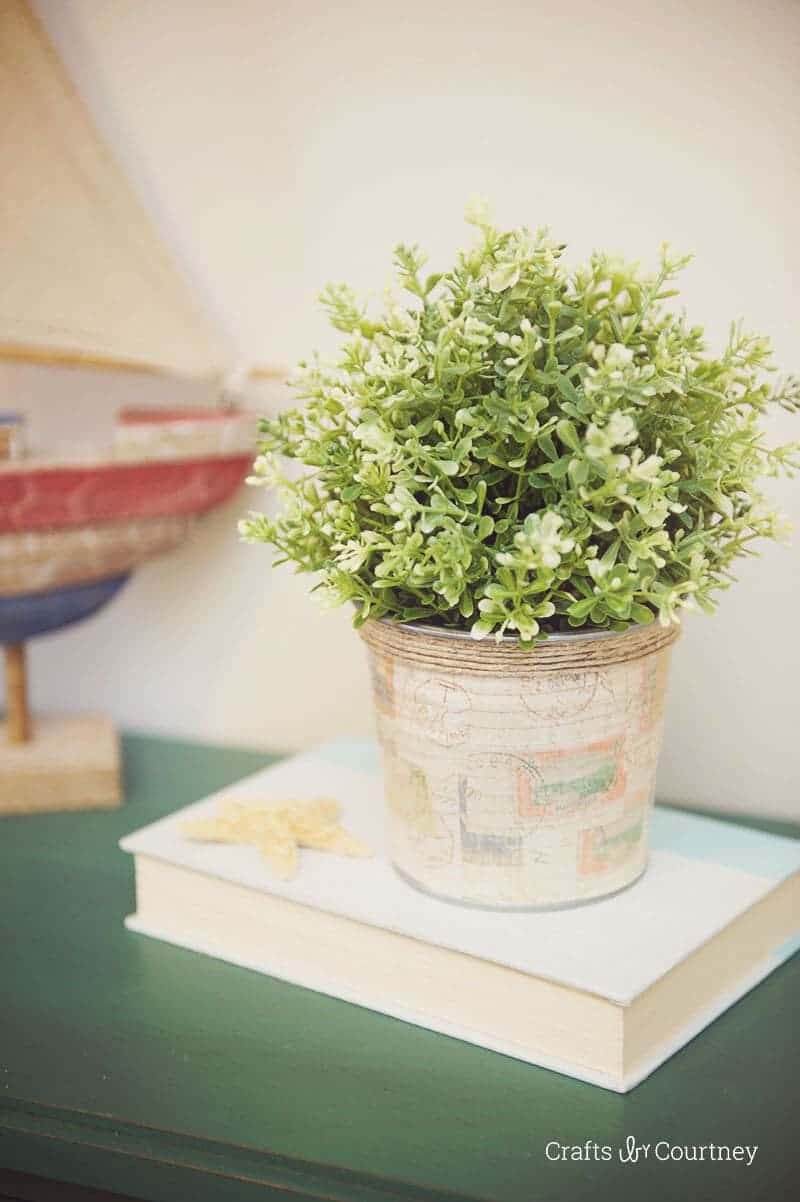 I just couldn't decide where I wanted to put them. I'm thinking on my little table in the hall or on a shelf on my entertainment center I recently made over.
BUT, I also really like them on my little table in the kitchen. Decision, decisions…the hard life of a crafter.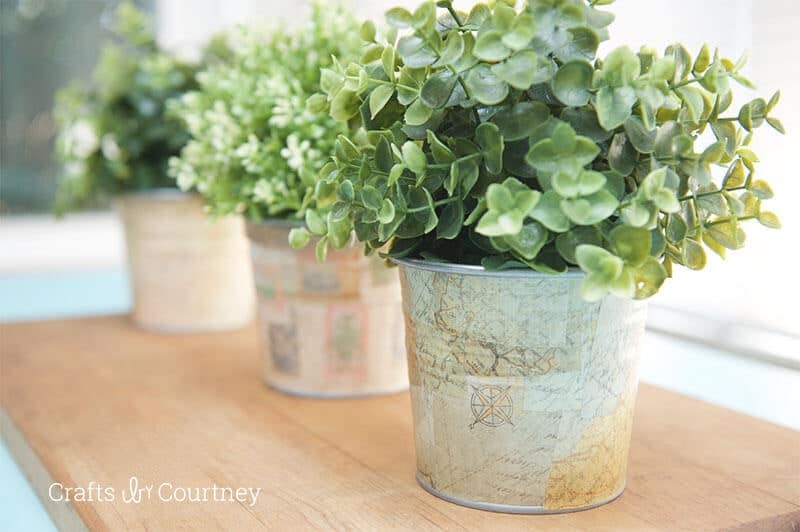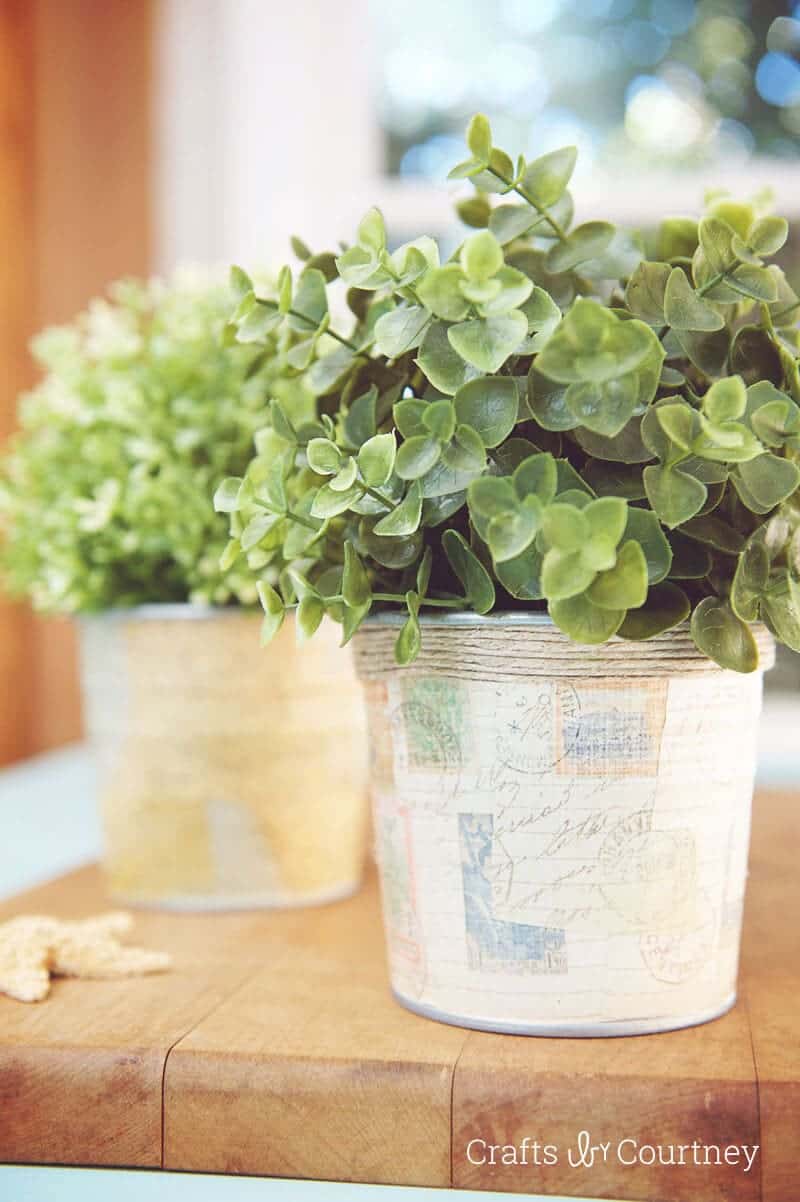 I really hope you loved this project. If you did, here's a few more projects I'm sure you'll enjoy!
Thrift Store Chair Makeover
Wanna' see a drastic makeover to a $5 chair I found at Goodwill? Check out this nautical themed thrift store chair makeover! You should see the before.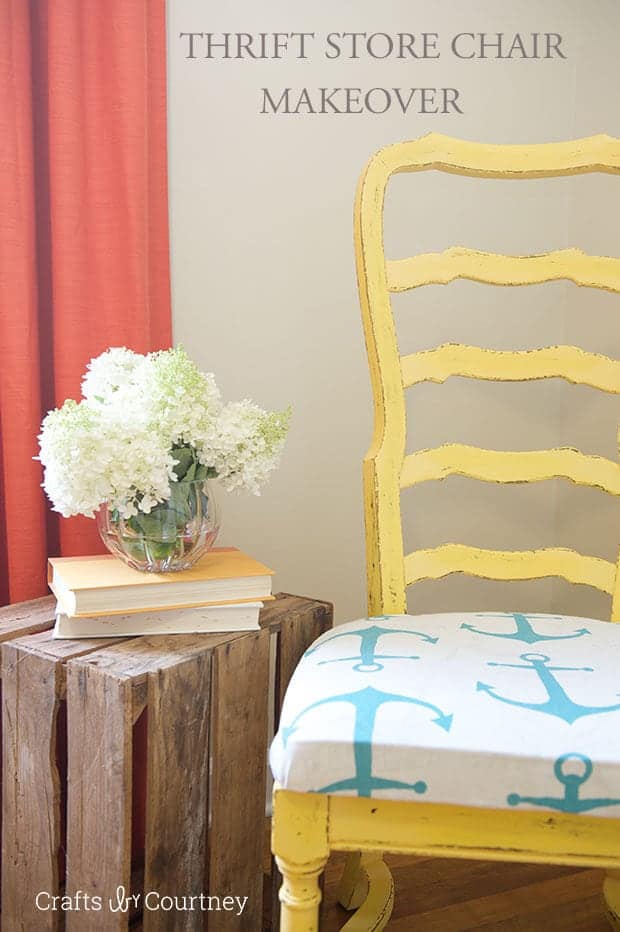 DIY Valentine Heart Trees
Valentine's Day is so close (I can almost smell the roses). Why not try this cute Valentine heart trees craft I made for my Valentine's decor? I "heart" this craft :)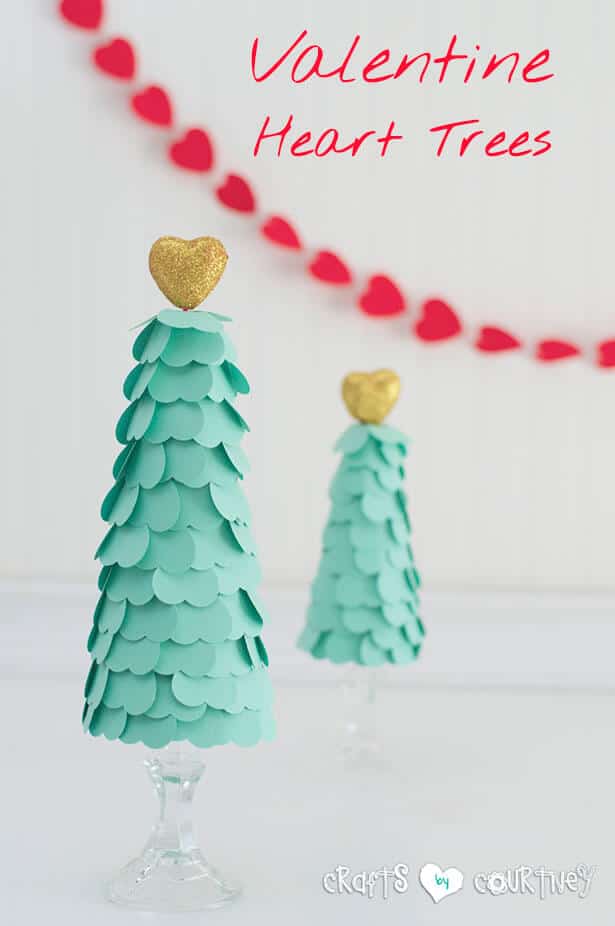 Annie Sloan Bookcase Makeover
And to end on a GORGEOUS note, I thought I'd share my Annie Sloan bookcase makeover! Spoiler alert: it's coastal themed and one of my favorite projects ever!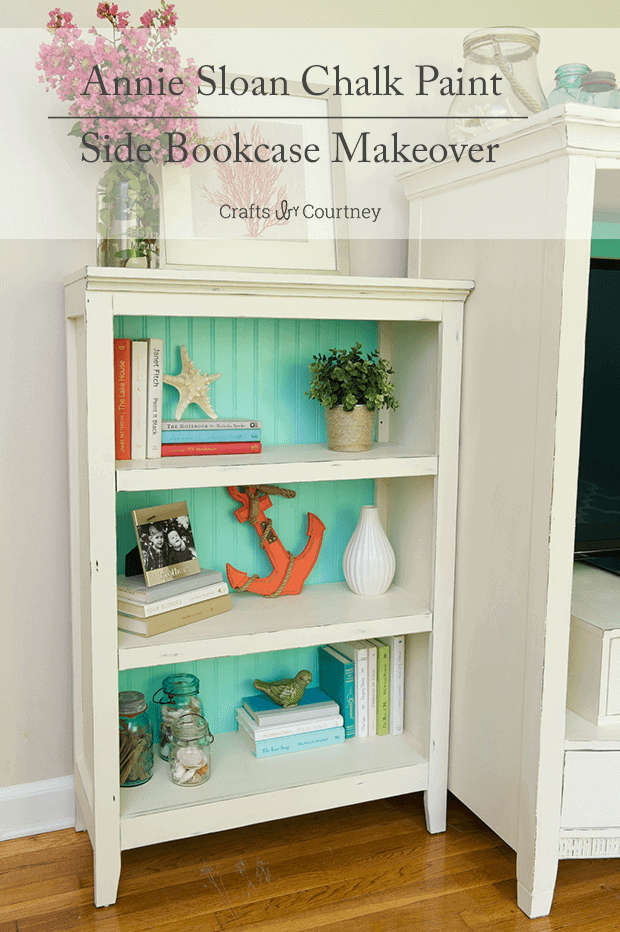 A big, "THANK YOU!" to Jamielyn for letting me guest post on her wonderful blog.

Wanna' keep up with all my craftiness, follow me!
Facebook | Pinterest | Google+ | Twitter | Newsletter