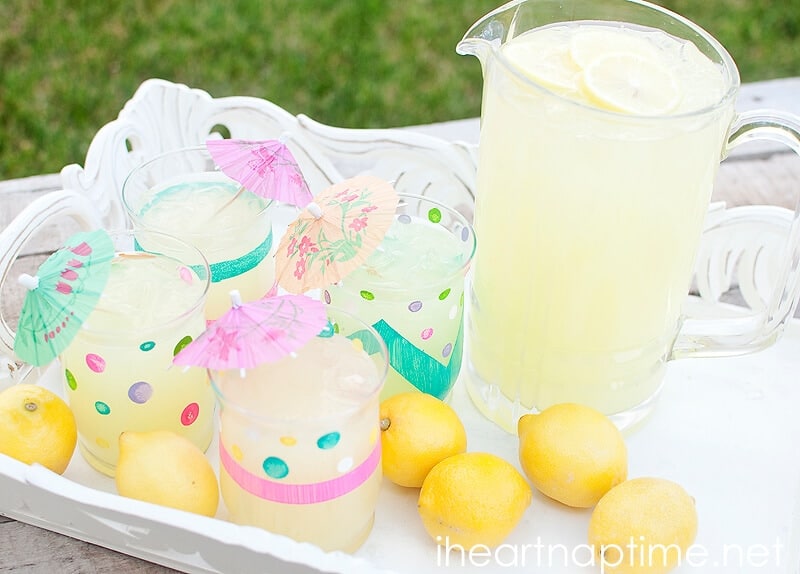 Marie from Blooming Homestead here to share a fun tutorial on making your own DIY Painted Glassware. These are fun to make and personalize for any party, event, or a backyard picnic you may be hosting this summer! They would also make a fun activity for older children. Painting glass may seem tricky, but if you follow these simple steps you'll have some custom DIY painted glasses in no time!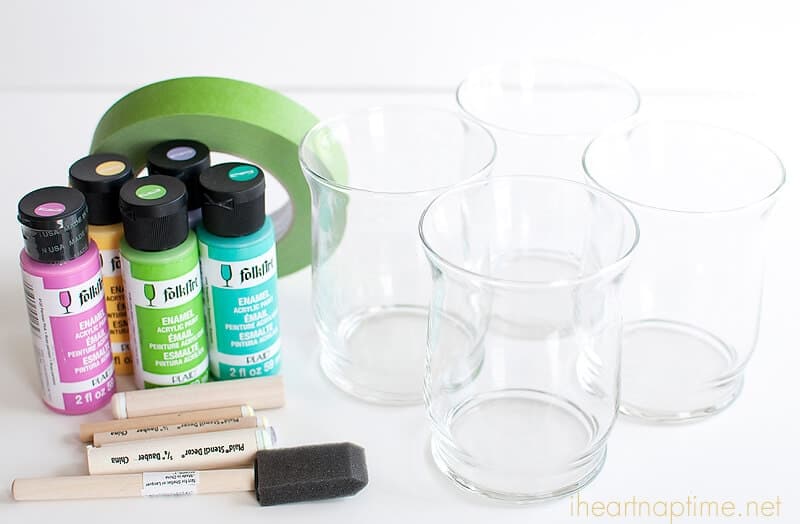 Supplies:
Clean Glassware (wash in hot soapy water, dry, then wipe down lightly with vinegar to remove any additional soap residue.)
Paint- I used enamel paint (make sure it is meant to paint glass or your paint won't stay put!)
Paint brushes, sponges or foam daubers
Painters tape or Stencils
First off, make sure you start out with clean glassware. Next you can get creative. I decided to use painters tape to create various designs on my custom glassware.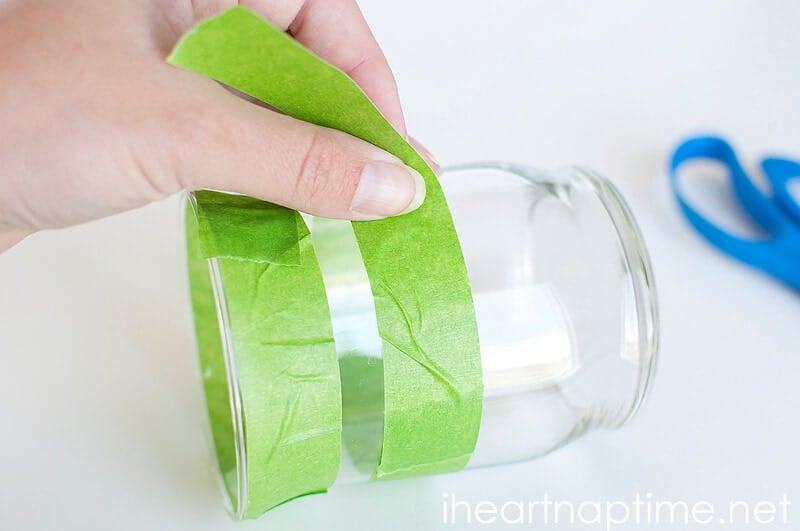 After you get your area taped or stenciled off, go ahead and start painting. This is the fun part, get creative! We did stripes, polka dots, and chevron in various bright summery colors.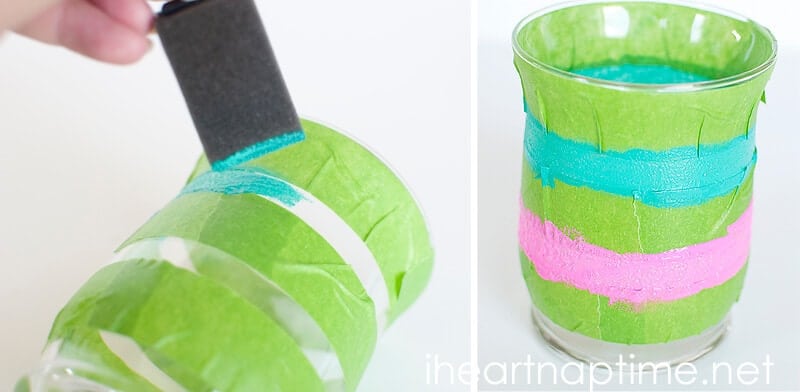 Next, take off the stencils and/or tape while the paint is still wet. (I have painted on glass before and let the paint dry, when I ripped the tape off  it pulled off the paint.)
After you have them all painted, you must dry and cure your enamel painted glass. Check your paint manufacturer to find out how to do this with your chosen brand of paint. With the paint I used, there are 2 methods to do this.
Bake Method: Let your piece dry for 1 hour to be sure all layers of paint have dried. Place piece in a cool oven. Set oven temperature to 350 degrees F and bake project for 30 minutes. Glass must heat gradually with the oven to avoid breakage. Do not place glass in a hot oven. After 30 minutes, turn the oven off. Let glass cool completely in oven. Do not use for 72 hours.
Air Dry Method: Air dry the project for 21 days before use. After your paint is properly cured you are good to with using your glasses.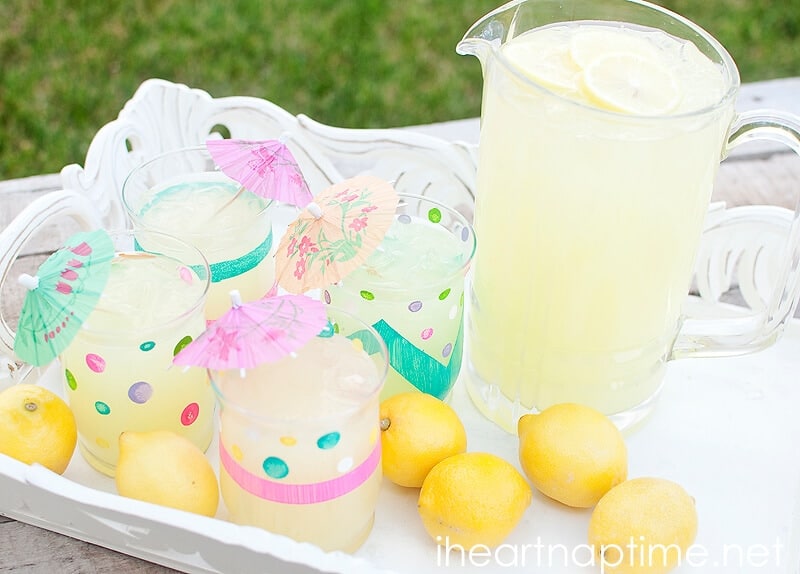 These are perfect for those hot summer days and would be delightful with some refreshing lemonade or a delicious smoothie!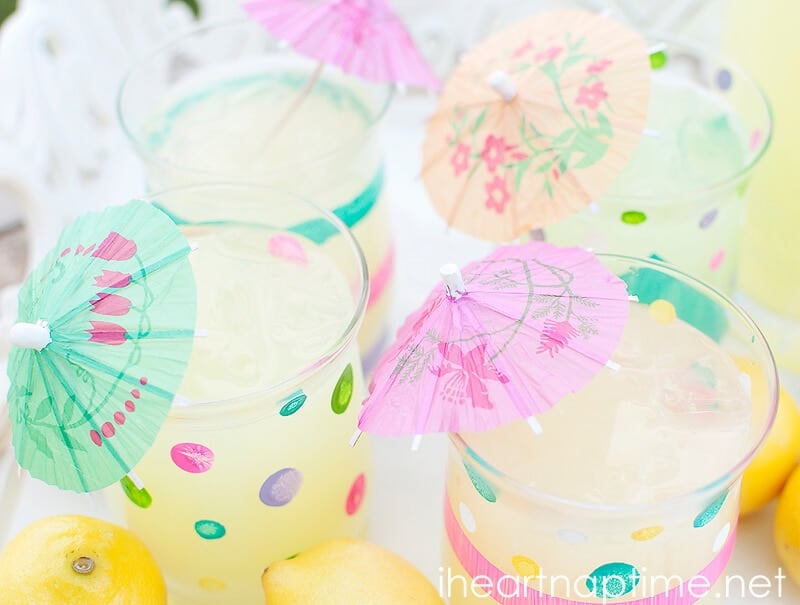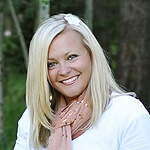 I hope you enjoyed this tutorial, if you're looking for more fun DIY crafts and tutorials you can find me at my blog Blooming Homestead, and also on Pinterest, Twitter, Facebook. I would love for you to stop by and say hello!