Many of you saw last week that I'm participating in something really exciting…the  Jo-Ann and HGTV HOME™ Magic with Fabric & Trim challenge. I'll be making over my living room in 30 days! I've had so much fun in my studio!
The first week has been lots of planning and cutting fabric. I may have been up until 2am just cutting fabric. That is my least favorite part of sewing. Ha! I don't mind the actual sewing. It's actually very relaxing once I get the music going. ;) Anyways,  I have got all of my fabric cut for the pillows, curtains and art I will be doing on the walls. I only have 3 weeks left to complete the room so I will be working really hard this week and next! Wish me luck!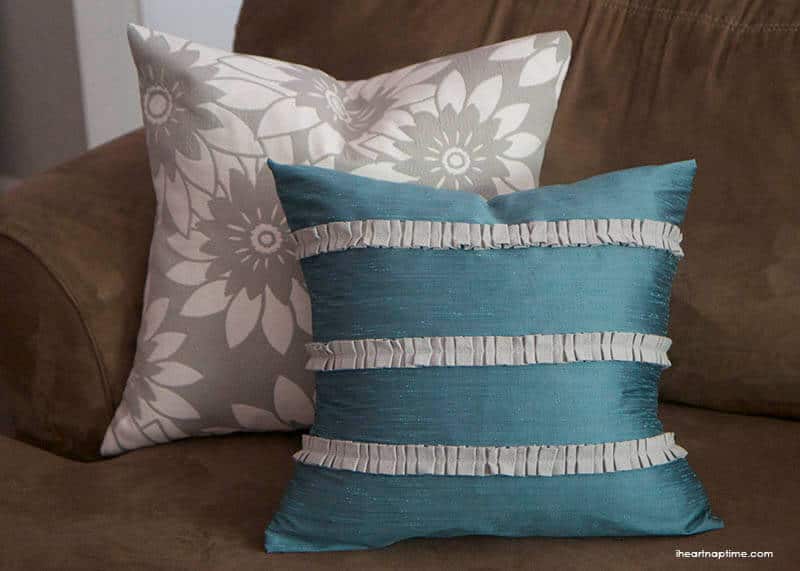 Today I'm going to be sharing one of the DIY pillows I made to spruce up my couch. For the first part of this tutorial you'll want to check out this post: how to sew a pillow cover in 20 minutes! This will show you exactly how to measure and cut your fabric. I use this pillow tutorial as my base every time. Then I try to get creative with new designs for the front. :) It's nice to have a slipcover, so you can slip them off your pillows easily and wash them or change them out seasonally.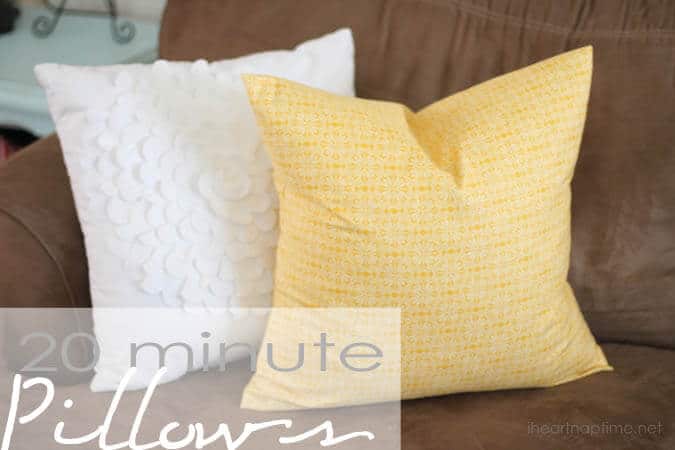 So once you have visited the tutorial above and cut your fabric, you'll be ready to add this pleated/ruffle addition to the front.
Supplies: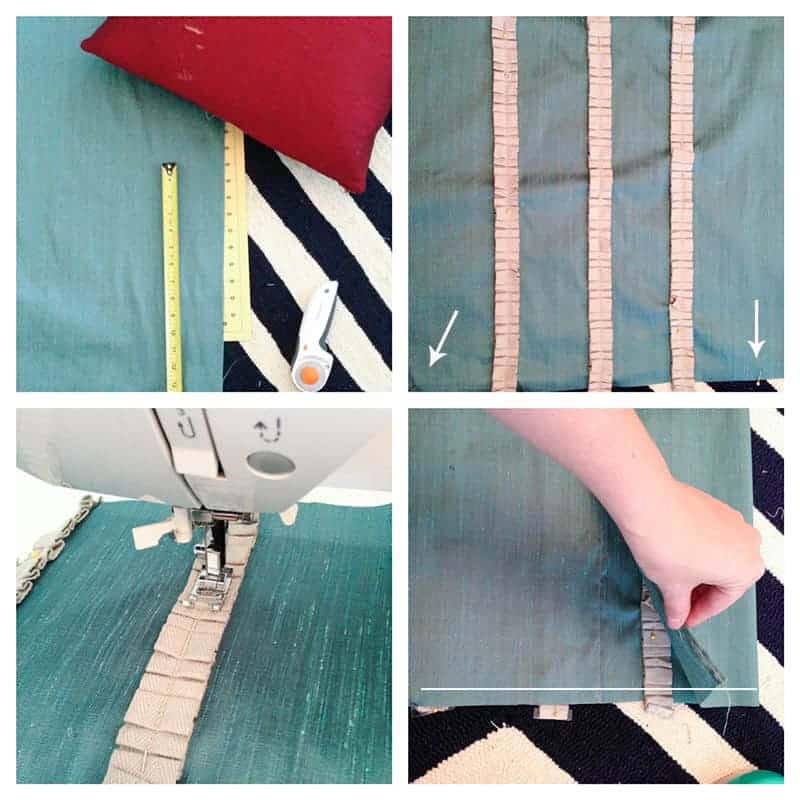 Instructions:
1. Measure and cut your fabric and hem both edges following this tutorial HERE.
2. Fold your fabric right side in and place 2 pins on where the edge of the pillow will be. For example, my pillow was 17 inches long, so I made the space between my pins 17 inches.
3. Pin your 3 pieces of trim down equally in between the 17inch space on the fabric.
4. Sew the trim onto the fabric.
5. Then fold your fabric in half, right sides together. And fold the other edge in, overlapping the first fold. It should overlap about 2-3 inches. Pin sides and sew the edges shut.
6. Flip pillow case right side out and stuff your pillow in. :)
This pillow took me about 30 minutes from start to finish. It's all straight lines (which I LOVE). I've been a pillow making machine ever since. Can't wait to show you more sneak peeks from my room makeover.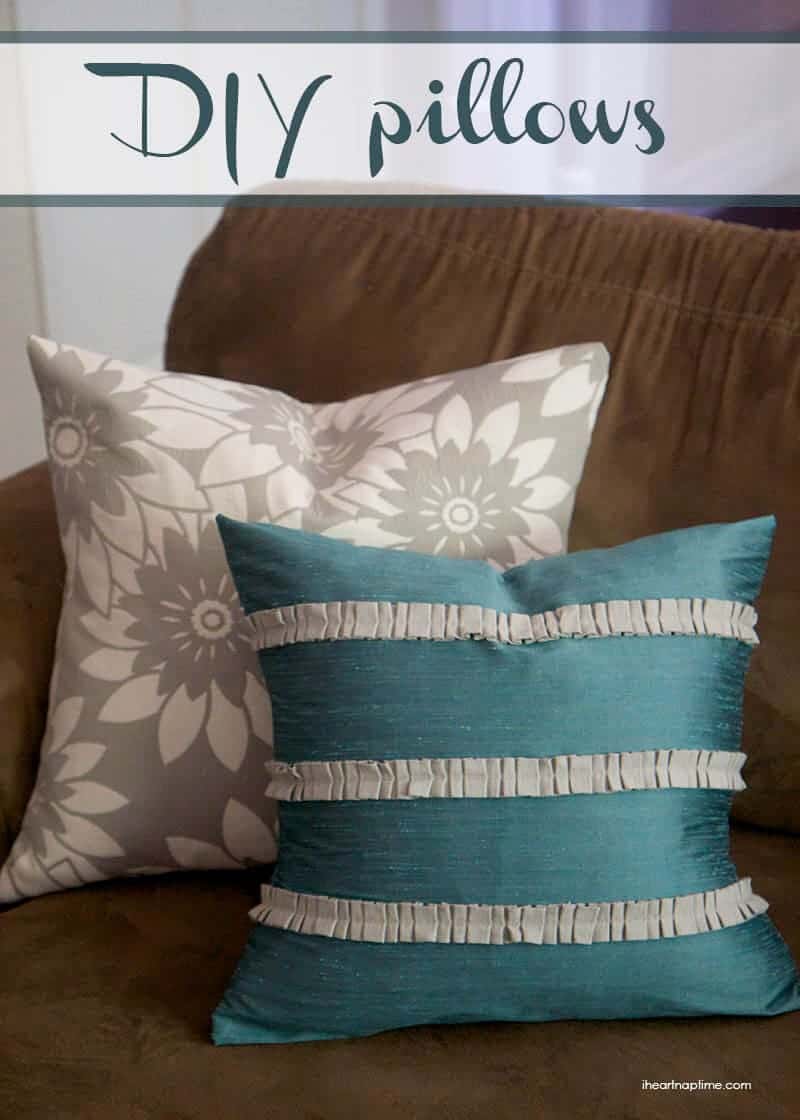 Adding trim is a fun way to give dimension to your pillows and tie in all of the colors from your room. Plus I may be a little obsessed with this pleated trim. You'll be seeing it on my curtains too which I will be sharing later this week! They are coming along really nice, just taking forever to sew! ;)
So what do you think? I think you could tackle this project!
For more sewing tutorials check out these posts below:
How to thread a sewing machine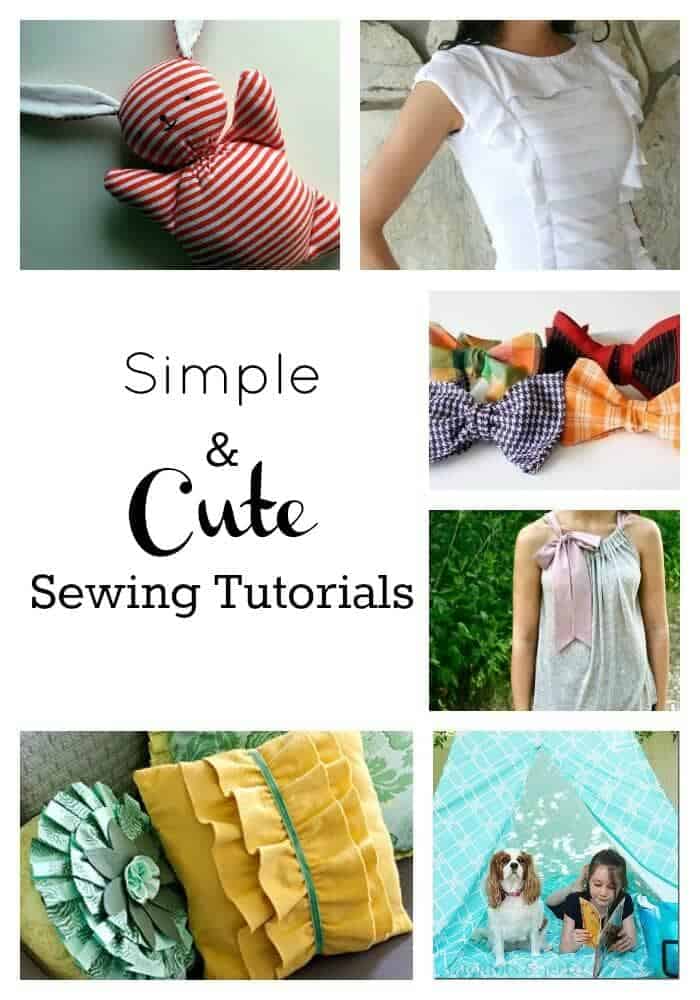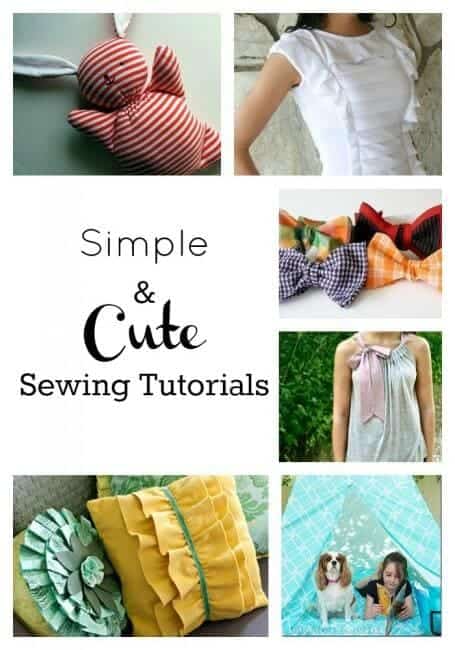 Disclosure: This post was in partnership with Jo-Ann Fabric and Craft Stores and HGTV HOME. I was provided with supplies to create this post and compensated for my time. All opinions are 100% my own. Thanks for supporting these sponsors that allow me to create new and special content for I Heart Nap Time.