Well I had an AWESOME shopping trip to L.A.! I got tons of cheap fabric, clothes, sunglasses, trim and buttons. Stayed up way past my bed time chatting girl talk, eating candy and singing to Spice Girls. I would post pic's of all the fun things I got, but I can't find my dang camera. Good thing it's my cheap one! I'm hoping I left it in my friends back pack and not in some random jewelry store. Hopefully I find it tomorrow, so I can show you all the fun stores I found.
Until then I'm going to share with you a fun project I finished six months a couple months back. These pic's are way cuter anyway!!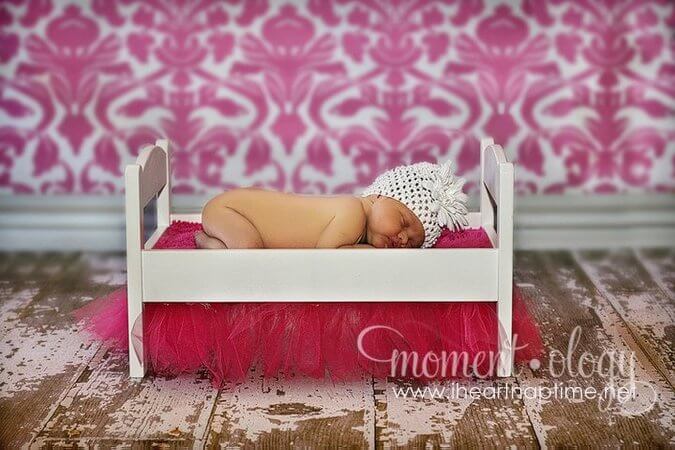 So remember Emmalyn's newborn photo shoot ? I made this fun doll bed photo prop and love how it turned out!
I started out with this Doll bed from Ikea. When I saw it, I thought it would be a cute prop for Emmalyn's new born shoot and also fun for her to play with when she's older. It was a little plain for my taste, so of course I had to fancy it up a bit. :)
The first thing I did was spray paint it white! I LOVE spray paint!! Then I sewed the pink bed cover to make it a little more girly. It was still a little to plain for my taste, so I thought I would add a tulle ruffle bed skirt.
I ruffled up the tulle and then stapled it to the bottom of the doll bed.
I love a good makeover, especially when it involved something for my little girl!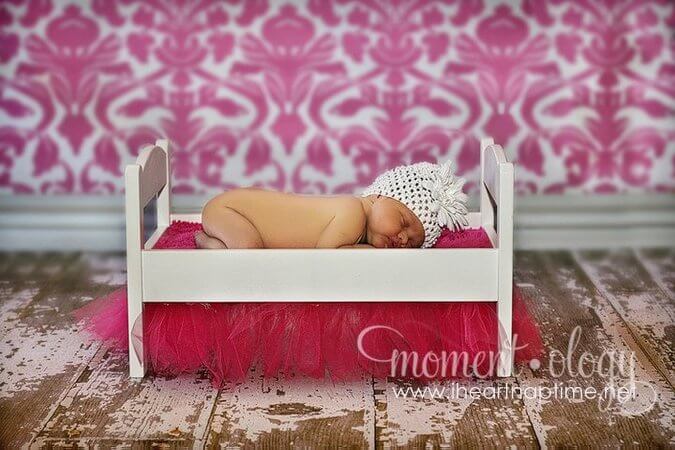 L.O.V.E.
Isn't she a doll?! Why do babies have to grow up so fast?!
(Photography done by Momentology Photography –she does AWESOME work!)
**UPDATE: To see more from the nursery click here.**