Jump to Recipe⌄
Easter Bunny Treats
Easter Bunny Treats …the most adorable bunny race cars and chocolate peanut butter bunnies! Your kids will love these mini desserts for Easter.
Raise your hand if you love chocolate bunnies? Now raise your hand even higher if you love chocolate AND peanut butter? If you're still raising your hand, you are going to love these Easter bunny treats my kids and I have made for you! They turned out so cute and literally took minutes to make.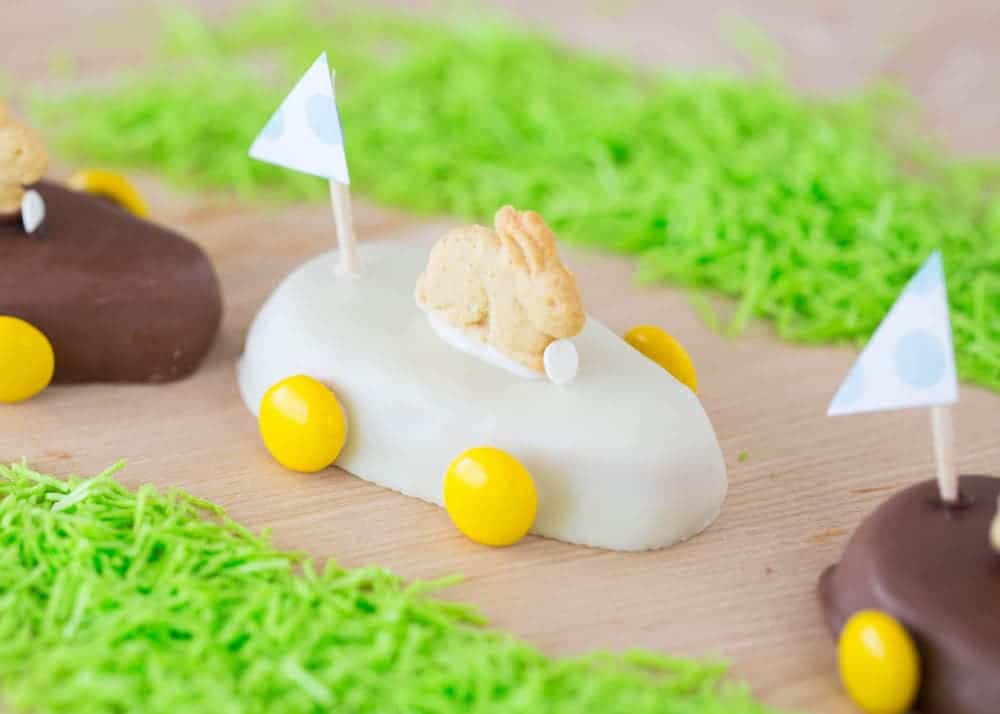 First up is these bunny race cars. SUPER cuter, right?! We made white chocolate and milk chocolate versions of these bunny race cars. I love black and white cars, so we thought it would be fun to have a mix of both. I first stumbled upon the idea of a bunny race car on my darling friend Jill's facebook page and knew I had to create my own version with the Reese's white and milk chocolate peanut butter eggs. These were gobbled up in no time.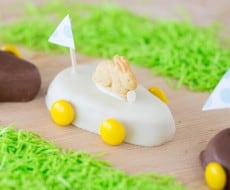 Easter Bunny Race Cars
Ingredients:
12 Reese's peanut butter eggs (milk chocolate or white)
1/4 cup melted chocolate
12 bunny crackers or candies
44 yellow Reese's Pieces
12 white confetti sprinkles
Directions:
Melt the chocolate in a microwave safe bowl for one minute. Stir and cook for an additional 30 seconds, or until melted. Dip the base of the bunny in chocolate and then place in the center of the Reese's. Use a mini marshmallow if you need it to rest on something, until the chocolate has dried.
Dip the back of the Reese's Pieces into the chocolate and then attach to represent the wheels. Then dip the bottom of the sprinkle in chocolate and place in front of the bunny to represent the steering wheel.
To make the flags, break a tooth pick in half. Then cut a small triangle from a scrap piece of paper and glue onto the toothpick. Then dip the end in chocolate and gently press into the back of the Reese's.
Allow the chocolate to set before moving.
All images and text ©

Vrooom and they are OFF!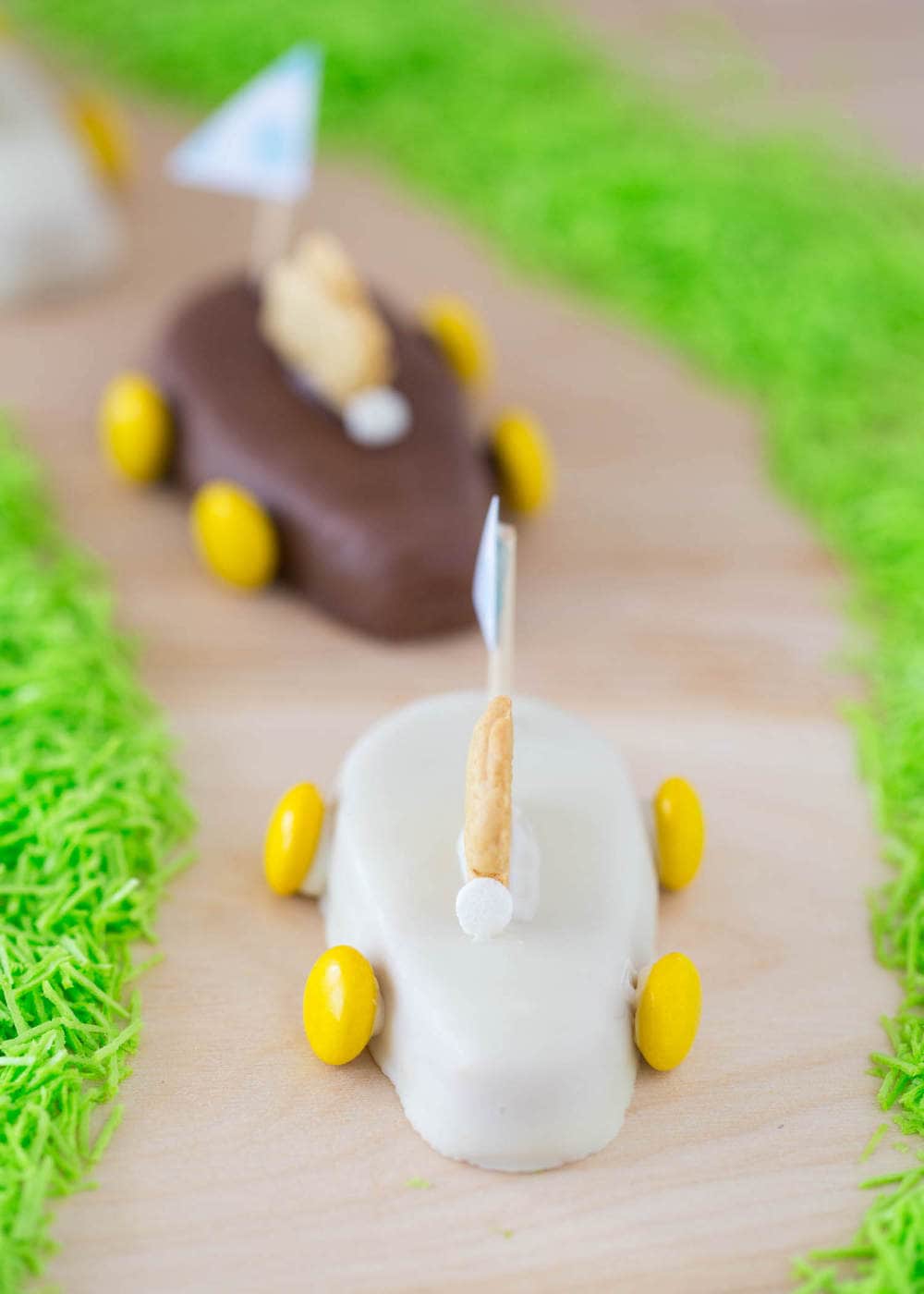 Here's another cute bunny treat idea which is even easier to make! Your kids will love these and they only take a few minutes to make.

The only addition you need for these are almond slices and mini marshmallows. You can also use an edible writer for the eyes. Basically all I did was use the leftover melted chocolate from the bunny race cars and then added a dot on the top and bottom of the Reese's egg. Then I added the marshmallow for the tail and sprinkle for the nose. Then for the ears, I dipped the base in white chocolate and put them on top of the Reese's egg. I placed a mini marshmallow behind the almonds until they were set.
The cutest chocolate bunnies.
So there you have it, two adorable bunny treat ideas. Which one is your favorite?
Looking for more Easter desserts? You'll love these too:
This post is brought to you by REESE'S