Jump to Recipe⌄
Easter Pudding Cups
Planted Carrot and Egg Nests Easter Pudding Cups …such an easy and delicious recipe for Spring. The kids will love helping with this fantastic Easter dessert!
Who here is excited about Easter? I love that I'm starting to see those subtle signs of spring… the weather is getting warmer, the trees are starting to bud, and the air feels fresh. These Easter pudding cups are the perfect way to celebrate spring! They're simple to make, with only a few ingredients, and delicious too. They're so easy that the kids can do most of the steps by themselves!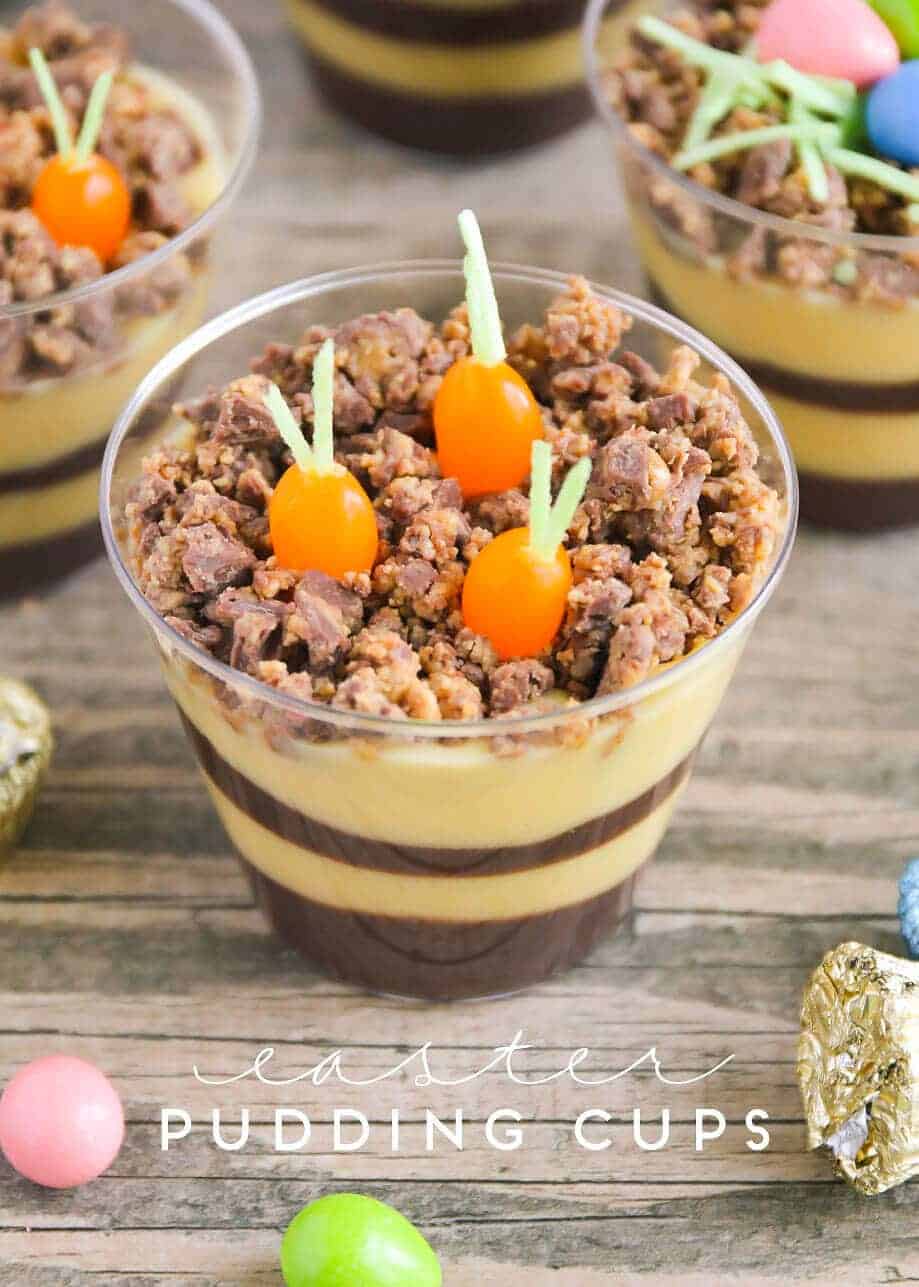 All you'll need are the ingredients below, plus some milk and peanut butter. I assembled my pudding cups in some eight ounce plastic cups I found at my local party store, but any clear cups will do. I found the edible Easter grass in the seasonal section of the grocery store.

MY OTHER RECIPES
You'll start by crumbling the Reese's miniatures. I used a food processor, but you could also just chop them with a knife. Mine only needed four pulses to be perfectly crumbled. Just be sure not to over process them and turn them into a paste!
Next, you'll mix up your two different types of pudding. I wanted to add a little peanut butter flavor to complement the chocolate, so I added 1/4 cup of creamy peanut butter to my vanilla pudding mix. It was a great decision! There really is no better combination than chocolate and peanut butter. You'll add a 1/2 inch layer of the chocolate pudding to the bottom of each cup, followed by a 1/2 inch layer of the vanilla peanut butter pudding.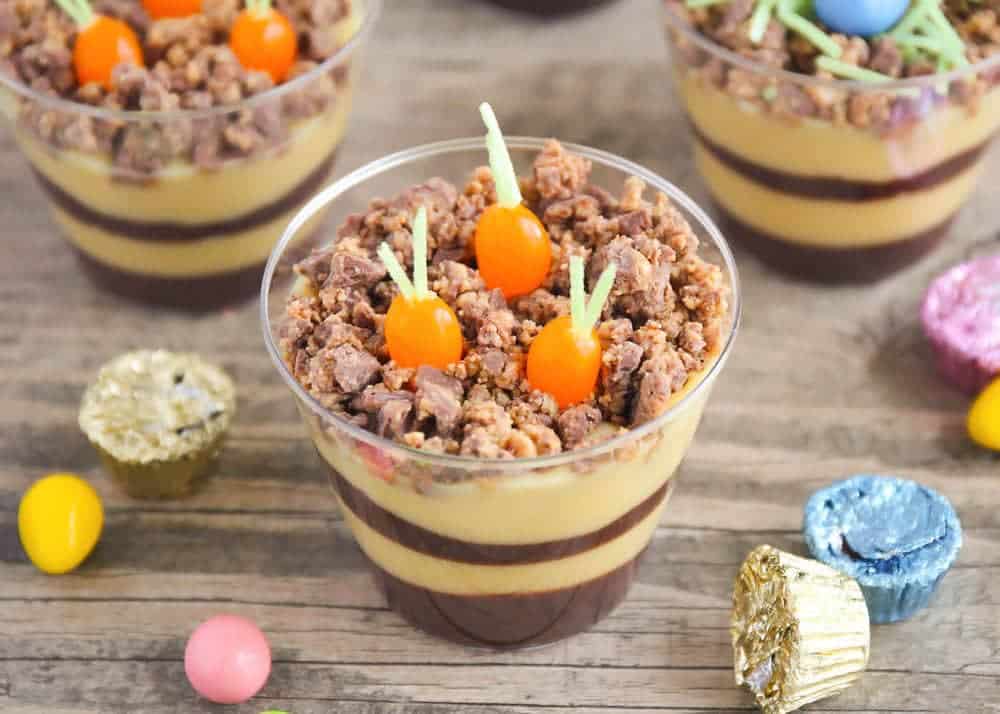 After that, you'll repeat the layers. Your pudding might be a little thicker at this point and harder to pour, so add a few tablespoons of milk if needed to thin it out. The layers totally don't have to be perfect! Once you've got your four layers of pudding, sprinkle the crumbled Reese's cups over the top and spread to cover evenly. So cute already!
To make them fun and springy, though, I added some carrots I made using orange jelly beans and edible Easter grass. I just made a hole in the top of the jelly beans using a skewer, and attached a little piece of Easter grass to the top.

I also found some cute Reese's Pieces eggs at the store, and made some adorable bird nests for them using the Easter grass. Simple and adorable!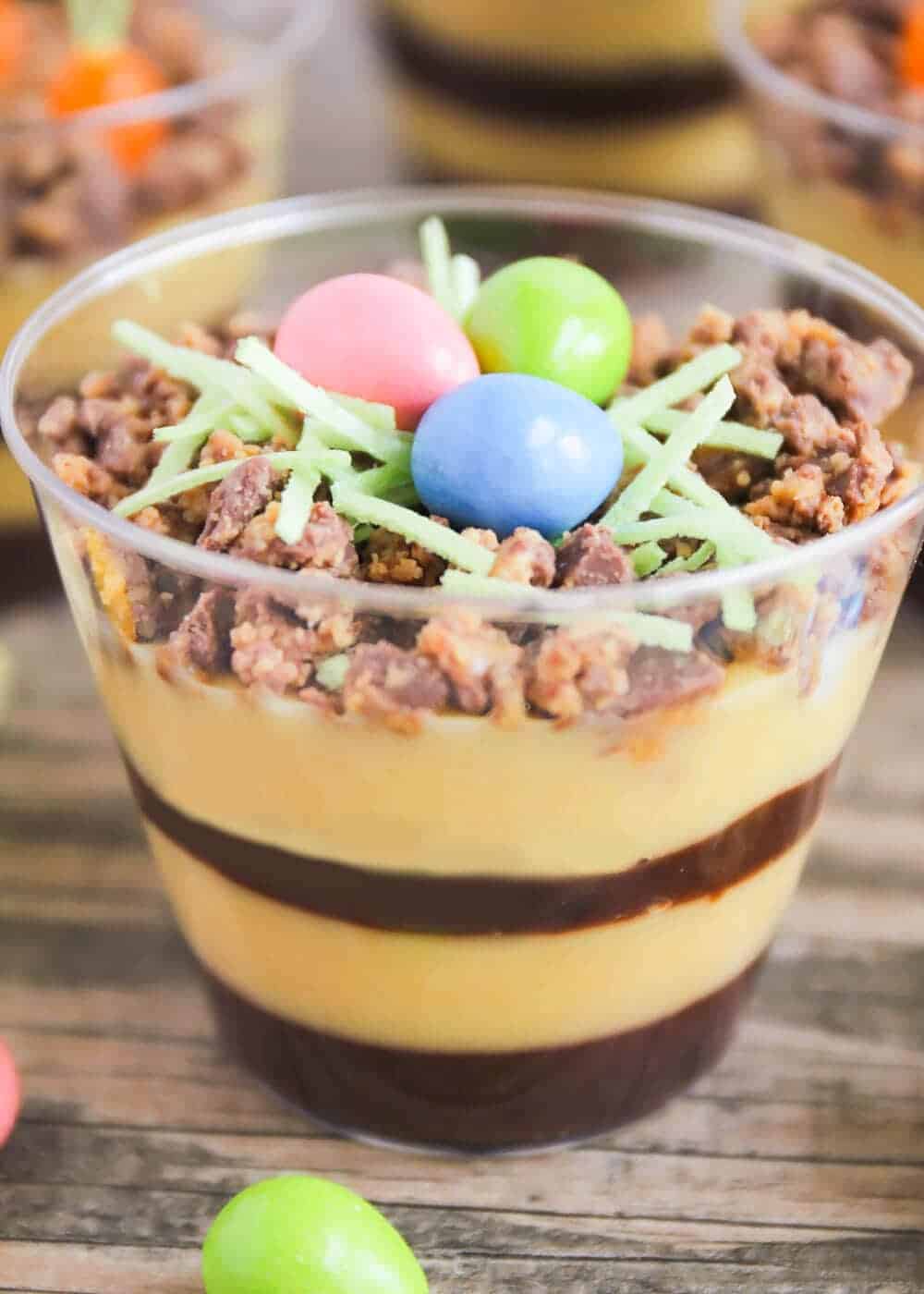 I chilled the pudding cups for about an hour before serving to help them set up. If you wanted to make these in advance, I would recommend pouring the pudding layers and adding the crushed Reese's, then refrigerating. Just before you're ready to serve, add the carrots or Reese's Pieces eggs.
These Easter pudding cups are a simple and adorable dessert that's perfect for spring!

Looking for more Easter desserts? You'll love these too:
Making this recipe? Don't forget to rate the recipe below and tag #iheartnaptime on Instagram. Thank you! XO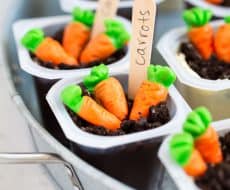 Easter Pudding Cups
Planted Carrot and Egg Nests Easter Pudding Cups ...such an easy and delicious recipe for Spring. The kids will love helping with this fantastic Easter dessert!
Print
Ingredients
24 Reese's miniatures
4 cups milk divided
1 small package chocolate pudding mix
1 small package vanilla pudding mix
1/4 cup creamy peanut butter or REESE'S spread
Reese's Pieces eggs
Orange jelly beans
Green edible Easter grass
Reese's Pieces eggs
Instructions
Unwrap the Reese's miniatures and place in a food processor. Pulse 3-5 times, or until the miniatures are crumbled, being careful not to overprocess them. (You could also chop the miniatures finely with a knife).

Mix the chocolate pudding mix with 2 cups of milk. Pour about 1/2 inch of pudding into the bottom of each cup, using about half of the pudding. In a separate bowl, whisk together the vanilla pudding mix, 1/4 cup peanut butter, and milk. Pour the vanilla pudding over the chocolate pudding to form a layer that is approximately 1/2 inch thick. Repeat the chocolate and vanilla layers. If the pudding has set up too much and is difficult to pour, add a couple of tablespoons of milk to loosen it up. Spoon the crumbled Reese's miniatures over the top of the pudding, distributing evenly.

To make the carrots, make a small hole in the top of each orange jelly bean using a toothpick or skewer. Tear or cut a piece of edible Easter grass that is approximately 1 inch long, then fold in half and gently stick the grass into the top of the jelly bean. Nestle the carrots into the Reese's layer.

To make the birds nests, cut small pieces of edible Easter grass and arrange into a rough nest shape in the middle of the Reese's layer. Top with Reese's Pieces eggs.

Chill pudding cups 30-60 minutes before serving.
Nutrition Facts
Easter Pudding Cups
Amount Per Serving
Calories 633 Calories from Fat 279
% Daily Value*
Total Fat 31g 48%
Saturated Fat 11g 55%
Cholesterol 20mg 7%
Sodium 692mg 29%
Potassium 555mg 16%
Total Carbohydrates 76g 25%
Dietary Fiber 3g 12%
Sugars 64g
Protein 15g 30%
Vitamin A 6%
Vitamin C 0.2%
Calcium 24.3%
Iron 7.1%
* Percent Daily Values are based on a 2000 calorie diet.