Easy Basketball Pizza Party – Having DIGIORNO pizza for a party is so convenient because it's fast and easy! Check out these tips for throwing a fun Basketball Pizza Party!
I have two criteria for throwing a successful party. It needs to be fun, and the food has to taste good. Okay, I like to have amazing decor, too…but not at the expense of having a fun and simple party.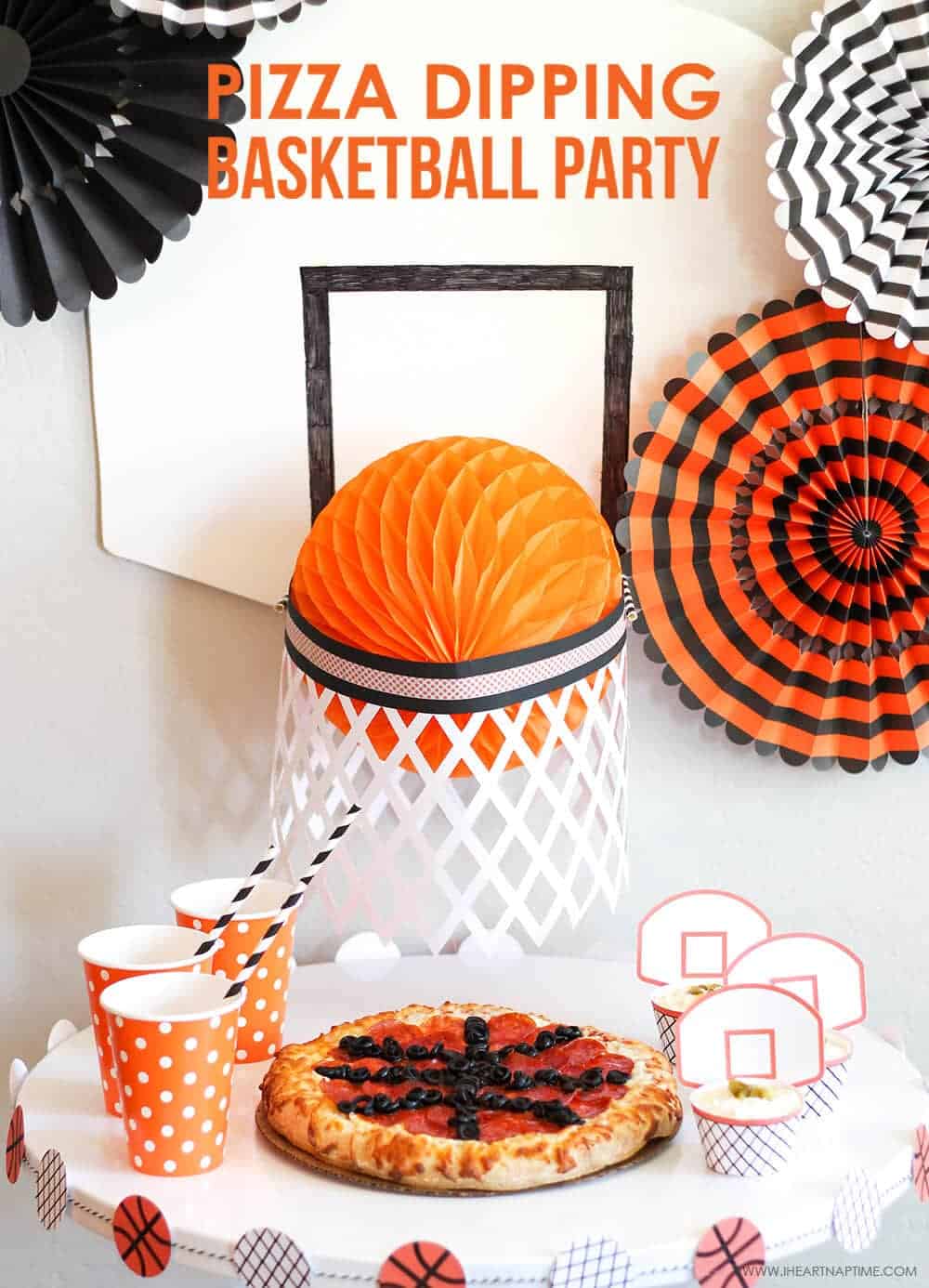 Sports parties are always a good time because guests always come ready to eat and have a good time. When it comes to watching basketball with family and friends, I've been thinking about the most fun we can have while doing it – a pizza dipping party complete with a basketball pizza!
With a little creativity and some DIY action, you can Rise to the Occasion and recreate this "dipping" party! DIGIORNO pizza is helping pizza lovers rise to the occasion at home, to get the most out of the moments that matter.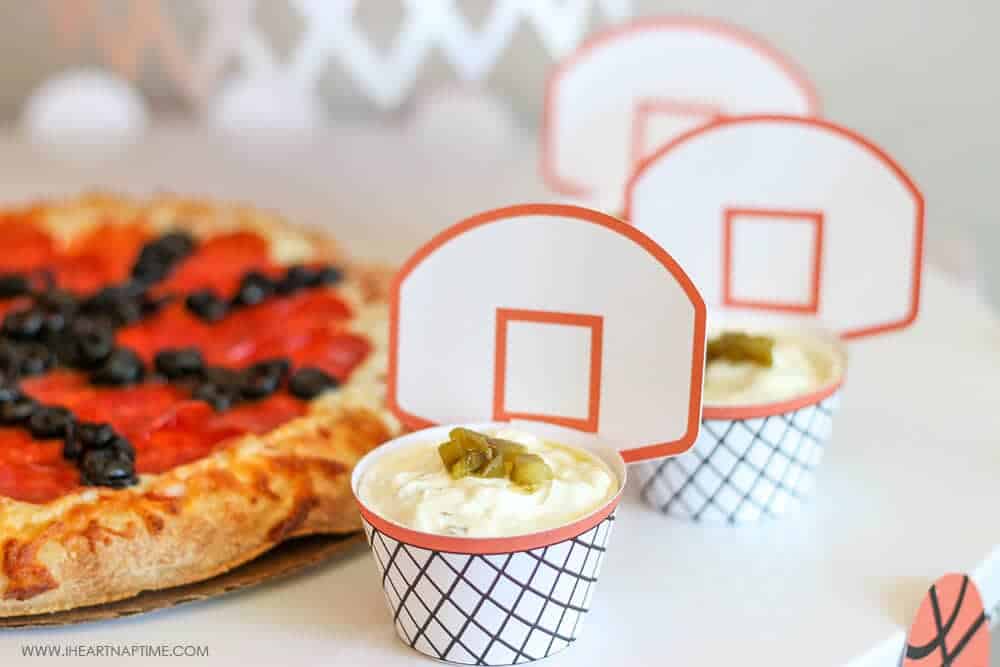 I thought a dipping party would be fun because, let's be honest, dipping pizza into these cute little hoops is the closest I'll ever get to dunking. I made some jalapeño ranch dip that tasted AWESOME paired with DIGIORNO Original Rising Crust Sausage & Pepperoni pizza.
To make these for your Basketball Pizza Party, you'll need:
FREE Printables, for personal use only
White Card Stock
White Treat Cups
Scissors or Silhouette
Glue Gun

First, print and cut out the printables. Measure the "net" around the treat cup and hot glue it in the back.
Glue the front of the "backboard" to the back of the net.
Fill treat cup with dip and start dunking!
You can download the FREE Printables below:
Silhouette Files (make sure you unzip the file if you are on a PC)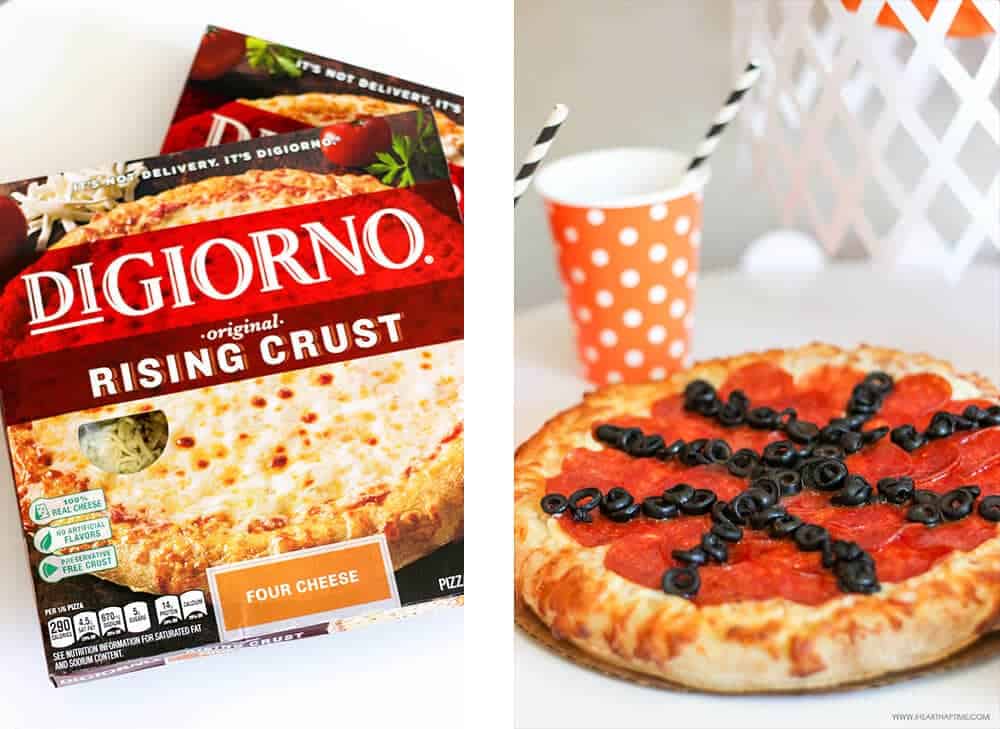 This basketball pizza was a fun touch to this party. I added pepperoni and olives to create the DIGIORNO Original Rising Crust Four Cheese pizza into a basketball (simply creating the basketball lines on the circle pizza), put it in the oven and allowed it to bake! Visit DIGIORNO Pizza's Pinterest board for entertaining ideas – and additional inspiration, like this tutorial, soon ! This took me 5 minutes to make…easiest party food EVER!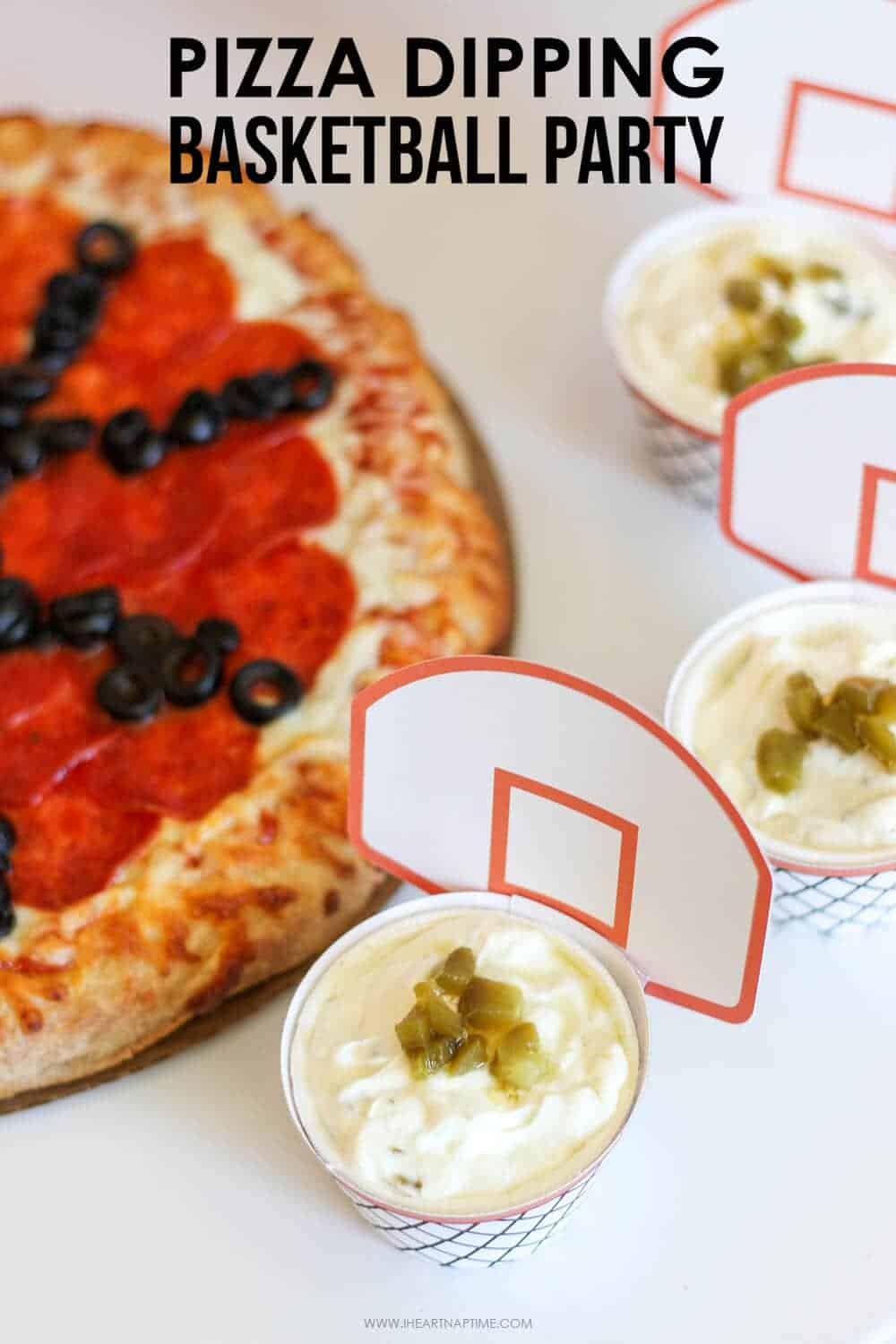 I always use the same recipe for dips and add other fun elements.
DIP RECIPE
1/2 c. Mayo

1/2 c. Sour cream

1 TB. Dry ranch seasoning mix

Optional: Jalapeños, bacon, banana peppers, or other spices
Mix together and enjoy!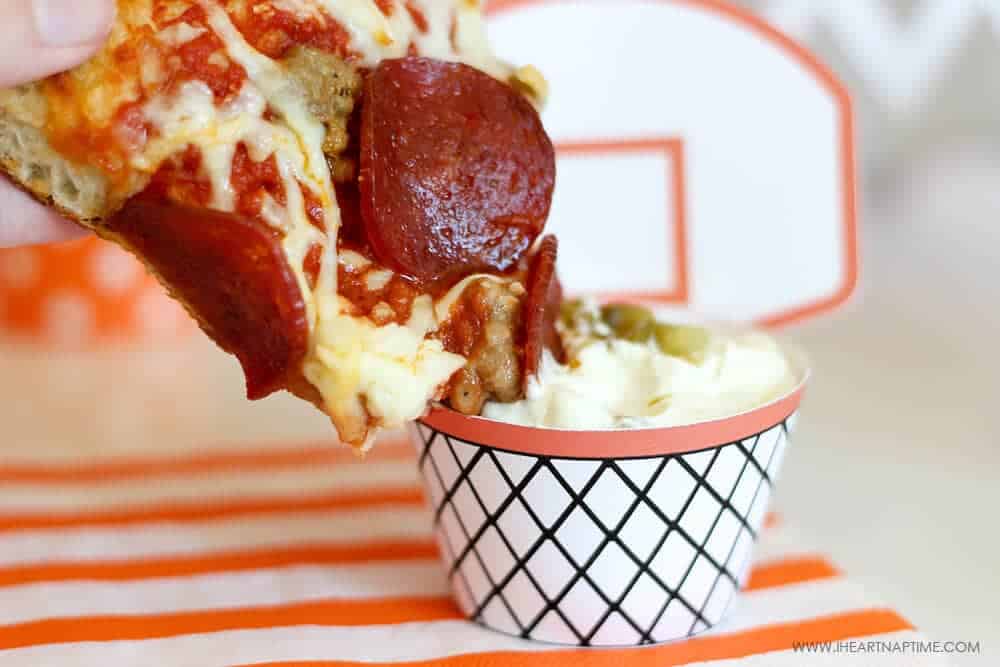 You can add other fun elements like my homemade basketball hoop and the basketball garland around the table. The backboard is white foam board that I cut out with a Xacto knife. I created the paper net with my Silhouette (files included above). I cut out three nets onto white cardstock, glued it onto black strips of paper and wrapped it around the crepe ball. I attached it to the backboard with a glue gun and two paper straws on the side and in the back. This backdrop was the most work out of the whole party, but still only took me about an hour.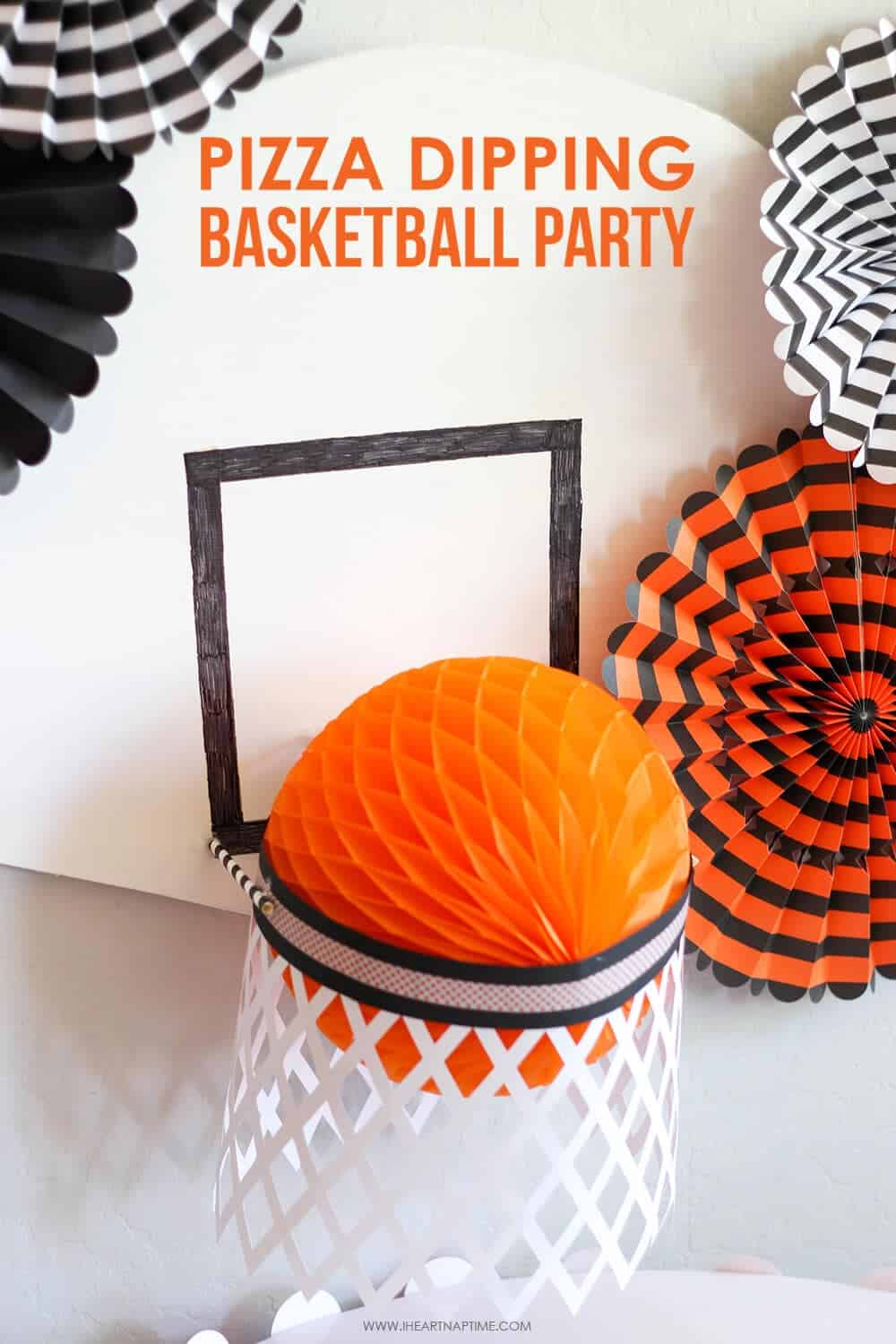 What teams do you root for? I have to admit that I'm entirely neutral, but I'll take any excuse to have a basketball pizza party!
Thank you, DIGIORNO pizza, for sponsoring this post. Enjoy DIGIORNO Original Rising Crust pizza with your crew for your basketball get-together.