This alfredo sauce with cream cheese is smooth, creamy and has the perfect texture and flavor! Simple to whip up and always a family favorite.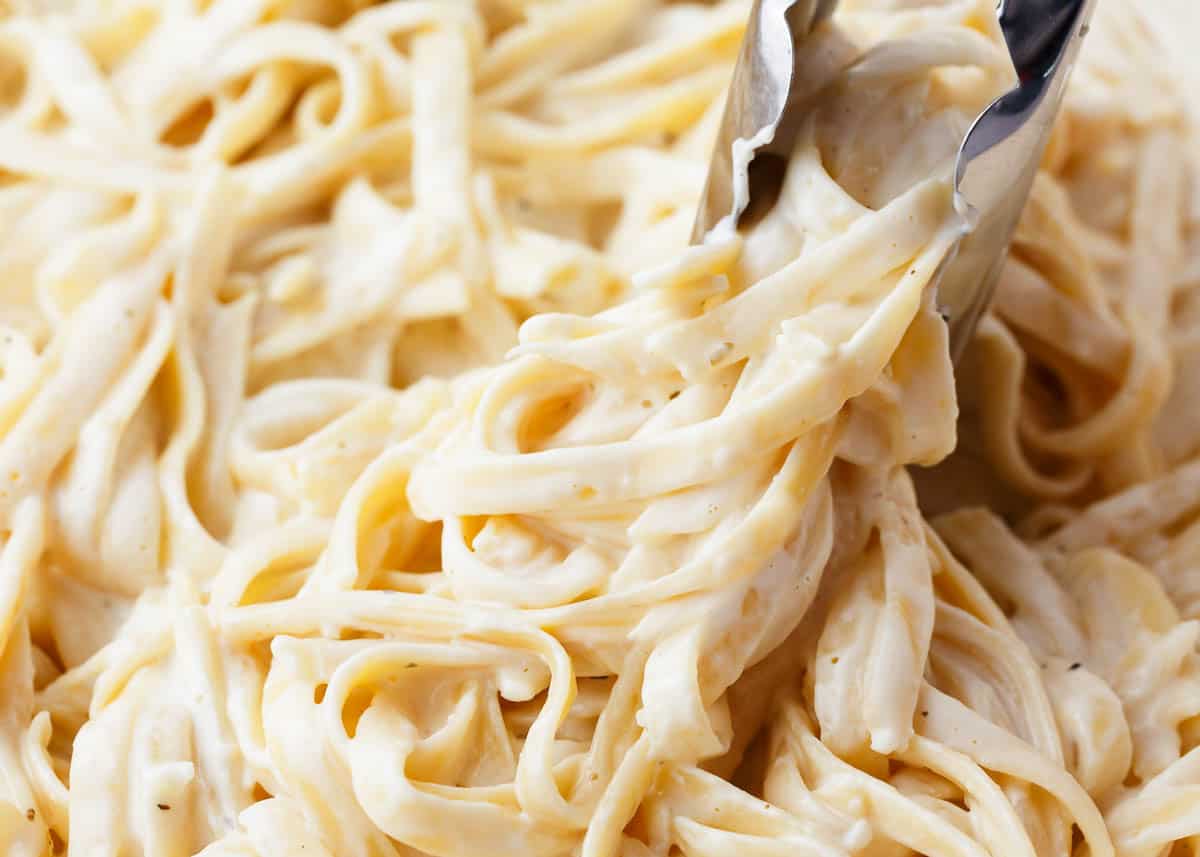 Homemade Alfredo Sauce Recipe
Alfredo is one of my all-time favorite pasta dishes. The sauce is to die for and so creamy and delicious. Give me a big bowl of fettuccine alfredo with a warm breadstick and a chopped salad and I am in literal heaven!
I don't know about you, but alfredo is my weakness. Whenever we go out for Italian, it's usually what I always end up ordering. Luckily I can make the best alfredo sauce easily at home whenever the craving strikes.
This homemade alfredo sauce with cream cheese is such an easy recipe to make. It comes together very quickly and is always a hit with everyone who has tried it. The cream cheese adds a smooth richness to the homemade alfredo.
If you love this recipe, don't miss my chicken fettuccini alfredo and chicken alfredo lasagna.
Ingredients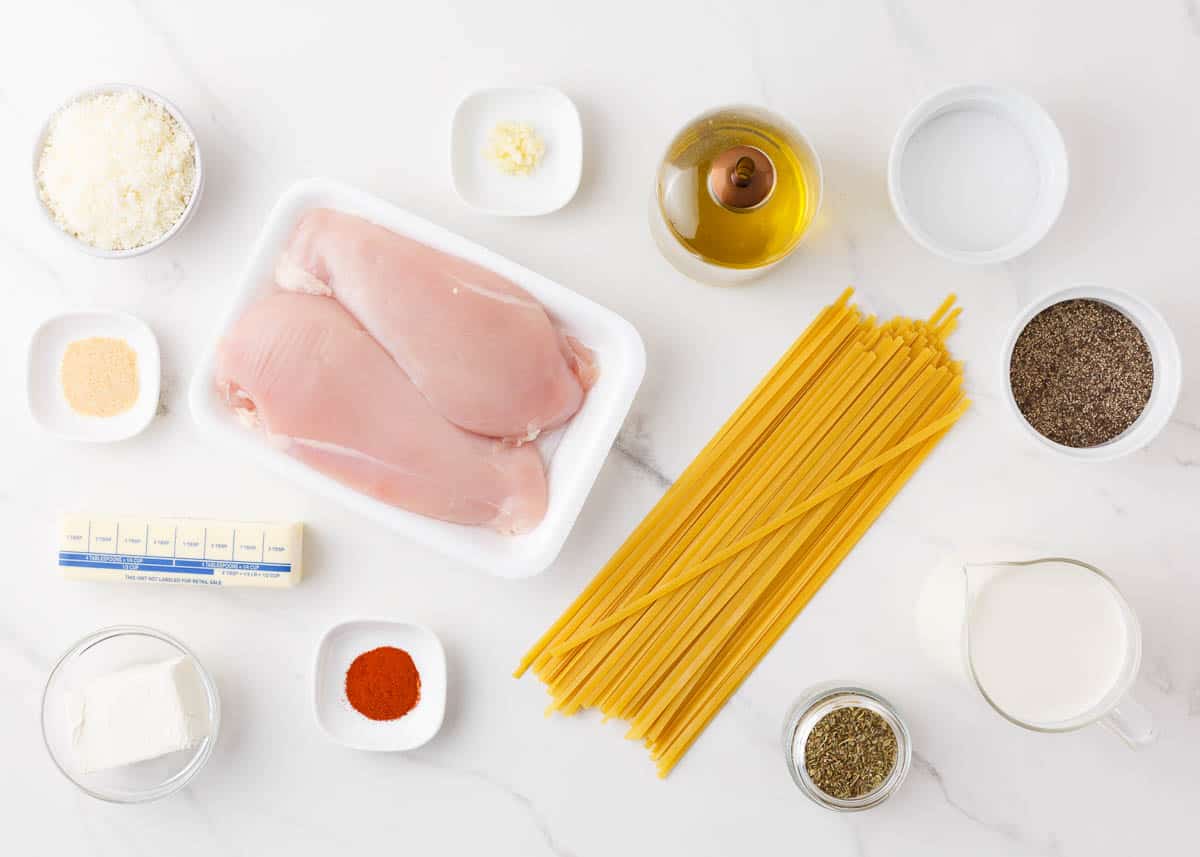 To make this classic alfredo sauce even more delicious, I added garlic powder and Italian cheese to the sauce along with Parmesan cheese, cream cheese, butter, and cream. It will be your new favorite!
Butter: I used salted, but feel free to use unsalted and adjust the salt added as necessary.
Garlic: Fresh garlic cloves minced plus garlic powder is the perfect combo! You can also use the garlic from the jar. If you need it more subtle, though, use one or the other.
Cream: Heavy cream or half and half. Heavy whipping cream will give you the best creamy, rich results for the ultimate indulgent dish.
Cream cheese: Really amps up the creaminess of the Alfredo.
Parmesan cheese: Freshly grated Parmesan from a block will not only taste better but will melt better too. Pre-shredded could cause your sauce to be grainy.
Seasonings: A trio of seasonings including salt, pepper and Italian seasoning. It really adds to the flavor!
What Can I Use Instead of Heavy Cream?
Instead of using heavy cream, you could substitute half and half. For a skinnier version, you could use light cream cheese as well. Just add 1-2 teaspoons of flour to help make it thicker.
How to Make Alfredo Sauce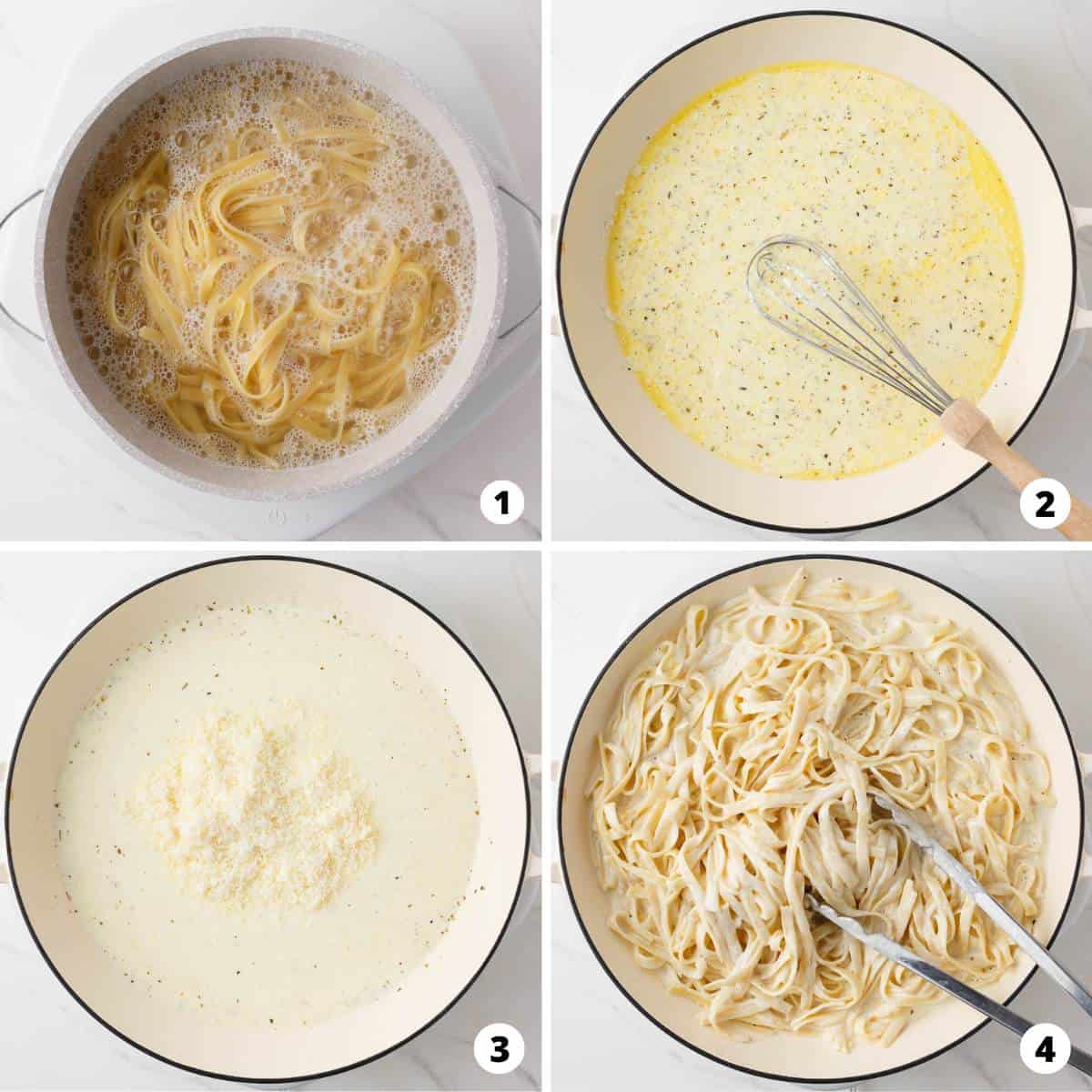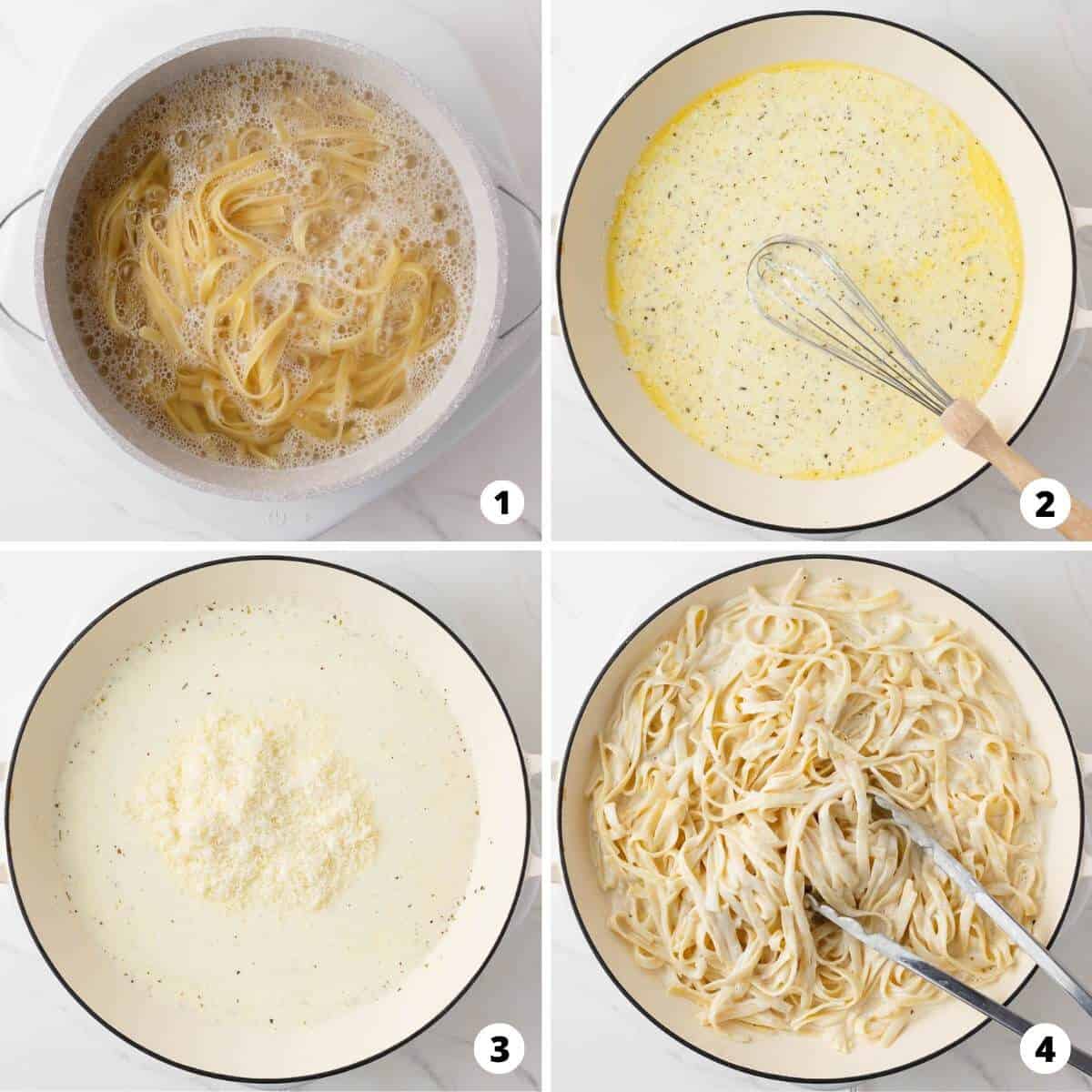 BOIL. Boil the fettuccine in a pot of salted water. Don't overcook.
MELT. Melt butter in a large skillet over low heat, then add garlic and cook for 1 minute. Add the cream cheese and then whisk in the heavy cream and garlic powder. Add Italian seasoning if desired.
SIMMER. Increase heat to medium heat. Bring sauce to a simmer, then let simmer for 5 minutes (whisking occasionally) until reaches desired consistency.
TOSS. Add in the parmesan and stir. Once melted, toss with hot fettuccine and serve! Garnish with freshly chopped parsley.
How to Thicken the Sauce
One of the main keys to getting the perfect consistency is to make sure to simmer the sauce (this requires some patience!) and whisk often. The alfredo will thicken as it cooks.
You also want to make sure you use the correct amounts of cheese and cream (or substitute of choice). If using milk instead of cream like I do in my white sauce recipe, add a couple of teaspoons of flour to help thicken it up.
What to Serve With Fettuccine Alfredo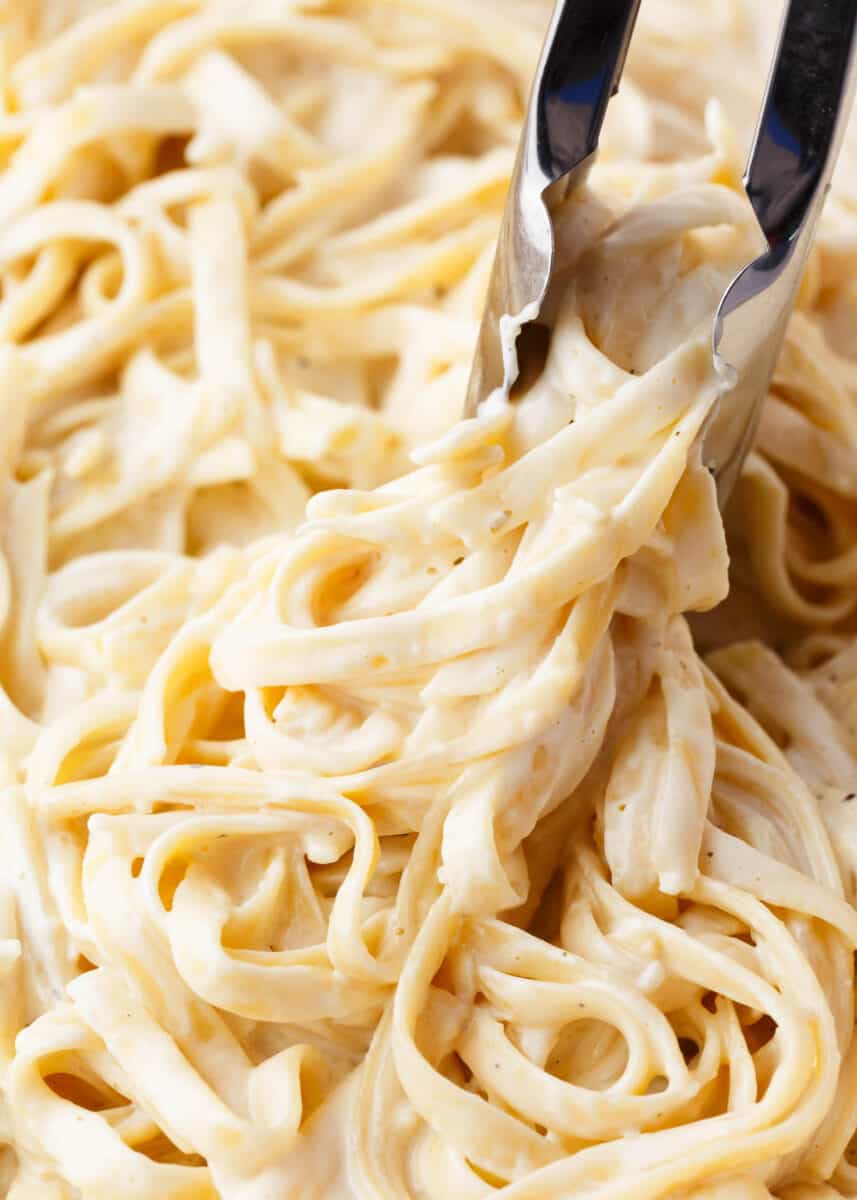 Tips for the Perfect Alfredo Sauce
Freshly grated parmesan cheese tastes best. Trust me, it does make a difference!
While the sauce simmers, make sure to whisk often. This will help create a creamy sauce.
Make sure not to use too high of heat. I find that medium-low is perfect. You don't want to burn or curdle the cream.
Feel free to add in cooked chicken to make chicken alfredo. You can also add cooked broccoli or peas.
Top with more fresh parmesan and parsley before serving.
You could easily make this sauce a couple of days in advance, then reheat it over low heat when ready to serve. Just store it in an airtight container in the fridge.
FAQs
Can I use milk instead of cream in Alfredo sauce?
The best Alfredo is rich and indulgent so using heavy whipping cream really gives it that special touch. If you want to lighten it up, though, that is totally fine! Whole milk can definitely be used, just note that the sauce will be less thick and creamy.
Is this sauce gluten free?
Yes! Since there is no roux made with flour used this sauce is gluten free. Just keep your noodles gluten free, too if that is how you choose to serve it.
How much does this sauce make?
You should roughly get 2 1/2 cups of sauce which is enough to coat 1 pound of fettuccine pasta. Adjust the amount of pasta you toss it with if you like it more saucy.
What is the difference between white sauce and Alfredo?
A traditional Alfredo sauce is made with butter, cream, Parmesan cheese and garlic. On the other hand, white sauce also known as bechamel sauce, is a French sauce that starts with a roux containing butter and flour and cream.
What can I add to alfredo?
You can add grilled chicken, shrimp or steam vegetables to this alfredo.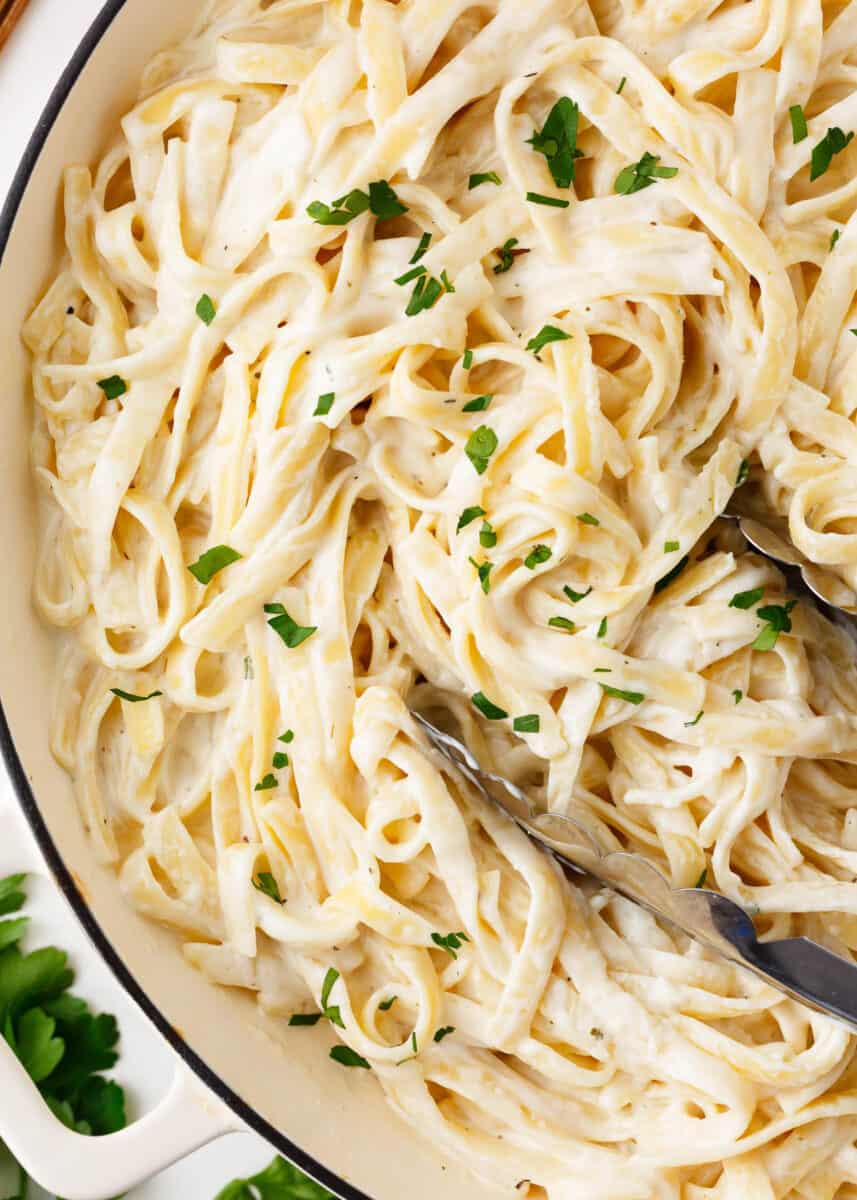 HUNGRY FOR MORE? Subscribe to my newsletter and follow on Facebook, Pinterest and Instagram for all the newest recipes!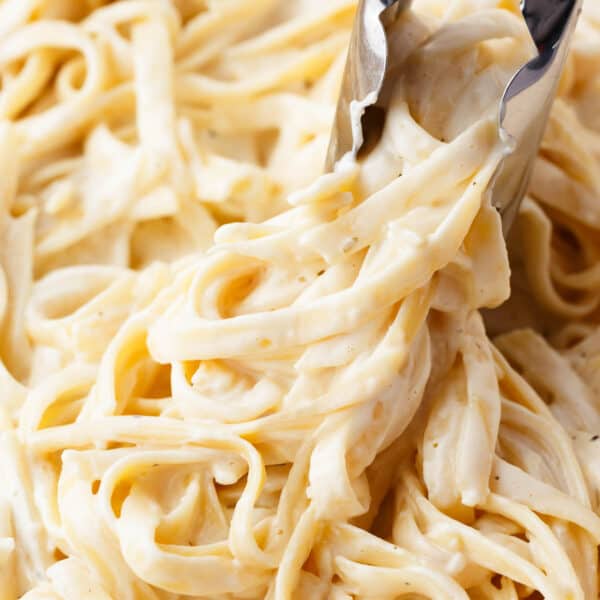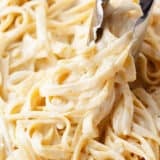 Alfredo Sauce with Cream Cheese
This alfredo sauce with cream cheese is smooth, creamy and has the perfect texture and flavor! Simple to whip up and always a family favorite.
Ingredients
½ cup salted butter
3 ounces cream cheese
½ teaspoon minced garlic
2 cups (1 pint) heavy whipping cream , or half-and-half
½ teaspoon garlic powder , more to taste
¼ teaspoon Italian seasoning , optional
Kosher salt , to taste
Freshly ground black pepper , to taste
¼ -3/4 cup freshly grated parmesan cheese , more to taste
1 pound fettuccine , cooked according to package
Optional: Grilled chicken, Steamed broccoli
Instructions
In a medium saucepan, melt the butter and cream cheese over low heat. Add the garlic and cook 1 minute. Whisk in the heavy cream, garlic powder, and Italian seasoning, if using.

Increase the heat to medium-low and bring to a simmer. Simmer 5 minutes, whisking occasionally. Stir in parmesan cheese and simmer until melt. Add more parmesan, if desired. The more cheese you add, the thicker the sauce will be.

If using chicken or broccoli, stir into the sauce. Toss with cooked fettuccine until coated. Serve while hot. Sprinkle with fresh parmesan cheese and parsley on top, if desired.
---
Notes
Addition: Feel free to add in cooked chicken and broccoli after the sauce comes together. Storage: While this dish is best served the first day, you can store leftovers in a covered container for 2 days. This recipe is easy to cut in half as well if you don't need the full amount.
Nutrition
Calories: 535kcal | Carbohydrates: 42g | Protein: 8g | Fat: 38g | Saturated Fat: 23g | Polyunsaturated Fat: 2g | Monounsaturated Fat: 10g | Trans Fat: 1g | Cholesterol: 166mg | Sodium: 75mg | Potassium: 197mg | Fiber: 2g | Sugar: 1g | Vitamin A: 1354IU | Vitamin C: 1mg | Calcium: 5mg | Iron: 1mg
Nutrition provided is an estimate. It will vary based on specific ingredients used.
Did you make this recipe? Don't forget to give it a star rating below!