Easy Colorblock Family Photo Collage
Easy Colorblock Family Photo Collage – this treasure is easy and fast to make, and will brighten the day for the lovely moms in your life!
Mother's Day is approaching and it's time to start planning your DIY gifts.
Hey everyone, it's Kara from A Kailo Chic Life. I am so excited to share this colorful DIY with you today. Now, we all know that moms love handmade gifts, especially if they are made by their loved ones. What better way to show mom you love her than to make and give her an easy colorblock family photo collage?
The process is so simple that you only need a camera phone and a few pieces of colored paper.

MY OTHER RECIPES
This easy colorblock family photo collage is quick and simple to make, it just takes a little planning ahead (to find the perfect photo backdrop) and a bit of cutting a gluing. Following along below for the full tutorial.
The Supplies:
Colored card stock in several colors from the craft store
Printed colorized family photos (instructions below)
Large picture frame (this one is an Ikea Ribba frame)
Acid free glue for photos
Large piece of white backing paper that will fill the opening in your picture frame.
I will give you the details on how I went about taking my pictures, editing them with color effects, and arranging them in the frame, but note that they process may differ slightly depending on the number of family members or your the camera on your phone.
I began by finding a solid colored brick wall to pose in front of for photos. Luckily one of our favorite pizza restaurants has the perfect blank slate. Using your camera phone on the square setting, take a photo of each member of the family. Once you have your pics, use a colorful photo app like Color Story by A Beautiful Mess to add a color fog on each side of the family member.
Or if you are really lucky and have a colorful wall available to you in your city, you can just use that! Now that you have your photos taken and edited, use a photo printing program like Social Print Studio or Mixbook, or send them to your home computer and print them at home. You just want to make sure that you get appx. 4″ square prints.
Once you have your photos printed, it is time to begin to assemble your color-blocked collage. Begin by measuring the opening of the mat in your picture frame. The mat opening was 11.25″ by 11.25″ for my frame and when I divide that evenly I could get three 3.75″ wide by 3.75″ high photos in each row with three total rows. So in my picture frame I had space for 9 total squares. Three of these were family photos, so the other 6 needed to be colored paper. You will need to adjust the number of color squared depending on the number of family members in your family.
Cut your photos and colored paper to the height and width you determined (3.75″ square for me) and then glue onto your large piece of white paper in the grid pattern you like best.
Once the glue is dry, simply place your mat, glued color-block family photo collage, and picture frame baking into place and secure. Then wrap it up to give to your mom on Mother's Day. If you can wait that long!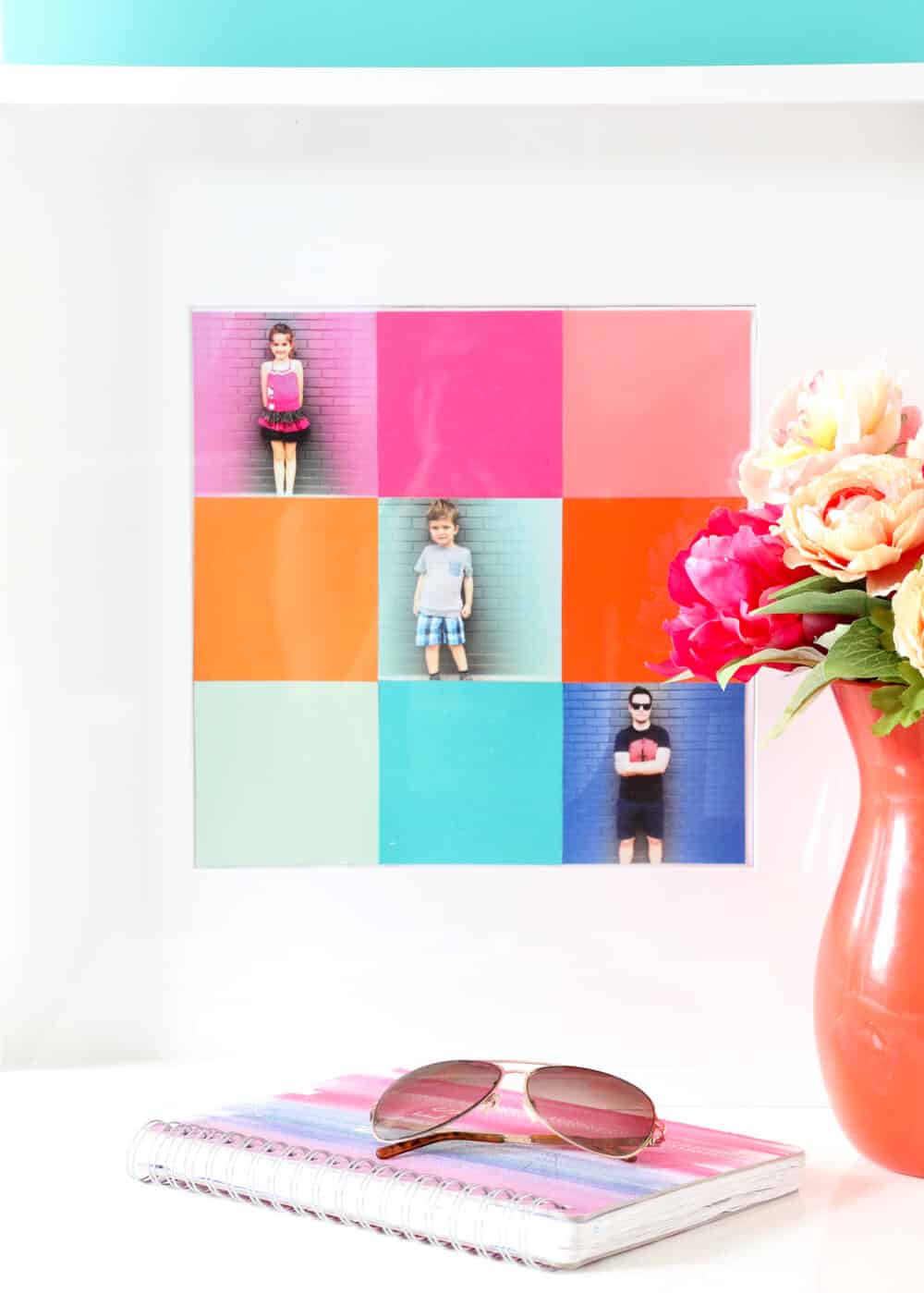 Now that wasn't too hard, right? And I am sure your mom will just love having a colorful collage of her family. If you think this collage is a little too colorful for your mom, simply use more neutral colored paper (shades of gray, white, cream, etc…) and color fogs when editing your photos to create a more subdued but still unique and easy colorblock family photo collage.
I hope you enjoyed this colorful craft. Please feel free to check out my blog, A Kailo Chic Life, for even more colorful craft and DIY ideas.
Thanks, Kara!
If you love this easy craft perfect for Mother's Day, you'll enjoy these too!