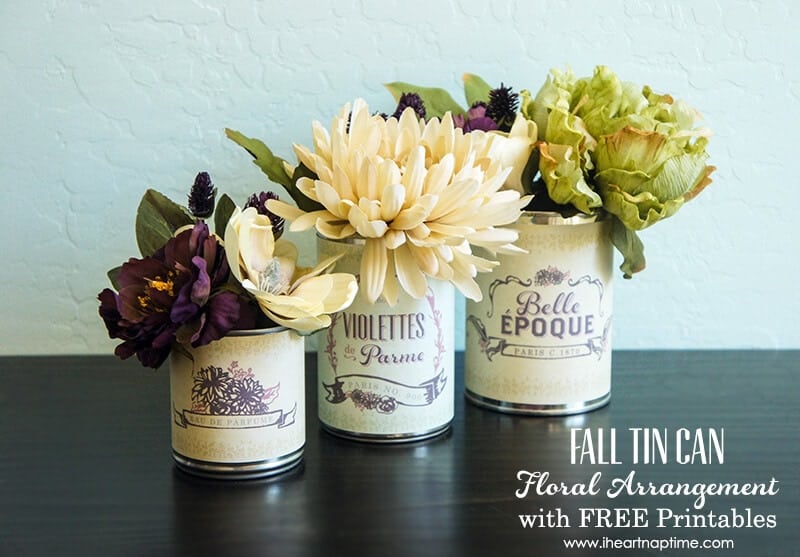 Hey all! Erin here from Strawberry Mommycakes! Today I'm sharing a beautiful and easy tutorial for a Fall Floral Arrangement. As always, it includes some gorgeous FREE printables!
I got the idea for these tin can arrangements from Joss & Main. They were beautiful arrangements, but I knew I could duplicate them for a lot less money. I also wanted to create something that felt like Fall, but had a color scheme that I could handle all year round. I saved up 3 tin cans from dinner. The size of each can varies, but I used a large can (around 18 oz.), a normal size can (around 14 oz.) and a small can (around 8 oz.). I got my flowers at Michael's. They had gorgeous green, tan, and deep purple flowers.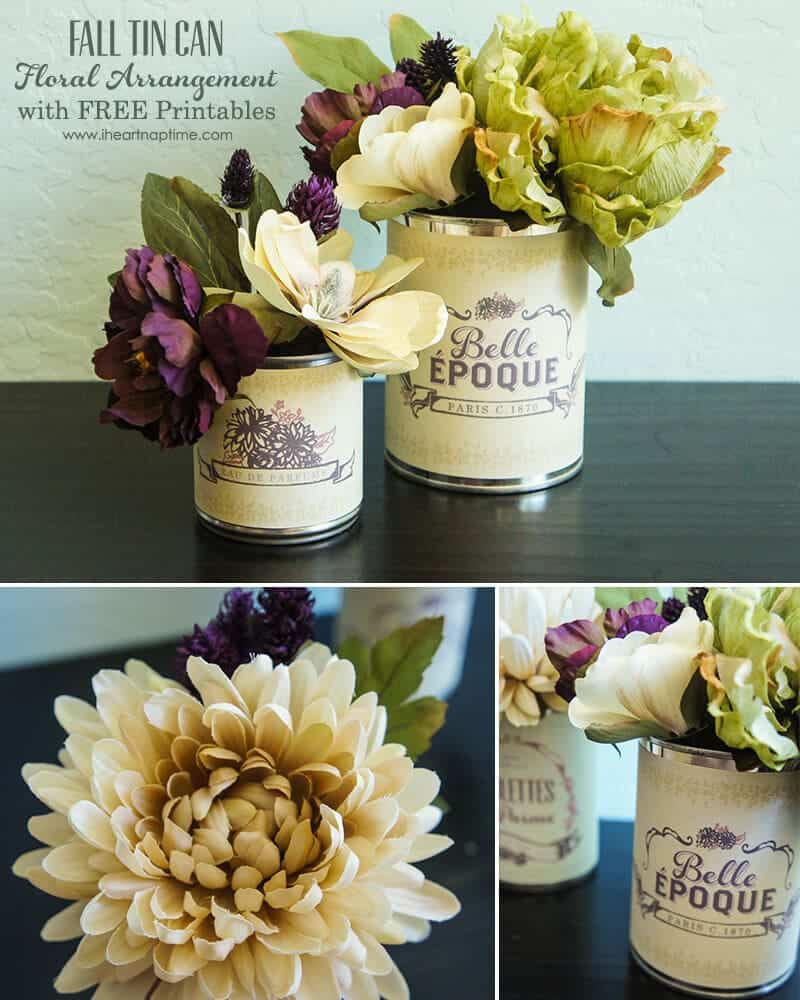 Supplies
To create this floral arrangment, you'll need:
My FREE French Labels, for personal use only
White paper for printing (I use 60 lb because it's sturdy)
Scissors or a paper trimmer
Tin cans of various sizes
Tape
Various flowers, preferably purples, greens and tans
Floral foam
Before you create your arrangement, print and cut out your printables and clean your tin cans.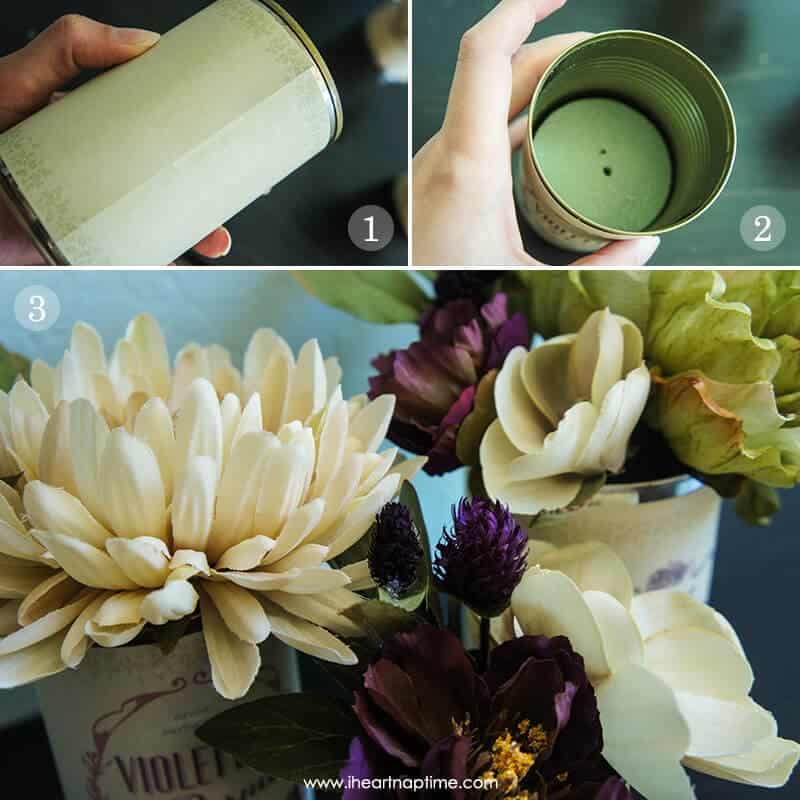 Instructions:
Wrap label around the can and tape it on the back.
Place some floral foam at the bottom of the can.
Arrange flowers to your liking. I placed about 2 or 3 flowers in each can with leaves as accents.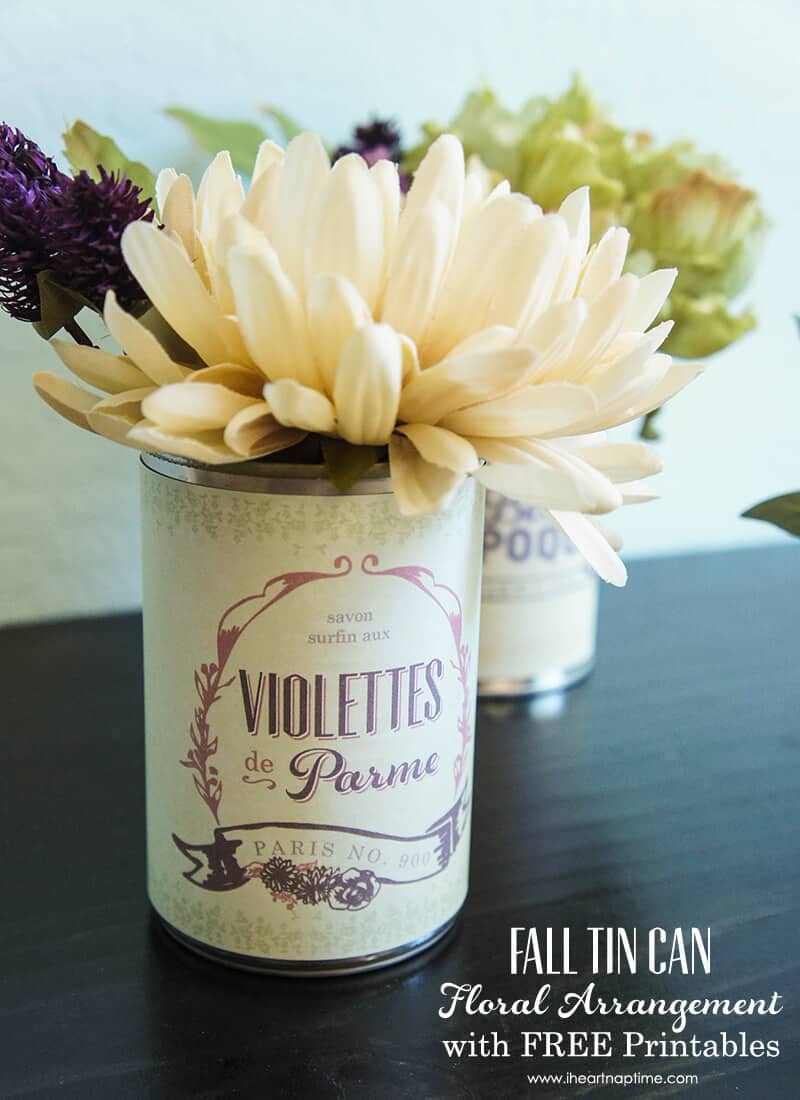 Pretty painless, right? I think these look gorgeous on my bedroom dresser, but they'd be perfect in a bathroom or on a fireplace mantel, as well. Hope you enjoyed this printable as much as I did!
Check out what else is happening on the Strawberry Mommycakes Blog: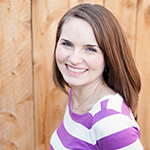 Erin is the owner and designer behind Strawberry Mommycakes. She designs fun and adorable printables for parties and crafts that can fit any budget. She has two adorable kids and the most supportive husband in the world! If she's not designing or watching her kids, she's probably cleaning, cooking, reading, playing on Pinterest, or going for a drive and drinking a Pepsi…because Pepsi is awesome. You can also find Strawberry Mommycakes on Facebook, Pinterest or Twitter.