Hello I Heart Nap Time Readers!
I'm Shayna from The Wood Grain Cottage and I can't even begin to describe how excited I am to be here for the Hello Summer Series!
Who here is excited for summer? I know I am!
Summer time brings a ton of outdoor activities, which means it's patio season!
A while back, I scored a round metal patio table for free. It was in pretty good shape, but I wanted to make it look a bit more custom and more our style.
I'm so happy I took it… all it needed was a new top…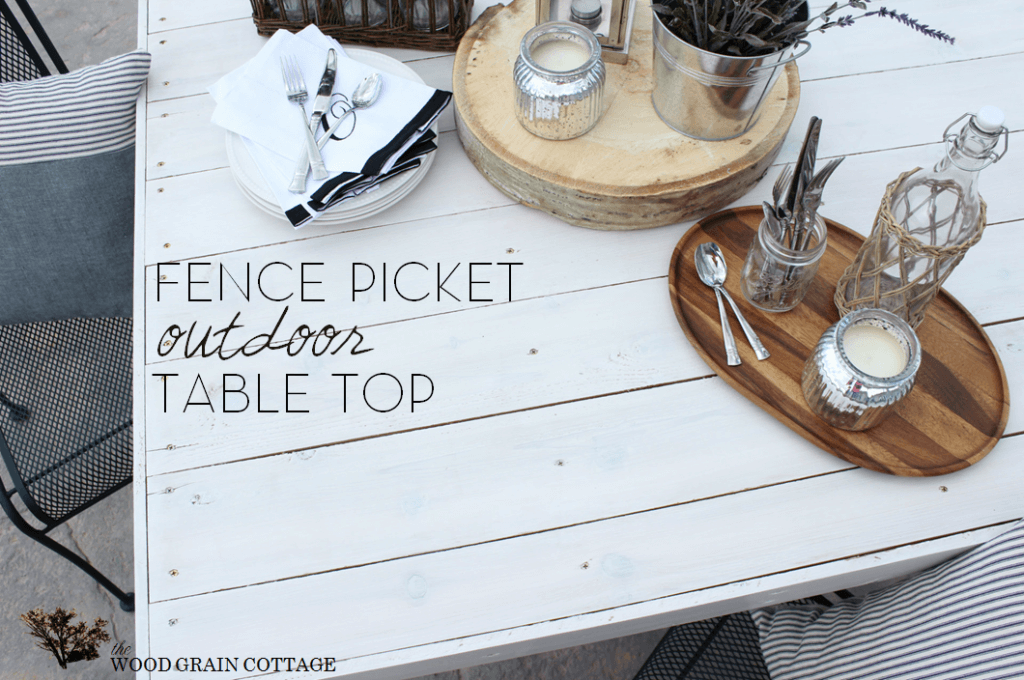 It started as your basic metal table, but in need of some serious new paint.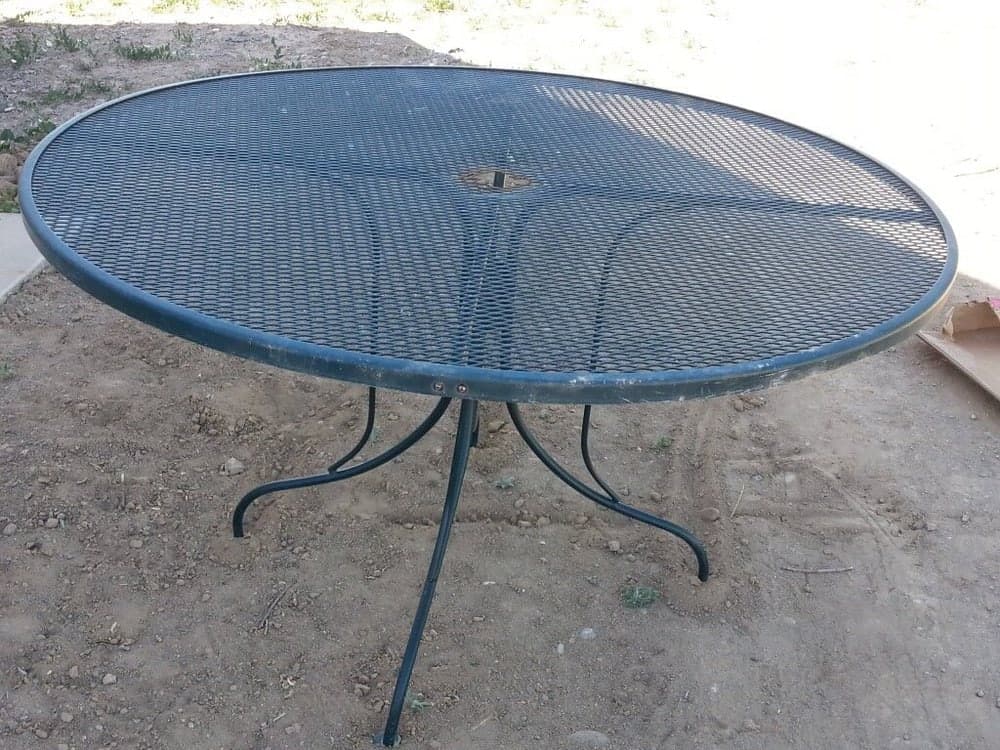 Here's what we used to transform our table:
-15- 5.5″ wide x 6′ cedar fence pickets. They're outdoor durable and cost effective!
-3- 10′ redwood 2 x 4's
-2″ gold deck screws
-Electric hand sander
-Sandpaper, 60 & 120 grit
-Outdoor stain
-Oil paint brush
First, I flipped the table upside down and sprayed the legs with a gloss black spray paint.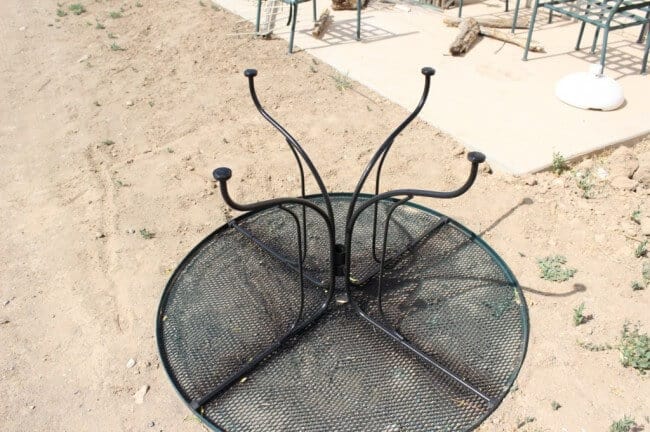 Then, we used the redwood 2 x 4's to create a frame for the new top. Since the table is 4 ft round, we made the frame 4′ 5″ x 4′ 5″.
To give it extra support, we added two boards in the middle and used 2″ gold deck screws to secure everything in place.
Once the frame was built, we began trimming down the cedar fence pickets…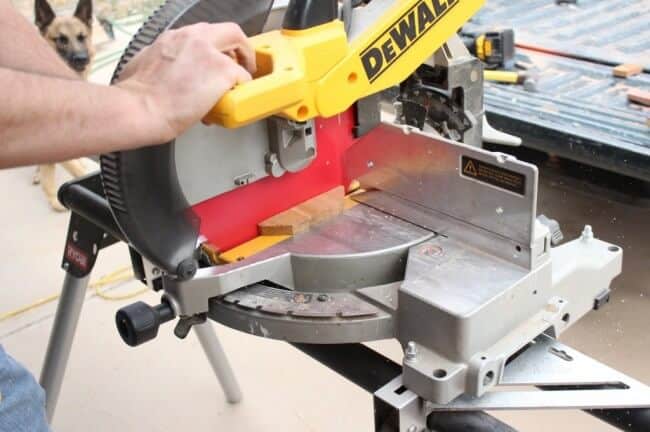 While my hubby cut all the boards to the proper length, I used our electric sander with 60 grit sandpaper and sanded the top side of each board smooth.
Then, we began laying them out on the frame.
For the layout, we started with a seam as the middle, and built out from there. We used a set of clamps to get the boards as tight as possible, then used gold deck screws to secure them in place.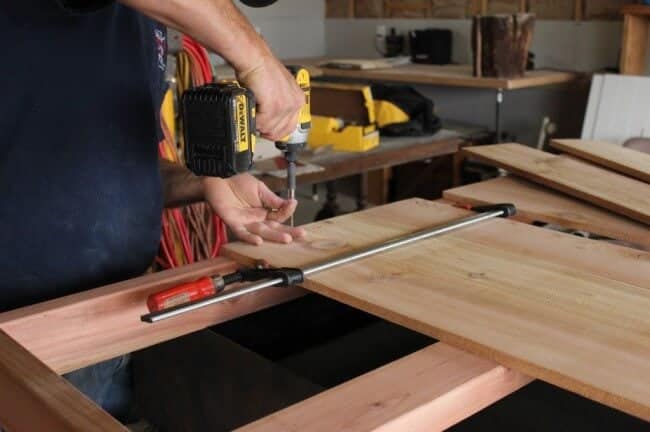 We made sure all the boards were lined up as we screwed them in place…
Then, to make sure the top was really secured, we used a level and made a mark on every picket on each middle support. We made sure each mark was centered, then added screws.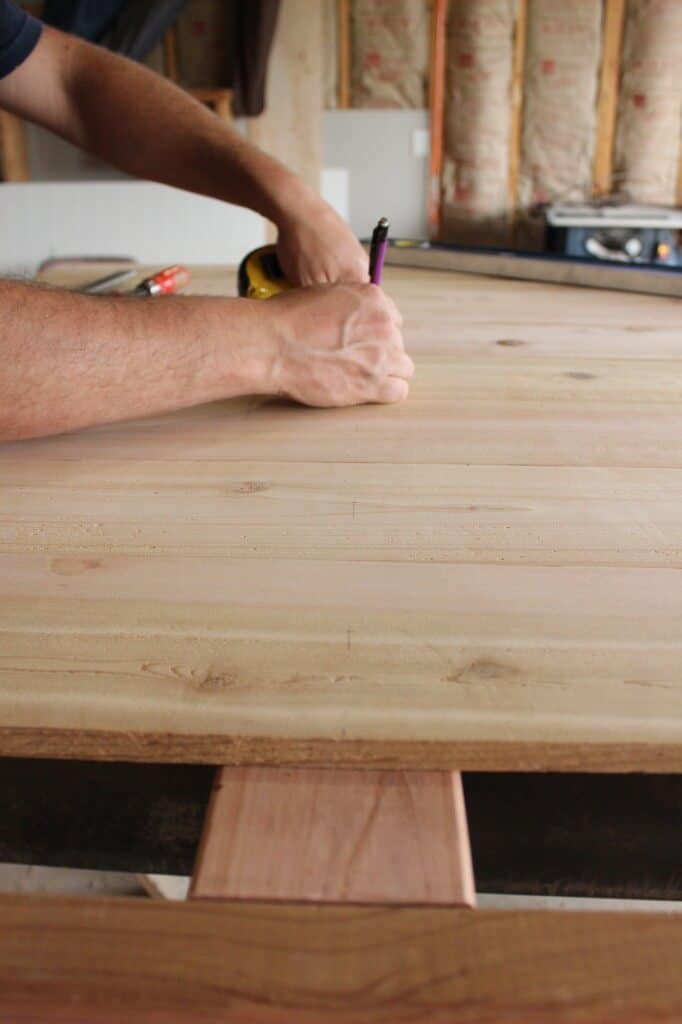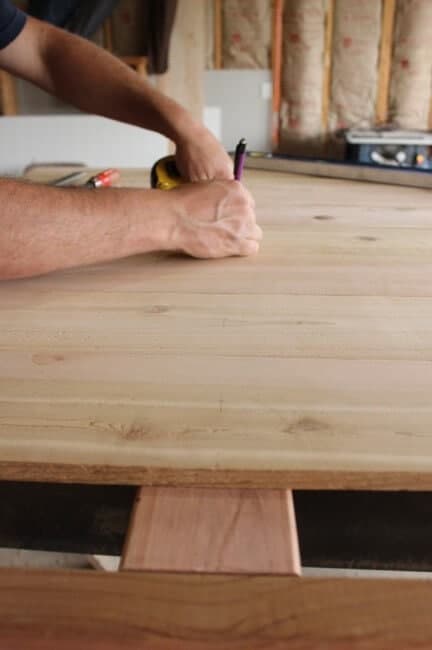 With all the pickets in place, we used the same wood to trim the outside. We used clamps to hold each side piece in place, then added the screws.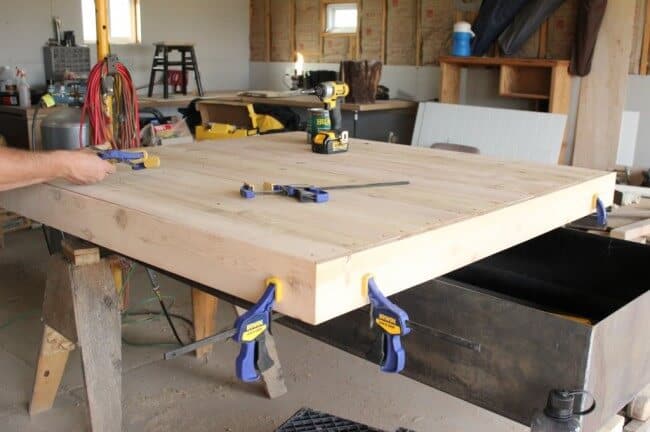 To make sure everything was really smooth, I used my electric sander with 120 grit sandpaper and went over the entire thing, being careful on each corner.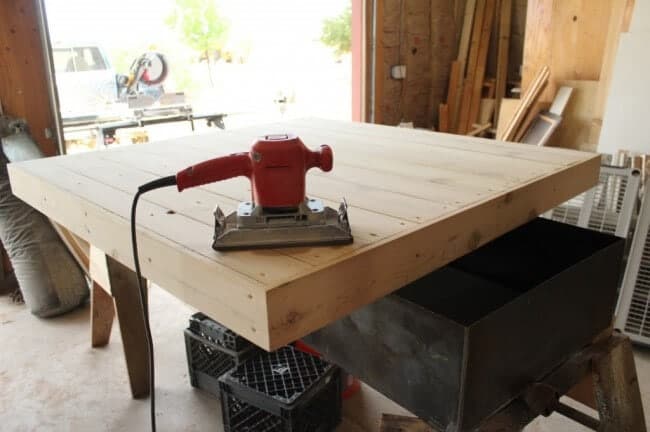 Once I was done sanding, I used our air compressor and blew off any remaining dust, then followed that by wiping it down with a cheesecloth.
I added 3 coats of Behr's ultra-white deck stain and let it dry completely. Because the stain is said to have the sealer included with it, I didn't seal the top with an additional sealer. I'm sure that I probably will in the future though…
To secure it to the existing table top, we used screws and drilled through the metal "grid" and into the wood supports on the bottom of the new top.
With that, the table was done and we were ready to enjoy it!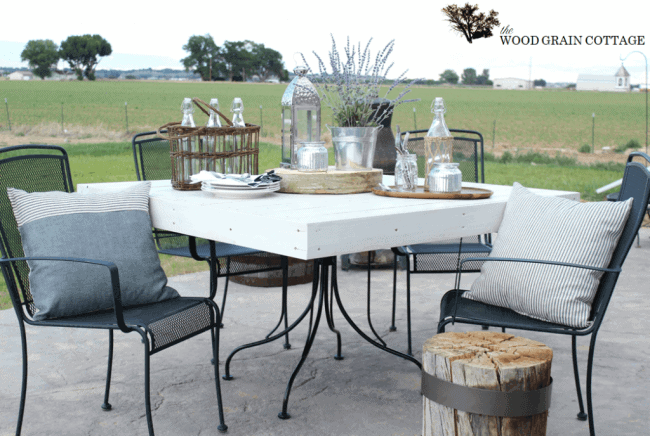 It's absolutely amazing to see how much the top has transformed the entire table.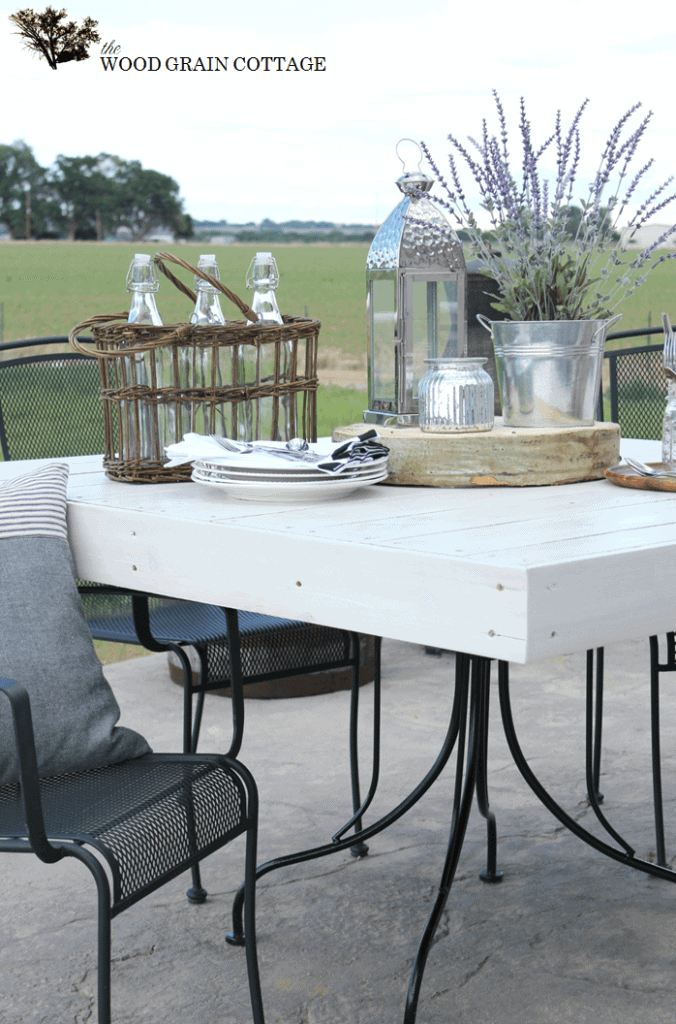 It's just lovely…
I mean, would you even believe that it's made from cheap cedar fence pickets?
Probably not.
And the best part?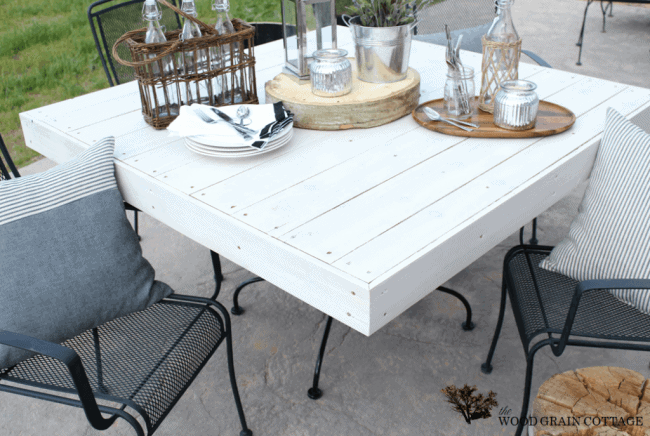 The entire thing cost us around $70.00.
I'd say that's a whole lot of bang for the buck!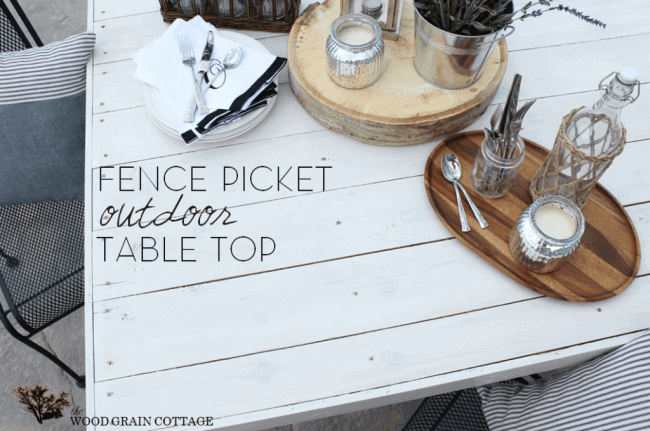 I have a pretty good feeling that we'll be spending even more time outside on our patio…
In the mean time, here are a few more projects that you'll find at The WGC…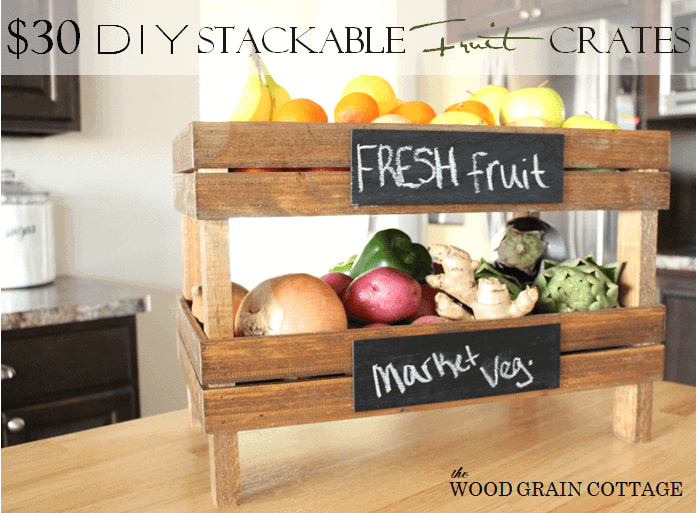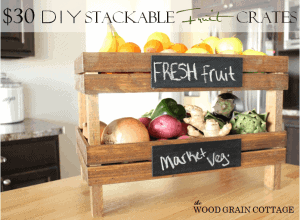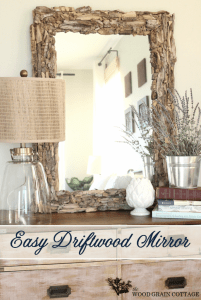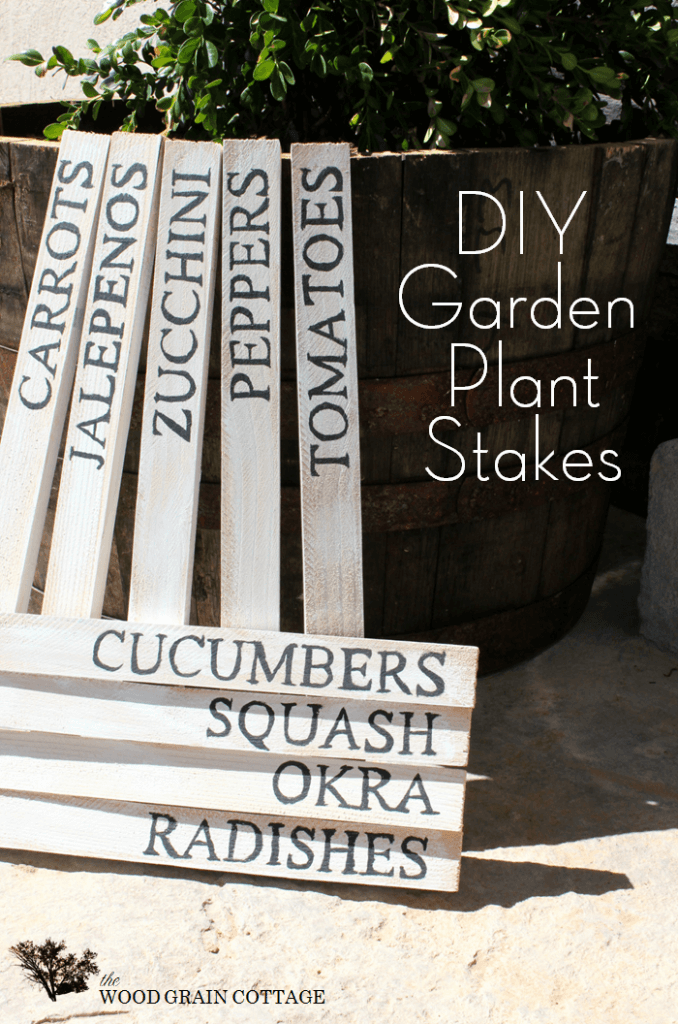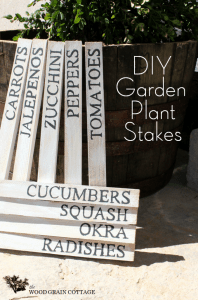 If you want to see even more DIY & home projects, be sure to stop by The Wood Grain Cottage for a visit. I'd love to meet ya! A BIG thank you to Jamielyn. It was such a pleasure to be here! Happy Summer!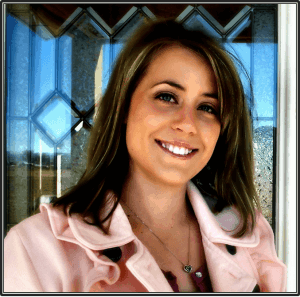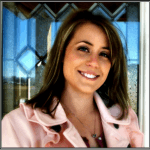 I'm Shayna, the DIY enthusiast behind The Wood Grain Cottage. My husband and I just celebrated our first year in our newly built home on our farm in Colorado. I love everything to do with design, decorating and DIY. Along the way, I share my adventures in making this house our home, and as many projects that I can sweet talk my husband into doing with me! You can find me on Facebook, Pinterest, and Hometalk.