Welcome to the Crazy Christmas Event! If you're new here, join us on Facebook and Pinterest. Now let's give Autumn from It's Always Autumn a big welcome! We're so happy to have you guest posting!
Hello! I'm Autumn, from It's Always Autumn, and I'm happy to be here today to share an easy, inexpensive gift idea with you. I'm going to show you how to make this simple and stylish fleece & fringe no sew scarf: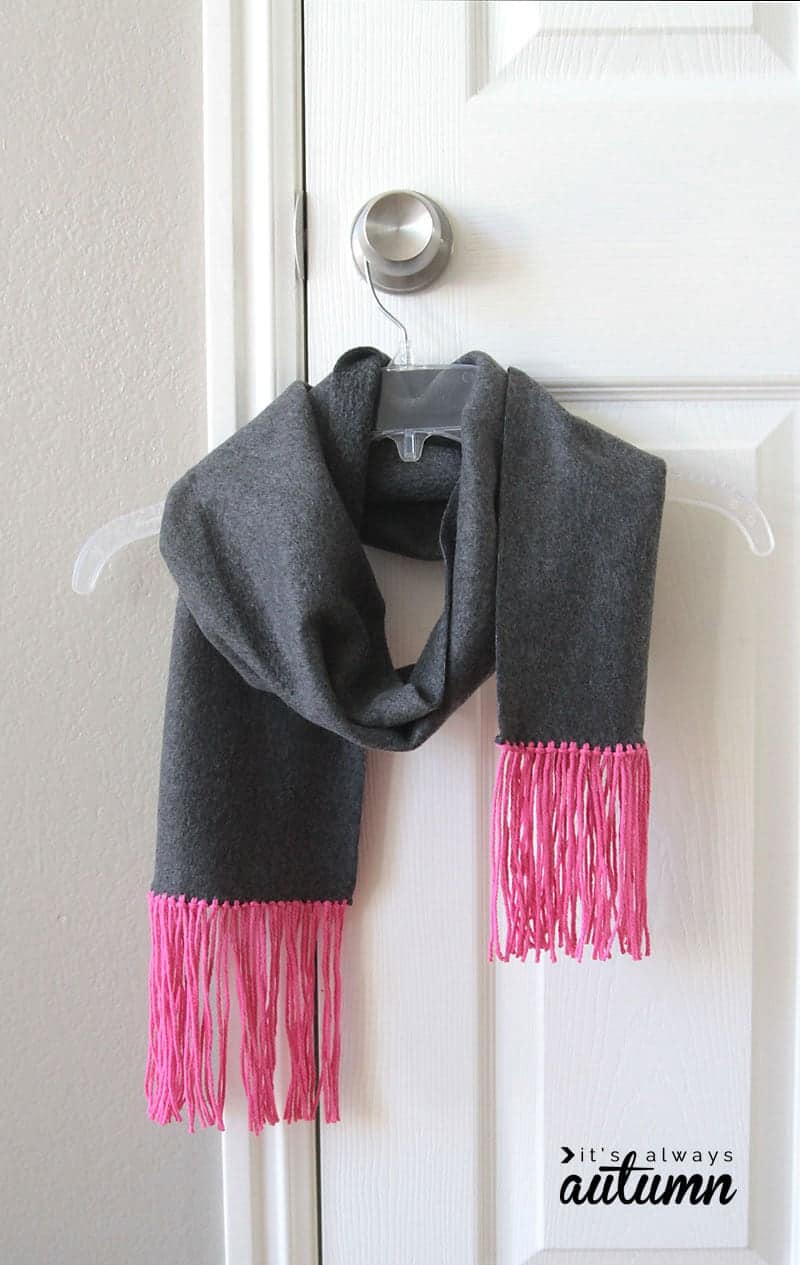 This scarf is so easy to make! As I mentioned, there's no sewing involved. All you need to do is cut a piece of fleece and tie on some brightly colored yarn to create a trendy fringed edge. Each scarf is made using just a 1/4 yard of soft fleece, making this a very inexpensive gift, perfect for women or teens. If you use a coupon to buy the fleece, you can make a scarf for just a few dollars.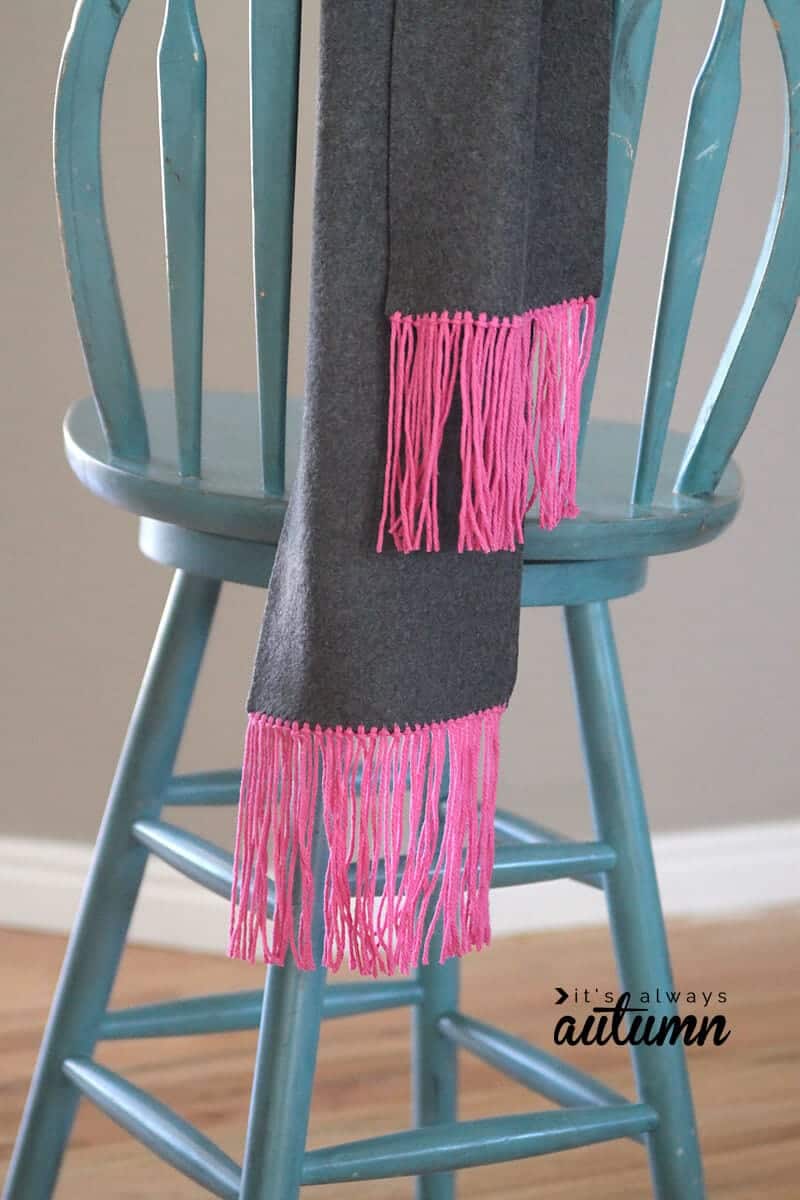 I love how the dark grey fleece looks with the pop of bright pink. I think a cream scarf with gold trim would be beautiful!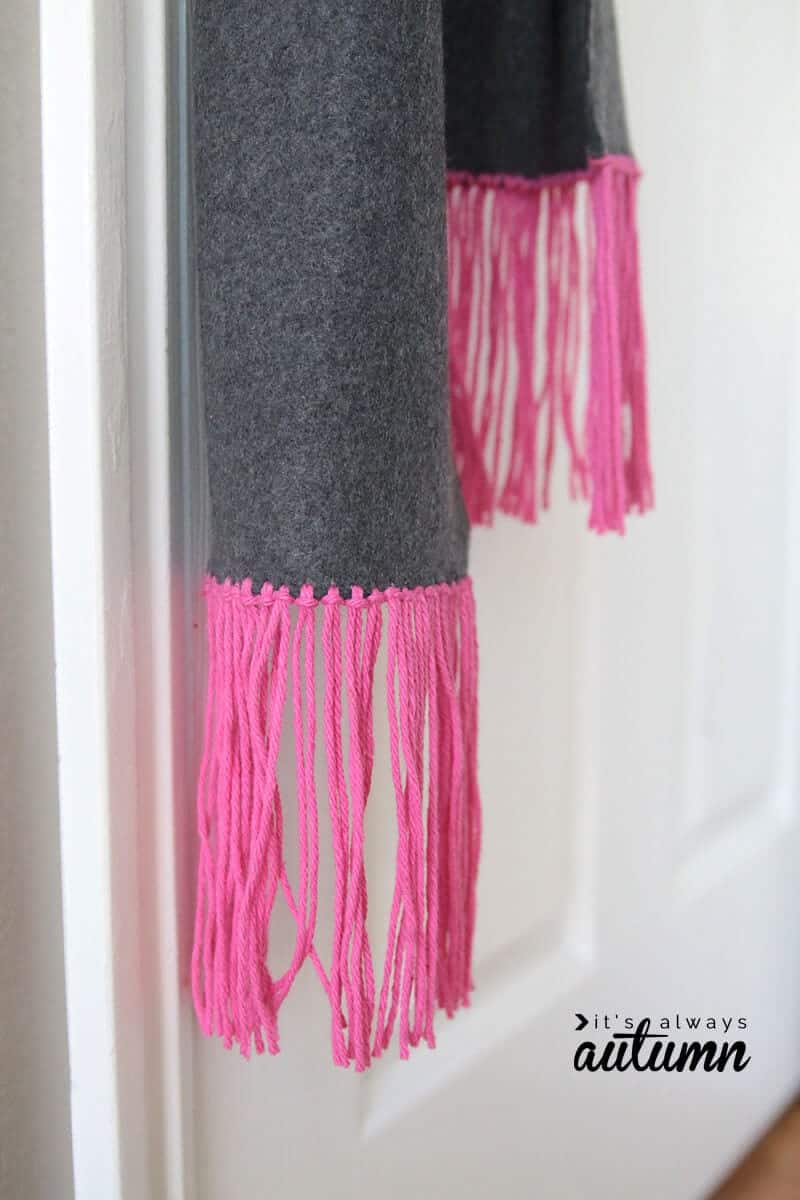 The first step to making the scarf is to get your fleece cut to size. Purchase 1/4 yard of fleece. It will be around 9 inches tall and 60 inches long. Lay it out on a cutting board and trim it using a rotary cutter to 8 inches tall. Trim off each short end, making sure you make clean cuts at right angles. The final dimensions of the scarf don't matter too much – it will be around 8 inches wide and 57 inches long – but what does matter is cutting it nice and clean. Because fleece doesn't fray we can leave the edges raw (no hemming!) but in order for the scarf to look professional you need nice, clean cuts.
Once your fleece is trimmed, you're ready to add the fringe. I made a quick video to show you how:
Preview YouTube video how to make an easy DIY no sew fleece fringe scarf
how to make an easy DIY no sew fleece fringe scarf
Easy, right? Here's a closer view of what the scarf looks like once the fringe is attached and trimmed: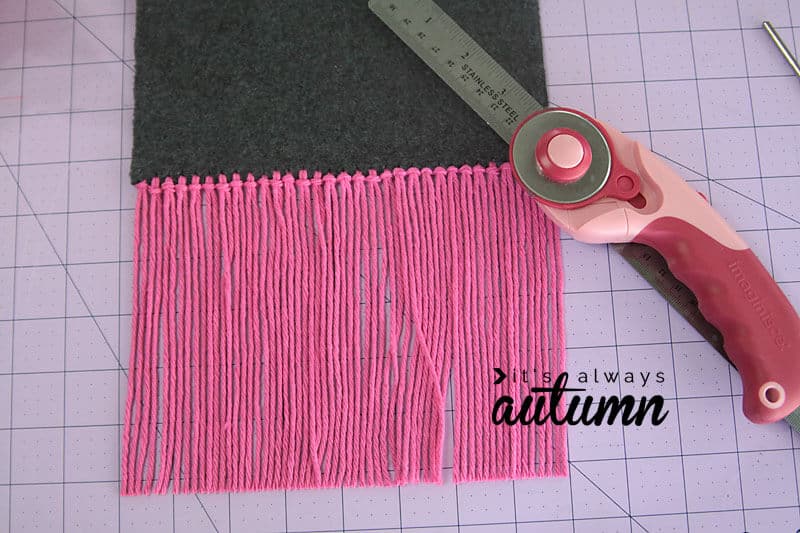 Start to finish, the scarf only took about half an hour to make!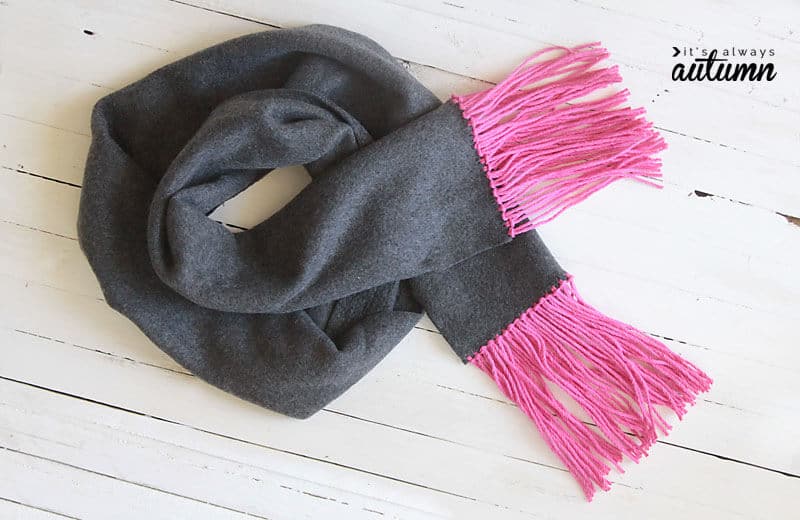 For more simple crafts, as well as sewing projects, recipes, and photography tips, head over to It's Always Autumn. Need more ideas for handmade gifts for teens? Read the top 20 gifts to sew for teens (that they'll actually like!). For more gift ideas that kids will love, check out 20 best gifts for boys and 20 best gifts for girls.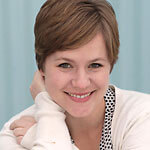 Autumn Baldwin is a stay at home mother of five who is always in the middle of a project. She'd rather sew than fold laundry and prefers dark chocolate ice cream to just about any other food on earth. On her blog, It's Always Autumn, she shares easy to understand photography tips for beginners, sewing patterns and tutorials, recipes, crafts, tips & tricks, and more. And she's hopelessly addicted to Downton Abbey.
 Click HERE to see more from our Crazy Christmas Event