Fruit skewers + Capri Sun Sport  – a quick and tasty snack idea for kids games, parties and more!
One of my favorite seasons in Ohio is Spring. It doesn't last very long, but you just can't beat the weather, once it's finally here. Some of my favorite things about the Spring here are the farmers market, tulips lining the trees, the sunshine and the beginning of baseball season! I love going to my son's game and hanging out on the sidelines cheering him on. My girls love coming, too, and playing with the other kids.
My kids love fruit skewers, so we decided to make these to share. My son wanted to help, so of course he wanted to add some baseball marshmallows. ;) If you wanted to do all fruit that works great too! Stack on a mix of your favorite combos. Berries are in season here, so we went with strawberries and blueberries.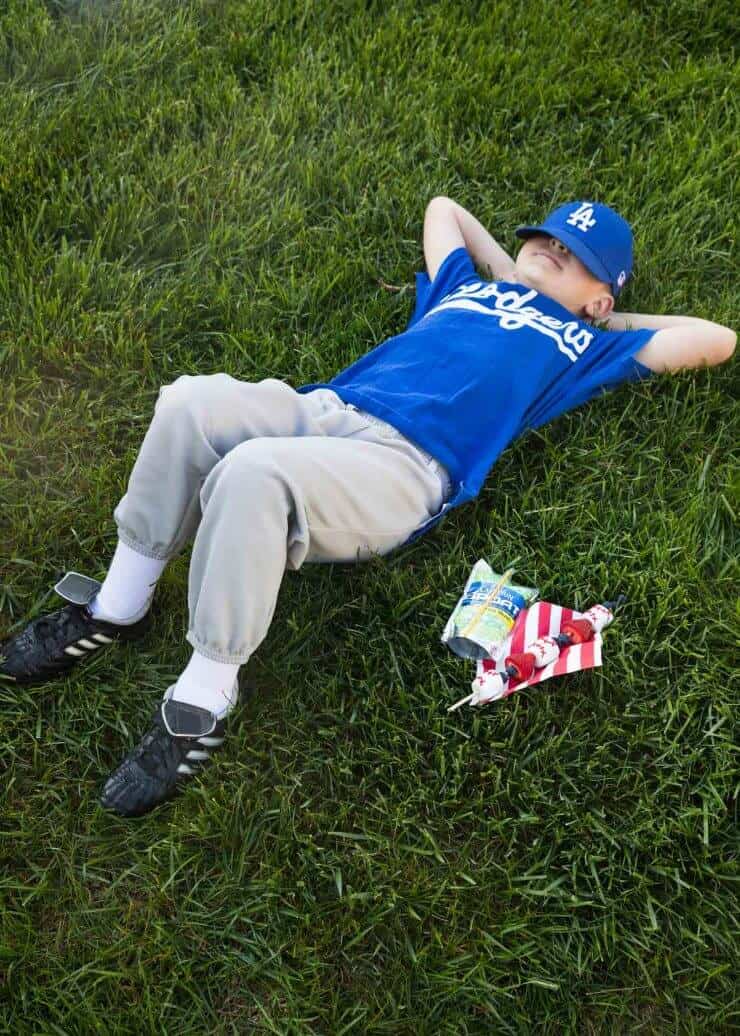 Fruit skewer variations:
Strawberries, blueberries and marshmallows
Cantaloupe, honeydew and watermelon
Rainbow fruit skewers with blueberries, honeydew, pineapple, oranges and raspberries.
Draw different designs onto the marshmallows with decorators icing
Use stainless steel cookie cutters to make shapes or balls with the melons
Drizzle melted chocolate over the strawberries 
My son also spotted the new Capri Sun Sport at the store, so we had to pick some of those up, too. Capri Sun Sport is a new flavored water beverage made especially for kids, with 20 percent less sugar* and 25 percent fewer calories** than leading regular sports drinks. Capri Sun Sport contains a blend of electrolytes and water to help keep active kids hydrated during baseball season. My kids love to put them in the freezer for about an hour to make them a little slushy. They also stay cold for the games that way.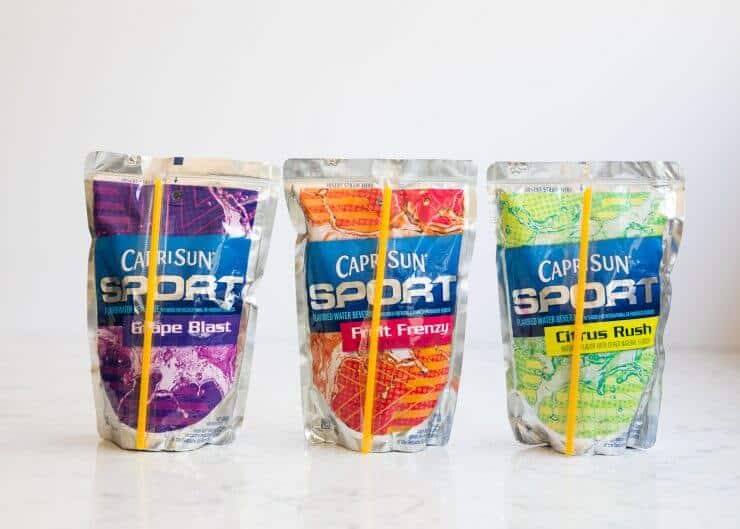 These paired perfectly with our fruit skewers. Such a fun and easy snack idea for baseball games.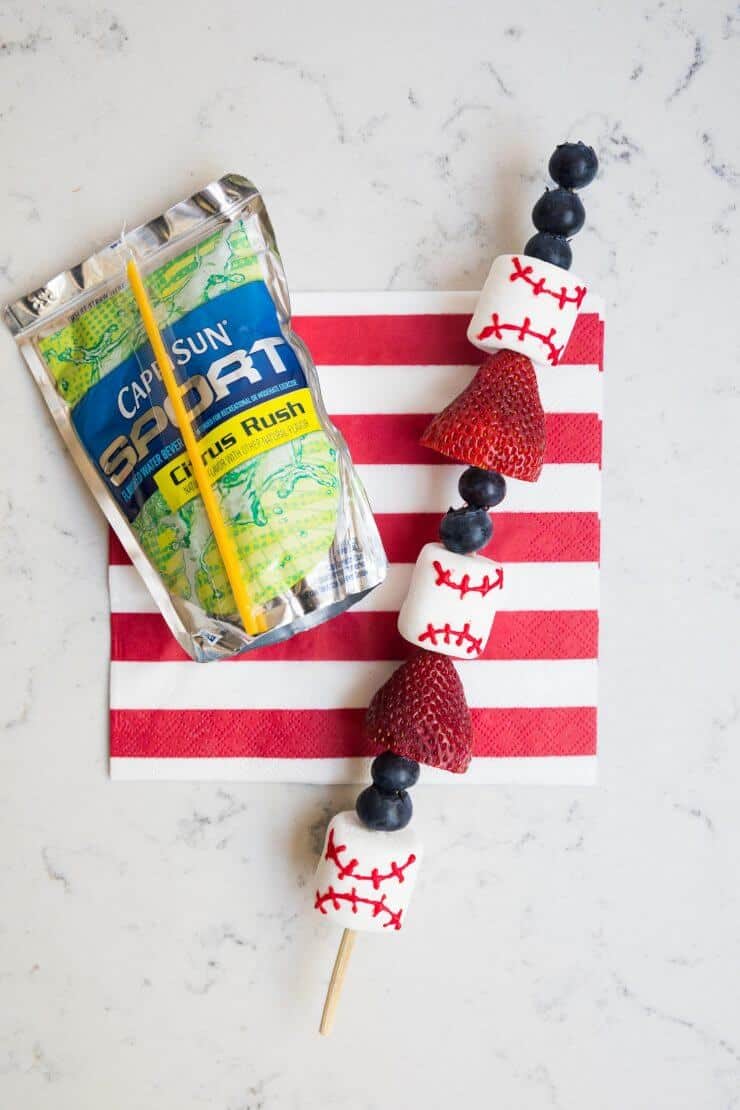 If you're taking them in the car, place them in a plastic container with a lid and you're all set!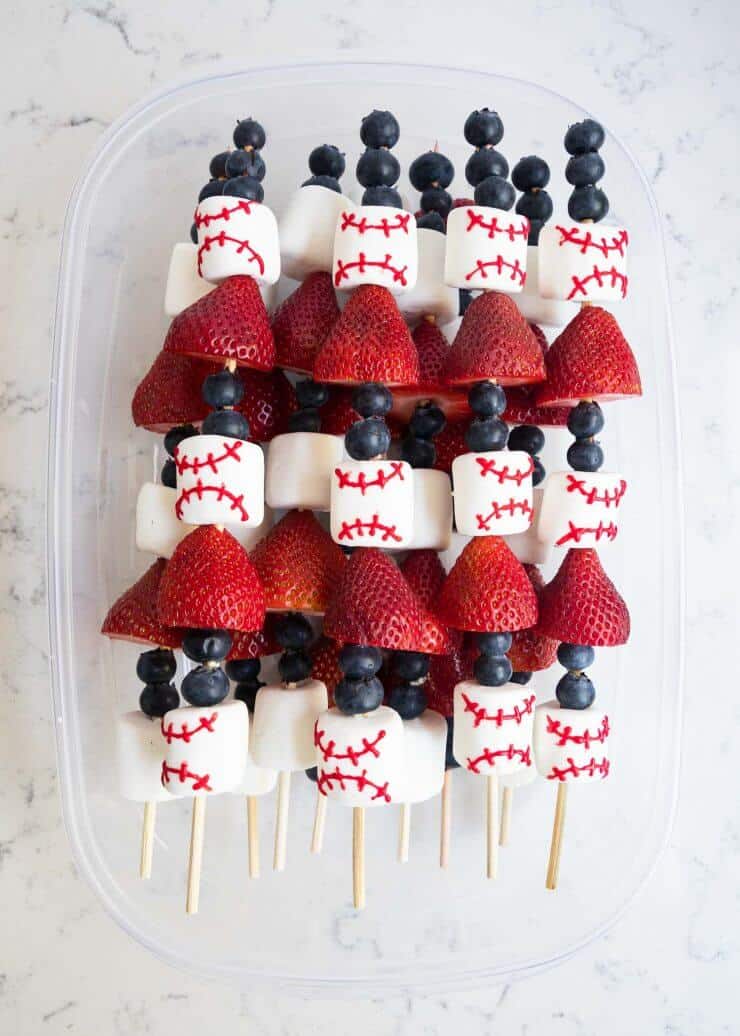 Hope you enjoy the fruit skewers! So many possibilities!
This post is sponsored by Capri Sun. All opinions are my own.