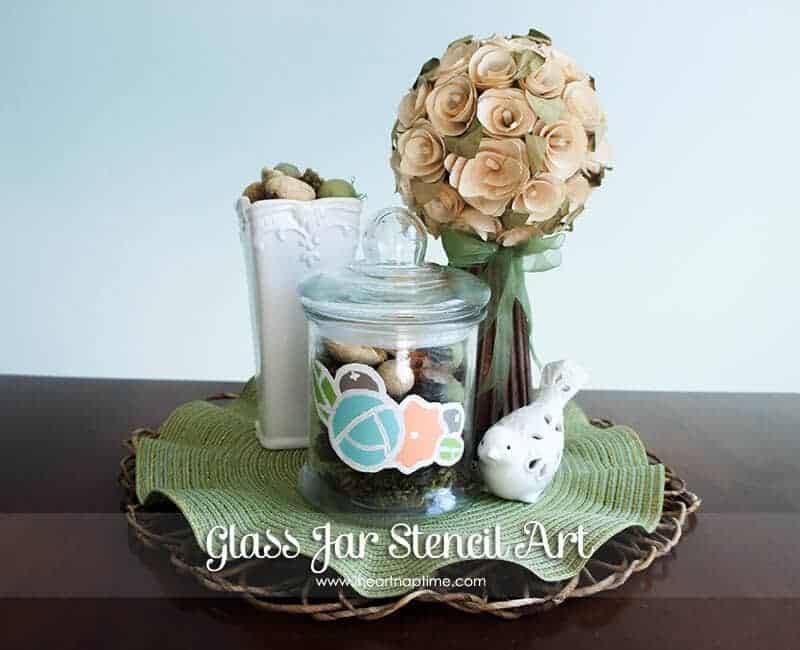 Hi there! Erin from Strawberry Mommycakes here. I've got a super cute Stencil Art Tutorial for you today! Plus, it comes with a FREE printable.
I'm in love with the Martha Stewart craft section at Michael's, and I especially love her stencils! Yet, I'm too cheap to buy something that I know I can make at home. So what do I do? Create my own Stencil Art!! I bought this jar at Hobby Lobby for $5 and each paint color from Michael's for $2, so this project was about $15 total. This project took me a total of 2 hours to complete and it was super easy. You don't have to be artsy or crafty to recreate this!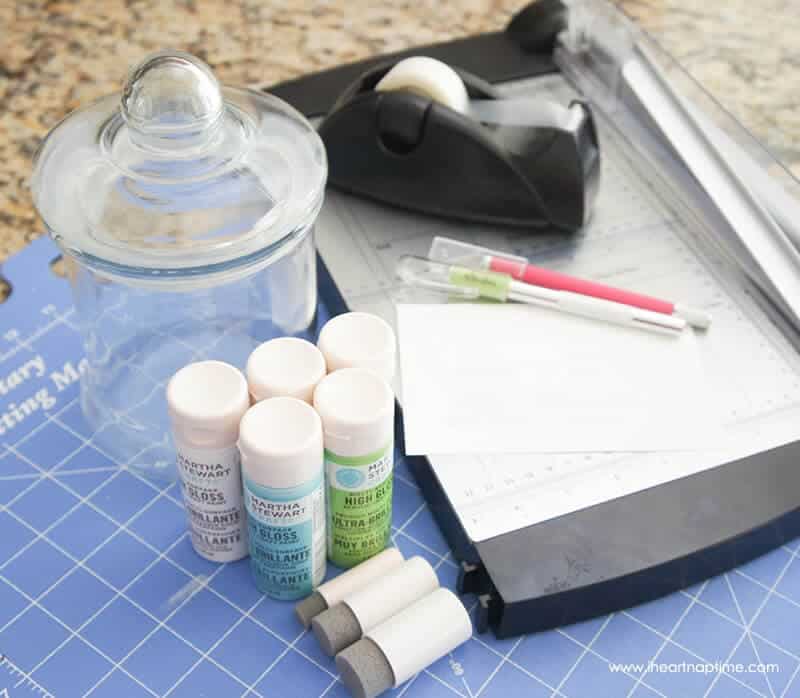 What you will need:
FREE Stencil Printable (for personal use only)

Heavy Card Stock (the heavier the better…I use 100 lb)

Swivel X-acto knife
Paper Trimmer
Cutting Mat
Tape
Small Sponges
Paint Brushes (small to medium)
Acrylic Paint (I like Martha Stewart's because they're a little glossy)
Q-tips
Nail Polish Remover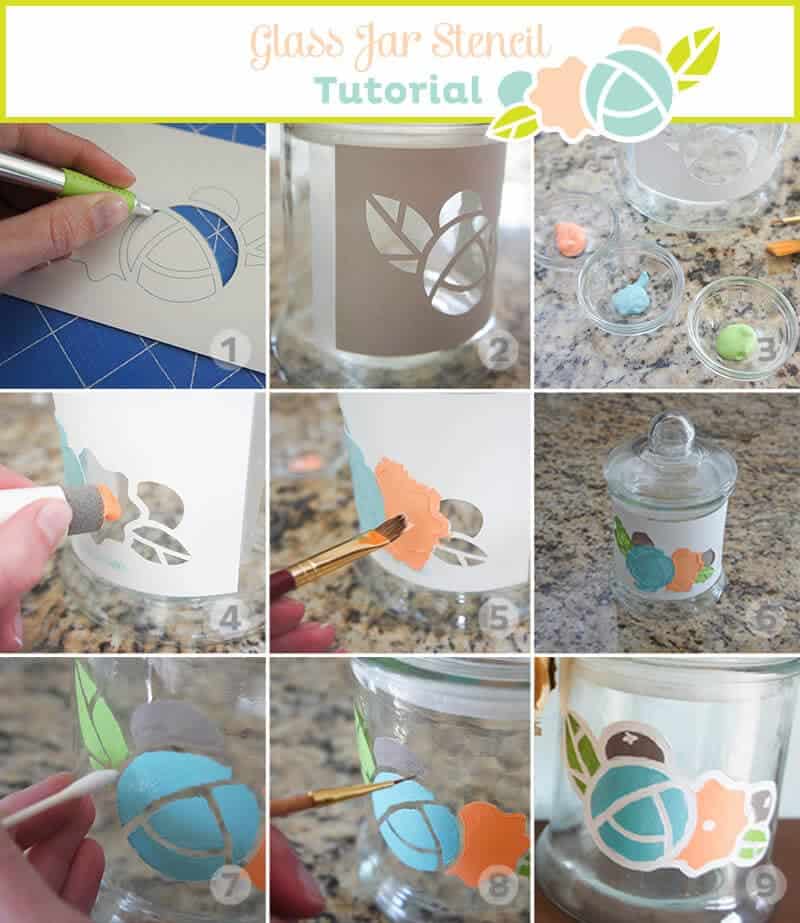 Print out your FREE Stencil Art printable on Heavy Card Stock and trim to the size of your jar. Use the swivel X-acto knife to cut out the stencil.

After you're done cutting out the stencil, tape it to the jar. Make sure it's really tight and secure.
Get your paint and brushes organized before you start painting. I use little bowls for my paint so none of them mix together.
Gently sponge some of the paint onto the stencil. Don't use too much or it will leak onto the edges.
Smooth out the paint with a medium-sized paint brush.
Let it dry for a couple minutes and gently remove the stencil. Make sure it's not too dry so you can do touch-ups.
Use a Q-tip dipped in nail polish remover to remove any leaks or mistakes that you made.
Do any other touch ups with a small paint brush. This made my corners and edges sharper. Let it dry completely (about an hour).
**Optional Step** Outline in white paint with a small paint brush. Add details to the gray dots and peach flower.
A couple more tips:
Acrylic paint dries super fast, so make sure you smooth everything out while it's still a little wet.

Use a larger brush to smooth out the paint and a small tip brush to clean up the corners.
I love the way this turned out. It's the perfect addition to my shelf!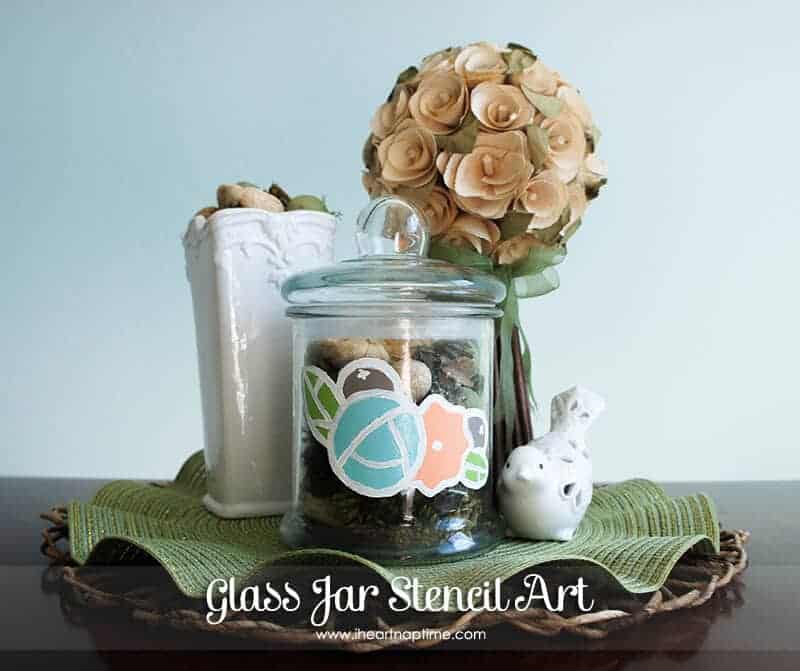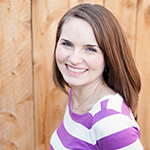 Erin is the owner and designer behind Strawberry Mommycakes. She designs fun and adorable printables for parties and crafts that can fit any budget. She has two adorable kids and the most supportive husband in the world! If she's not designing or watching her kids, she's probably cleaning, cooking, reading, playing on Pinterest, or going for a drive and drinking a Pepsi…because Pepsi is awesome. You can also find Strawberry Mommycakes on Facebook, Pinterestor Twitter.